The Rumor Gigi Hadid Accidentally Started About Rihanna's First Pregnancy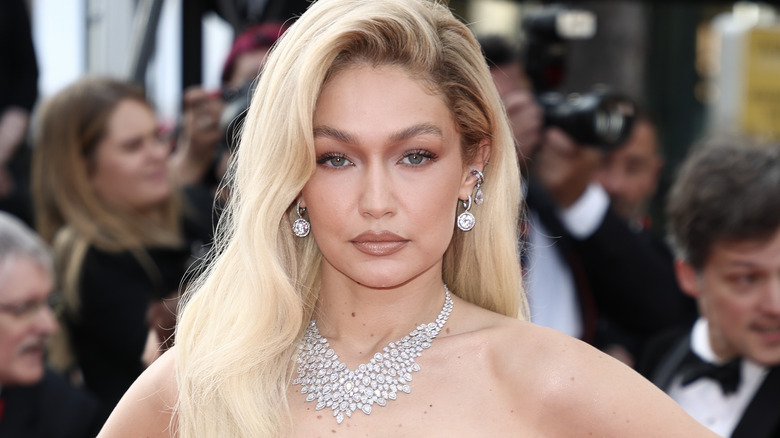 Mike Marsland/Getty Images
Back in January 2022, Rihanna confirmed that she was pregnant with her first child when she put her baby bump on display during a planned outing in New York City. She and boyfriend A$AP Rocky posed for a few sweet photos together, with RiRi's tummy doing all of the talking. About a week later, the "Umbrella" singer shared some bump photos on Instagram with a caption that read, "How the gang pulled up to Black History Month." The post received more than 18 million likes as well as thousands of comments from celebrity friends and fans alike. 
One person who popped by to leave a love note on Rihanna's Instagram post was Gigi Hadid. However, the model quickly found herself smack in the middle of a major internet rumor that she didn't even realize she started. "Three angles," Hadid wrote in the comments section of the post, adding a crying emoji as well as an emotional emoji. It didn't take long for people to wonder if Hadid just spilled a big secret about RiRi and A$AP. Dozens of comments popped up on the post with people wondering one thing and one thing only: Was Rihanna expecting twins?!
Gigi Hadid explained what she meant by her comment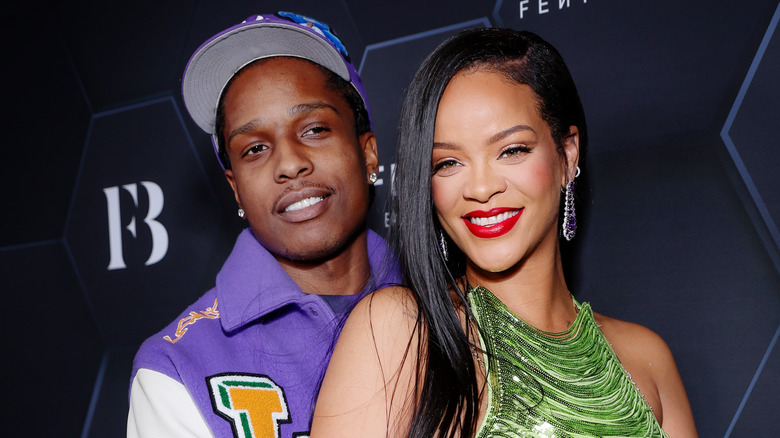 Rich Fury/Getty Images
The internet nearly broke after Gigi Hadid's comment seemed to suggest that Rihanna was pregnant with twins, but things got cleared up rather quickly. Hadid returned to the post to set the masses at ease, letting everyone know that her comment about "three angels" actually referred to RiRi, A$AP Rocky, and their baby-to-be. "I just caught word of this commotion," she said, adding an emoji that suggested she was embarrassed. And while people may have still been suspicious of Hadid's comment, RiRi set the record straight herself in May 2022 — when she gave birth to one baby.
"They have not left each other's side. They are over the moon. She's been looking forward to motherhood for a long time. This little boy is going to have the best baby fashion," a source told Entertainment Tonight after Rihanna and A$AP welcomed their son. The new mom and dad decided not to share the name they chose for their baby boy. It wasn't until one year later that People magazine got ahold of the child's birth certificate, confirming that his name is RZA Athelston Mayers. Of course, by that time, RiRi was with child once more, and the way the star announced her second pregnancy was nothing short of epic.
Rihanna debuted her baby bump at the Super Bowl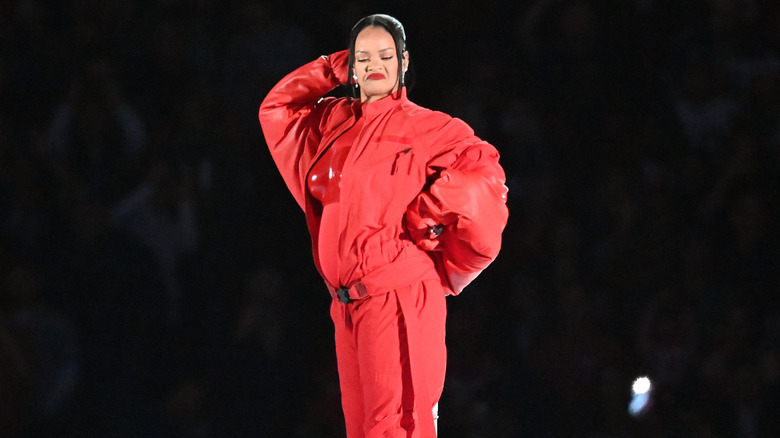 Focus On Sport/Getty Images
Rihanna was the talk of the town in February 2023 when she took the stage for the Super Bowl halftime performance. Just about everyone was looking forward to the show, but absolutely no one predicted what happened when Rihanna took the stage. Dressed in an all-red ensemble, RiRi shocked the watching world when she toted another baby bump. As the internet lit up with people wondering if Rihanna's belly was leftover baby weight from her first child, her rep confirmed that she and A$AP Rocky were indeed expecting again (via People magazine). Thankfully, Gigi Hadid didn't accidentally start any rumors about this pregnancy.
According to TMZ, Rihanna and A$AP welcomed their second baby boy on August 3, 2023, and while we still don't know this child's name, the outlet confirms that it starts with an "R," just like his big brother. RiRi chooses to keep her family life as private as possible, though she has opened up previously about being a mom. "We came home, cold turkey, had no one. It was just us as parents and our baby. Man, you're a zombie for the most part," she told British Vogue after welcoming her first child.