Rene Russo's Daughter Has Grown Up To Be Her Mother's Twin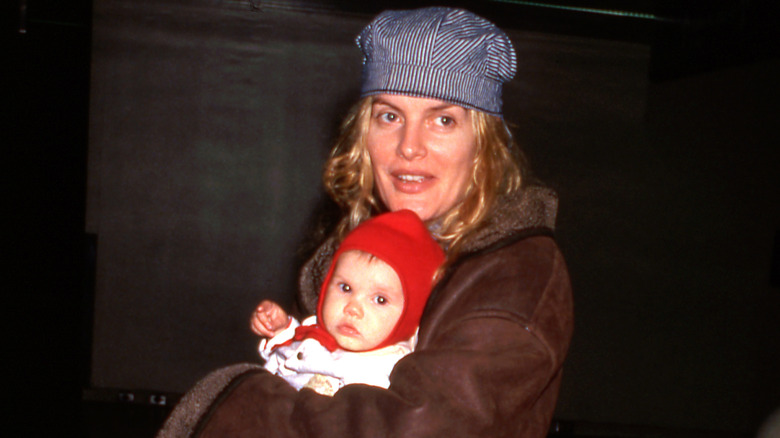 Mediapunch/Getty Images
Rene Russo's daughter is someone the world wants to know more about. As the child of a famous model and actor, Rose Gilroy was always going to shine and find her way into the spotlight somehow, but she has embraced this with her decision to follow in her mother's footsteps. She is even named after another famous model, Rosie Vela. "If [my mom] were here, she'd tell you that I was named in part for the model Rosie Vela, whom she worked with and loved," Rose told Vogue in a 2016 interview.
And like Russo, Gilroy is genetically blessed, but it's not just the physical likeness between mom and daughter that makes Gilroy her mother's twin. These women share similarities, including their drive, ambition, and strength. But it is also easy to see how their lives differ, and Gilroy has not had the same struggles to contend with.
"When my mom started modeling, she was 17, she'd left school, and showed up in New York with a cardboard suitcase," Gilroy told Vogue. Still, this should not discount her achievements, which are well-deserved. And she has already proven to be a young woman of many talents. So, meet Rose Gilroy, the celebrity child who is all grown up and has become as beautiful as she is interesting. 
Rose Gilroy is the daughter of two famous individuals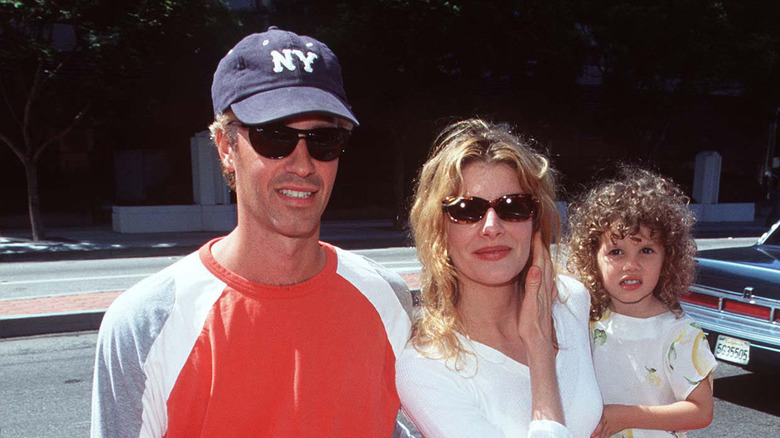 Steve Granitz/Getty Images
Both of Rose Gilroy's parents are famous. Her father is screenwriter Dan Gilroy, whose work includes the 2014 film "Nightcrawler" and the 2019 film "Velvet Buzzsaw," and her mother is Rene Russo. Russo is a model and actor, perhaps best known for her work in the '90s films "Ransom" and "The Thomas Crown Affair."
Growing up, Rose was exposed to the entertainment industry from a young age. This put her in a position where she could ask her folks (who have enjoyed longevity in their chosen careers) for advice about choosing a path that would put her in the limelight. And they gave her some helpful tips, which she revealed in a 2016 interview with W Magazine.
"Just that it takes a lot of work," she told the publication of her parents' insights. "You have to work hard at everything, whether it's school or modeling. Nothing is given to you. I'm lucky that I grew up with a mother who thought fashion was a really important industry." As for why this makes Rose lucky? This is because her mother's career would inspire her later decisions and help shape the future she would choose for herself.
Like her mama, Rose Gilroy is a model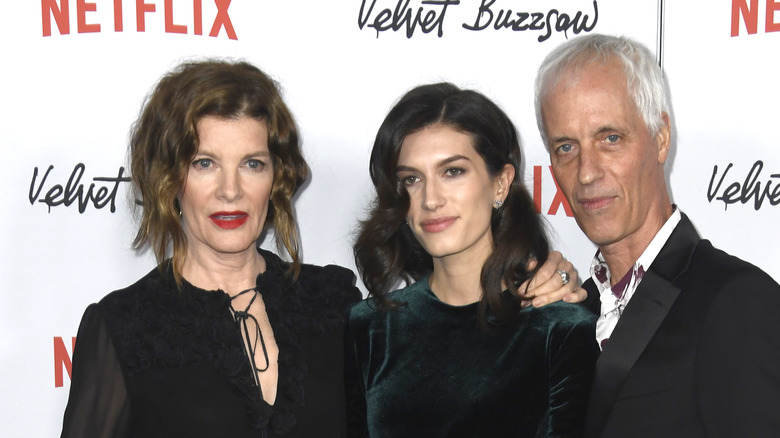 Frazer Harrison/Getty Images
Like her mother, Rose Gilroy has chosen to pursue modeling. She signed with Elite Model Management in 2016 and has succeeded as a model, including starring in the Fall/Winter 2016 Ferragamo campaign and doing catalog work for La Ligne in 2018.
Gilroy has spoken about her decision to model, telling W Magazine it was time for a change. "I spent the last four years in college studying, so it's definitely a different experience," she said. "But I wanted to take time to do something creative. I come from a creative family, and it wasn't something I had the chance to do in college. I've just been doing traditionally academic things. I love the creative aspect of modeling, though, and being around that creative energy."
Fans of her mom, Rene Russo, will be familiar with her work as a model. She was considered one of the top models of the '70s. That said, the career trajectory between Russo and Gilroy has been incredibly different. Her mother was young and broke, whereas Gilroy has financial and familial support. "Modeling was hard for her, she had no money and didn't have a support system and things were very difficult for her," Gilroy told Vogue in 2016. "I'm glad that my experience so far has been so positive, and that I have people in my corner."
Rene Russo encouraged her daughter's education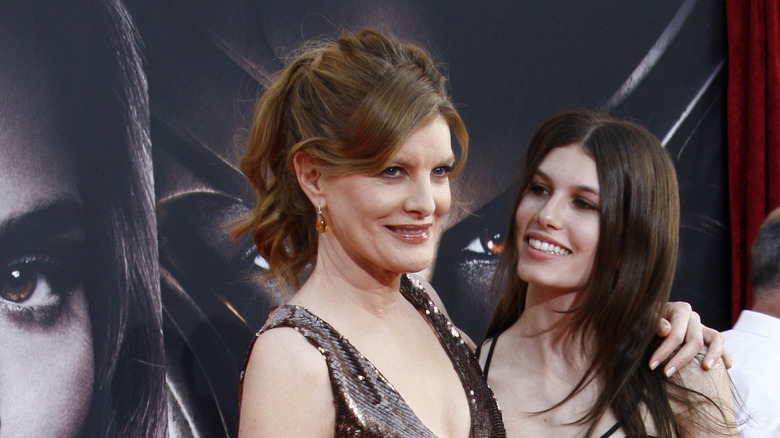 Joe Seer/Shutterstock
Rose Gilroy is enjoying her moment in the spotlight, but she focused on her education before pursuing modeling. This decision was strongly influenced by Rene Russo, who stressed the importance of her daughter attending school. "Growing up, my mother always told me that she wanted me to get my education, and I felt it was important because it was something she'd worked so hard to give me," Gilroy told Vogue in 2016. But what exactly did she study?
She graduated from Colgate University and told W Magazine she double majored in political science and psychology.
"My senior year, I took a class on social policy and foreign aid," she explained. "It was so timely with the refugee crisis happening. I learned about what it means to care for people and how you integrate that into a welfare state." Gilroy has acquired knowledge from her studies and admits to missing aspects of it, but she has not stopped learning since leaving the college environment. In her interview, she also commented on how she was gaining new life lessons from other creatives. 
Rene Russo has praised her daughter for her strength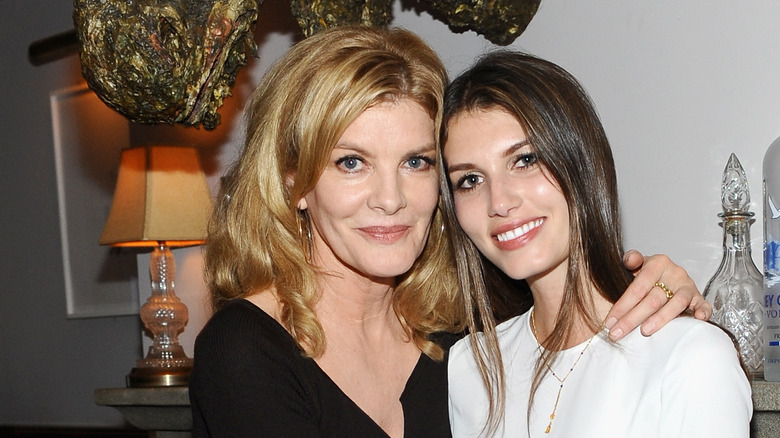 Stefanie Keenan/Getty Images
Rene Russo is incredibly proud of her daughter and has praised her for her strength. "[Rose] is strong and empowered," she said in a 2017 interview with Today. "She's taught me a few things. She's strong. She has a good time. She likes what she does. She's pretty amazing. She came out strong. I looked at her and thought, 'You're a strong spirit.'"
Russo's comments give fans a better understanding of her relationship with Rose Gilroy and share insight into her daughter's personality. While it is true that Russo has nothing but praise for her daughter, she is not the only strong woman in the family; Russo is also the perfect description of the word. 
While Gilroy grew up with two loving and devoted parents, the actor's childhood differed from her daughters. "I envy my daughter's childhood. Rose has a father who loves her so much," she said in an interview with The Los Angeles Times in 1999. In contrast, a single mom and friends raised Russo. "My dad left, and it was women in my life that were gay that raised me, and that helped me and nurtured me," Russo told "Good Morning America" in 2002.
Rose Gilroy's mom has inspired her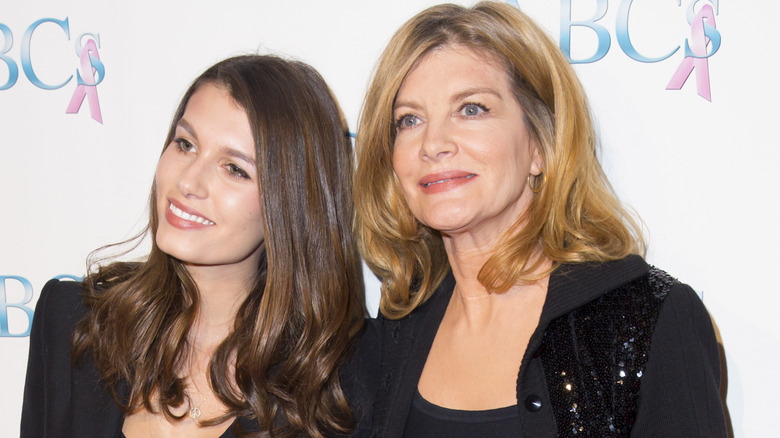 Alison Buck/Getty Images
During a 2016 interview with Glamour, when asked if anyone in the modeling industry had inspired her, Rose Gilroy had a clear answer: her mother, Rene Russo.
"Definitely my mom. I look up to her a lot," she told the publication. "There are so many people I'd love to work with in the industry, but I've learned it's not just about the people, it's the process. It's about everyone coming together to make one cohesive image. That's what inspires me to be doing this the most."
And there are many reasons to be inspired by Russo; she is brilliant, successful, and resilient. She did not have a picture-perfect upbringing and worked hard to achieve everything she had. "I was raised in a lower-income family, and we were wild," she told The Independent in a 2014 interview. "Mostly mothers, there were no fathers present, your regular kind-of stabbing on the street. It was a funky-assed neighborhood in the '60s, and the kids had to raise themselves. You had to be kind of tough."
She's not one for sharing her life on social media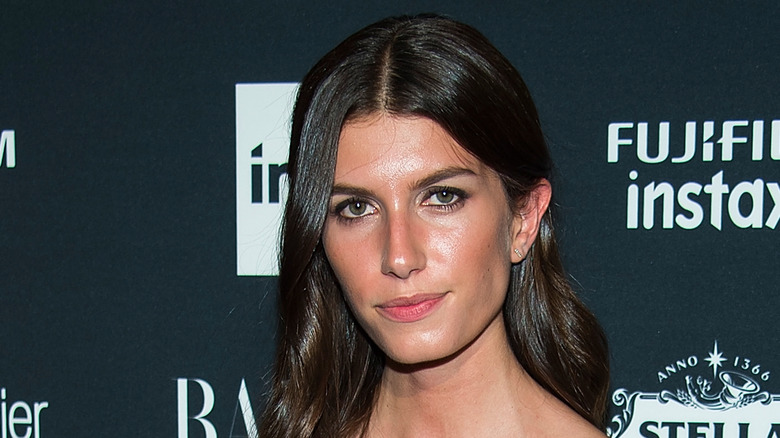 Michael Stewart/Getty Images
The use of technology has become commonplace, and it has changed the way we live and interact. For most people, social media plays an important role in their lives because it's a way to share who they are with others. It can also be used to network and gain followers, and while some find it appealing, others, like Rose Gilroy, would rather keep their lives offline. If you want to learn more about Gilroy, social media is not where you would discover this information.
She limits her posts on Instagram, and her account is private, with only a few thousand followers. Gilroy has spoken about why this is, telling W Magazine, "I was never really that into Instagram." This is an unusual decision for some choosing to live their life in the spotlight, which Gilroy acknowledges. "It's important now though to have your work on Instagram and be seen; it's part of the industry today," she told the publication. However, as of the time of writing, her account remains private.
In an interview with Vogue, Gilroy also discussed how she would prefer "to get followers for the right reasons ... I hope that my work is the thing that people notice first," and she doesn't necessarily want to achieve a fan following with her selfies.
One of her favorite activities is exploring New York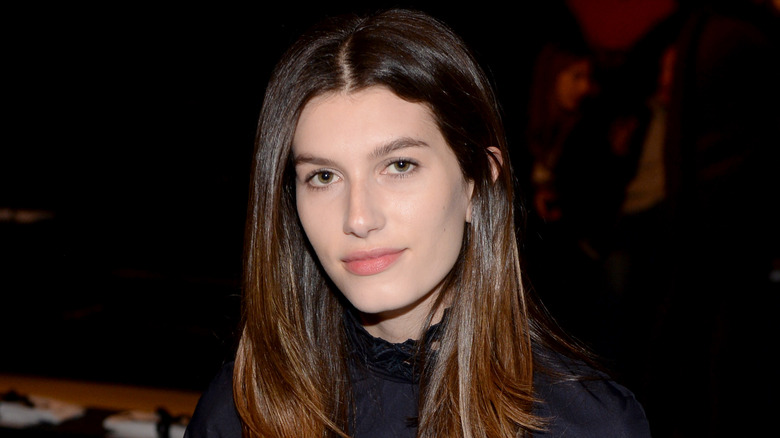 Andrew Toth/Getty Images
Rose Gilroy's life may seem glamorous, with her landing prestigious campaigns and having magazines wanting to interview her, but sometimes, the simple pleasures appeal to her most. 
The model moved from Los Angeles to New York to pursue career opportunities, and in an interview with Glamour, she spoke about the "energy" of the city and how it inspires her.
You may think she would be attending parties and rubbing shoulders with the rich and famous in her downtime, but as Gilroy revealed in her interview, one of the things she enjoys is exploring on foot. "The biggest thing is just walking around since you can't really do that in LA. Here, I walk out my door, and in 5 minutes, I can be at Chelsea Market, one of my favorite places, or Soho to go shopping," she said. At the time of the interview, she was still new to the city but had already discovered so much to love, including trying new food (she confessed to loving dim sum) and becoming familiar with Chinatown.
She's not afraid to work hard to achieve her goals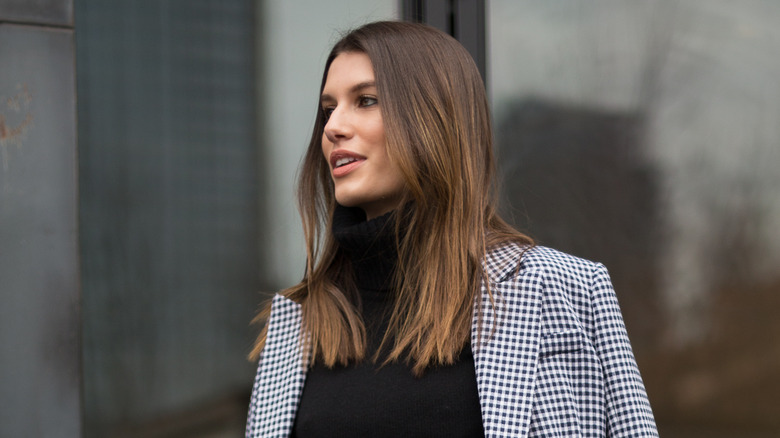 Matthew Sperzel/Getty Images
As the child of celebrity parents, Rose Gilroy may benefit from their connections and the security of knowing she had financial support if she could not make it big as a model. This is a definite contrast to Rene Russo's life. 
But being the daughter of Russo and Dan Gilroy does not mean she is without ambition or drive. It's quite the opposite, and Rose is willing to work hard to make her dreams a reality — which she would need to do to make it big, as there are many unique models working already.
"Right now it's a dream. I'm still so new that I haven't found my niche, and only time will even tell what people even want you for," she told Vogue of her modeling career. "Right now I'm just open to anything and everything; I want to be here, work as hard as I can, and see where I go."
She has written a script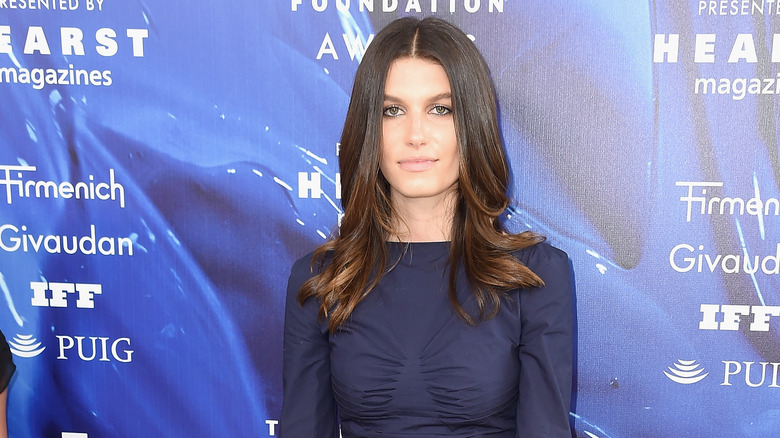 Nicholas Hunt/Getty Images
There are similarities that Rose Gilroy shares with her mother, and then there are some she has in common with her father, Dan Gilroy. And the most obvious is her love of writing, because Rose has set up an original screenplay.
Her work is titled "Project Artemis," and while details of the script remain a mystery, it is believed to be a space exploration film. In 2022, it was reported that the project had been picked up by Apple Studios and had major stars signed on, including  Scarlett Johansson and Channing Tatum. Greg Berlanti is also set to direct the film (a role initially given to Jason Bateman, who had a different vision).
This is a change in direction for Gilroy, who initially gained fame as a model. And screenwriting is not something she appeared to envision for herself until recently. We say this because, in a 2016 interview with W Magazine, she was asked what she would be doing if not modeling, to which she replied: "I thought about law school, but it's hard to say. I'm just focused on what I'm doing now."