Charles Spencer's Photo Of Princess Diana On Her Death Anniversary Leaves Us Emotional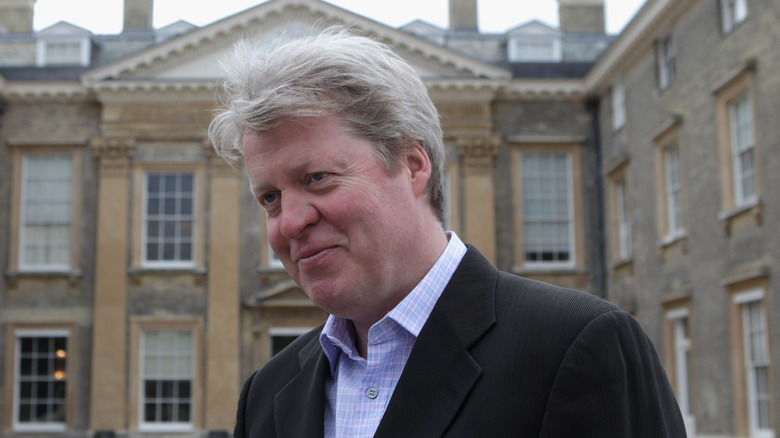 David Rogers/Getty Images
On August 31, 1997, Princess Diana's tragic death sent shock waves around the world. Trailed by an aggressive team of paparazzi, "The People's Princess," along with her partner Dodi Fayed and their driver, Henri Paul, were killed in a traffic collision — she was 36. Her divorce from Prince Charles (now King Charles III) had been finalized the previous year. In the aftermath of her passing, Diana's younger brother, Charles Spencer, the 9th Earl Spencer, called out the British press for their treatment of his sister. "She talked endlessly of getting away from England, mainly because of the treatment that she received at the hands of the newspapers," he said in his heart-wrenching funeral oration, asking for help in protecting Diana's two young sons, Prince William and Prince Harry, from the same fate.
Twenty-six years later, Earl Spencer hasn't forgotten his commitment to his older sister, who would be 62 years old. On the anniversary of her death, he posted a childhood snapshot on Instagram, no caption included. However, the comments section says it all. "A [sibling's] love is forever. Even if they are lost, their spirit carries on," wrote one user, with others reflecting on his speech at the Princess' service. "Diana was the very essence of compassion, of duty, of style, of beauty," the Earl famously told a crowd of mourners. We couldn't have summed it up better ourselves.
Earl Spencer and Princess Diana shared a close bond
In the decades-old snapshot, a young Charles Spencer and his older sister stand side by side, smiling into the sun. Diana wraps her arm around her little brother, dressed in a gingham dress — the early makings of a style icon. This wasn't the first time the Earl shared a picture of his sister on social media. In March 2021, he posted a black and white photograph of the two of them sitting in bathing suits, this time with the caption, "Some bonds go back a very long way." The two youngest in the Spencer family, Diana and the 9th Earl Spencer spent a lot of time together on the grounds of Althorp, their family home. "Diana and I had two older sisters who were away at school, so she and I were very much in it together, and I did talk to her about [our parent's separation]," he told The Sunday Times, explaining how family drama strengthened their bond.
More recently, Charles Spencer has expressed support for his nephew, Prince Harry, Duke of Sussex (via People). Like his mother before, Harry (and his wife, Meghan, Duchess of Sussex) have become popular punching bags in the press. The Earl has spoken out against "yellow journalism" on Twitter and has even received apologies from publications that made unsupported claims regarding his treatment of Princess Diana.