The Personal Item That Served As Meghan Markle's 'Something Blue' On Her Wedding Day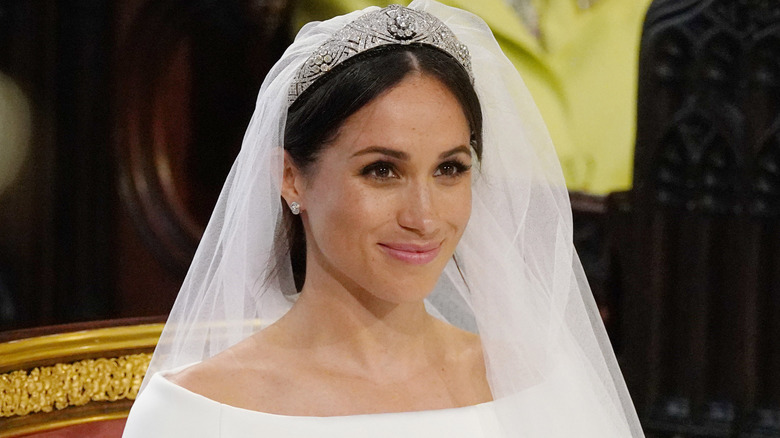 Wpa Pool/Getty Images
Millions of people watched Meghan Markle and Prince Harry's wedding, which took place at St. George's Chapel, on the grounds of Windsor Castle, on May 19, 2018. What some people likely don't know, however, is that the Duchess of Sussex followed at least one tradition that is supposed to bring luck to the bride on her wedding day and in her marriage. Many brides opt to wear a blue piece of jewelry or even a blue garter to complete the age-old rhyme: "Something old, something new, something borrowed, something blue," but Meghan opted for something a bit more sentimental. 
While everyone was focused on the Duchess of Sussex's wedding dress — a classic white Givenchy gown that featured a boat neck and three-quarter length sleeves — Harry's wife-to-be kept her "something blue" out of sight, albeit not out of mind. Just months after exchanging vows with her real-life prince, Meghan shared her special secret, which also honored her love for Harry. In September 2018, a preview of the HBO documentary "Queen of the World" aired, during which Meghan confirmed that she had something blue sewn into her wedding gown. 
"Somewhere in here there's a piece of blue fabric that's stitched inside — it was my something blue. It's fabric from the dress that I wore on our first date," she revealed, per People. Now, the woman who designed Meghan's dress is speaking out about the duchess' sweet nod to the past.
Meghan Markle's 'something blue' was stitched into her gown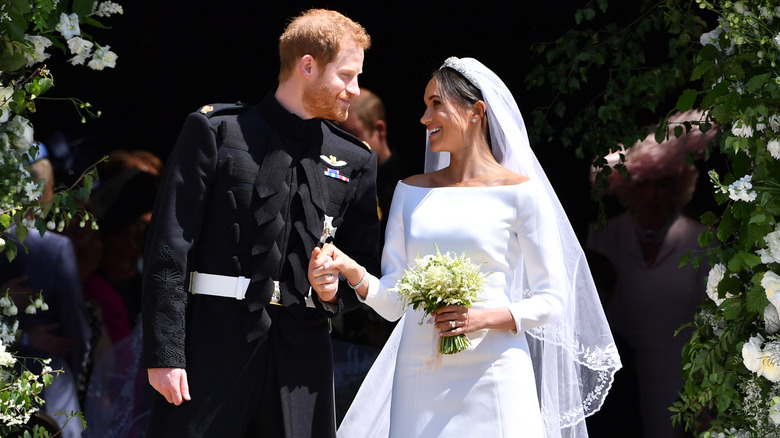 Wpa Pool/Getty Images
In August 2023, dress designer Clare Waight Keller explained that she simply cut a small piece of fabric from the blue dress that Meghan Markle wore on her first date with Prince Harry. Then, as Waight Keller told Vanity Fair, "We basically sewed it into the hem of the wedding dress, so she was the only one that knew that it was there. It was a little blue gingham check. It was the perfect personal memento that was secretly hidden inside the dress."
Harry wrote about his original first date with Meghan in his bombshell memoir, "Spare." The Duke of Sussex admitted that he was extremely late for their meet-up at Soho House, in London, in July 2016. "She was wearing a black sweater, jeans, heels. I knew nothing about clothes, but I knew she was chic. Then again, she could make anything look chic," he recalled, according to People. 
The two made arrangements to meet for an actual date at the same place the very next night, which was presumably when Meghan wore the aforementioned blue dress. It's unknown where the gown is located at this precise moment, but like many royals before her, Meghan's Givenchy wedding dress has been placed on display a handful of times since her big day.
The duchess's wedding day was steeped in tradition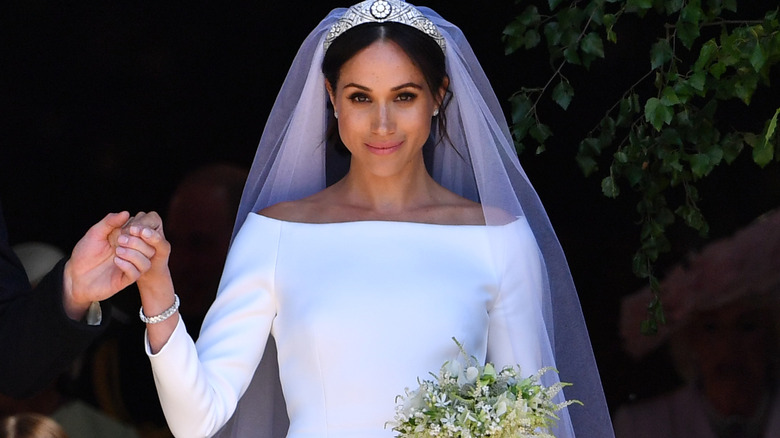 Wpa Pool/Getty Images
Meghan Markle's "something blue" wasn't the only special thing that she included on her wedding day. For starters, Meghan had a hand in creating the perfect look for her special day. "I had a very clear vision of what I wanted for the day, and what I wanted the dress to look like," she noted, per BBC News. Beyond the gown itself, Meghan's long, silk veil was representative of "the distinctive flora of all 53 Commonwealth countries united in one spectacular floral composition," as Kensington Palace tweeted. 
The veil was tucked into Queen Mary's diamond bandeau tiara, which was gifted to the Duchess of Sussex by her husband's grandmother, Queen Elizabeth II, for the occasion. Though there may not have been anything quite as meaningful as Meghan's secret nod to her relationship with her husband-to-be, her bouquet was a very close second.
Vogue Australia reports that the florals featured in the bouquet were hand-picked by Prince Harry himself. Among the different blooms were forget-me-nots, a favorite of the late Princess Diana. Meghan also abided by royal family tradition by carrying sprigs of myrtle within the bouquet, which symbolizes luck and fidelity, per the Daily Mail.