The Stunning Transformation Of Denise Austin
Diana Walker/Getty
We may receive a commission on purchases made from links.
Raise your hand if your mom used to work out to Denise Austin VHS tapes in the '90s and early 2000s. Those dynamic aerobic workouts set to catchy music were a staple of many living rooms, inspiring countless women to get moving and embrace a healthier lifestyle. But what's the fitness phenom been up to lately, and how has she transformed since those energetic days?
Known for her lively workouts and motivational demeanor, Austin has undergone a remarkable journey beyond physical fitness. Over the years, her life has taken exciting turns, from her pioneering exercise programs to ventures as an author, speaker, and advocate for well-being. The fitness icon has not only maintained her vitality but has also flourished in the face of a changing media landscape.
Austin has gracefully embraced aging while continuing to radiate her trademark positivity. In the ever-changing world of fitness, she speaks about body confidence and her secrets to staying vibrant as the years pass. So, as our favorite fitness guru would say, grab your exercise mat and a comfortable pair of sneakers, and let's get started on a journey through the captivating transformation of a fitness luminary who's etched her mark on more than just the workout world.
Denise Austin's early passion and athletic scholarship
Let's turn back the clock to February 13, 1957, in San Pedro, California, the day when the world gained a bundle of joy named Denise Austin. Her early passion for gymnastics ignited at the age of 12, eventually leading to an athletic scholarship to the University of Arizona. This marked the beginning of her journey toward becoming a prominent figure in the fitness world. With her unstoppable drive and a hint of that dazzling smile we know so well, she embarked on a journey that would shape her future and revolutionize the world of fitness. From those humble beginnings, who would have imagined that this dynamic, vivacious adolescent would develop into the current fitness sensation that we all love so much?
In 1979, she achieved her Bachelor of Arts degree in physical education with a specialization in exercise physiology from California State University at Long Beach; this marked a significant milestone in her academic journey. Eager to translate her passion for fitness into action, she commenced her professional career by teaching aerobic exercise classes within the vibrant community of Los Angeles. This endeavor not only showcased her expertise but also laid the foundation for her impactful contributions to the health and wellness domain. The combination of her educational background and hands-on experience set her on the path to where she is today.
She got her start with a television breakthrough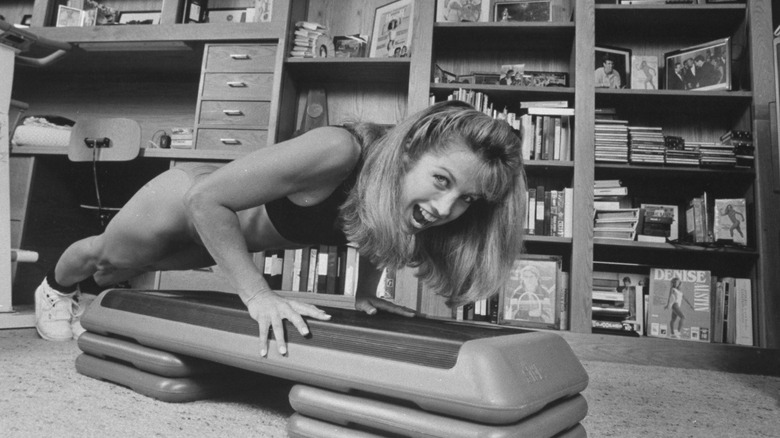 Diana Walker/Getty Images
In 1981, a significant turning point marked the emergence of Denise Austin as a fitness icon. Her journey took a transformative leap when she joined "The Jack LaLanne Show," a renowned exercise program that ran from the 1950s to the 1980s. Jack LaLanne, a distinguished figure in the realms of fitness and health, extended to her the remarkable opportunity to co-host the show, thus commencing her illustrious television career. This pivotal experience served as a platform for Austin to demonstrate her profound expertise in fitness and her unwavering commitment to promoting a healthy lifestyle to a wider and captivated audience.
During this period, another significant chapter unfolded in her personal life. In 1983, the fitness star married former tennis player Jeff Austin. Denise Austin was now a newlywed and an emerging star with major influence and power in the fitness world at the time.
She debuted on the Today Show and launched her first fitness videos
Let's set our time-traveling treadmill back to the early 1980s. In 1982, Denise Austin secured her very own TV show on KABC in Los Angeles and introduced her initial pair of workout videos titled "Rock Aerobics" and "Rock Hard Abs."
Of course, you won't believe the star-powered fitness magic that happened when Austin joined the "Today Show" crew from 1984 to 1988. Yep, you heard it right — the queen of workouts graced our morning screens. Imagine your TV screen flickers to life (remember, this is the '80s), and there's Austin, full of energy and ready to lead you through some heart-pumping exercises right in your living room. From leg lifts to jumping jacks, she brought the gym vibes straight to your cozy couch. As a resident fitness expert on the "Today Show," Austin didn't just teach us how to do squats; she reminded us that fitness is all about feeling good and having fun. Her positive vibes were as contagious as her workout routines, making those early mornings a bit more bearable.
These days, Austin has appeared on the "Today Show" several more times (though not in a regular segment) in which she has given exercise advice. In a hilarious clip, Austin did a "weekend warrior" workout along with hosts Kathie Lee Gifford and Hoda Kotb as well as her daughter, Katie Austin.
She was Kickin' With Country and having babies
By 1993, Denise Austin had begun making a significant mark on the fitness industry, releasing videos such as "Kickin' With Country." The adorable and exceptionally '90s video featured Austin in denim shorts, a matching denim vest, and a black cowgirl hat as she and her background dancers worked out to country music. The "Kickin' With Country Workout" VHS, now an iconic piece of fitness history, captured Austin's energy and enthusiasm, as well as her commitment to making exercise enjoyable and accessible. The video's fusion of fitness and music set a new trend in exercise videos, paving the way for more engaging and innovative approaches to staying active.
Along with this, she released other videos like "Getting Fit with Denise Austin" where she donned her trademark '90s ensemble of a bright blue and black workout bikini. The early part of this decade was a period of fitness exploration, which Austin clearly caught onto when she released the "Step Workout" featuring the Reebok Step, adding a new element to her videos.
Amid her dedication to revolutionizing workouts, Austin also embraced significant personal milestones. During this period, she welcomed her daughters Kelly and Katie Austin. These moments of personal joy paralleled her professional achievements, creating a well-rounded journey. Today, the impact of Austin's pioneering fitness methods and charismatic teaching style continues to resonate.
She cemented herself as a fitness icon with the Hit the Spot series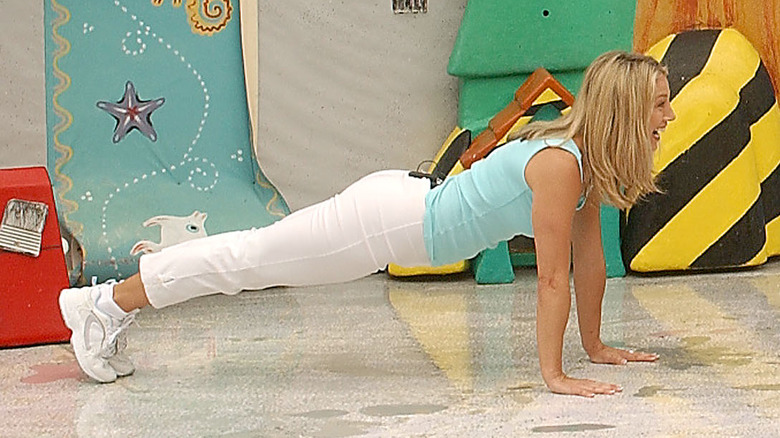 Getty Images/Getty Images
In 1995, Denise Austin capitalized on the popularity of VHS tapes and launched her iconic "Hit the Spot" video series. These videos were designed to provide targeted workouts for specific body areas. One such video was "Denise Austin: Hit the Spot Arms and Bust" where she offered a 35-minute routine focusing on these areas. These VHS tapes became a fitness sensation, catering to individuals looking for effective and convenient exercise routines at home. The "Hit the Spot" series, in particular, resonated with audiences seeking targeted fitness solutions.
During this period, Austin continued to solidify her position as a fitness icon, leveraging her expertise as an instructor, author, and TV personality. Along with the VHS series, she released one of her first books, "Hit the Spot: How to Target, Tone, and Slim Your Problem Areas" which included exercises, diet plans, and even advice about clothing.
As the 1990s progressed, Austin's influence persisted. She remained a prominent figure in the fitness industry, producing more workout videos, authoring fitness-related books, and appearing on television programs. Through her dedication and relatable approach, she inspired countless people to embrace active lifestyles and prioritize their well-being, which is why her impact went far beyond the turn of the millennium.
She maintained her career momentum in the 2000s
From the late 1980s through 2008, Denise Austin made a significant impact on television fitness. Her show "Getting Fit" initially aired on ESPN for a decade, becoming a mainstay for fitness enthusiasts. It transitioned to the Lifetime Television Network as "Denise Austin's Daily Workout" where it continued to inspire audiences. Notably, the show remained on the air until April 2008, showcasing her enduring status as the go-to fitness influencer of the '90s and early aughts.
Throughout the 2000s, Austin's career maintained its momentum. She continued to publish fitness books, including titles like "Shrink Your Female Fat Zones" and "Get Energy! Empower Your Body, Love Your Life." These works reinforced her reputation as a fitness authority and lifestyle coach.
Further on in the decade, she ventured into the realm of DVDs, creating a series of workout videos tailored to different fitness goals. Her versatile approach catered to various needs, making fitness accessible to a wider audience. By combining her TV presence, authored works, and digital initiatives, Austin solidified herself as a multifaceted wellness influencer. Her dynamic career demonstrated an unwavering dedication to helping individuals achieve healthier lifestyles through accessible and engaging fitness routines on-screen and online.
She transitioned her brand into the modern age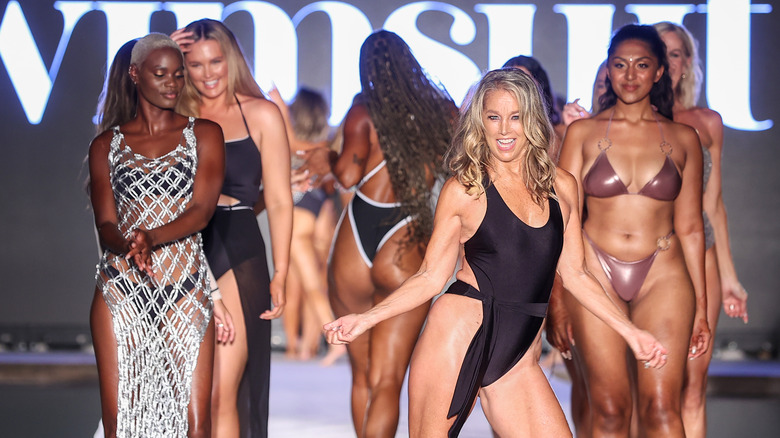 John Parra/Getty Images
In 2015, Denise Austin introduced her innovative fitness program called "Denise Austin's 10 Week, 360° Plan." This comprehensive plan, which is still available today, aims to help individuals shed post-holiday weight by combining her extensive expertise in both fitness and nutrition. The 360°Plan is designed to be fun, easy, and attainable for people of all ages and fitness levels. It offers three different levels — beginner, intermediate, and advanced — ensuring that participants can tailor the program to their needs.
This groundbreaking program is available on Austin's personal website, offering a 10-week journey to improved health and fitness. The plan features cardio workouts to boost energy and burn calories, along with detailed guidance on nutrition and recipes. She continues to embrace the power of concise yet effective workouts, promoting the concept that dedicating just 30 minutes a day can yield significant results, making fitness more manageable in busy lifestyles. 
In addition to the 360°Plan, Austin continues to inspire and educate through various platforms. She shares healthy lifestyle tips, workout routines, and motivational content on her Instagram, proving she grew along with social media rather than allowing it to squash her career. For example, in a weekend Instagram post, Austin quipped: "Happy Saturday!! Let's all try to be positive and motivated to keep our health a priority!!! And it's all about being accountable!!!" You can practically hear her energetic voice encouraging her fans. 
She became an AARP Wellness Ambassador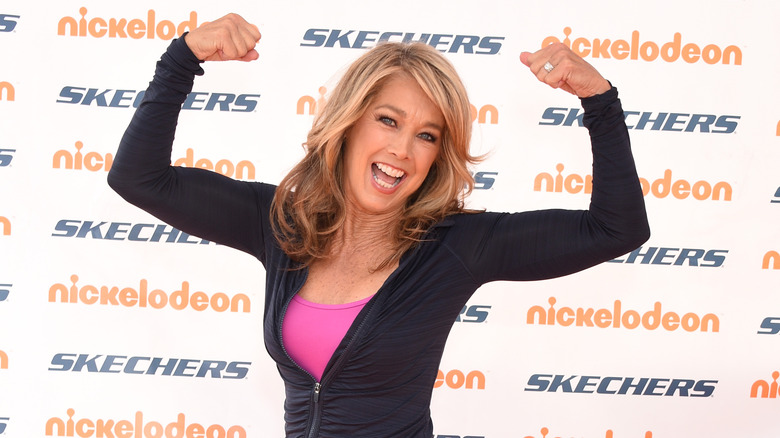 Gregg Deguire/Getty Images
Denise Austin was appointed as an AARP Wellness Ambassador in 2016, a testament to her enduring commitment to fitness and well-being, even at almost 60 years old. In her role as AARP's Wellness Ambassador, Austin shares invaluable tips and advice for maintaining fitness, particularly for individuals over 50. Her journey into this role reflects her belief that age is no barrier to achieving a healthy and active lifestyle.
Austin is featured on the AARP website along with her biography and several videos, including cardio workouts, stretches, strength exercises, and healthy living tips; her daughter Katie Austin has joined her in several of these. As a Wellness Ambassador, she encourages people to embrace fitness routines that cater to their needs and preferences, demonstrating that it's never too late to embark on a journey toward improved well-being.
In addition to being announced as the new AARP Wellness Ambassador, Austin remained active and engaged in various fitness-related endeavors. She made appearances on television shows like "The Doctors" alongside her daughter Katie Austin, where they shared tips on healthy snack swaps to curb cravings.
She launched Fit Over 50 magazine
Denise Austin's Fit Over 50 magazine launched in 2020. It's a dynamic and comprehensive resource tailored to individuals aged 50 and above who aspire to lead healthy and vibrant lives. In 2019, Austin commented on how the fitness industry has changed over the years, telling the Los Angeles Times: "We still have a lot to do as fitness experts. In the 1970s, it was running. Then we went to the aerobics to low-impact aerobics to step aerobics to yoga. The thing is to find something you love and stick with it."
Her magazine serves as a holistic lifestyle guide, offering a wealth of valuable insights and tips to enhance overall well-being. It covers a diverse range of topics that are pertinent to this demographic, including skincare strategies for maintaining a radiant complexion, invigorating fat-blasting workouts, techniques for improving sleep quality, and effective stress management approaches. "Look for workouts you can do at home, healthy foods to add to your diet that are cost-effective (and delicious!!), simple effective self-care suggestions that are free, and so much more," Austin wrote on Facebook when launching the magazine.
In the Spring 2022 edition, Austin posed on the cover in a blue sports bra, showing off her toned abs and glowing complexion. Some of the articles included recipes that can be made quickly but still help with losing weight, how to get better sleep at night, and style tips for flattering your figure. 
She passed the torch to her daughter Katie Austin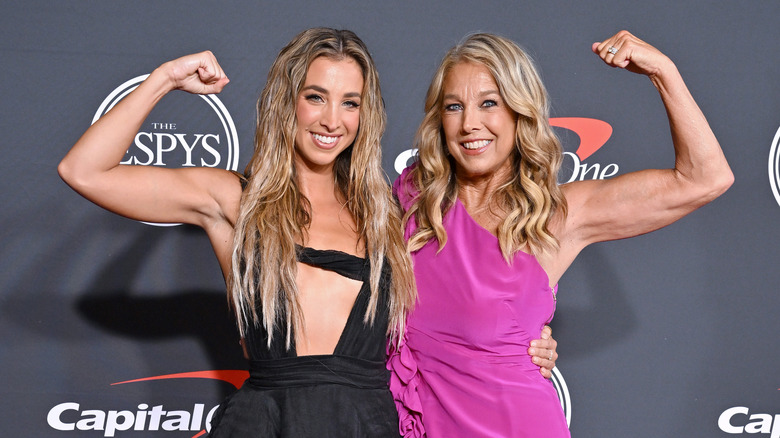 Axelle/bauer-griffin/Getty Images
Denise Austin has not only inspired countless individuals on their wellness journeys but has also been joined by her daughter in promoting physical fitness. Katie Austin, following in her mother's footsteps, has become a prominent fitness trainer and influencer. Denise Austin's legacy has seamlessly transitioned to the next generation through her daughter and their collaborative efforts not only celebrate the importance of maintaining a healthy way of living but also emphasize the strength of a supportive family bond in achieving fitness goals.
Katie Austin has made a name for herself in the exercise industry, emphasizing a balanced approach to physical activity and health. She co-won the Sports Illustrated Swim Search in 2021 and was named Rookie of the Year in 2022. Her Sports Illustrated Swimsuit modeling debut and her active involvement in promoting natural fitness have further elevated her presence.
Following in the footsteps of her mother, Katie Austin has made a name for herself online, amassing over 2 million followers on various social media platforms, including her YouTube channel. Her fitness app, the Katie Austin App, features over 200 workout videos, and over 150 recipes. Notably, she has been recognized in Create & Cultivate's list of "100 Health + Wellness," showcasing her impact on motivating and guiding individuals toward better health.
She walked the runway in a bikini at 65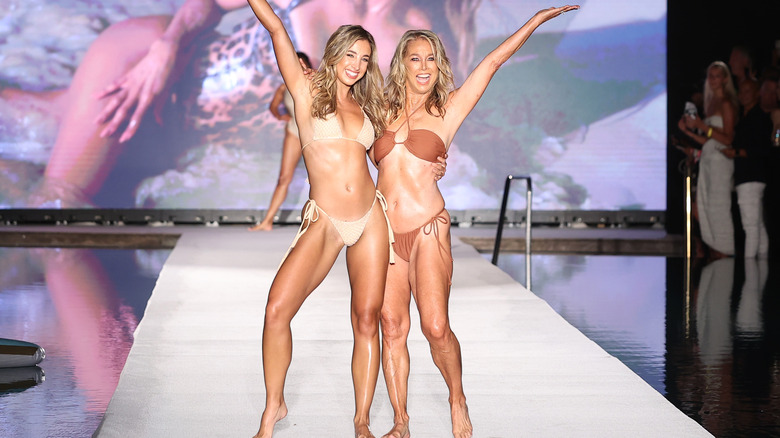 John Parra/Getty Images
In 2022, Denise Austin and her daughter Katie Austin made a striking appearance at the Sports Illustrated Swimsuit Runway Show held during Miami Swimweek. This event garnered significant attention as 65-year-old Denise, and her daughter, Katie, embraced the runway with confidence, celebrating body positivity and breaking age-related stereotypes in the fashion and fitness industries.
Denise Austin's presence at the runway show was a testament to her enduring influence as she sashayed down the catwalk with her trademark positive enthusiasm. Walking alongside her daughter Katie Austin demonstrated the intergenerational impact of their shared passion for well-being and fitness. The pair strutted their stuff in matching string bikinis, with the matriarch looking exceptionally fit for her age.
Katie Austin told Sports Illustrated: "My mom is my inspiration for everything. She's my biggest supporter, mentor, best friend who highly encouraged me to do Sports Illustrated Swimsuit, so the fact I can walk with her in the show is a full circle moment." Denise Austin echoed her daughter's statement, saying: "I feel so grateful that Sports Illustrated Swimsuit invited me to walk the show with Katie. As a 65 year old, I'm also so proud [to] represent moms of all ages — and that it's never too late." Denise Austin shared a series of photos from the weekend to her Instagram, including a shot of her walking the runway solo in a black one-piece swimsuit with a beaming smile.
She took her influence into the social media sphere
Denise Austin's influence in the modern era extends seamlessly into the realm of social media platforms. With the advent of the 2020s, she has embraced digital platforms to connect with audiences worldwide. On Instagram, Austin has built a vibrant online presence that resonates with both her loyal fan base and new generations seeking inspiration for a better life.
Through her social media channels, Austin offers a blend of fitness tips, motivational messages, and glimpses into her personal life, creating a well-rounded representation of her philosophy on wellness. Her engagement with followers is notable, as she responds to comments, shares personal anecdotes, and provides practical advice to those seeking guidance on their fitness journeys. Austin's ability to leverage the power of social media to inspire new generations is undeniable. Her content is not only informative but also relatable, as she shares stories of her own fitness journey and the challenges she has overcome. Her approach is rooted in positivity and inclusivity, which makes her a beacon of inspiration for Gen Z all the way up to the boomer generation.
In one Instagram post, she shared a workout video showing off her pilates moves, writing in the caption: "Happy Saturday!!! Let's get this weekend started off with some movement! I loooove Pilates, and try to incorporate it into my exercise routine once or twice a week."
She's in her flashback era
In the 2020s, Denise Austin has artfully blended nostalgia with modernity through her engaging social media presence. She's given her followers a unique glimpse into the past by sharing shots on her Instagram in which she wears outfits from old videos. These posts showcase her incredible transformation over the years and celebrate the timeless appeal of her fitness journey.
Austin's decision to share pictures from her past has struck a chord with her audience. By wearing outfits from her earlier videos, she pays homage to her legacy while emphasizing the enduring relevance of her fitness philosophy. These posts serve as a bridge between her past and present, resonating with long-time fans while also captivating new generations who are eager to learn from her expertise.
What makes Austin's approach truly captivating is the authenticity she brings to these posts. Her captions often carry personal anecdotes, reflections on her journey, and valuable insights that make her content relatable and motivating. Through these shots, she not only showcases her physical transformation but also underscores the importance of consistency and dedication throughout one's fitness journey. In one unbelievable shot for a #FlashbackFriday Instagram post, Austin donned a hot pink bikini from a whopping 30 years ago, and somehow the only difference was the camera quality. In the caption, she mused: "They not only bring back wonderful memories but they're a good reminder that when it comes to life....age is just a number!!! I feel as confident as ever."