Who Are Jimmy Buffett's Children?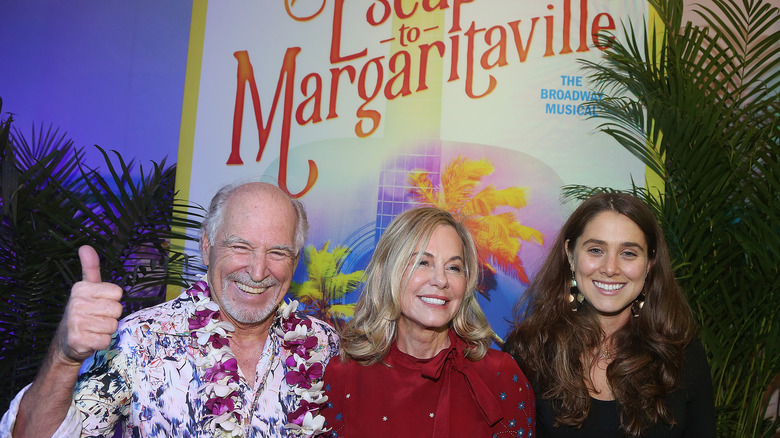 Bruce Glikas/Getty Images
Primarily known for his song "Margaritaville," musician Jimmy Buffett actually wore a lot of hats. The singer-songwriter, who passed away Sept. 1, 2023, parlayed the 1977 escapist anthem — a simple song about wasting away in a beach town — into an empire of restaurants, his book series, a musical, and more. While the "Margaritaville" mogul had plenty going on as a musician, philanthropist, and icon of his Parrotheads fanbase, he was also a father to three children with Jane Slagsvol, his wife of more than 40 years.
Buffett met Slagsvol in 1971 in Key West, and he saw her "wearing a tight, long pink dress that made a lasting impression on me," as the singer told Time. The couple married in 1977, the same year he debuted his iconic song, and they eventually had three children. Savannah Jane Buffett was born June 1, 1979, just a few years after the couple married. Their second daughter, Sarah Delaney Buffett, followed on April 1, 1992. The couple adopted their son, Cameron Marley Buffett, in 1994 to round out their family.
According to the official statement announcing Buffett's death, his family was with the singer as he took his final breaths. "Jimmy passed away peacefully on the night of September 1st surrounded by his family, friends, music, and dogs," the heartfelt update read. "He lived his life like a song till the very last breath and will be missed beyond measure by so many." 
Savannah Buffett has embraced a multifaceted career path
Savannah Jane Buffett followed in her father's footsteps as she has taken on a variety of vocations, much like Jimmy Buffett did. The musician, writer, and businesswoman coined a term for her multifaceted career, calling herself a "lifestylist" on her website. "For me, being a 'lifestylist' means helping people to enjoy life — whether it is via music, fashion, athletics, travel or hosting a party, it's all about finding ways to expand someone's horizons," she wrote. Going on tour with her father as a child has also embued her with a bit of "wanderlust," as noted on the site: "She had a passport before she could walk, traveling the world with her parents."
Savannah has also branched out into radio. She has hosted shows — and interviewed her dad — on the Radio Margaritaville channel on SiriusXM. She has also developed her signature radio show, Savannah Daydreamin' Radio Hour, and hosted live broadcasts before her dad's concerts.
The eldest Buffett daughter also frequently shared photos of her family on Instagram, showing how close the clan can be. For a photo with her siblings in 2017, she wrote: "It is absolutely ridiculous that these two are old enough to be taking ME to a nightclub." In another snapshot, she plays ping pong with her dad: "When the student attempts to become the master... #30YearRivalry."
Jimmy Buffett's youngest children are all grown up
Jimmy Buffett and Jane Slagsvol's youngest children were both born in the 1990s, and they are all grown up and embarking on their own adventures. 
Delaney Buffett (who goes by her middle name rather than "Sarah") also chose a creative career, working as a producer and director. Some of her projects included short films "The Spring" and "Up the Stairs," as well as the TV series "City of Angles." The middle child shared a snap of her family oceanside in 2014, writing on Instagram that it was a double celebration. "Merry Christmas and Happy Birthday to the guy in the pink and floral!" She wrote, indicating her dad in the photo.
Cameron Marley Buffett, the couple's only son, is more private but has also seemed to embrace the family's wanderlust tendencies, as he posts photos from his travels on Instagram. In 2022, he shared vacation photos from St. Barthelemy with his wife, Lara Garcia, and he's also an animal lover, as he's shared cute moments with the couple's dog and bunny over the years.