Steve Harwell, Smash Mouth Singer, Dead At 56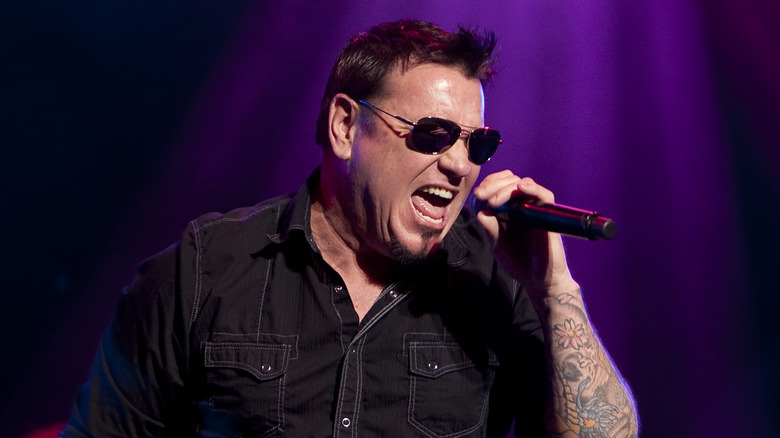 Mike Mcginnis/Getty Images
Smash Mouth's former lead singer, Steve Harwell, has died at 56, The New York Times reported. The "All Star" singer reportedly leaves behind his fiancée, who has been looking after him throughout this devastating time. Harwell was previously married to Michelle Laroque, and the former couple welcomed a son named Presley Scott, who tragically battled leukemia until his death at just 8 months old. 
The news of Harwell's death comes one day after his manager told TMZ that the singer had entered the final stages of liver failure following a lifetime struggle with alcohol abuse. They shared that Harwell was in home hospice and estimated that he only had about a week left to live. His manager also said that the "I'm A Believer" singer's loved ones had been pouring in to say their goodbyes.
Harwell seems to have battled health issues for a while because, in 2013, he reportedly had a major health scare after being diagnosed with a heart disease called cardiomyopathy, which caused him to contract Wernicke encephalopathy. At the time of his death, Smash Mouth's band manager Robert Hayes told Rolling Stone, "Steve's iconic voice is one of the most recognizable voices from his generation ... Steve lived a 100 percent full-throttle life. Burning brightly across the universe before burning out." Although Harwell walked away from Smash Mouth in 2021, music lovers will always remember him as the face — and voice — of the iconic band.
Steve Harwell's health issues led to his departure from Smash Mouth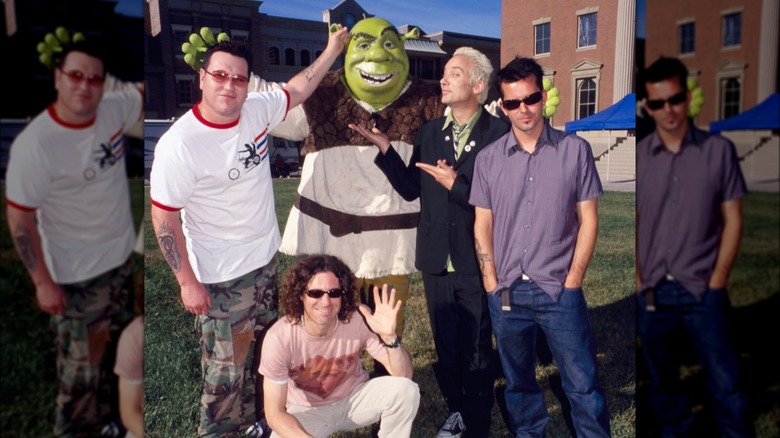 Annamaria Disanto/Getty Images
Smash Mouth, the '90s rock band, first rose to fame with their 1997 track "Walkin' on the Sun." But they became a household name when their hit "All Star" made it onto the "Shrek" soundtrack. Smash Mouth ultimately became an internet meme sensation. Speaking to Rolling Stone in 2019, Steve Harwell said that while some memes bordered on disrespectful, he was still appreciative of the effort that went into them because it showed love.
In 2021, Harwell gave a concerning performance at a New York concert ,where he slurred his words and cussed out fans. Shortly after the incident, he announced his retirement from Smash Mouth through a TMZ statement. He said, "Ever since I was a kid, I dreamed of being a Rockstar performing in front of sold-out arenas and have been so fortunate to live out that dream." He shared some love for his bandmates before expressing his endless gratitude for the fans who made Smash Mouth a success. 
He also apologized for his inability to give the fans a memorable final show due to his physical and mental health problems. When the news of his declining health broke, a Smash Mouth rep told The Hollywood Reporter. "Even though Steve has not been with Smash Mouth for two years now, and the band continues to tour with new vocalist Zach Goode, his legacy will live on through the music."
If you or anyone you know needs help with addiction issues, help is available. Visit the Substance Abuse and Mental Health Services Administration website or contact SAMHSA's National Helpline at 1-800-662-HELP (4357).