The Real Meaning Behind Taylor Swift's Wildest Dreams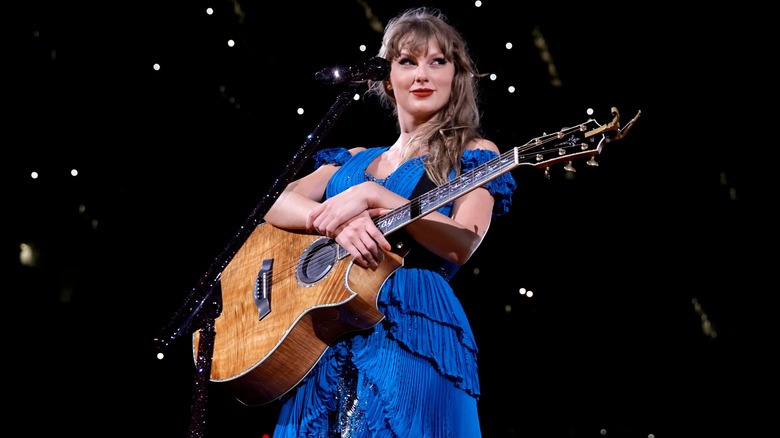 Kevin Winter/tas23/Getty Images
Even though Taylor Swift's fifth studio album, "1989," only came out in 2014, it's already a pop classic. "1989" marked the first time the singer-songwriter strayed from her country roots to venture into the world of pop, but it seemed like Swift already had it all figured out. She honored her country singer days with her phenomenal diaristic songwriting but contributed to creating the timelessly catchy pop sound of "1989" as the creative director and an executive producer. 
Unsurprisingly, the album garnered critical and commercial acclaim. With a record this iconic, it's difficult to pick a favorite song, but the ninth track, "Wildest Dreams," is a frontrunner for critics and fans alike. Naturally, everybody was overjoyed when Swift released her own version of the track in 2021, and the audio quickly went viral on TikTok. "Wildest Dreams" describes Swift's struggles trying to cherish a short-term, doomed romance as it slips through her hands. 
In a Yahoo! Live, Swift explained that the track showcases how she doesn't have an idealistic perception of love, where two people who love each other do everything to make it work and ride off into the sunset together, anymore. Instead, Swift's past relationships have led her to anticipate the end of every relationship as it begins. She shared her anxious thoughts from the time: "'When this is over, I hope you think well of me.' So, this song is about having that immediate connection with someone, and these were my vivid thoughts right as I met him."  
The song is about a reckless but memorable love affair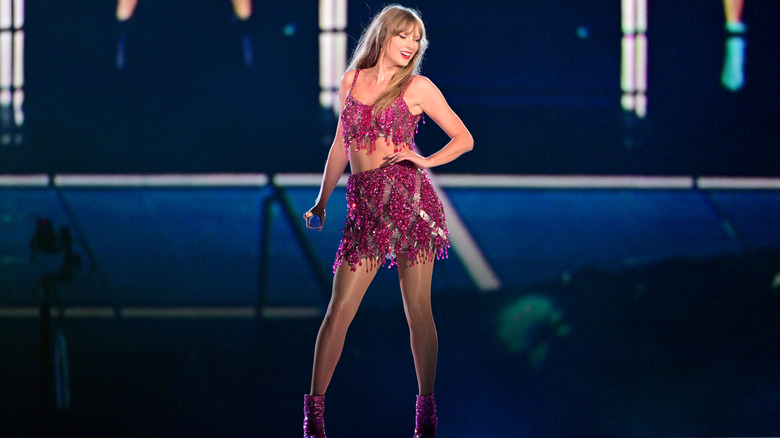 Fernando Leon/tas23/Getty Images
"Wildest Dreams" sets the tone from the minute you hit play as it starts with a foreboding sound that overpowers Taylor Swift's heartbeat sample, signifying the conflict between her head and her heart. Throughout the track, Swift reassures and warns herself in equal measure about the consequences of staying in what is clearly a tumultuous relationship. The singer-songwriter starts the first verse by addressing how she's helplessly drawn to her partner before acknowledging, "Nothing lasts forever, but this is gonna take me down." 
In the second verse, she follows the first line with "But this is getting good now" to portray her recklessness as she continues down this road. Swift also grapples with the dilemma in the chorus. She starts with a nod to her partner's good looks, follows it up with a reminder that he's not good for her, and finishes with how good he is at being bad. Finally, she considers how the relationship's end has already begun before launching into the explosive chorus, where she makes her beau promise to remember them in the best light as she watches the sunset, taking the relationship down into the sea.
As the song crescendos into its explosive bridge, Swift seems to have accepted the relationship will end. She sings about how her lover will remember the good times, asserting "Someday when you leave me, I bet these memories follow you around," which indicates that the relationship will haunt both of them.
Could 'Wildest Dreams' also be about cheating?
Due to the sultry nature of "Wildest Dreams," some fans have speculated that it might be about infidelity. This theory proposes that the romance was short-lived because either Swift or her lover was already in a relationship when they met. At the song's start, Swift's beau expresses his desire to escape to a quieter place where they can be alone. This could either reference Swift being a public figure or allude to the couple's need to skip town to be together because their partners live in the city. 
The first verse's "This is gonna take me down" could also point to Swift potentially facing reputational damage if news of their affair broke. In the second verse, she sings, "And I said 'No one has to know what we do,'" which underlines her desperate need to hide the relationship. The theory seemed even more promising after Swift released the music video for "Wildest Dreams," which tells the story of two actors who fall in love on set, but things must come to an end because Swift's paramour is married. 
It has also led many to believe the song is about Alexander Skarsgård, whom Swift met when she appeared alongside him in "The Giver." In the "Wildest Dreams" music video, Swift wears a dark wig similar to the one she wore in the film. It takes place in Africa, and "The Giver" was shot in South Africa. In addition to matching the physical description of Swift's alleged muse, Skarsgård was also reportedly dating co-star Katie Holmes.