Nicole Richie's Daughter Harlow Has Grown Up To Look Just Like Her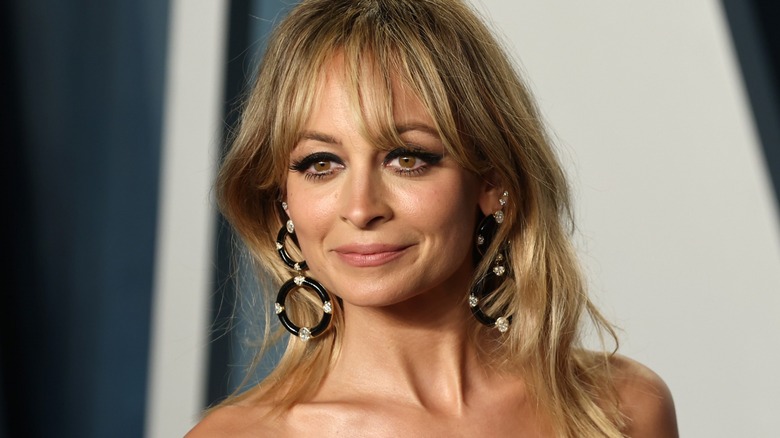 Arturo Holmes/Getty Images
Nicole Richie, best known as one of the stars of hit reality show "The Simple Life," has come a long way since her wild child days. Nicole grew up in the spotlight as she was adopted and raised by Lionel Richie's family from an early age. With Michael Jackson as your godfather and Paris Hilton as your best friend, we imagine it can be hard to stay grounded. However, that's exactly what Nicole wants for her own children.
She's married to Joel Madden, the lead singer of the punk band Good Charlotte, and as a mother of two, she keeps her personal life away from the public eye. In fact, Nicole revealed in an interview with You magazine that she's banned her kids, Harlow and Sparrow Madden, from using Google and social media in order to keep them safe. Naturally, then, Nicole's children find her approach quite strict. 
However, the stylish star reasoned, "I just have rules: bedtimes, eating good food, limits." That means we shouldn't expect to see Nicole sharing too many photos of her now-teenaged kids online, either. But on the rare occasion when she does, it's impossible to ignore how much Harlow, in particular, has grown up to look just like her mom.
Harlow Madden is sporting her mom's signature wispy hair
Joel Madden and Nicole Richie don't typically use recent photos of their kids to publicly commemorate special occasions, as is evident in the musician's Instagram carousel post for Mother's Day 2022. However, when they do share the odd, rare, real-time snapshot of their nuclear family, there's no question who their daughter, Harlow Madden, bears a striking resemblance to.
On Mother's Day 2023, as reported by People, Nicole showed her mom some love on her Instagram Stories with a sweet photo of them together. "We all love you," Nicole wrote, adding, "Happy Mother's Day, Queen." Sofia Richie, Nicole's younger sister, and Brenda Harvey-Richie, Nicole's adoptive mother, are pictured snuggled up to Nicole while Harlow, all grown up, stands next to them.
Though not much is known about Harlow in general, one thing is for certain — she takes after her mother to a tee. From the wispy hairdo to pretty much her entire face, we're seeing double. Take a look at this photo of Nicole as a child or even this more recent selfie the star took while sporting no makeup for further proof. The family resemblance is uncanny, with Nicole's genes being undeniably dominant.
As a parent, Nicole Richie finds her past liberating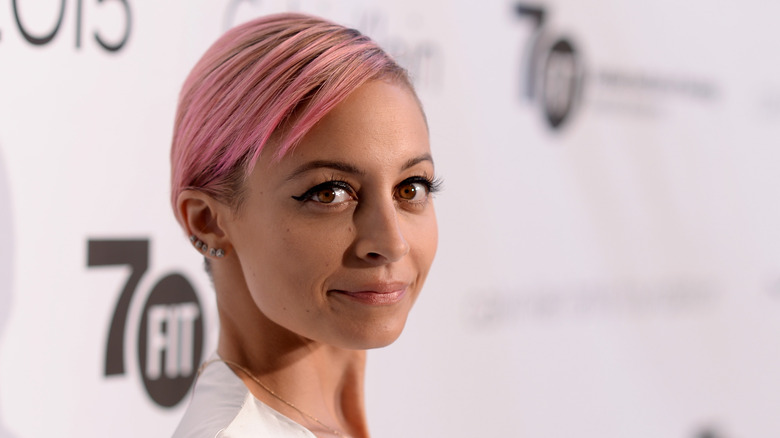 Dave Kotinsky/Getty Images
As for her troubled past, Nicole Richie isn't letting it mess things up for her in the present. In the early 2000s, she and Paris Hilton were the "IT" party girls, which ultimately led to early drug usage and Nicole's substance abuse addiction. In an interview with Diane Sawyer, the star admitted that she was often bored with her life and engaged in risky behavior to create some excitement. But, in a heartfelt letter penned for her 35th birthday and shared on Lenny Letter, Nicole argued that she will no longer be shamed for her past decisions but will instead allow them to guide her forward in life.
"It is no secret that I have, at times, taken advantage of my time on this planet. And as much as I have to look at those moments and learn from them, as we all do, it's important for me to have gratitude for that time, too," Nicole wrote. While not everyone would be comfortable with their dirty laundry being exposed, she sees the bigger picture. 
The mother of two finds it liberating that everything is out in the open and evidently Nicole has no intention of keeping anything she did a secret from her kids either. As the outspoken star told You magazine, "Everything [about my past] is out there and I have no choice but to be honest with them. And you know what? That is very freeing to me."
If you or anyone you know needs help with addiction issues, help is available. Visit the Substance Abuse and Mental Health Services Administration website or contact SAMHSA's National Helpline at 1-800-662-HELP (4357).