The Biggest Advice Prince Harry Has For Son Archie
Netflix
Since Prince Harry has become a dad, he has been using his life experiences to help shape the people that his kids will become as they get older. Harry and his wife Meghan Markle welcomed their son Archie in May 2019 and their daughter Lilibet in June 2021. The Duke and Duchess of Sussex are raising their kids out of the spotlight after moving from the United Kingdom to Montecito, California.
Both Harry and Meghan seem to love being parents and don't hesitate when it comes to talking about the joys of parenting. For example, in his AppleTV+ docuseries "The Me You Can't See," Harry revealed that Archie's first word was "grandma" (via People magazine). 
More recently, in Harry's new Netflix documentary, "Heart of Invictus," he was filmed giving a speech during which he talks about his son and shares the biggest piece of advice he has for him. "What I remind him is, no matter what you want to be when you grow up, it's your character that matters most," Harry says in his remarks, according to the Daily Mail. "And nothing would make his mum and me prouder than to see him have the character of what we see before us today — you," he added. Harry's message resonated with the athletes of the Invictus Games and was very meaningful for a few reasons.
Prince Harry got candid with the crowd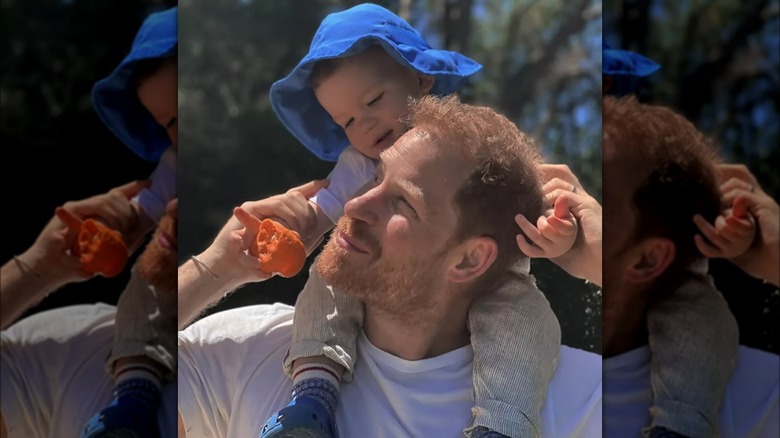 Netflix
Prince Harry founded the Invictus Games in 2014. According to the royal family's official website, the games utilize "the power of sport to inspire recovery, support rehabilitation and generate a wider understanding and respect for wounded, injured and sick servicemen and women." Since its inception, the Invictus Games has provided a space for growth, support, and, of course, friendly competition, as injured servicemen and women compete in Paralympic-style events. "I am extremely proud that we are bringing an event like this to the UK for the first time and believe it can have a long-lasting impact on the well-being of those who have served their nations so bravely," Harry previously said.
During his speech that airs on the "Heart of Invictus" docuseries — which will give viewers a behind-the-scenes look at what goes into running and producing the event — Harry shared that Archie would like to either be a helicopter pilot or Kwazii from "Octonauts" when he grows up. Of course, Archie's choices will change, but having good character is a non-negotiable. "To be role models, or the role models that each of you are, takes strength and it takes courage," Harry said (via People magazine). The Duke of Sussex basically said that he would love his son to have the character of any one of the people taking part in the games, and for the men and woman who got to hear those words, well, there's really no better compliment than that.
Prince Harry & Meghan Markle want to raise independent children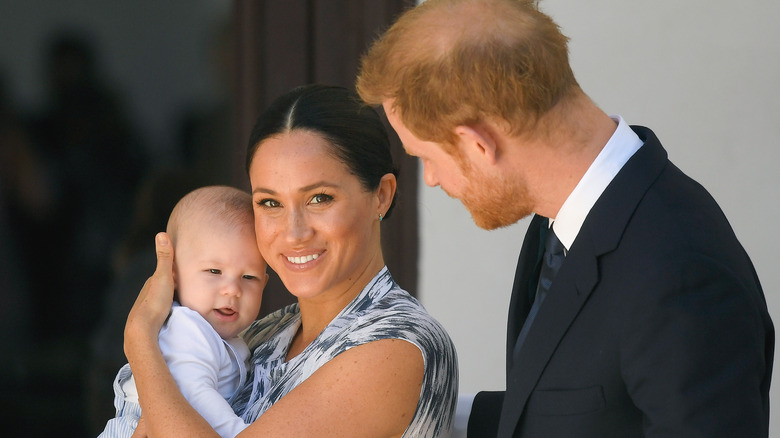 Pool/samir Hussein/Getty Images
Prince Harry and Meghan Markle have spoken about how they plan to raise their two kids and how important it is for them to raise independent children — and they intend to support their kids no matter what they choose to do in life. "When you become a parent, you genuinely want your kids to find the things that bring them complete joy. They're our kids, obviously, and they're part of a legacy and a tradition and a family that will have other expectations. But I want them to be able to carve out their own path. If it's the entertainment industry, great. And also, good luck," Meghan told Variety.
Of course, the Duke and Duchess of Sussex are very hands-on with their kids and want to be sure that they are leading them down the right path — which started when they were both very young. In an interview with The Cut, Meghan stressed just how important it is that her kids have manners and how she and Harry approach them. "We always tell him: Manners make the man. Manners, manners, manners, manners, manners," she explained. Harry and Meghan may not share too much about their kids, but it sounds like they are both on the same page when to raising good kids with impeccable character.