Why Tom Cruise Wasn't In Attendance For His Daughter Bella's Wedding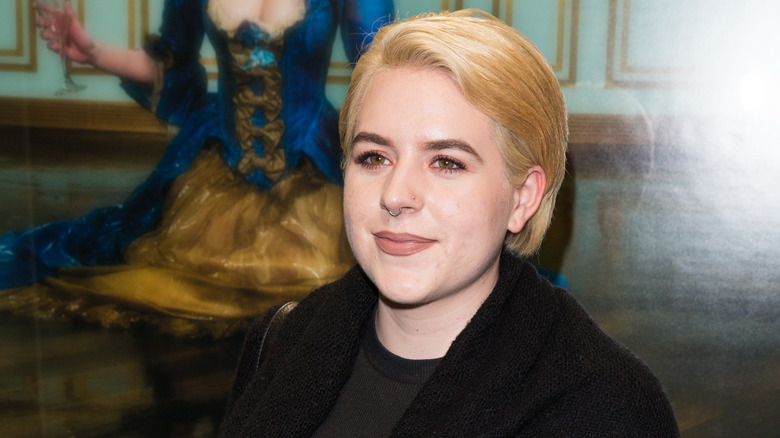 Luca Teuchmann/Getty Images
Tom Cruise has three children, even though his daughter with Katie Holmes, Suri, most often comes to mind. The "Top Gun" actor adopted a son, Connor, and a daughter, Isabella, with Nicole Kidman in the '90s. It's pretty common knowledge that Tom doesn't spend much time with Suri, but the same can't be said for his older daughter, who goes by Bella. That is except for during one of the most important occasions in a father-daughter relationship: Bella's wedding.
The designer married Max Parker, an IT consultant in Britain, in 2015. Like her dad, Bella embraced Scientology and grew up in the controversial church, but unlike her dad, she prefers to stay out of the spotlight. So when it came time to say their vows, the couple opted to keep things pretty private. Dubbed a "secret Scientology wedding" by the media, Bella and Max held the ceremony in London at the Dorchester Hotel.
Reportedly, a very small group was in attendance to witness the event, and not even her parents, Hollywood icons, made the cut. Talk about an exclusive guest list.
Both Tom Cruise and Nicole Kidman weren't in attendance
According to People, who confirmed the story, Tom Cruise, Nicole Kidman, and Bella's younger sibling Connor weren't invited to the wedding. Bella cited a desire for a quiet and low-key event. She worried that inviting a Hollywood star like her father, Tom, could bring unwanted attention. That means that Tom wasn't there to see his daughter say "I do," much less walk her down the aisle.
Still, the family maintains that everything's peachy between them and that Tom gave his full support, literally and figuratively, as he reportedly covered the cost of the wedding and reception party. To be fair, Max's parents weren't invited either. In an interview with the Daily Mail, Max's mother, Beverly Parker, said, "We didn't go, but we knew all about it. We stayed away, we didn't want a media circus."
Interestingly enough, though, the same interview claims the real reason Tom didn't make an appearance was a hectic work schedule. When Max was questioned about his father-in-law's absence, he stated, "Yeah. It is what it is." Both Bella and Max confirmed that their parents have yet to meet, though the wedding obviously wouldn't have been the best occasion for it due to the lack of invites for certain family members. On the other hand, Max has spent time with Tom but supposedly never officially asked for permission to marry Bella.
Tom Cruise's absence fueled long-standing rumors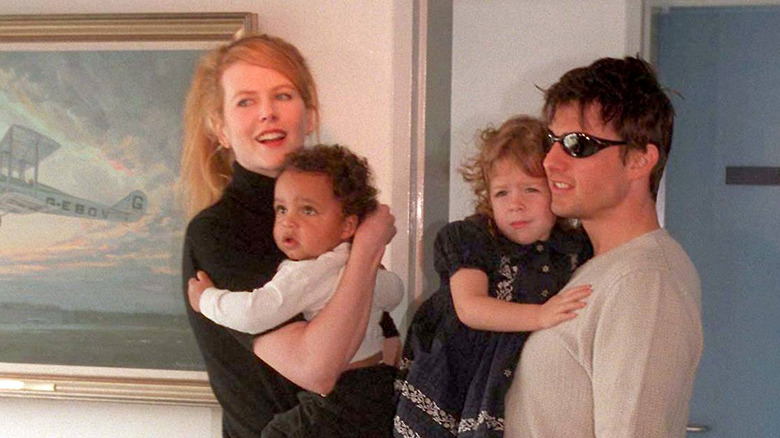 Patrick Riviere/Getty Images
Tom Cruise and Nicole Kidman's relationships with their children are under constant scrutiny. Though Nicole was reportedly in London at the time of the wedding, she wasn't invited to her daughter's big day, furthering the rumors that her relationship with Bella is a tense one. The strain may have started when Nicole and Tom divorced. Bella decided to stay with her father and remain loyal to the Church of Scientology. The last time mother and daughter were photographed together publicly was in 2007. Still, a source close to the "Big Little Lies" actor told People Nicole was "very happy for Bella" and her wedding.
Despite spending much of her childhood with Tom, Bella's bond with her father has also been questioned occasionally. The fact that she and her husband have bucked any regular financial support from her millionaire parents and moved away from the lavish Los Angeles lifestyle to live quietly in Croydon, England, seems to allude to the possibility that Bella is trying to sever ties with the "Mission Impossible" actor. But Bella claimed to the Daily Mail about her father's snub from her wedding that nothing is amiss with their dynamic, "Of course [we talk], they're my parents," she admitted.
Thanks to Bella's ultra-private lifestyle, we may never know the real reason why Bella didn't send Tom and Nicole an RSVP. She's probably "chuffed" with that, as they would say in her adopted home across the pond.