How The Stars Of HGTV's Good Bones Really Get Along Off Camera
Since 2014, mother-daughter team Karen E. Laine and Mina Starsiak Hawk have been renovating old and historic houses in their hometown of Indianapolis, Indiana. HGTV's "Good Bones" chronicles their endeavors, showing how the duo uses Starsiak Hawk's real-estate knowledge, Laine's legal experience, and their family's help to acquire and revitalize these broken-down properties.
While family is an ever-present element of "Good Bones," glimpses behind the scenes have led some fans to question whether their real-life relationships might be lacking the structural integrity boasted by their renovated houses. Since then, Starsiak Hawk has opened up about her tumultuous family dynamics, seemingly using the show's final season as a moment to reflect on the ongoing strife between her and her loved ones.
Specifically, the real estate expert took to her podcast "Mina AF with Mina Starsiak Hawk" to discuss the strained relationships with her mom and brother. Here's everything we know about how the stars of HGTV's "Good Bones" actually get along when the cameras aren't rolling.
Mina Starsiak Hawk opened up about her family dynamics on her podcast
As mentioned, Mina Starsiak Hawk of "Good Bones" has opened up about her complicated family connections, revealing that the on-screen portrayals don't reflect the entire picture. In the August 28, 2023 Episode of her podcast "Mina AF with Mina Starsiak Hawk," the renovator expressed her ongoing struggles with several family members.
"My mom [Karen E. Laine] and I aren't in a great place. My brother Tad and I aren't in a great place. My brother William and I are [in a] kind of, like, nonexistent place. It's complicated without even being complicated. We don't really engage much, and the last engagement wasn't super positive. And that was maybe a year ago," Starsiak shared. "We exist around each other. No one really enjoys each other. No one's punching the other person in the face by any means. We all just exist because it's what makes my dad happy."
Starsiak Hawk explained that these thoughts were prompted by birthday party planning for her son, who turned five on August 9, 2023, as she was questioning which members of her family she wanted to invite to the event. While the HGTV star didn't share specific details about the cause of her familial strife, the revelation makes it clear that the "Good Bones" cast has more going on than what we see on-screen.
Some fans have been speculating about Mina Starsiak Hawk and Karen Laine's relationship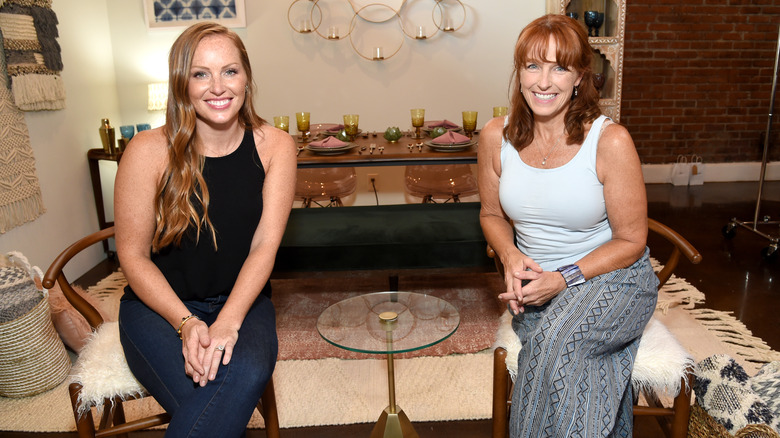 Michael Kovac/Getty Images
While some "Good Bones" viewers will be surprised to learn about the strained relationship between leading ladies Mina Starsiak Hawk and Karen E. Lane, others have long been speculating about the dynamic between the two. In a Reddit post from September 2022, one user wrote, "I've always felt like there's some tension between Mina and her mom. Maybe she just gets annoyed with her. She definitely acts like a teenager who is embarrassed by their quirky parents."
After the podcast episode from Starsiak Hawk aired in late August 2023, many fans similarly took to Reddit to weigh in on the family conflict. "I feel bad for everyone involved. Family relationships aren't easy, especially in big, complicated families," a fan wrote. "It's been pretty apparent that Mina and Karen have a strained relationship. In this season's episodes, they barely interact at all."
Though we know that there is definitely tension amid the Starsiak-Lane family, the details of their personal conflict remain uncertain. Either way, we just wish the "Good Bones" family the best and can't wait to see what projects the future has in store for them.