Michael Kors Lives A Lavish Life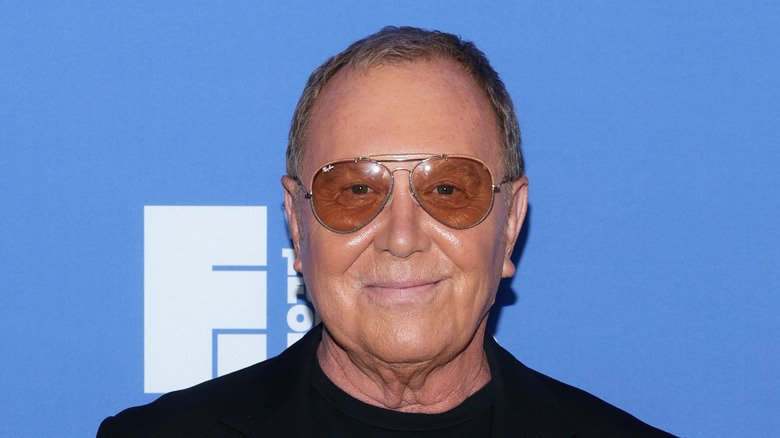 Dimitrios Kambouris/Getty Images
Popular designer and former Project Runway judge Michael Kors has created one of the best-known brands in American fashion. Through cultivating a "jet-set" aesthetic and savvy understanding of his high-profile clientele, Michael Kors has effectively solidified his brand's association with luxury. In his campaigns, the models drape themselves across yachts and pose confidently in front of helicopters, all while carrying their sleek Kors handbags. With 1,200 stores now open worldwide, Michael Kors and his brand have been successfully capturing the hearts of fashion lovers ever since he arrived on the scene in 1981.
Kors has come a long way since growing up in Long Island where he helped his mother put the final touches on her wedding dress. After being exposed to the glamour of fashion at a young age by his model mother and textile-maker grandfather, Kors fell in love with the extravagance of fashion and soon learned to replicate it in his own life. Bold, charismatic, and endlessly adventurous, Michael Kors has established a lifestyle as lavish as the luxury brand for which he's known.
Michael Kors lives in a Greenwich Village penthouse
Michael Kors, a born-and-raised New Yorker, will always call New York City his home. His boyhood love of fashion became serious when he attended the Fashion Institute of Technology in New York City, although he left after two semesters to start his career. Now, he lives with his husband, Lance LePere, in a gorgeous penthouse in Greenwich Village that boasts a private terrace, a personal gym, and countless art pieces with rich stories attached to them. 
Surrounded by a picturesque view of the New York City skyline, to say Kors and LePere live comfortably would be an understatement. As you enter their fully customized penthouse, you are greeted by an impressive gallery filled with photos collected by Kors over the years. Throughout the home, guests will encounter unique sculptures, vases, and baskets that each come with their own fascinating origin story. Take a stroll to the powder room and you'll come face-to-face with one-of-a-kind decorations such as notes written by Jackie Kennedy detailing her wardrobe preferences, and polaroids taken by Andy Warhol outside of Studio 54.
One of the more unique rooms in this historically rich yet modern penthouse is the "guest" room which, in practice, is actually dedicated to the couple's two cats, Bunny and Viola. Kors describes his beloved Cornish Rex cats as "ladies," and acknowledges that "they have their own room" in an interview with Architecture Digest. What lucky cats!
He also owns a beach house on Long Island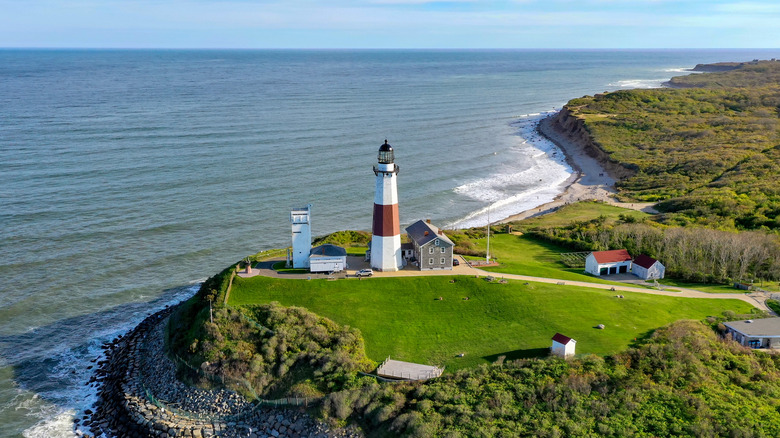 Felix Lipov/Shutterstock
When Michael Kors and Lance LePere need a break from the noise of the city, they run away to their beach house on Long Island. Designed by the very architect who created Studio 54, Scott Bromley, the beach house is a spacious and peaceful getaway that gives Kors and LePere the perfect space to feel like beach bums. In an interview with CN Traveler, Kors said that he's "always loved the beach lifestyle." Especially on Long Island. He continued, saying, "All the towns along the East End have their own charm ... and they're close enough that you don't have to pick just one."
Airy and open like the beach it is found on, this house offers Kors a chance to relax and unplug, a haven that the billionaire surely craves in his busy schedule. Their beach getaway includes a pool, an idyllic pier that weaves through the dunes and into the ocean, hand-picked furniture that exudes beachy elegance, and a separate guesthouse with its own themed rooms. On the shores of the ocean, Kors and LePere can be the "hippies" that they insist they truly are at the core. Though the style that Kors has become known for is anything but bohemian, he told Vogue, "My joke about it is that we are such a contradiction. We love caviar with potato chips ... Everything we love is laid-back but indulgent."
The designer is a self-described travel junkie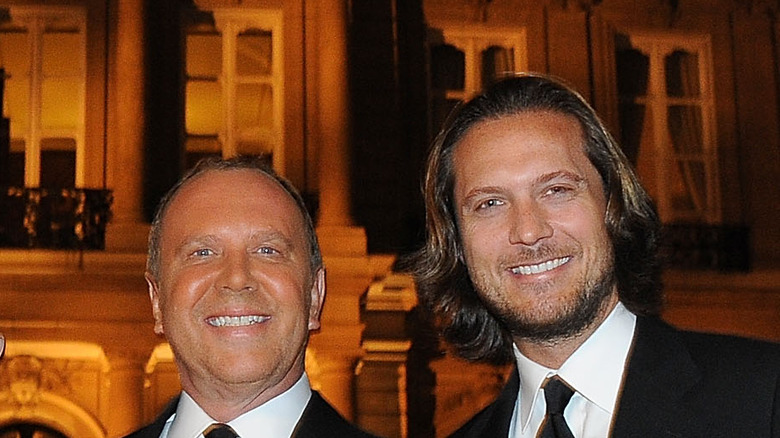 Pascal Le Segretain/Getty Images
Out of the many things his career has allowed him to experience, traveling seems to be one of his absolute favorites. Zipping around the world with the glamor that reflects the jet-setting style for which he's become known, Michael Kors seems to treat business trips and vacation trips with the same enthusiasm. Kors' travel lifestyle looks like it popped right out of a magazine spread promoting his latest luxury items as he travels around the world. As his international influence continues to spread and operations in countries such as the UK, Italy, Brazil, Japan, France, and the United Arab Emirates expand, the designer's opportunities to become a global traveler increase alongside his business, offering him more and more chances to fall in love with the places he gets to visit.
With the world of fashion — and the world itself — at his fingertips, Kors is committed to exploring all of it. In each of his three homes, the pieces he has collected from places like Thailand and Sweden breathe life into each room. And despite the plethora of objects, Kors can recall the story behind each piece, where it came from, and why he was drawn to it. After all, beauty is one of the things Kors loves most about traveling. He told British Vogue of himself and his husband, "We're travel junkies. We'll fly anywhere, especially if it combines architecture and nature."
One of his favorite places to vacation is Capri, Italy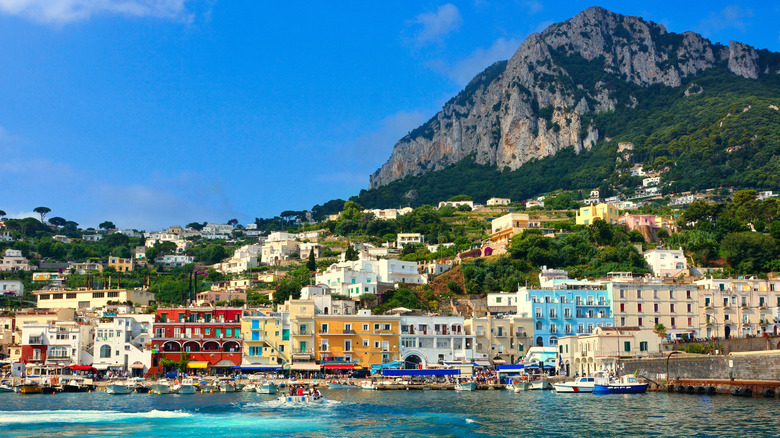 JeniFoto/Shutterstock
Out of all the places in the world that Michael Kors has traveled to, the gorgeous Amalfi Coast is one of his favorites — specifically the island of Capri which he described to Vanity Fair as the "perfect blend of glamour, nature, and luxury." Nicknamed the Pearl of the Mediterranean, Capri's beauty has turned it into a glamorous location for the wealthy to vacation and enjoy the finer things in life. In an interview with Boat International, Kors said that he loves to "just spend the whole day making our way around the island, stopping to soak up the sun, swim, eat vongole and drink sangria. It's divine." Relaxing on the crystal blue waters of the Bay of Naples, Kors and Lance LePere truly live in paradise on their annual visit to the island. 
Although they do not have their own house on the island of Capri, Kors and his husband have their home-away-from-home: The Grand Hotel Quisisana. Kors told Vanity Fair how the 5-star luxury hotel has become a second home for the couple after their many years staying there. Located in the middle of town, Kors describes it as the perfect place to people-watch or order a caprese salad. And when the island is not enough for Kors, he'll rent a boat and head to the mainland just for lunch at Lo Scoglio located in Massa Lubrense, another world-famous hotel.  
Kors and his husband built an incredible home in Florida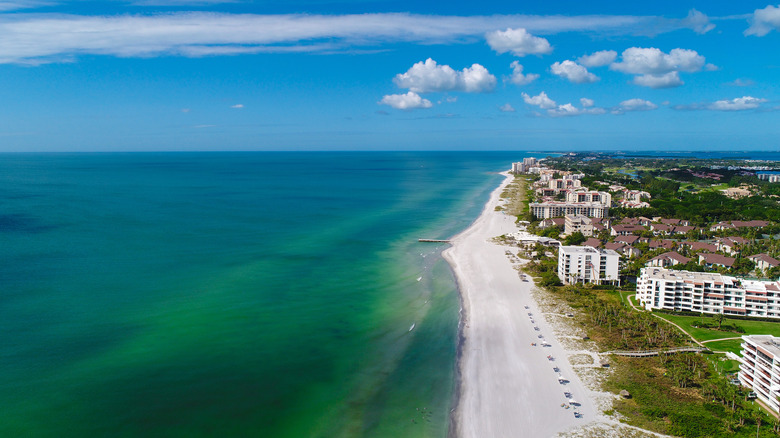 Nicole Glass Photography/Shutterstock
In addition to their expansive New York City penthouse, Michael Kors and his husband Lance LePere bought and renovated a gorgeous second home on Longboat Key near Tampa. Though he has spent much of his life living in the city, Kors has appeared to develop a deep appreciation for the opportunity to quietly relax in nature. He told British Vogue, "Places like the house in Florida or our beach house in Long Island are important to us ... I need to decompress, be in that chilled, barefoot zone."
Finally, after 5 years of construction, the couple opened the doors to the home and experienced the barefoot lifestyle of Kors' dreams. Plus, with a private chef to cook for them and the sounds of the waves through the open windows, Kors and LaPere are free to do whatever they please. For Kors, that looks like walking on the beach, swimming in the ocean, or reading a book with his phone locked away somewhere. 
The house itself is a treasure trove of beautiful memories. One of the highlights of their Florida home is their collection of coral from the Hamptoms and the Philippines, which Kors gathered himself. There are also several ceramic jars and plates from the couple's visits to places like Big Sur, Bejing, and London. Kors and LePere's memories of their incredible travels bring additional warmth into the home that's matched by the Floridian sun. 
He got married in the Hamptons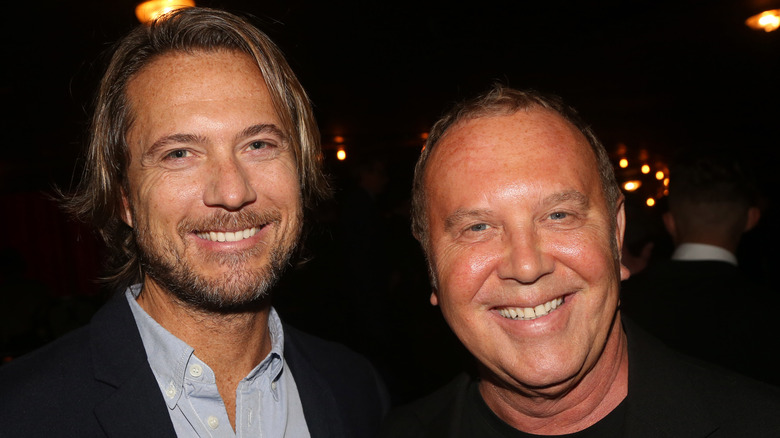 Bruce Glikas/Getty Images
Michael Kors met his future husband when Lance LePere joined the Paris office of Kors' eponymous brand as an intern in 1990. LePere, who is twelve years younger than Kors, was an aspiring fashion designer who quickly bonded with Kors over their shared aesthetics and fashion sense. In June 2011, marriage equality was made legal in New York and the couple were finally able to get married after 21 years together. Directly after watching the news of marriage equality on the TV, Kors and LePere looked at each other and knew that they needed to be married as soon as possible. They picked up their marriage licenses from the city clerk's office in Manhattan, announcing to People, "We have no plans for a major party, but we will be getting married privately." Two months later in August 2011, they were married. 
They gathered on Dune Beach in Southampton for a small ceremony that was officiated by then-mayor of New York City, Mark Epley. Unlike many of the parties and celebrations Kors had attended in the past, this one was small, making for a very intimate atmosphere. In a photo shared with the press, Kors wrote, "To marry someone as wonderful and special to me as Lance, barefoot on a glorious beach, is more than I could have dreamed of." After the ceremony, they traveled to the East Hamptons for dinner before returning home for wedding cake, caviar, and champagne.
The designer celebrated his 60th birthday with an incredible party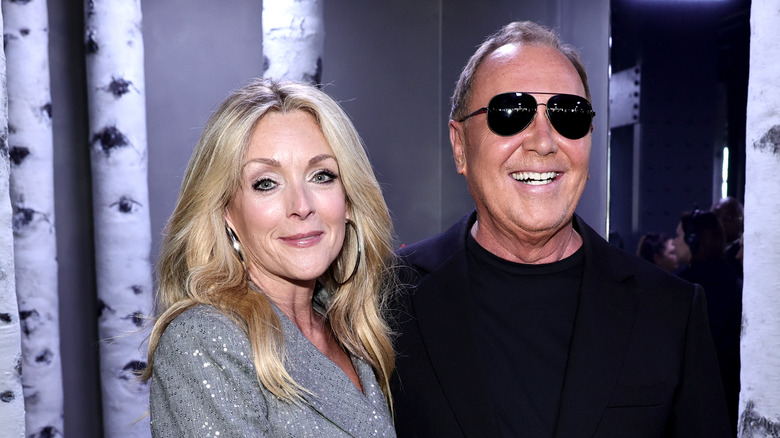 Jamie Mccarthy/Getty Images
As someone who skipped his high school prom in favor of partying at Studio 54, Michael Kors knows a thing or two about celebrating in style. When he turned 60 years old in 2019, Kors and his party guests flocked to Marie's Crisis in West Village, a well-known and beloved piano bar and a neighborhood staple. The bar has roots in the gay culture of West Village and is a personal favorite of Kors, so it came as no surprise that he invited friends to celebrate his 60th at the iconic venue. Located in a building that has been around since the late 1800s, Marie's Crisis provides guests with the opportunity to sing show tunes accompanied by a pianist, which is exactly what Kors and his pals did. 
With guests in attendance such as his longtime friend, actress Jane Krakowski, Kors and his party guests practiced something he refers to as "scream therapy," during which you sing as loud as you can, even if you can't really hold a tune. Kors confirmed that he and his friends fully committed to his scream therapy, telling W Magazine that "Everyone sang their hearts out that night." With the venue and the friends to celebrate in style, Kors had yet another celebration for the books. 
Kors and his husband love the theater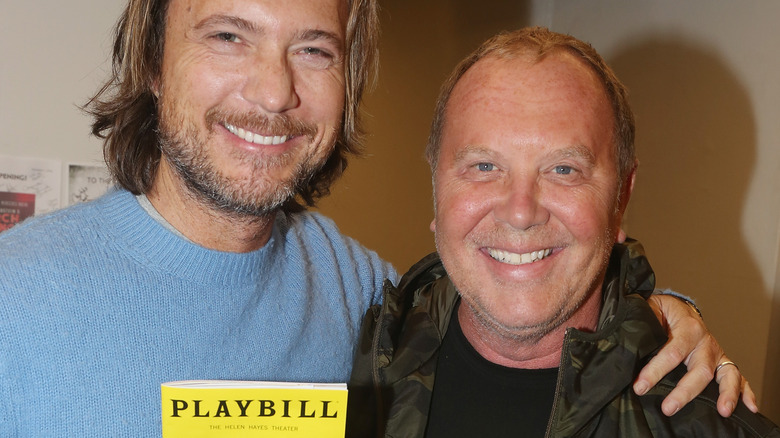 Bruce Glikas/Getty Images
One of the greatest luxuries of Michael Kors and Lance LePere's lifestyle is the ability to attend the theater whenever they want. Setting his obvious love of fashion aside for a moment, we need to recognize how obsessed Kors is with the world of theater. After seeing his first Broadway show at the age of 5, he was hooked for life, and his love for theater led him to see a theatrical production wherever and whenever he traveled. He told Luxury London, "I always try to see a show when I'm in town – I'm a theatre fanatic." Whether it's attending a show in Italy, the West End, or even the opening night of "The Lion King" on Broadway, Kors will surely secure a ticket.
As a tribute to his passion for the theater, Kors debuted his stunning Fall 2021 collection on a runway lit by the glowing marquees of the theaters he so deeply adores. This show was special not only because it was his 40th anniversary show, but also because it represented the first time Broadway turned on its lights after COVID-19 shut down the entire industry. With stars from both the worlds of fashion and theater in attendance, the event perfectly combined Kors' two greatest passions in a single, lavish event. 
The mogul owns 60 pairs of aviators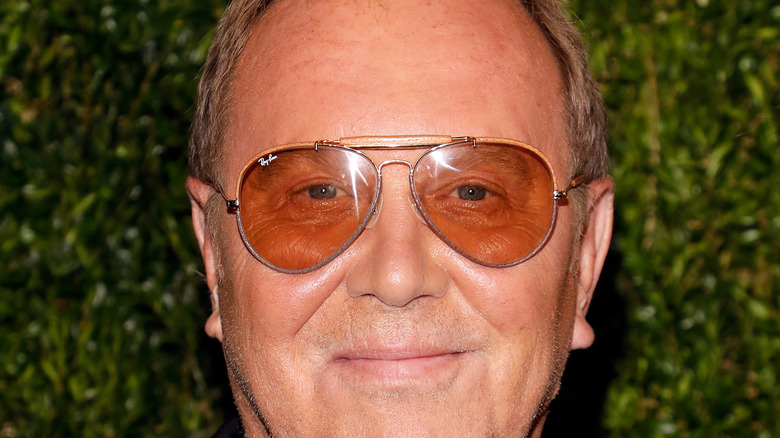 Taylor Hill/Getty Images
Michael Kors' signature all-black ensembles are almost as well known as the brand that has made his millions. Though the designer experimented with his look in his younger years, Kors has since cemented the all-black, aviator-donning outfit as his personal style. It likely won't come as a surprise, then, to learn that the fashion designer owns a mind-blowing 60 pairs of his go-to aviators. 
It's an incredible feat to even picture 60 pairs of aviators, so owning 60 pairs of the same model of sunglasses is quite a sign of luxury. However, though Kors is known for wearing all-black, the aviators in his collection actually come in a variety of colors, providing him with plenty of choices for daily wear. In fact, Kors told Harper's Bazaar that he changes the color of the aviator depending on his mood on any given day. He shared that he'll choose "the silver aviator if I'm feeling nasty, an olive aviator if I'm feeling sporty, and black if I don't want to think about it." After all, when you own 60 pairs of aviators, why not? 
Several of his best friends are household names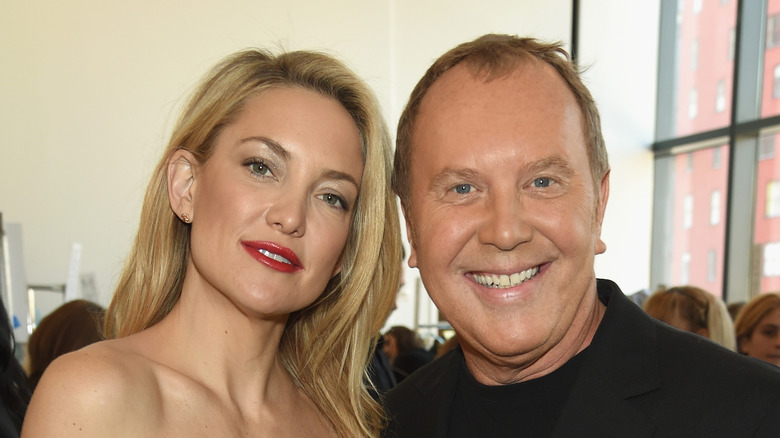 Dimitrios Kambouris/Getty Images
It should come as no surprise to learn that one of the most prominent names in fashion has befriended several celebrities both within the fashion industry and outside of it. One of Kors' longtime friends is Kate Hudson, with whom he shares a love of musicals and a passion for helping communities through the organization Watch Hunger Stop. Another friend of Kors is the beautiful Blake Lively, who has worn many of his designs over the years. When she attended a Michael Kors fashion show in February 2016, she told The New York Times, "There is no one in the business more fun and generous and thoughtful than Michael." When asked about her plans after the show, Lively shared that she would go back to her hotel with her mom and order lots of room service, explaining, "Because it's Michael who will be paying!" Paying for your friend's room service? Now that's a beautiful friendship. 
Michael Kors was also one of the go-to designers of none other than former First Lady of the United States Michelle Obama, who posed for her first official portrait while wearing one of his dresses. In addition to their working relationship, the two appeared to share a sweet friendship. Kors has even attended several "Obama parties." One of the events he attended was Michelle Obama's 50th birthday party where he got to see Beyoncé perform at the White House and eat waffles. Sounds like the perfect celebration. 
He has a favorite shower, and it's in the Caribbean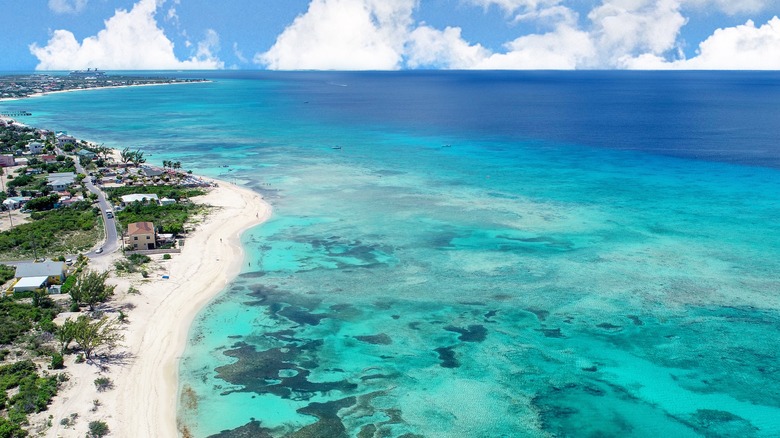 Mindy Payne/Getty Images
Have you ever thought about your favorite place you've ever showered? Michael Kors has, and it's at an island resort in the Caribbean. If that doesn't speak to his luxurious lifestyle, what does? Kors told British Vogue all about his favorite shower, which can be found at the 5-star resort Parrot Cay in the paradisical Turks and Caicos. "They're outdoors, with lots of greenery," he said, adding, "We modeled our Florida shower after that one." 
The luxury of Kors' lifestyle is partially due to his ability to identify what he's drawn to. There's no doubt that flying to the Caribbean on your private jet is a privilege that few are privy to, but Kors doesn't seem to take it for granted. In fact, he often uses his incredible experiences as inspiration, even if it's as simple as creating the perfect shower. In his Vogue interview, Kors also described his love of simply seeing the sky — "Even if it's cold and rainy, I'd still rather take a shower in the open air. I would still rather see [the] sky."
Kors supports philanthropic movements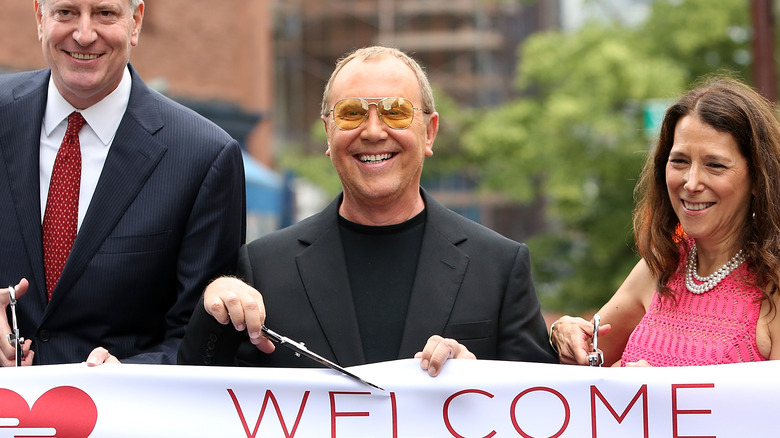 Monica Schipper/Getty Images
In addition to the lavish ways that Michael Kors enjoys spending his money, the designer is also dedicated to supporting important causes. As previously mentioned, theater is one of Kors' great loves and he supports the Broadway community through substantial philanthropic efforts. In October 2016, Kors and his husband gifted $1.5 million to the Roundabout Theatre Company in New York. This organization supports five theaters in New York — three of which are theaters on Broadway and two are Off-Broadway. In honor of this gift, a VIP lounge in the Stephen Sondheim Theatre was built and named after Michael Kors and Lance LePere. 
Kors has also been a longtime supporter of the non-profit organization God's Love We Deliver, which provides meals to those living with diagnoses of HIV/AIDS, cancer, and other life-altering illnesses in the New York area. For more than 30 years, the designer has supported this organization, and in 2015, their headquarters was named after him. His passion for feeding those who are hungry has also led him to become involved with the United Nations World Food Programme, which he has supported since 2013. Through his time, financial support, and commitment to raising awareness for a range of philanthropic causes, Kors has ensured that his immense success will also support those in need.