Meet Gigi Hadid's Rumored New Boyfriend, Cole Bennett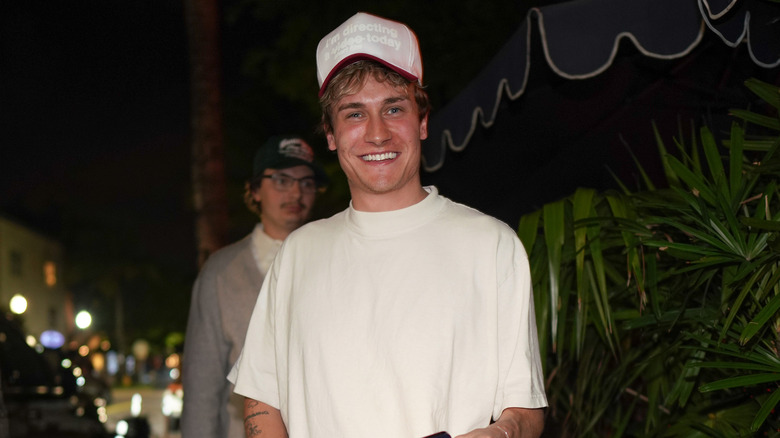 305pics/Getty Images
When news of Gigi Hadid and Leonardo DiCaprio's relationship broke, the Internet went wild because people couldn't believe DiCaprio broke his streak of dating women under 25 with the 27-year-old model. The couple had a seemingly complicated relationship as they switched between being labeled a situationship, a casual relationship, and exclusively dating. However, the "Titanic" star seemingly marked the end of their romance by making out with 25-year-old model Vittoria Ceretti in September 2023.
Meanwhile, Hadid seems to have moved on with Lyrical Lemonade founder Cole Bennett. They first sparked dating rumors after leaving an August 2023 house party together. A source close to the rumored couple told Us Weekly that the pair had a platonic relationship for a while before deciding to take things to the next level. "They've been playing coy about their status, but they mesh really well together," the insider explained, adding that Hadid finds Bennett to be a refreshing change from the type of men she's dated in the past.
That being said, this definitely isn't a serious relationship because Hadid enjoys being single and wants to prioritize her daughter and career. Still, the source claimed Hadid wouldn't mind a more serious relationship after being stuck in a situationship with DiCaprio for a year, so they're figuring things out as they go. This rumored relationship might come as a surprise considering all of the famous people Hadid has dated, but Bennett is a highly accomplished and sought-after music video director who has worked with some of the biggest names in the industry.  
Cole Bennett built a major production company from the ground up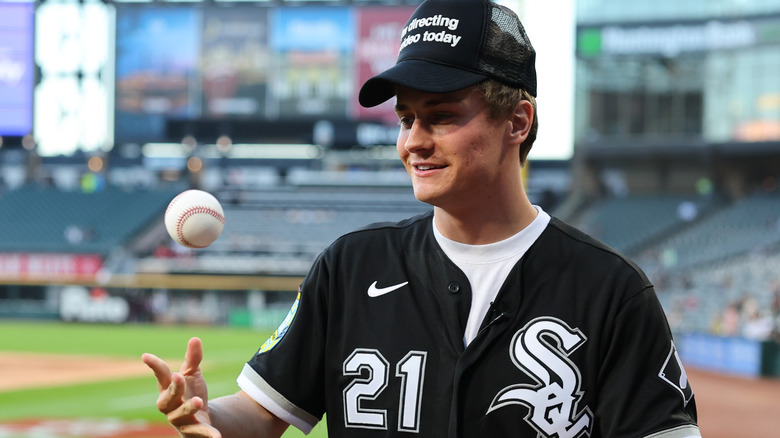 Michael Reaves/Getty Images
Cole Bennett is a Plano-born music video director. He grew up with a hard-working mother who took on three jobs to support the family after his father tragically committed suicide. Speaking to Complex, Bennett said that he doesn't bear any resentment towards his father because he believed he took his life to set his family free. As a rap music-loving teenager, Bennett would escape boring old Plano on weekends to attend concerts in Chicago. He also directed music videos for friends and local artists, and eventually, he realized he wanted to do more to fuel his passion. 
So, he started a blog called Lyrical Lemonade, a name that came out of a brainstorm with his mother. In Bennett's TEDx Talk, he said that he shared his ideas for the blog with a classmate, who called him stupid. Still, Bennett took it in his stride and used the negativity as motivation. He commissioned some Lyrical Lemonade stickers and distributed them around his high school. And within days, they were all over the place.
Every day, he would come home from school and write blogs about underrepresented local talent. However, it wasn't until after he gathered a big crowd for a free local show that he realized he could grow Lyrical Lemonade. As an average student, Bennett prioritized his college studies to see the outcome of pushing himself and ended up on the Dean's List. He never graduated, however — he eventually dropped out to focus on his passions full-time. 
Cole Bennett's portfolio cites some pretty big names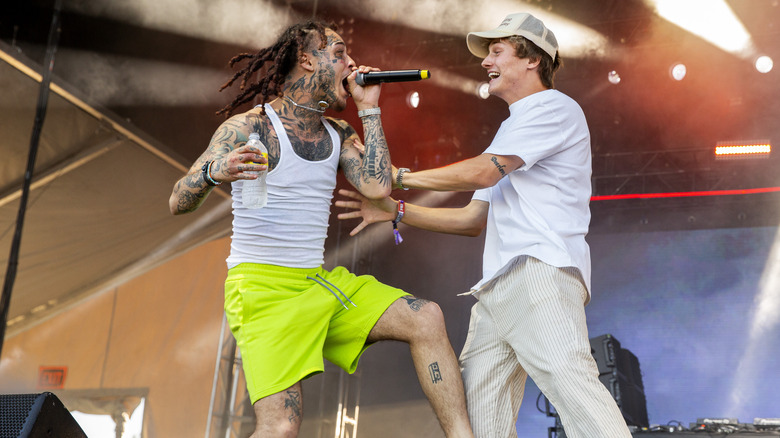 Barry Brecheisen/Getty Images
In his TEDx Talk, Cole Bennett shared that he got his first mainstream break in direction after Quavo presented him with an opportunity to work on one of his videos. Although Bennett put his heart and soul into the clip, it never saw the light of day as they moved on to a new project. However, he didn't let that discourage him as he's always been an optimist who focused on what he could control. He stayed true to his work, and eventually, Wiz Khalifa reached out to him for a music video. At the time, Bennett's signature was low-budget but high-quality videos. 
Since his humble beginnings, Bennett has worked with big names like Justin Bieber, Eminem, Jack Harlow, Trippie Redd, Juice WRLD, Blink-182, and many more. He continues to support up-and-coming artists, as well. Lyrical Lemonade's YouTube channel has tens of millions of subscribers and billions of views. Bennett has also breathed new life into music videos with his whimsical, colorful, and creative approach and animation-style drawings. 
His distinctive style of making music videos pop has contributed to the meteoric rise of artists like Lil' Pump, Lil' Xan, and Lil' Tecca. What started as a high schooler's passion project blog grew into a multi-faceted brand that creates music videos, merchandise, lemonade, and organizes live events. Despite his commercial success, he keeps his private life relatively private, but he's always happy to share a snap of his adorable dog, Moon. He might start featuring Hadid in some of his shots, too!