How Devon Became Neil's Son On The Young And The Restless
Kathy Hutchins/Shutterstock
Life on "The Young and the Restless" has not been the same since Neil Winters had died. The character was played by actor Kristoff St. John, who died at the age of 52 from a heart condition, according to People. Unfortunately for "Y&R" viewers, the actor's death meant Neil had to be written off the show. 
As fans of the hit CBS soap will recall, Neil left Genoa City to be with his daughter Lily Winters (Christhel Khalil). He wanted to be closer to her when she was serving time for the death of Devon Hamilton's fiancee, Hilary Curtis (Mishael Morgan), according to Soaps In Depth. When Neil returned home to Genoa City, it was Devon who found his father dead in his bed. He had died from a stroke.
While the Winters family tree might seem like a long and complicated one to keep up with, Devon became a part of it thanks to some fate and some good faith.
Neil Winters saved Devon's life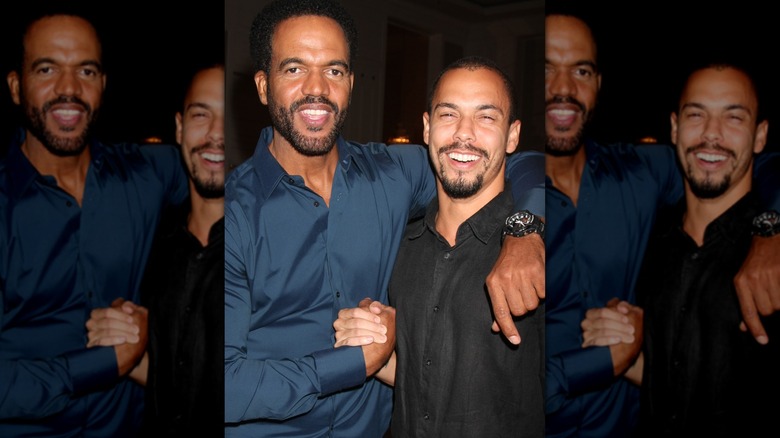 Kathy Hutchins/Shutterstock
Devon Hamilton is still standing on "The Young and the Restless" despite his traumatic childhood. His birth parents are Harmony Hamilton (Chene Lawson) and Tucker McCall (Trevor St. John). But after going through the foster care system, losing his hearing, and experiencing multiple accidents in his life, he was adopted by Neil Winters (Kristoff St. John) and Drucilla Winters (Victoria Rowell), according to Soaps In Depth. The couple gave young Devon the support he needed and were even by his side when he had surgery to help restore his hearing after a bout with meningitis. Neil turned out to be the father Devon never had, as their bond was unbreakable — so much so that Devon has had a difficult time accepting his biological father, Tucker, back into his life. Devon even changed his last name from Hamilton to Winters to further honor his adoptive parents, per Soap Hub.
Devon's portrayer, Bryton James, told Soap Opera Digest Devon's adoption impacted the character's entire trajectory. That was when Devon really experienced what true love felt like. He explained, "It was even bigger than when he inherited all that money from Katherine. Becoming part of a real family made Devon feel worthy and set the foundation for everything else in his life."
While Neil might no longer be with his loved ones in Genoa City, his memory certainly lives on. 
Devon still keeps Neil close to his heart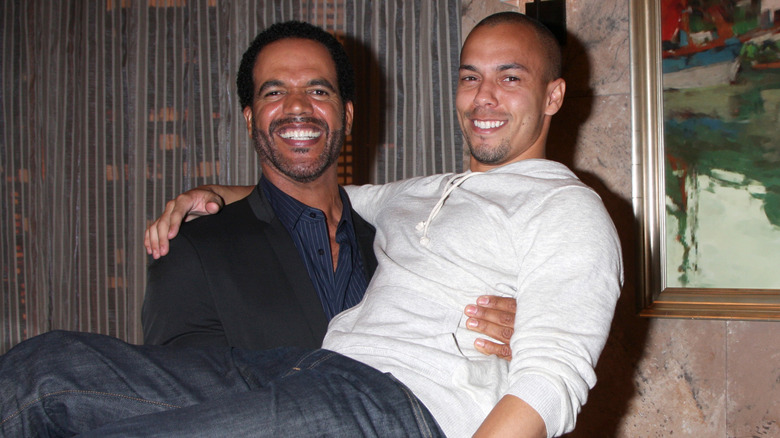 Kathy Hutchins/Shutterstock
Devon Hamilton has been all over the place on "The Young and the Restless" thanks to the drama involving both his personal and professional lives. He's given a little piece of his heart to his longlife friend Abby Newman (Melissa Ordway) and has also tried to figure out the next steps with his family's business. Despite everything he's gone though, Bryton James still thinks about Neil Winters and what he would do if he were here today. He told Soap Opera Digest, "For years, even back when Kristoff [St. John, ex-Neil] was still here, we've talked about how we needed to have a company where it was about the Winters family, so to have a company that represents both the Chancellor and Winters legacies is pretty incredible to me."
It goes without saying that James misses his co-star the same way Devon misses having Neil around in his life. In May, James, along with some of his "Y&R" co-stars, paid tribute to St. John in a special memorial episode. He also took the time to remember St. John on his birthday and often shares throwback photos of him on social media, calling him the "Denzel of Daytime." There are probably very few "The Young and the Restless" fans who would argue with that.