We're Emotional Over Kate Middleton's Earrings On Anniversary Of The Queen's Death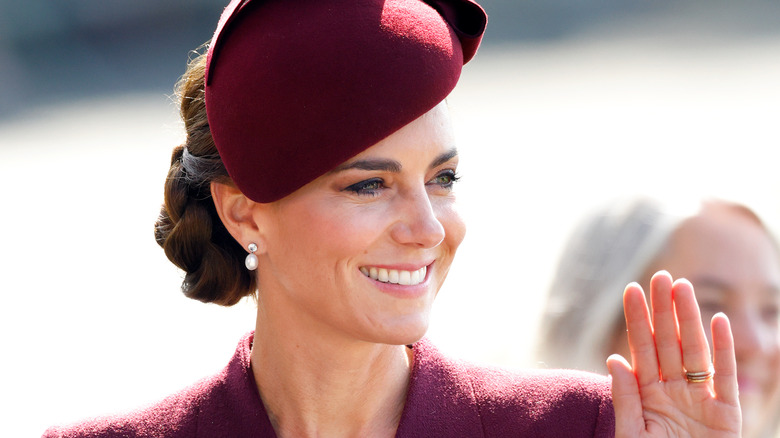 Max Mumby/indigo/Getty Images
We may receive a commission on purchases made from links.
It's hard to believe it's already been a year since the death of Queen Elizabeth II. The beloved British monarch passed away at the age of 96 on Sept. 8, 2022, leaving her nation in mourning. Among those missing the queen the most have to be Kate Middleton. They say a picture can paint a thousand words. We believe that pictures of Kate at an event honoring Queen Elizabeth speak volumes of how dearly she loves and misses her grandmother-in-law.
On Sept. 8, 2023, William and Catherine, Prince and Princess of Wales, attended a commemorative service for Queen Elizabeth. The princess made sure to wear a meaningful accessory for the important occasion. She opted to wear a pair of pearl earrings with diamond studs from Queen Elizabeth's collection, according to People. This wasn't the first time that Kate wore the famous pearl earrings to honor the late ruler. In the days following Queen Elizabeth's death, Kate was spotted wearing the same diamond-studded jewelry at multiple venues, including Sandringham (via Page Six).
In the past, Kate has paid her respects to the lineage of royal women who came before her by including a piece of their iconic fashion in her own outfits. Likewise, Kate has honored Princess Diana by mimicking some of her most memorable looks or by including an accessory from the late princess' personal collection in her own outfit.
Here's how Kate's entire outfit paid respect to the Queen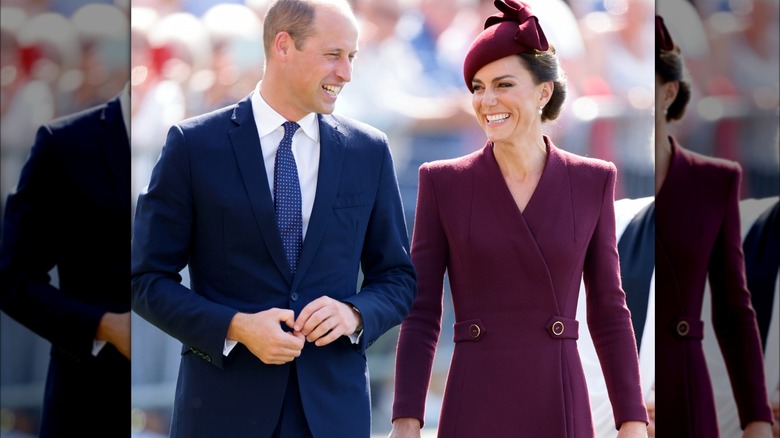 Max Mumby/indigo
Kate Middleton's earrings aren't the only way that she paid homage to the late Queen Elizabeth II. According to royal experts, Kate expressed her love for her grandmother-in-law by wearing a classy, subdued outfit perfectly suited for the somber memorial service. The Princess of Wales is known for her bold outfit choices, but she toned it down for the event by wearing a very traditional look. 
"Steering clear of trendy styles or design features means an outfit — and the historic photographs — will age well and never look silly or outdated," royal fashion expert Christine Ross told Newsweek. "The simple design and repeated style allows for the conversation to focus on the important events of the day, rather than fashion debate."
Queen Elizabeth's relationship with Kate Middleton has always made us smile. The Queen seemed to dote on Prince William and his wife, so we're happy to see Kate continually return that affection by honoring the Queen's legacy with her fashion choices. We're with the experts on this one; we're sure that Kate's sophisticated outfit and touching earring tribute would have made the Queen proud.
Why pearls were a fitting choice to wear to the Queen's first death anniversary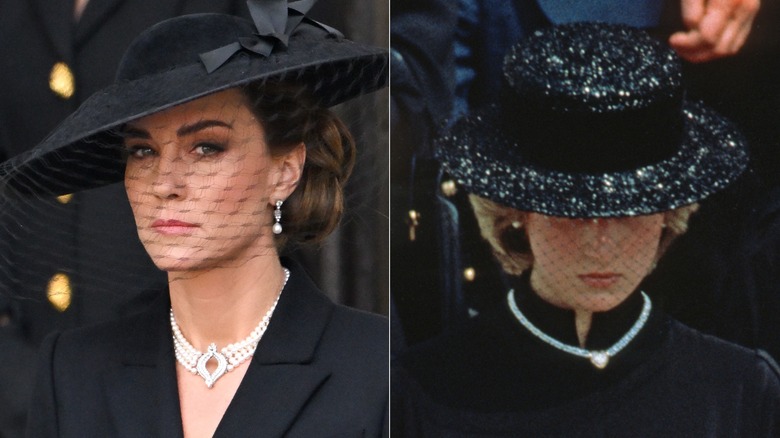 Karwai Tang & Anwar Hussein/Getty
Kate Middleton, fashion-conscious royal that she is, never shows up to an event without understanding the message her outfit will be sending to the world. Her decision to wear Queen Elizabeth's pearl and diamond earrings was a brilliant way to honor the late Queen, who was herself a fan of pearl jewelry. But that wasn't the only reason Kate chose to wear pearls to the Queen's tribute. According to Bethan Holt, author of "The Queen: 70 Years of Majestic Style," the Princess of Wales understood the historical significance of wearing pearls while in mourning.
"Pearls are one of the very few jewelry items you can wear in mourning and are inextricably linked with Queen Elizabeth and her personal jewelry legacy," Holt told People. "It's a symbol of mourning a monarch but also a grandmother or great-grandmother."
The royal family's tradition of wearing pearls during the mourning period was set in place by Queen Victoria (via Town & Country Magazine). After the death of her husband, Prince Albert, the mourning royal took to wearing jewelry embedded with pearls, which symbolized tears. The tradition has been sustained throughout the years. According to Vogue, Queen Elizabeth, Princess Diana, and now Kate Middleton have all been spotted wearing pearl jewelry while in mourning.