How Jodie Sweetin Almost Drove John Stamos To Leave Full House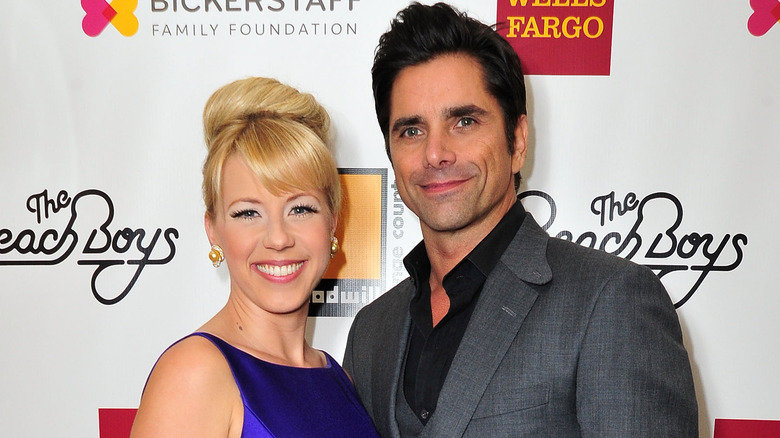 Jerod Harris/Getty Images
Hollywood is not just about glitz and glamour, it also entails overwhelming pressure and expectations inherent in the world of show business. Actors face not only the typical stresses of their work, such as fierce competition and long hours of acting, but also the added burden of getting along with their co-stars. John Stamos learned this while dealing with the younger cast members of "Full House."
The former "General Hospital" star has shared his struggles while filming the TV sitcom as he had to interact with child actors on the series. When asked about "Full House," he said on First We Feast's "Hot Ones," "Full House . . . I hated that show. Obviously, I ended up loving it but it was sort of pitched to me as 'Bosom Buddies,' with a couple of kids in the background." However, he never thought that casting children in the show would make him worry about being overshadowed by them.
In the sitcom, there were four kids included — Mary Kate and Ashley Olsen, Candace Cameron Bure, and Jodie Sweetin. Stamos' relationship with Sweetin wasn't exactly ideal at first since he shared he wasn't fond of her. He recalled one of their table reads and he said, "Jodie Sweetin, who plays Stephanie, reads her lines, and people are dying laughing . . . I was like, 'What's happening here?' . . . You couldn't even hear my lines, they were laughing so hard at her." His insecurities with the child star became too much that he almost quit.
He later realized the beauty of their show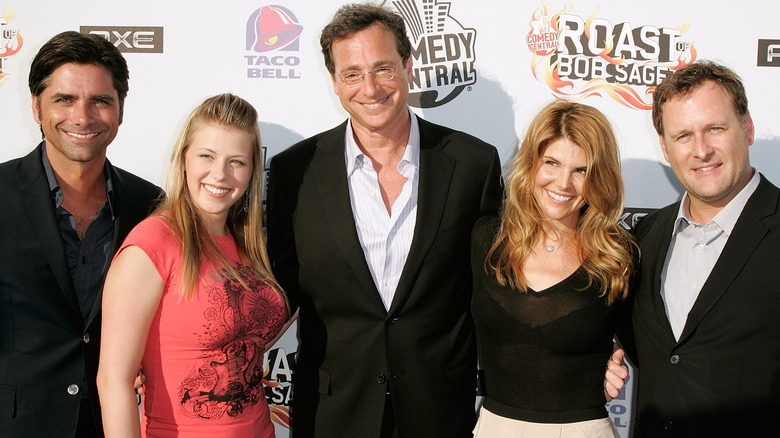 Jason Laveris/Getty Images
The series was about the life of Danny Tanner, a widower portrayed by Bob Saget, who heartbreakingly passed away in 2022. Following the tragic loss of his wife, his brother-in-law Jesse Katsopolis (played by John Stamos) and his closest friend Joey Gladstone (portrayed by Dave Coulier) came to live with him in his San Francisco residence, offering their support in raising his three daughters: D.J. (Candace Cameron Bure), Stephanie (Jodie Sweetin), and Michelle Tanner (portrayed by Mary-Kate and Ashley Olsen). Since it's pretty obvious that the kids were a permanent inclusion to the show, Stamos called his agent infuriated and said, "Get me the f*** off this show." 
Thankfully, he had a change of heart. He continued, "We were like, 'Well, we'll give it a try.' And then Bob came in. I fought it for a long time. And then I finally said, 'What am I doing? It's a beautiful show we built with sweetness and kindness.'" Stamos also added that he realized that "Full House" exhibited an extraordinary type of family, which might have contributed to the show's success. 
Needless to say, the series' premise turned out for the best as it became a massive hit running for eight seasons. The sitcom aired from 1986 to 1995. It even spawned a spin-off titled "Fuller House," which Stamos also starred in. The Netflix's revival of the beloved series ran for five seasons from 2016 until 2020.
Stamos also wanted the Olsen twins to be fired from the show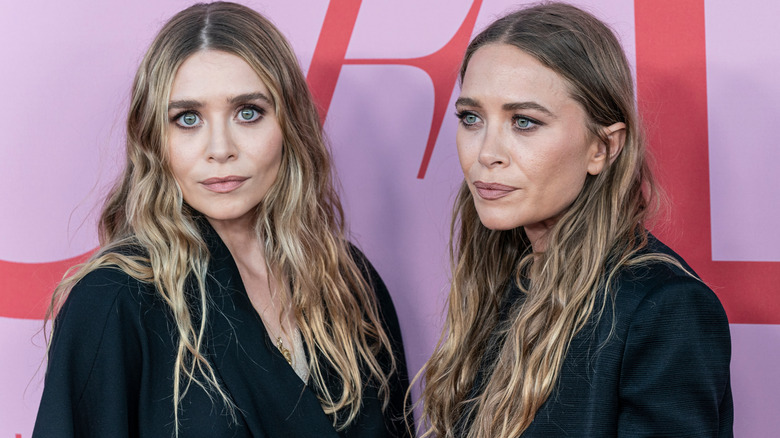 lev radin/Shutterstock
John Stamos might have developed a good working relationship with Mary-Kate and Ashley Olsen over time, but this wasn't always the case. In one of the episodes of the "Good Guys" podcast, Stamos shared his initial attempts to have the sisters replaced on "Full House." The twins might not be aware of this, given that they were just 11 months old at the time.
Stamos recalled an incident during the filming of the show's pilot, where he and his co-star Dave Coulier were involved in a scene that required them to change one of the twins' diapers. He said, "We're carrying the baby downstairs and I think I was holding her on the armpits and Dave was holding her little feet. We take her into the kitchen and we hose her down and we put a fan on her we wrap her up in paper towels. She was screaming. Both of them. They wanted to be anywhere else but there and so did I." 
The "Thieves" actor felt overwhelmed and suggested getting another set of kids to play Michelle Tanner. He added "This is not gonna work, and I screamed it 10 times. I said, 'Get rid of them.'" So the producers listened to him and looked for new child stars. Fortunately for the Olsens, the replacement babies didn't quite meet the standards, leading to their return to the show that kickstarted their careers.