Derek Hough And Hayley Erbert's First Kiss Was Extremely Public
Jesse Grant/Getty Images
Derek Hough and Hayley Erbert got married on August 26 in Monterey, California, just over a year after getting engaged. The couple, who many know from ABC's "Dancing With the Stars," had been together for more than seven years before making things official. What some people may not know is that Hough and Erbert actually met through work. According to People, Hough and his sister, Julianne Hough, were going on tour and they hired Erbert as a dancer. The brother-sister duo would later help Erbert land a spot on DWTS as a troupe member; she made her debut on the show during Season 21. It wasn't until 2015, however, that Derek and Erbert started dating.
During an interview on "The Kelly Clarkson Show" back in February, Derek opened up a bit about the early days of his romance with Erbert and shared a story about their very first kiss. Yes, it was super romantic — and quite steamy — but it was also totally public! Derek recalled performing with his now-wife when onlookers started egging them on. "We were on stage dancing. We're doing the rumba, the dance of love, and it was the last show and the dancers from the side were all like, 'Kiss! Kiss!' So, our first kiss was actually on stage," Derek told Kelly Clarkson. And while the two do agree on how their first kiss came about, they seem to have different recollections about who made the first move.
Hayley Erbert insists it was Derek Hough who made the first move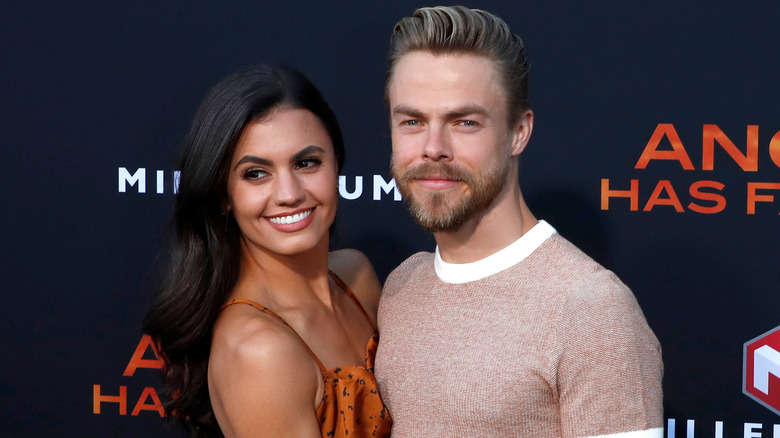 Kathy Hutchins/Shutterstock
Derek Hough and Hayley Erbert had a working relationship very early on, but it didn't take very long for the two to realize that their chemistry far exceeded what was going on during the rehearsals and their live performances. When Kelly Clarkson asked who made the first move, however, both Derek and Erbert pointed fingers at each other. "I think we both opened the door simultaneously, maybe?" Derek asked, looking over at Erbert, who was in the audience. She made a face as if to suggest that wasn't the case. Ultimately, the two agreed that it was indeed Derek who initiated things.
Over the years, Derek and Erbert have traveled together, performed together, and really built a life together. The next step for the newlyweds will most likely be kids. "I know she's just going to be an amazing mother and amazing wife ... she's so thoughtful, so caring, so loving," Derek told Us Weekly in January 2022. "Just seeing the way she is with our animals, I mean if she's even a quarter of the way she is with our animals how she is with our kids I just can't wait to see her be a mom," he added. But the couple has some big plans ahead before settling down to start a family.
Derek Hough & Hayley Erbert are heading on tour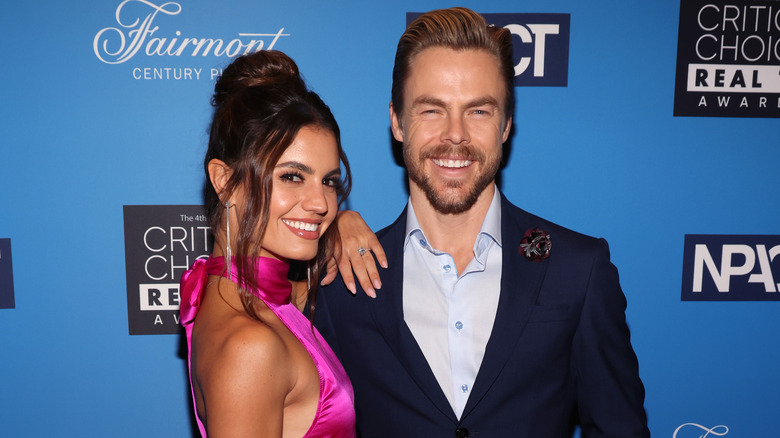 David Livingston/Getty Images
At the end of September, Derek Hough and Hayley Erbert will set out on a multi-city tour. "It's been over 4 years since I've hit the road. So I'm ecstatic to announce a Brand New Live TOUR coming to your city this Fall," Derek captioned an Instagram post in February. A few months later, he announced the name of the show, "Symphony of Dance," and listed all of the upcoming tour dates, which will have him and Erbert traveling the country until just before the Christmas holiday. This will mark their first Christmas as husband and wife.
Derek and Erbert traveled to Italy for their honeymoon before their upcoming tour, but also made time to get some workouts in as a way to prepare for the road ahead. "We're out here getting ready !!! Are you ready?" Hough captioned a joint Instagram post that included clips of him and his wife in the gym. Suffice it to say, these two have come quite a long way since their first kiss (and we're sure there will be more public kisses between them while they are dancing together on tour).