How Wedding Planners Know A Marriage Won't Last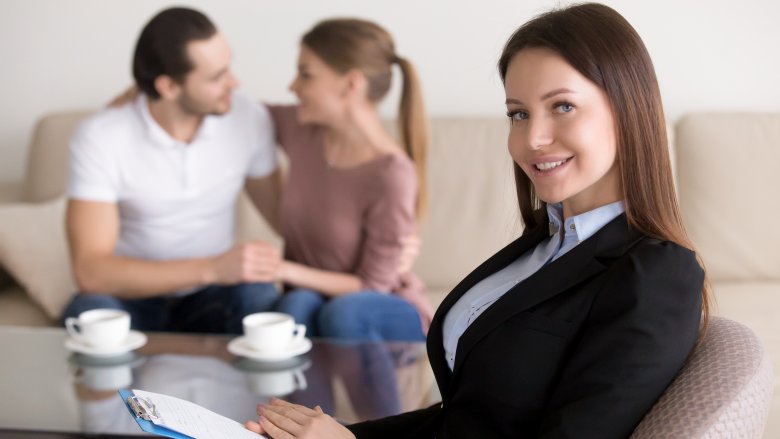 Shutterstock
Planning a wedding is no easy feat, which is likely why many couples have begun turning to professionals. The popular wedding planning website The Knot (via XO Group Inc.) surveyed nearly 18,000 newlyweds in 2015 and found that over a quarter of brides and grooms opted to hire a wedding planner for their ceremony. Even in the age of Pinterest and, yes, The Knot, couples are realizing the benefits of having a pro on their side.
"Choosing a wedding planner is a huge step towards a stress-free and successful wedding day," Maureen FitzGibbon, senior designer at the event planning agency Kate & Company, told InStyle. "Remember that you're going to spend a lot of time with this person or team," the expert advised. This means these matrimonial professionals are privy to a lot of behind-the-scenes wedding drama. As such, many have become quite proficient at spotting signs that a marriage may not stand the test of time. Read on to find out just what they are.
The couple would rather spend time apart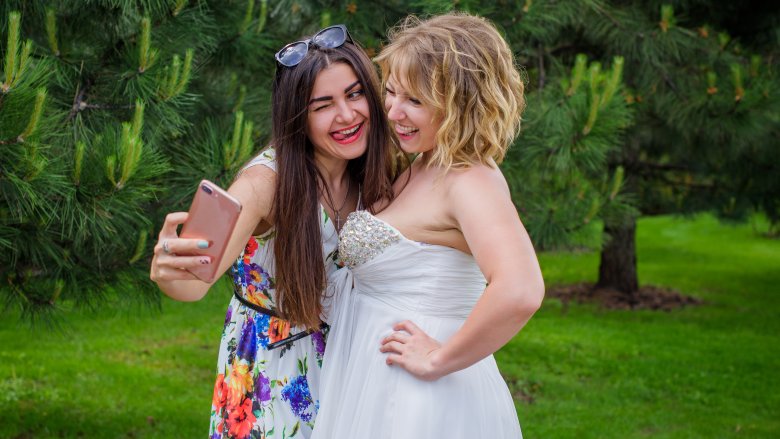 Shutterstock
It may go without saying that a wedding is all about the two people getting married. While family and friends are often invited to celebrate alongside the happy couple, the day is meant to center around the bride and groom's union. But, what if the couple decides they don't want to spend time with each other at their own wedding? Believe it or not, this is something wedding planners see from time to time.
"In one instance, the bride and groom just could not be bothered to be seen together at the wedding," one planner dished to People, "I had to virtually drag them to get some photos of the two of them together and they kept walking off to hang out with their friends." The expert continued, saying she would've maybe understood if they hadn't been able to see their friends in a long time, "but one of the friends lived with them and the others were in the same town." Yikes!
The bride and groom are all about getting married, but not being married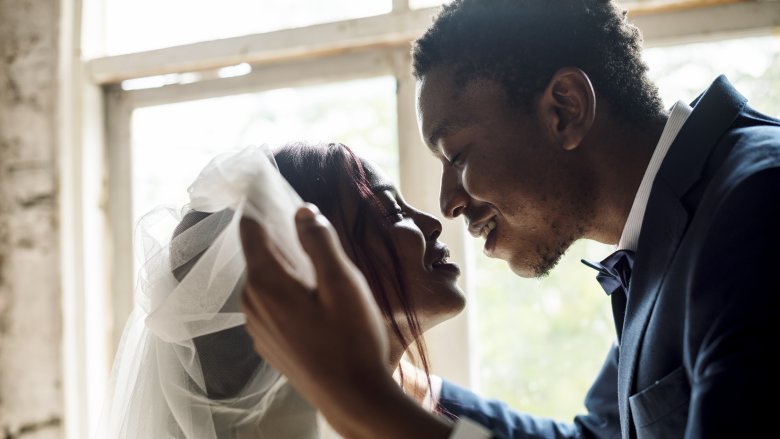 Shutterstock
No one — at least we hope no one — would hire a wedding planner in order to have the worst wedding possible. That just wouldn't make any sense. Couples obviously want to enjoy their wedding. Because of this, couples plan ceremonies and receptions they will love and remember for years to come. And while every reputable wedding planner wants their clients to have the wedding of their dreams, there is danger in not looking beyond the one, albeit big, day.
Farah Saint-Jean, wedding and event planner and co-owner of the New York-based wedding and event planning company Spectacularly Yours, told The List that couples can get more caught up in the "fairytale than reality." In fact, she knows a marriage is headed for disaster when "the couple is more in love with getting married — the big day and all the festivities around it — than they are about married life."
The toast tells all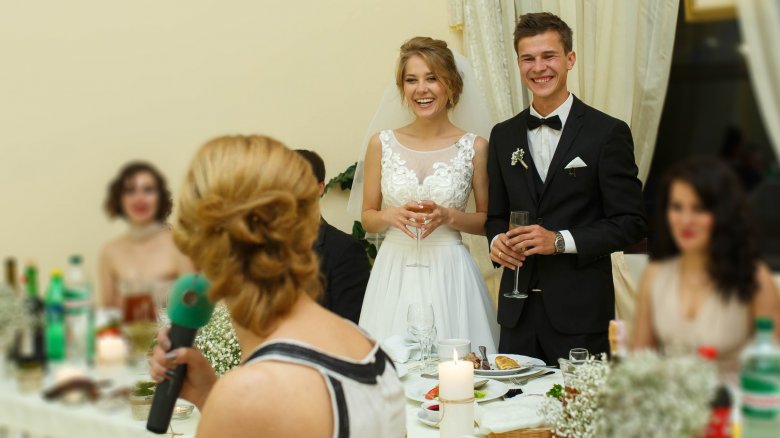 Shutterstock
Chelsea Forcum, co-owner and wedding planner at CK Events in Portland, Oregon, divulged to HuffPost one of the ways she can tell a marriage is destined for failure — and it's surprising. "I think it is so telling when the maid of honor is giving a wedding toast and doesn't even mention the groom," the expert said. Uh-oh. 
Forcum continued, "It's not the best sign if she talks about him, but in a sarcastic or passive aggressive way, either." These two clues could point to a much bigger problem. Perhaps the family and friends of the bride or groom don't approve of the union. "These are the people that love you most! They might have a read on something you're missing," the wedding planning professional added. Who knew a simple toast could hold such important clues about the success — or should we say failure — of a person's relationship.
A case of the excited-wife and the whatever-husband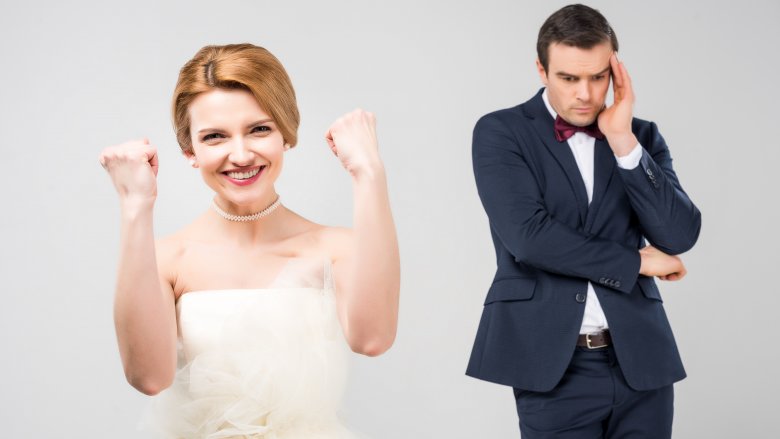 Shutterstock
While it's not uncommon for the bride-to-be to be more excited and involved in planning a wedding than her fiancé, there are still plenty of men who look forward to helping make the big day a success. In 2013, Fiona O'Donnell, lifestyle and leisure analyst at Mintel, said grooms were "feeling the pressure" after taking on a "more active role in wedding planning." Of course, that doesn't mean every man feels compelled to get in on the wedding planning action. And when you have one person who is excited and one person who couldn't care less, it spells trouble.
One wedding planner told People that she knows a marriage isn't going to make it when her clients fit "the excited-wife and whatever-husband" mould. "The wife drags him along to everything, sometimes even selecting the bridal gown. Even though he doesn't care, she desperately wants him to," she revealed, "This couple's future depends on whether or not the wife has a realization during the planning process."
The bride and groom get sauced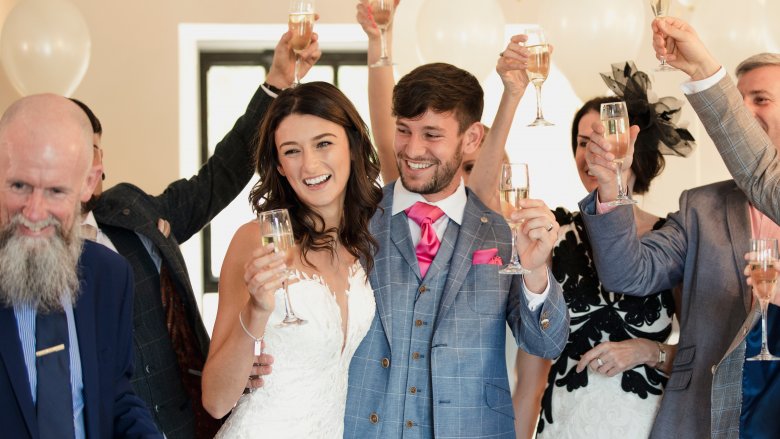 Shutterstock
At a wedding reception, you may expect to see a distant relative of the bride or groom getting smashed, but what happens when it's the newlyweds who've decided to get totally drunk? According to Kayla McCaul, co-owner and wedding planner at CK Events in Portland, Oregon, this can be an indicator of bad things to come.
"We love seeing our couples party and have a great time with their friends and family," she told HuffPost, "But no one is having fun if the bride is asleep at the head table." McCaul warned that if you do "find yourself or your partner throwing back the cocktails before the ceremony begins you may want to ask yourself, 'What is happening here?'" She continued, saying, "Nerves are normal but calming those nerves with a bottle of tequila is not ideal and will not make for a wedding day you will remember." She's not wrong.
There's a total lack of communication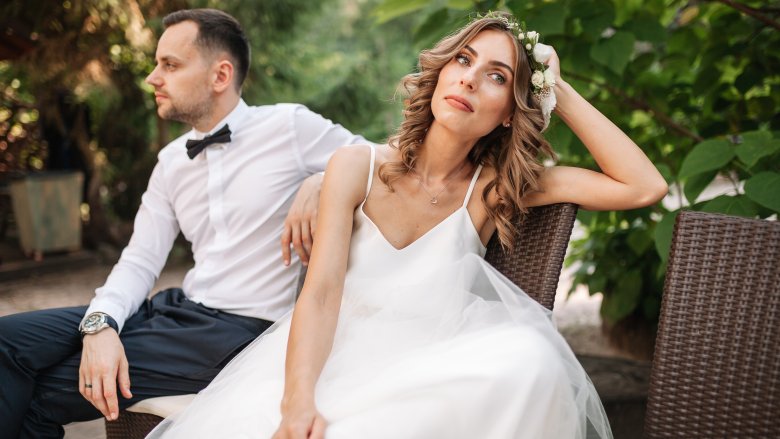 Shutterstock
If you were to jot down the most fundamental aspects of a successful marriage, communication would likely be pretty high on your list. Naturally, a lack of communication can make for an unsuccessful marriage. "When working with a couple, one of the first things that is obvious is whether they have communicated with each other well," Ivory Coats, owner and wedding planner at Peachy Weddings LLC, revealed when chatting with The List. 
When couples make known to their planners what they're picturing for their wedding day, it becomes clear to the professional which couples have discussed their ideas and, likewise, which couples have not. "And in healthy relationships there has been some discussion amongst the couple of what they envision," Coats divulged. To avoid a marital disaster, there is something you can do. Coats said, "It's important [that] couples learn to move as a unit and that means taking each of their wants and desires and finding a middle ground."
Screaming matches are common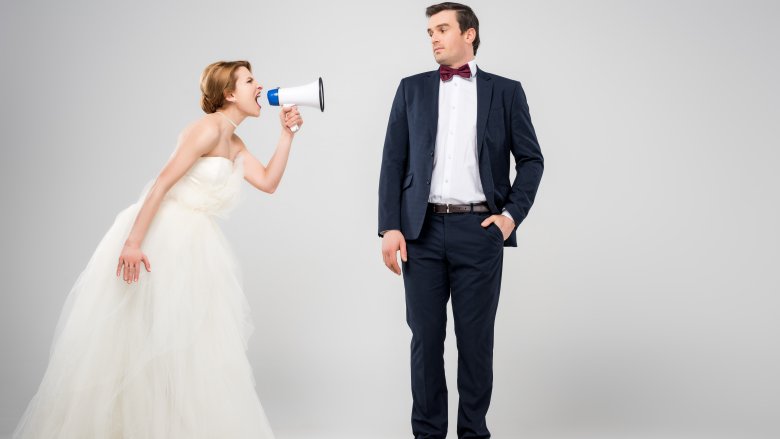 Shutterstock
Weddings call for a whole lot of decision-making. Everything from selecting a date to determining who to invite will become a factor for consideration — but these things can also become a bone of contention between some couples. While it's likely that every bride- and groom-to-be will have different opinions on some aspects of their wedding, how couples handle those disagreements matters as much — if not more — than the disagreements themselves.
"We spoke with an older couple who could not agree on an indoor or outdoor wedding, big or small, reception or not, dancing or not," one wedding planner spilled the tea when speaking to People. "Everything was a yelling contest about their previous weddings — they were both divorced, embarking on their second marriages." Wedding planners know that if screaming becomes a couple's main way of communicating with one another, their union is almost guaranteed to dissolve.
The husband-to-be is a Groomzilla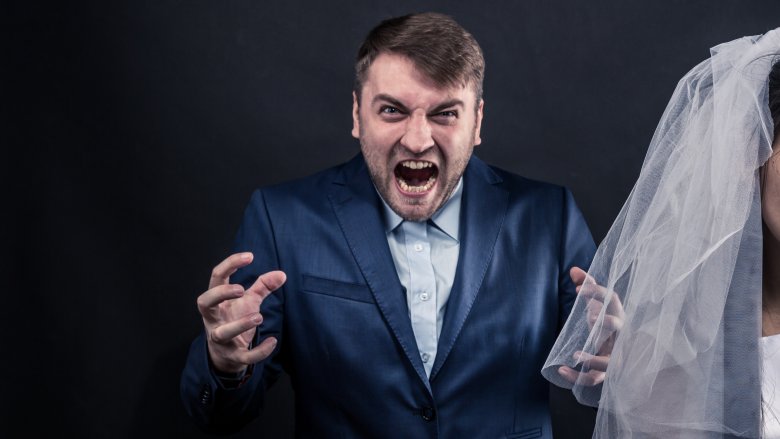 Shutterstock
You've probably heard horror stories about the dreaded matrimonial monster, Bridezilla. However there is another monster that occasionally rears its ugly head at weddings: the Groomzilla. Yes, Groomzillas do exist. For example, Zach Baron, a staff writer for GQ, admitted that he became a Groomzilla when planning his wedding. Ivory Coats, owner and wedding planner at Peachy Weddings LLC, also dished to The List that she once had a client who went from "the most considerate groom" she'd ever met to "full-on Groomzilla."
She revealed that this particular Groomzilla rattled off numerous requests — without any consideration for what the bride would want. The couple managed to get through rehearsal day, but did not to speak to each other at all. "I was just bracing myself for the call that said the wedding was off," Coats revealed, "That call never came and the wedding did go on, but it was a wedding I would never forget." With a wedding that tumultuous, one can only imagine the marriage.
The body language is off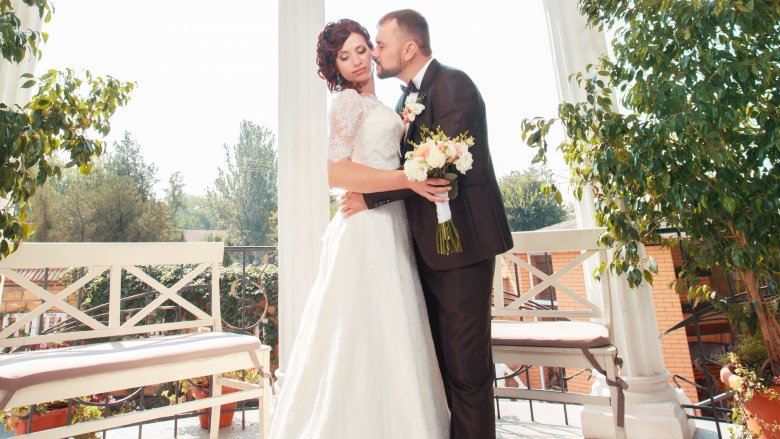 Shutterstock
If you don't have a body language expert at your wedding, a wedding planner is quite possibly the next best thing. "The body language was perplexing and then just sad during photos," one wedding planner said of a former client when speaking to People. "Culturally, it's not uncommon for PDA to be kept to a minimum," she continued, "but the way she leaned away from him and could barely look at him... she was so obviously miserable."
As bad as this situation had to have been for the bride and groom, you also can't help but feel for the wedding planner. "To this day I regret not offering to help her escape through a bathroom window," the planner opined, "I told myself it was not my place to interfere and that I should just shut up and do my job." Talk about awkward — eek!
The couple spends too much on the wedding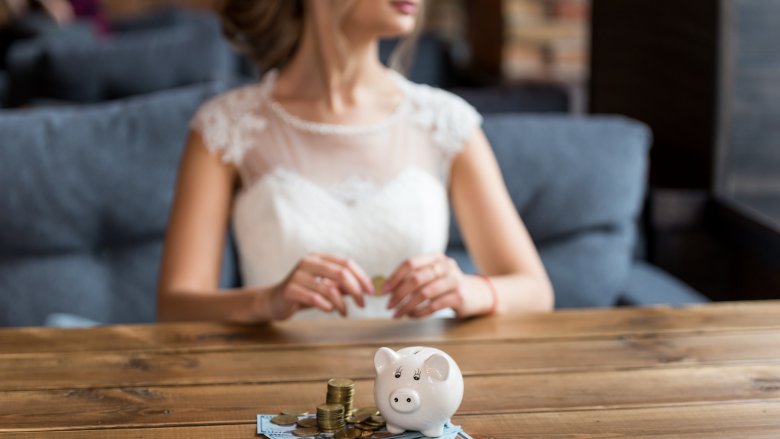 Shutterstock
The Knot surveyed nearly 13,000 newlyweds in 2017 and revealed the average cost of a wedding in the United States: just over $33,000. Having an extravagant wedding is all well and good — if you can afford it. But if you can't afford to fork over a five-figure sum for your big day — and really, how many truly can? — then you ought not.
"Listen, weddings are how I make a living so telling couples to not dish out cash for their wedding is sort of unwise on my part," Emily Reno, owner and primary wedding planner at Weddings & Events by Emily, revealed to HuffPost, "That said, I do believe it's extremely risky to spend money you don't have and go into debt over your wedding before you even start a life together." 
Farah Saint-Jean, co-owner and wedding planner at Spectacularly Yours, agrees. She told The List: "When couples have a wedding they can't afford, putting them in extreme debt, [it] creates financial stress in the relationship." It's not just not worth it.