Who Is The Real-Life Family That Inspired Succession?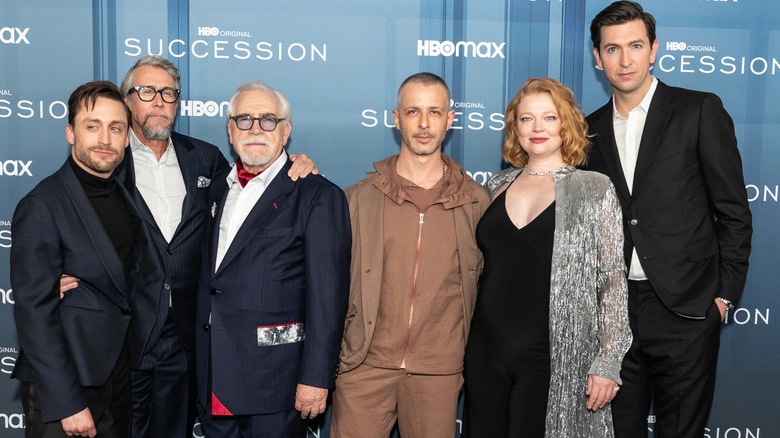 lev radin/Shutterstock
Each time an episode of "Succession" ended, you probably wondered if people as horrible as the main characters could possibly exist in the real world. It seems like there's no way, but then you remember all of the horrible things that billionaires have done over the years, and you're suddenly hit with the sad realization that the show isn't quite as far-fetched as one would hope. In an HBO interview, "Succession" creator Jesse Armstrong revealed that he wrote the pilot based on his own experiences coupled with some real-life examples. 
"We thought of famous media families like the Hearsts, to modern-day Redstone, John Malone, Robert Fitz of Comcast, Murdoch, and Robert and Rebekah Mercer, who founded Breitbart. Lots of real-life moguls," Armstrong shared. And while we can spot pieces of most of these personalities in the series, there's none quite as prominent as the Murdochs, an Australian billionaire family led by media magnate Rupert Murdoch. Logan Roy and Rupert boast similar portfolios by owning a series of primarily right-leaning news organizations, with Rupert's Fox News heavily resembling Logan's ATN.
As Rupert grew older, people speculated if he would name a successor out of his four elder children, but he has steadily dodged the question, matching "Succession's" central theme. To make matters eerily similar, an insider told Vanity Fair, "He pitted his kids against each other their entire lives. It's sad." They also reasoned that Rupert does this because he wants his children to experience a Darwinian survival of the fittest type struggle to excel.
Certain Succession plot points echo the Murdochs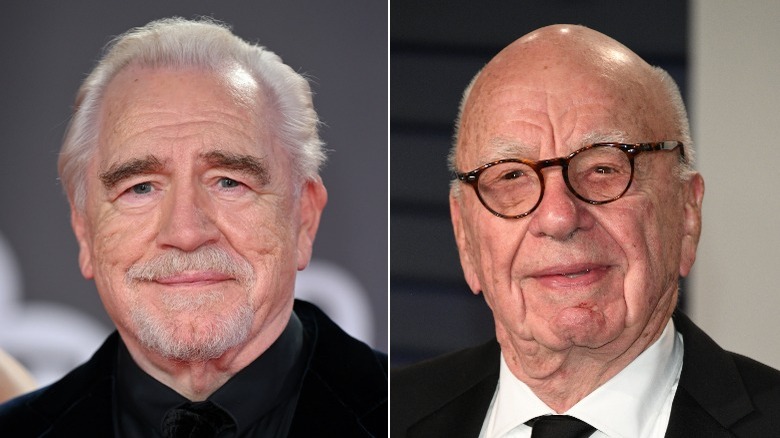 Karwai Tang & Daniele Venturelli/Getty
Logan Roy and Rupert Murdoch started the same way, too. Both acquired newspapers and grew them into media conglomerates with TV channels and movie studios. While Logan tried acquiring the family-owned competing organization, Pierce Media Group (PGM), Rupert acquired the Dow Jones & Company, an almost identical Bancroft family-owned company. Similar to Logan, Rupert has also struggled with several major health scares over the years. Likewise, "Succession's" first season sees the Roy family retreat to Connor's ranch for family therapy to get some good old-fashioned PR amidst a crisis. 
The Murdoch family also reportedly engaged in group therapy sessions with a dynastic family therapist to iron out their successor issues and even had a therapeutic getaway to the family ranch in Australia. But in a "Succession"-esque move, these sessions weren't to help the family progress but another method of manipulation. Further, in Season 4 of "Succession," Logan stands on some newspaper boxes to deliver an impassioned speech to ATN employees, and Rupert did the same thing in 2007 to address Wall Street Journal employees after acquiring the company.
While Rupert has six children from four marriages, Logan has four children from three marriages. Notably, Rupert's kids even mimic the Roy siblings. His eldest child, Prudence, parallels Logan's eldest child, Connor, as the seemingly ignored one. In a 1997 press conference, Rupert seemingly forgot Prudence existed when he mentioned "his three children," (via People). And, just like Connor, Prudence was reportedly the only elder Murdoch child who wasn't interested in taking over the business.
Even the main characters are reminiscent of them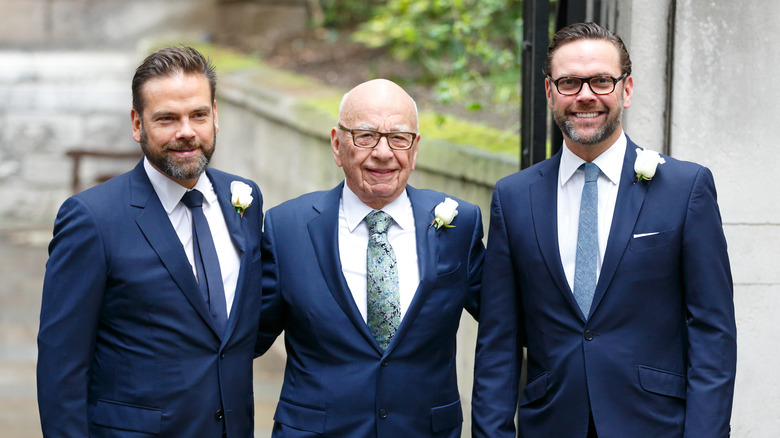 Max Mumby/indigo/Getty Images
Rupert Murdoch's youngest son, James, has some interesting parallels to Logan Roy's number one boy, Kendall. Both seemingly have similar music tastes as James started his own hip-hop label, Rawkus Records. After selling the label back to the News Corp organization, he rejoined the family business. In 2011, James became the deputy Chief Operating Officer at News Corp, and the Chief Executive Officer for 21st Century Fox in 2015. Like Kendall, he seemed like the best choice to take over the business, but James eventually walked away due to editorial and executive differences. 
Unlike his more right-leaning family, James supports democratic causes with generous donations. Elsewhere, the eldest Murdoch son, Lachlan, bears some similarities to Roman. While Kendall is more interested in running Waystar Royco from an executive standpoint, Roman and Lachlan seemingly only did it because they liked the power, per The New York Times. In "Succession" Roman and Kendall butt heads as co-COOs because Roman wants to follow in his father's footsteps while Kendall is looking to reinvent the game. 
In real life, Lachlan and James reportedly faced the same conflict when Lachlan was 21st Century Fox's executive chairman and James its CEO. Similar to Sarah Snook's Shiv, the liberal Elisabeth Murdoch tried her best to crack into the media empire by working in various positions but couldn't seem to gain her father's approval. In 2011, she tried joining News Corp's board after they acquired her production company for $673 million but she ultimately backed out over growing concerns about the business being too family-led.