Gwyneth Paltrow's Daughter Apple Martin Is Growing Up To Be The Spitting Image Of Her Mom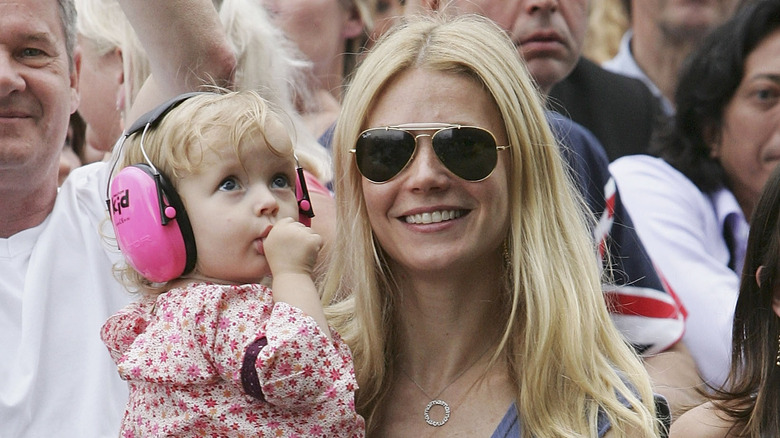 Mj Kim/Getty Images
When superstar Gwyneth Paltrow and her now ex-husband, Coldplay frontman Chris Martin, named their baby "Apple," it was quite the standout moment in pop culture history. Back in 2004, Apple was the name on everyone's lips — almost entirely for its unorthodox nature. These days, Apple Martin is no longer the newest baby in Hollywood. In fact, she's quickly becoming a star herself. In July 2023, a photo that Paltrow posted on Instagram with her then-19-year-old daughter had everyone seeing double. 
Paltrow's daughter has grown up so fast since many of us last saw her. Apple headed to college in 2022, and she is looking at quite a promising future career in the world of high fashion. In January 2023, Apple made a major splash at the Chanel haute couture show during Paris Fashion Week. It's clear that Apple has a bright future and that her famous family is proud of her. As a result, Paltrow isn't shy about sharing photos of her daughter, who is clearly following in her A-list blonde bombshell footsteps.
Apple Martin inherited her mom's good genes
In August 2023, Gwyneth Paltrow took to Instagram to share a photo of her wearing matching Hunter rain boots with her daughter, Apple Martin. While they may be sporting matching footwear, they didn't need the boots to look like twins. There's no mistaking that these two are a mother-daughter-duo with their joyful expressions and blonde locks. And, while Apple clearly gets her good looks from her mom, she's rumored to be a talented singer with musical interest, too, which she almost certainly inherited from her dad, Chris Martin's, side of the family. 
From her middle part and her penchant for rocking heavy black eyeliner to her love of '90s fashion, it's clear that Apple takes plenty of inspiration from her mom's style when she was her age, and she's got no problem being compared to the A-list star either. In fact, Paltrow has even been saving some of her biggest fashion moments for Apple to recreate. "What's funny is I've been saving my gowns and special things since 12 years before she was born, so I have everything," she told People in 2015, adding, "I have every Oscar dress." 
The actor joked about lending her daughter the pink Ralph Lauren gown she wore while accepting her Best Actress Academy Award in 1999, suggesting, "Maybe she'll wear it to prom and do a 'Pretty in Pink' thing and resew it and cut it up." However, "I don't know if I'd let her chop that one up," she joked. 
Apple Martin has a bright future ahead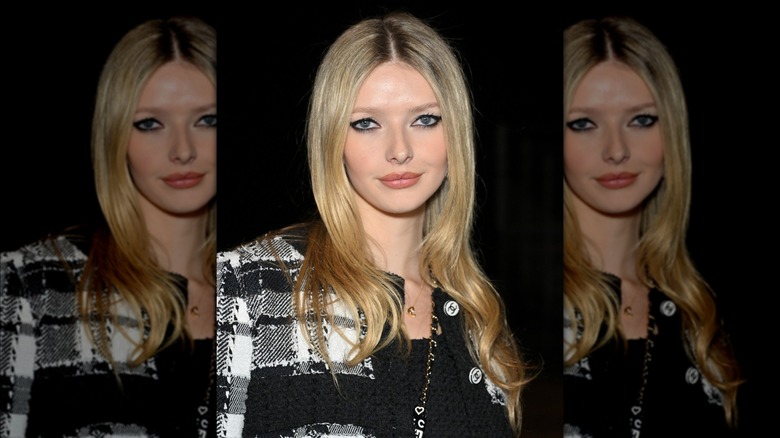 Stephane Cardinale - Corbis/Getty Images
According to CNN, Karl Lagerfeld once told a young Apple Martin's parents that she would one day become "a Chanel girl." It seems that his instincts were correct. Apple hit her first Fashion Week in full Chanel in early 2023, and it's clear that should she want to pursue fashion in the future, Chanel is, as predicted, her perfect brand. After photos of Apple at the show went viral, she told Vogue, "I really enjoy keeping up with fashion," however, "I can't say that I am super trendy." 
According to Apple, "I love sweaters and oversized cardigans, loafers, and a good pair of comfy Levis. The most important thing for me is feeling like my genuine self when wearing an outfit; I'm aiming for a mix of classic '90s and cool grandpa." Naturally, that seems like both a perfect match for Chanel as a brand and a perfect match for her mom's understated style. Beyond their uncanny physical resemblance, Gwyneth Paltrow and her daughter are clearly BFFs. 
In 2022, Paltrow posted a photo of her FaceTiming Apple to Instagram as a tribute on International Women's Day. She wrote alongside it, "This woman gives me hope for the future of sisterhood and for the future of our planet. ... And this woman has made me the woman I am today more than anyone else." It's safe to say that Apple is destined to be just as much of a household name as her mom.