The Reason For Meghan Markle's Late Arrival At The Invictus Games Is Now Clear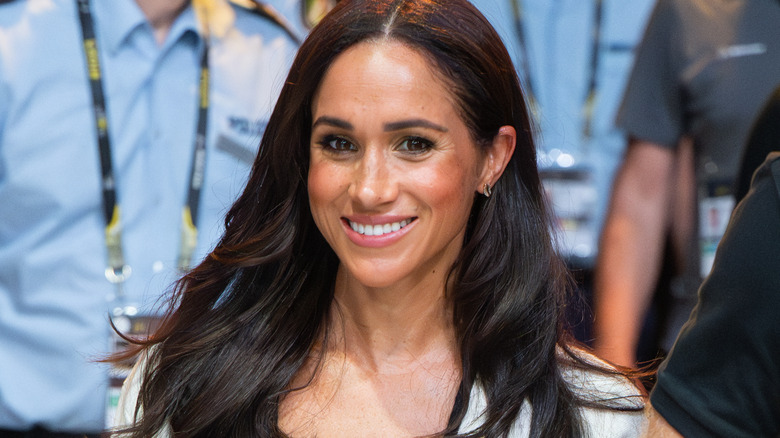 Samir Hussein/Getty Images
Meghan Markle, Duchess of Sussex, has arrived in Germany to attend the Invictus Games. The royal joined her husband, Prince Harry, Duke of Sussex, on September 12, three days after the opening ceremonies. The Invictus Games, which were founded by the Duke of Sussex in 2014, provide a way for injured and sick military personnel and veterans to compete in Paralympic-style events. As things got underway in 2023, many wondered where Meghan was — and if she'd even attend. Back in August, however, a statement given to People confirmed that Meghan would be late in joining her husband in Germany for this year's Games. "The Duke will be in attendance throughout the entirety of the games and will be joined by the Duchess shortly after the games begin," the statement read, in part.
Shortly after Meghan arrived in Germany, she linked up with her husband for a hotel party attended by many of the athletes and their families. The duchess gave a speech, during which she explained why she arrived late — and the answer is pretty simple: her kids. "It is so special to be here, and I'm sorry that I was a little late to the party," Meghan said (via Hello!) before going into detail about what she was doing before she hopped on a plane.
Meghan Markle did school drop off before heading to Germany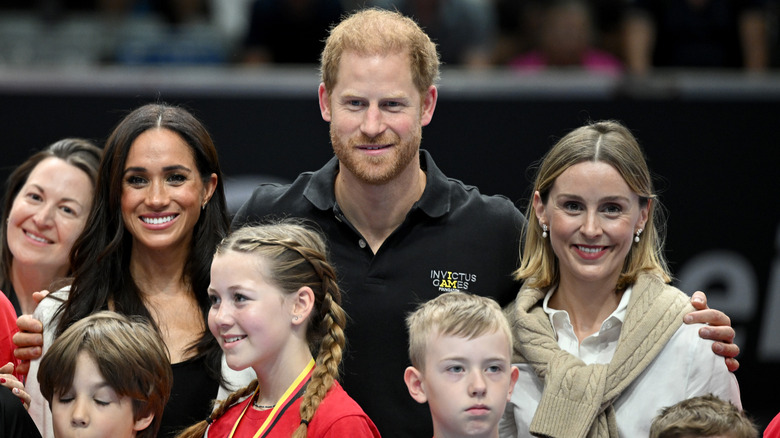 Sascha Schuermann/Getty Images
In her Invictus Games speech, Meghan Markle shared some insight into what she was doing ahead of the events. "Just like so many of you this is about family and friends and the community that Invictus has created," she said (per Hello!). "So I just had to spend a little bit more time at home getting our little ones settled, getting milkshakes, doing school drop off, and then I landed a couple of hours ago. I'm thrilled that the first event I've been to for Invictus is here with all of you. It's amazing, and I'm here the mood so far is off to a good start is that right?" she continued. 
Meghan hasn't missed a beat since joining Prince Harry. On September 13, the Duke and Duchess of Sussex were spotted seated together at the wheelchair basketball game. The two really got into the game, cheering on the competitors, and chatting with folks seated around them. The couple was also all smiles as they spent time with kids at the children's event. Perhaps unsurprisingly, the duchess is already making her mark. Aside from being super invested in what's going on, her outfit choices have also gotten some serious attention. In fact, J Crew's website crashed when people went on a hunt for Meghan's white and black blazer that she wore to the Invictus Games.
Meghan is expected to be in Germany through the end of the week and will likely attend the closing ceremonies on September 16.