Meghan Markle's New Nickname At The Invictus Games Has A Royal Meaning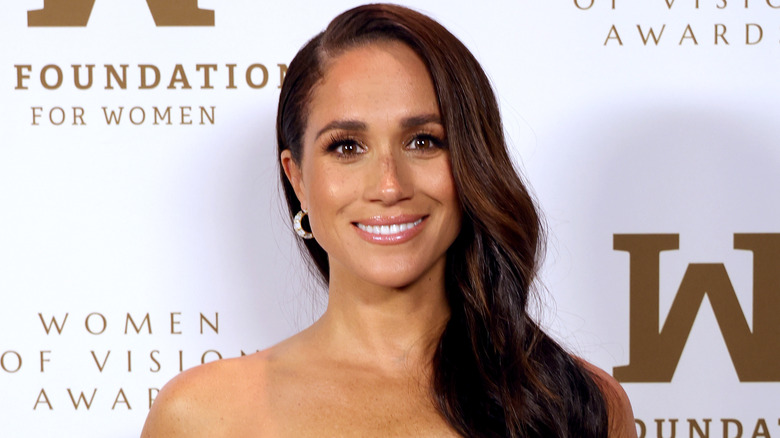 Kevin Mazur/Getty Images
Meghan Markle, Duchess of Sussex has joined Prince Harry in Düsseldorf, Germany, for the 2023 Invictus Games. "I'm really, really proud to be part of this Invictus family with all of you. I'm grateful for all of you that are here," Meghan said during a speech at a hotel party on September 12, 2023, according to the Mirror. The Duchess of Sussex arrived on location a few days after her husband, and the two have been attending various competitions and watching events from the stands. They have met with athletes and their families, posed for photos, and even signed autographs, People magazine has reported.
On September 13, 2023, the Duke and Duchess of Sussex were on-hand for the wheelchair basketball match and met with some of the competitors off the court. According to Hello! magazine, Meghan and Harry chatted with Team Nigeria and were presented with a plaque from the country's Chief of Defense. The couple posed for photos with the team, standing behind the Nigerian flag and cheering along with them. At one point, Meghan learned that she'd been honored with a new nickname: Amira Ngozi Lolo. And the name has a really special meaning that includes a nod to her "royal" title.
Meghan Markle is 43% Nigerian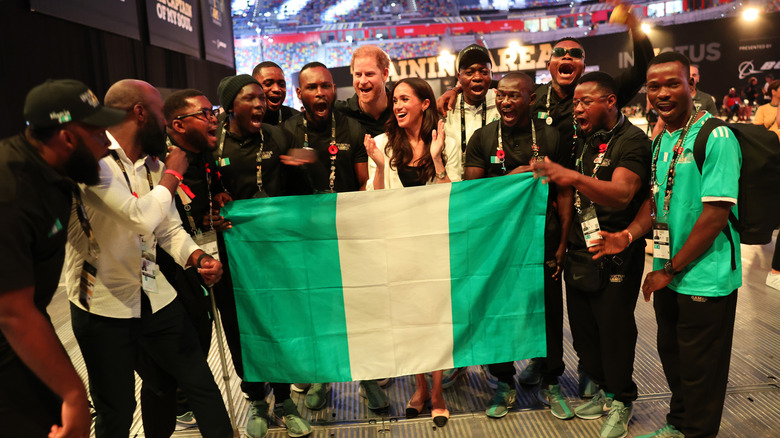 Chris Jackson/Getty Images
The nickname given to Meghan Markle can be translated into English, with the word Amira referring to a "warrior princess," Ngozi meaning "blessed," and LoLo meaning "royal wife," per Hello! According to Family Education, the name Amira means "princess" in other languages, including Arabic and Hebrew. Meghan, or should we say, Amira, Blessed Royal Wife, received word of her new nickname about a year after she revealed her own Nigerian heritage. On the October 2022 episode of her "Archetypes" podcast, Meghan said that she did some genealogical testing and the results showed that she is, in fact, 43% Nigerian. "I'm going to start to dig deeper into all this because anybody that I've told, especially Nigerian women, are like 'What!'" she said on her podcast.
During the opening ceremonies for the Invictus Games on September 9, 2023, Prince Harry mentioned his wife's newly discovered background. "Now, I'm not saying we play favorites in our home, but since my wife discovered she is of Nigerian descent, it's likely to get a little bit more competitive this year," he said during his speech, according to People magazine. Meghan, a.k.a. Amira, is expected to stay in Germany with her husband through the closing ceremony, which is slated to take place on September 16, 2023.
The Nigerian team shows its love for Meghan Markle (and vice versa)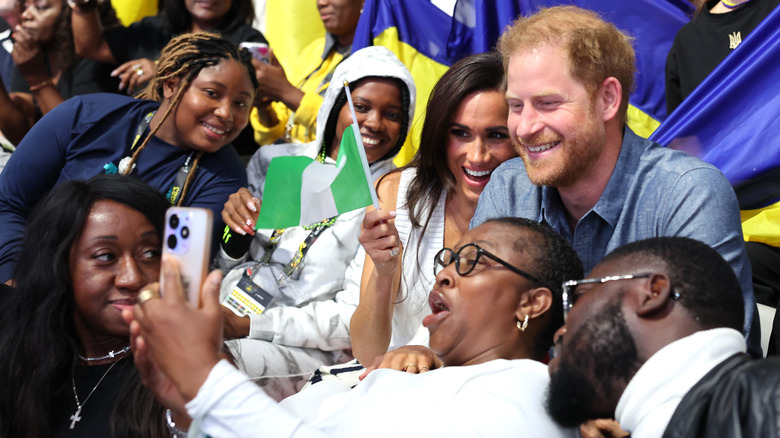 Chris Jackson/Getty Images
Meghan Markle continued to show her support for the Nigerian team multiple times throughout the Invictus Games. During the sitting volleyball match between Nigeria and Ukraine, the duchess was seen enthusiastically swinging the Nigerian flag to and fro while she cheered on the teams (via People). The royal couple was also spotted posing for selfies with other crowd members there in support of the athletes. Prince Harry may have stated there are no favorites in their household, but it's clear that his wife has shown slight bias towards the country so close to her heart.
Bobby Ojeh, the Nigerian team's leader, praised Meghan as being a big reason for the event's success. "Behind every successful man is a woman, and trust me Meghan has been amazing, contributing to the success story of Invictus," Ojeh told Hello! Magazine. "The sky is the limit but trust me they are going to the heavens."
Likewise, Derrick Cobbinah, the facilitator for the Nigerian team, acknowledged the impact of including Nigeria in the Invictus Games. "The stigma around disability of people in Africa ... people [in African society] don't understand when people are disabled so in that situation they are kept away from public view," Cobbinah said. "... [So] for the first time, for Invictus to come in and bring an element of hope in terms of people with disabilities coming up and doing more, and being integrated into society."