Where Does Mandy Moore Stand With Ex-Boyfriend Andy Roddick Today?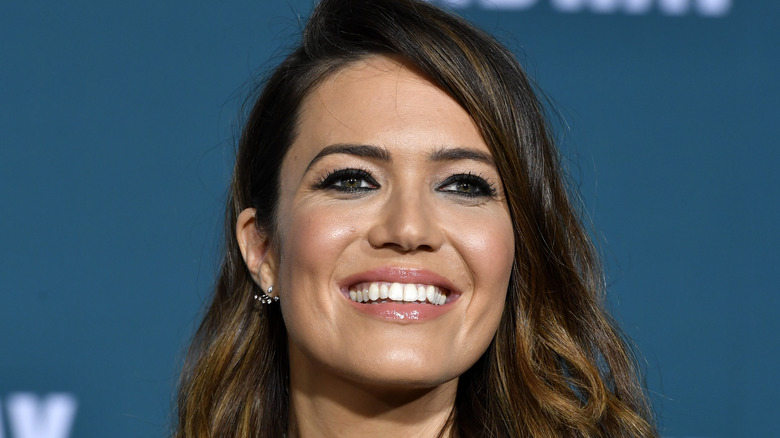 Frazer Harrison/Getty Images
In 2002, "This Is Us" star Mandy Moore met tennis star Andy Roddick while filming the romantic comedy "How to Deal." No, the two didn't star in the film together, but Moore had her eye on the cute athlete. In an interview with CBS's "The Early Show," Moore shared that her mom actually facilitated their meet-up. "About the last three weeks of the film, I meet this guy who completely just steals my heart. I'm so happy and crushing on him. I have Mom to thank for that. Luckily, Andy obliged, accepted the invitation, and came and met me on the set. I watched his tennis match the next day, and the rest is history, I guess," she said. From there, Moore was spotted at plenty of Roddick's tennis matches, and the two really seemed to have some staying power. However, after about a year and a half, the two split, according to Us Weekly.
Many moons have passed since Moore and Roddick's relationship took place, and both of them have moved on, gotten married — her to Taylor Goldsmith and him to Brooklyn Decker — and started families, but we can't help but wonder where they stand today. As it turns out, the two are no longer in touch, but Moore seems to have fond memories of her relationship with Roddick. And a comment she left on Decker's Instagram proves it. 
Brooklyn Decker showed Mandy Moore some love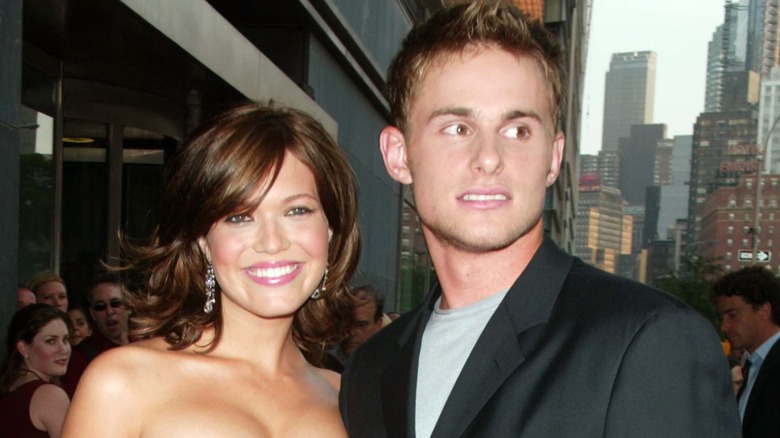 Jim Spellman/Getty Images
In August 2023, Andy Roddick was featured in GQ on the 20th anniversary of his U.S. Open win. His wife, Brooklyn Decker, shared a link to the article on Instagram and wrote a caption in support of her hubby. "Ever the recluse, this article offers a glimpse into who Andy was when he was playing and who he's become since," her caption read. A short while later, Mandy Moore's handle popped up in the comments section. "I loved this article. Congrats on the 20th Anniversary of the Open," Moore's comment read. Many fans liked Moore's comment, which didn't bother Decker at all. "You're a class act. You were a huge part of his life (and actually there) during that time," the "Just Go With It" actor said, adding a red heart emoji. 
It seems that Moore's comment got people thinking about the past, and many seemed curious about the status of their relationship following their split, which is likely why Moore took to her Instagram Stories to clarify some things. And what she said was so sweet.
Mandy Moore further praised Andy Roddick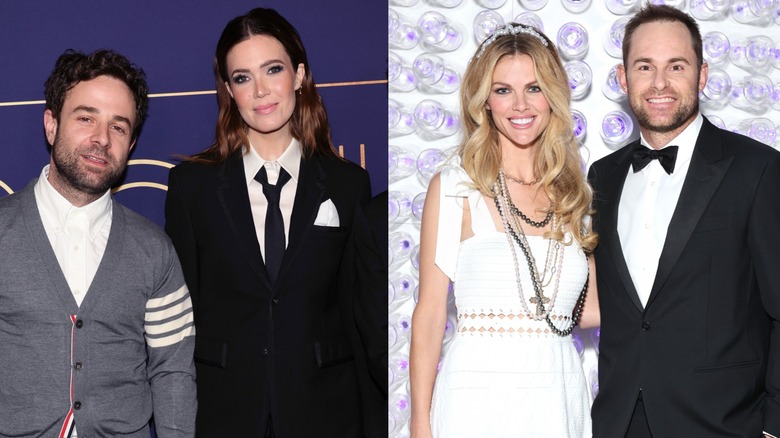 David Livingston & Cindy Ord/mg23/Getty
Mandy Moore was part of Andy Roddick's life during a huge moment in his career, so it makes sense that she would have fond memories of their time together. "Andy was a really formative part of my young adult life," she wrote on her Instagram Stories, per People, following the public exchange she had with Brooklyn Decker. "I was really moved by this article reflecting on the 20th anniversary of his US Open win and the kind of life he's lead [sic] since. I'm so happy for him and his family. Congrats on this milestone, Andy," Moore added.
Flash forward to now, and Moore and Roddick seem really happy in life. Moore married Taylor Goldsmith in 2018, and they have two sons, Gus and Ozzie, together. Moore was previously married to Ryan Adams from 2009 through 2016. Roddick married Decker in 2009, and they have two children, Hank and Stevie, together. In an interview with Us Weekly in 2022, Decker said that her 13-plus-year marriage has become "hilariously transactional," later adding, "I do think it's easy to get caught up in the management of life, home, children, all of it. However, we do set aside time ... we prioritize it, but I think we could all do a better job."