Strange Things Everyone Ignores About Melania Trump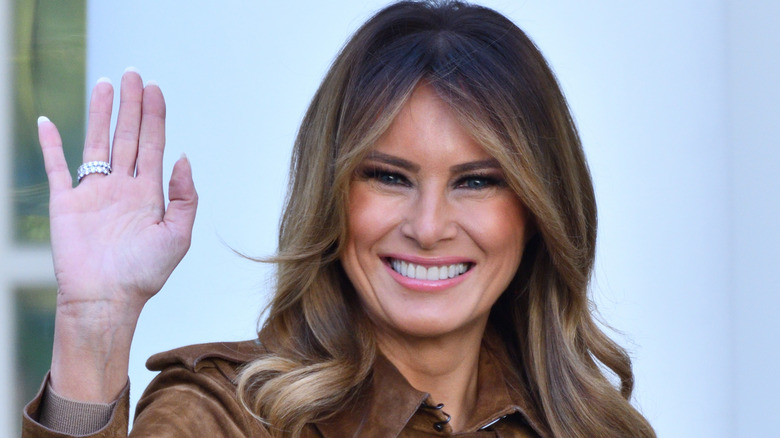 Evan El-Amin/Shutterstock
As the wife of one of the most controversial presidents in United States history, Melania Trump has had her fair share of stir-ups in the media. One of those initial instances was before Donald Trump was even elected president and Melania was accused of plagiarizing Michelle Obama's 2008 Democratic National Convention speech. The media frenzy that spiraled around the all-too-familiar words Trump recited in her 2016 speech at the Republican National Convention completely overshadowed the nation's introduction to the woman who would soon become first lady.
A few years later, in 2018, Melania Trump sported a $39 Zara jacket that read, "I really don't care, do u?" The media became "obsessed" with the meaning behind the jacket, as Trump would explain it to ABC. She revealed that she wore it to send a message and that it was for "the people and for the left-wing media who are criticizing me. I want to show them that I don't care. You could criticize whatever you want to say, but it will not stop me to do what I feel is right." She went on to say that she wishes the press would give her coverage based upon the things that she does and not what she wears.
Though there are many media-fueled cases like these, and Trump's time as first lady was contentious and well documented in its own right, there are also plenty of strange aspects of Melania Trump's life that were outright forgotten about or ignored.
Melania Trump has a half-brother she's never met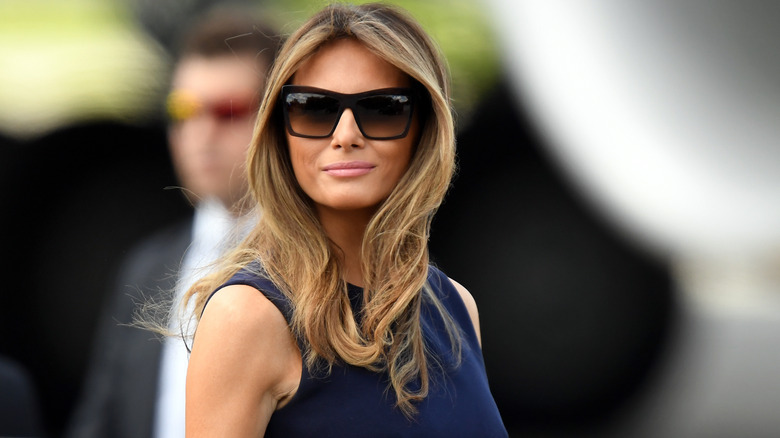 MaciejGillert/Shutterstock
In 2016, Russian-American journalist Julia Ioffe traveled to Slovenia to write a profile on Melania Trump for GQ. While there, she dug into Trump's past, unearthing some fairly dirty laundry on her family. Ioffe uncovered court documents detailing a legal battle between Trump's father, Viktor Knavs, and his former partner Marija Cigelnjak. Cigelnjak became pregnant with Knavs' son and opted to take her to court on the basis that he was not the father of the child, but blood tests soon revealed that Knavs was indeed the biological father.
Ioffe told CBS that the GQ profile "took months to report," and that the court documents were important proof of her story. Trump lashed out at the profile's statements, but Ioffe felt that her reporting was justified. She told CBS she was "sorry," but "[Melania's] husband is running for president — she is now a public person." After news of Trump's "secret" sibling broke, her half-brother also decided to step forward.
Denis Cigelnjak, Melania Trump's half-brother, confessed on Slovenian TV that Knavs wanted Marija to get an abortion. Broken up over the collapse of her relationship with Knavs, Marija wanted nothing to do with him and raised the boy on her own — without any financial help from Knavs. Despite this, Denis said that he would love to meet his father, Melania, Donald, and Melania's sister Ines. Unfortunately, neither Trump nor her father have ever publicly acknowledged Denis.
She called Betty Ford and Jackie Kennedy traditional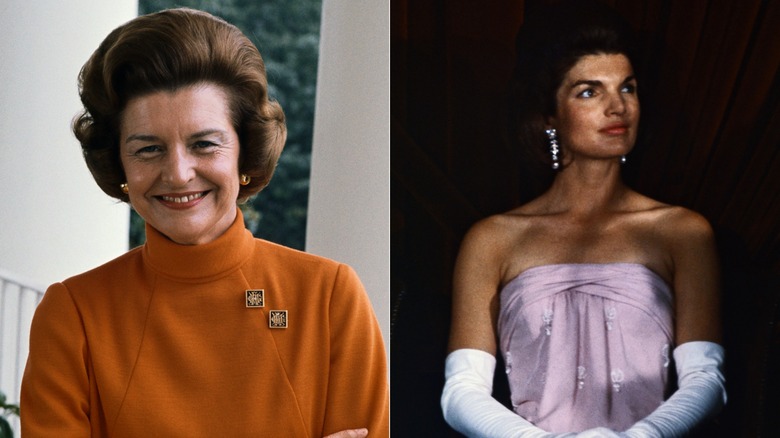 Bettmann/Getty & Bettmann/Getty Images
In 1999, The New York Times asked Melania Trump what she would be like in the White House should her then-boyfriend Donald Trump be elected president one day. "I would be very traditional," she said. "Like Betty Ford or Jackie Kennedy." For most at the time, this was dismissed as a humorous statement coming from someone they saw as little more than Donald Trump's trophy wife, but for others — including those related to Ford and Kennedy — it was insulting. "I don't think of my mother as a traditional first lady to begin with," Susan Ford, Betty Ford's daughter, told People. "Yes, she did do teas and things of that nature, but I just don't think of her as a traditional first lady because she was so outspoken about the issues that were important to her."
The issues Ford was referring to were her mother's strong stances on pro-choice rights, equal pay, and her own struggles with addiction and breast cancer. On the other hand, before marrying JFK, Jackie Bouvier (later Kennedy) was completely against getting married and focused on her ambition to become a writer and journalist instead. As first lady, her bold fashion choices shattered the traditional image of what a first lady should look like.
Whether Melania was just making an uneducated statement is debatable, but there's arguably little question that there isn't much alignment between Ford's or Kennedy's views and positions in history and those of the Trumps. 
Melania Trump lied on her website about having a college degree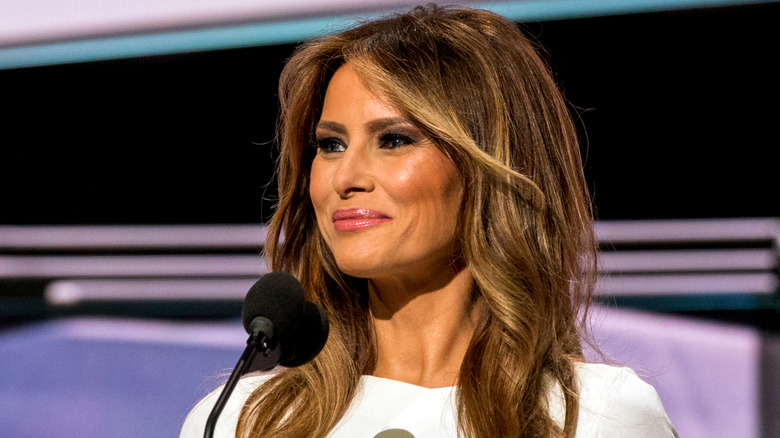 mark reinstein/Shutterstock
According to Melania Trump's former website, she studied design and architecture at University in Slovenia. CBS News reported that the website used to read, "After obtaining a degree in design and architecture at University in Slovenia, Melania was jetting between photo shoots in Paris and Milan, finally settling in New York in 1996." However, during Julia Ioffe's investigation for GQ, she uncovered that Trump had dropped out of college after only a year in order to pursue her modeling career in Milan. CBS confirmed Ioffe's report by checking the public records of the university, which listed no graduates with Trump's maiden name.
After this news came to light, Trump's bio on the official website was edited to better reflect the truth. NBC News shared that by November 2016, the bio said that she "paused her studies to advance her modeling career in Milan and Paris." Speaking with NBC on the matter, Professor Blaz Matija Vogelnik said that Trump had enrolled in a course he taught at the university but didn't complete it. "She hasn't finished university, at least not in Ljubljana," he said. "My personal opinion is that, because she was very beautiful girl, I believe that she realized that she could gain more with that, than to have long studies."
Her father has been likened to Donald Trump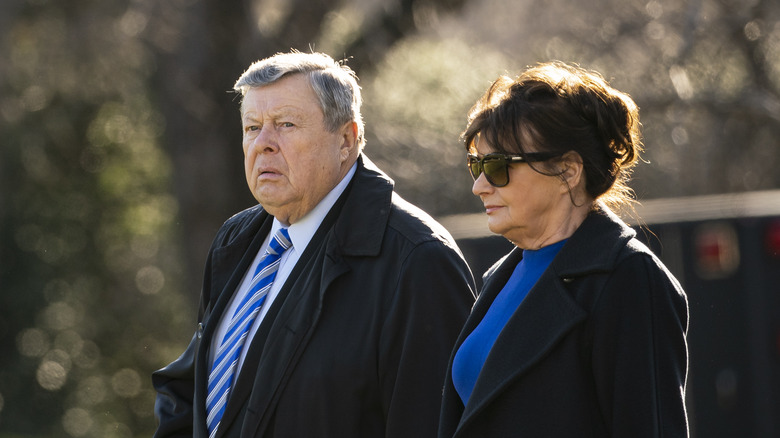 Bloomberg/Getty Images
Sigmund Freud notably proposed that our subconscious brains are wired to find attraction in someone that reminds us of our mother or father. Whether or not this has any substance is controversial, but in Melania Trump's case, she might just be backing up Freud's conclusions. Back in 2017, Trump's father, Viktor Knavs, was photographed arriving in Maryland, and he quickly reminded the public of someone in particular. "I had no idea what Melania's dad looked like until now and um ... " one person wrote on Twitter. "It's like Melania married her dad's doppelganger!" someone else tweeted.
People soon caught on to the fact that Knavs is little more than two years older than Donald Trump, and Melania herself has even pointed out the comparisons. "They're both hardworking," she said in an interview with GQ. "They're both very smart and very capable. They grew up in totally different environments, but they have the same values, they have the same tradition. I myself am similar to my husband. Do you understand what I mean? So is my dad; he is a family man, he has tradition, he was hardworking. So is my husband."
She didn't allow Donald Trump to change Barron's diapers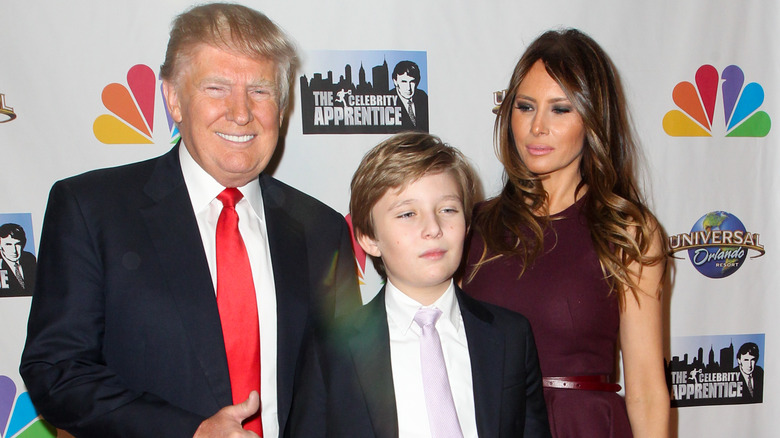 Debby Wong/Shutterstock
As Donald Trump's wife, having easy access to nannies and aid around the house comes with the territory. But according to Melania, caring for her son was a role that belonged to no other but herself. "[W]e know our roles," she once told Parenting magazine in reference to sharing parenting duties with her husband. "I didn't want him to change the diapers or put Barron to bed." And from the sound of it, Donald didn't have any qualms with his wife's requests. In fact, he admitted to enjoying the space she gave him. "I work very hard from early in the morning till late in the evening," he told Larry King back in 2005. "I don't want to go home and work at a relationship."
Interestingly enough, despite all of her "no nanny" talk, Melania admitted to having a nanny named Clare Hollywood back in 2006. "In one way, we still need to have a life," she told The Palm Beach Post. However, she still declared her preference for being as involved with Barron as possible. "The baby knows who the mother is," she explained. "They can feel it. It's important to spend as much time with the baby as possible."
Melania Trump worked in the U.S. without a visa despite her husband's immigration views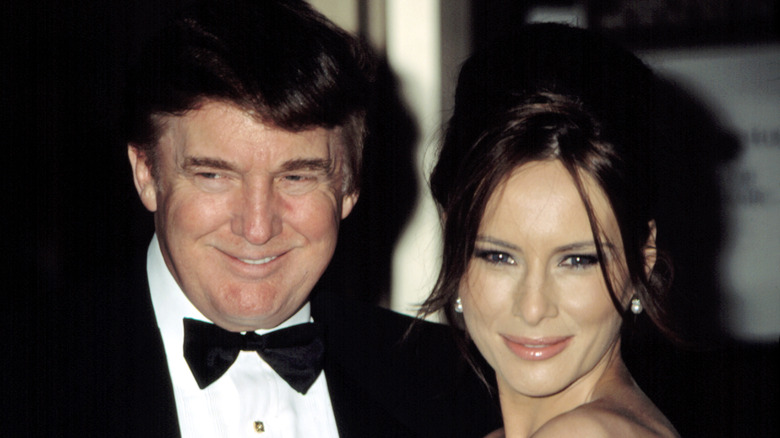 Everett Collection/Shutterstock
During Donald Trump's run for president, his promises of deporting illegal immigrants were among his top campaign strategies. With a strict, zero-tolerance position on the matter, he went so far as to consider building a wall around the United States as a way of keeping immigrants out. With such headstrong views, most would have never even questioned the legal status of his wife — an immigrant herself — during her time living in the U.S. However, in 2016, The Associated Press reported the discovery of documents revealing that Melania Trump had made approximately $20,000 from U.S. modeling jobs she had taken at least seven weeks before she was eligible to work in the country.
Does that mean Donald Trump would have deported his own wife before he met her? According to his own policies, yes. In fact, Trump vowed to put an end to the H-1B visa program, all while his modeling agency used the program to employ hundreds of foreign models. Trump claimed that the program promoted the act of hiring foreign workers for cheap labor, as opposed to hiring "better-qualified" American citizens. Interestingly enough, Melania Trump obtained her H-1B visa in 1996 and used it to work until she received an EB-1 — a visa program for highly skilled foreign workers — after meeting Donald Trump.
She is the only first lady to have ever posed nude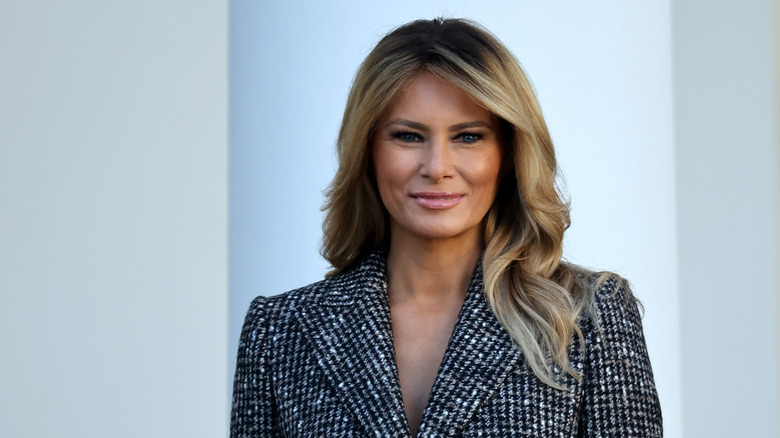 Chip Somodevilla/Getty Images
When we think of the most prominent first ladies throughout history, the images of a nude Eleanor Roosevelt or a lingerie-clad Nancy Reagan are hardly the first thoughts that come to mind — and are possibly enough to have us clutching our pearls. While there have been several other boundary-pushing first ladies in the past century, like Jackie Kennedy and Michelle Obama, none have strayed far enough from a "squeaky-clean" image to be considered "scandalous" — that is, until Melania Trump came along. In fact, during her time as first lady, one of the first paragraphs in her official White House biography stated, "She has graced the covers of Vogue, Harper's Bazaar, British GQ, Ocean Drive, Avenue, In Style, and New York Magazine."
And of course, the British GQ nod was a proud reference to Melania's nude photoshoot on Donald's Boeing 727 in 2000 . This was not her first rodeo taking pictures in nothing but her bare flesh, and in fact, Melania isn't the only one who looks back on her modeling days with kind eyes. "Melania was one of the most successful models and she did many photo shoots, including for covers and major magazines," Donald told The New York Post regarding another nude photo of Melania that emerged from the '90s. "This was a picture taken for a European magazine prior to my knowing Melania. In Europe, pictures like this are very fashionable and common."
Melania Trump leads a private life within her own marriage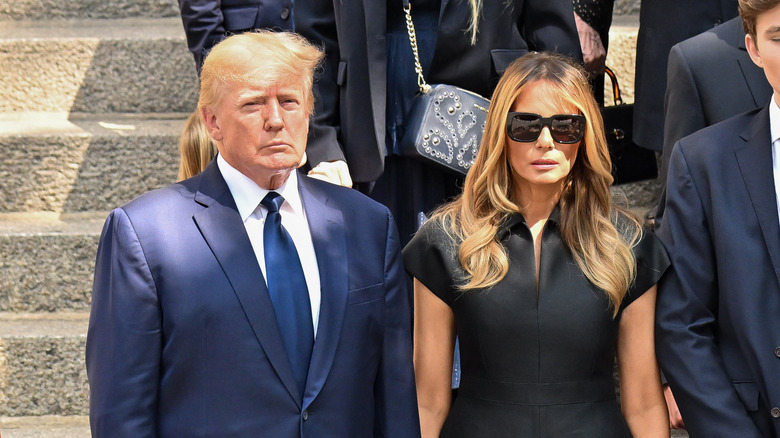 James Devaney/Getty Images
Sure, we've all seen the clips of Melania Trump swatting away Donald Trump's hand as he tried to grasp hers, but what goes on behind the closed doors of the Trump household? Only the two of them can say for certain, but sources close to them — and even the Trumps themselves — have claimed that the two share something of a cursory relationship. "The former president and Melania have a very unique arrangement," one source explained to OK! "They live separate lives that rarely intersect and have done so for some time. Donald is content to host elaborate dinners for Republican officials and pursue his political career and agenda — and Melania has absolutely no interest in participating." They continued, "She rarely appears at his events and lives apart from him at the club."
Moreover, it's been reported that Melania slept in a separate bedroom on an entirely different floor of the White House than Donald did. It's also said that the former first lady had a private "glam room" for doing her hair and makeup, as well as her own personal gym. This arrangement seems to work quite well for the Trumps and has kept their marriage together since 2005, but for the average person, their individual privacy within their own marriage is rather strange.
She is the only first lady to have grown up in a communist country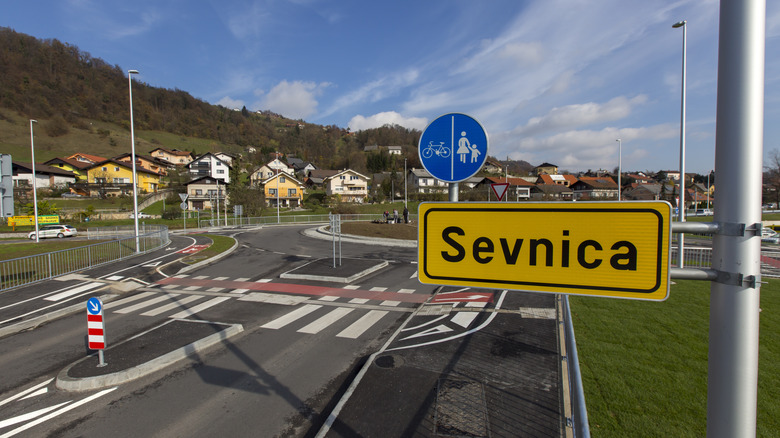 Jimmylung/Getty Images
Other than London-born Louisa Catherine Johnson Adams, the wife of President John Quincy Adams, Melania Trump is the only foreign first lady that the United States has ever had. What makes Trump's case a bit more interesting, though, is that she was raised in a communist country. Trump, born Melanija Knavs, grew up in Sevnica, Slovenia — a quiet industrial town under communist rule. "I think I can say Sevnica was too small for her," Mirjana Jelancic, Melania's childhood friend, told the The Associated Press. "Even as a child, she dreamed of moving." Trump's father was a car salesman, while her mother was a textile factory worker who was known for keeping her daughters well dressed.
Other classmates can recall just how polite and studious she was and how she was able to creatively forge new fashions out of old clothing. She caught her big break when she was in high school and photographer Stane Jerko caught a glimpse of her in the street. "I still remember how tall she was and how beautiful her figure and hair were," Jerko told the Associated Press. "There was no smile on her face because she was shy and scared, but I encouraged her to come to the studio." Trump then moved on to modeling abroad in Milan and Paris.
Melania Trump denies ever getting plastic surgery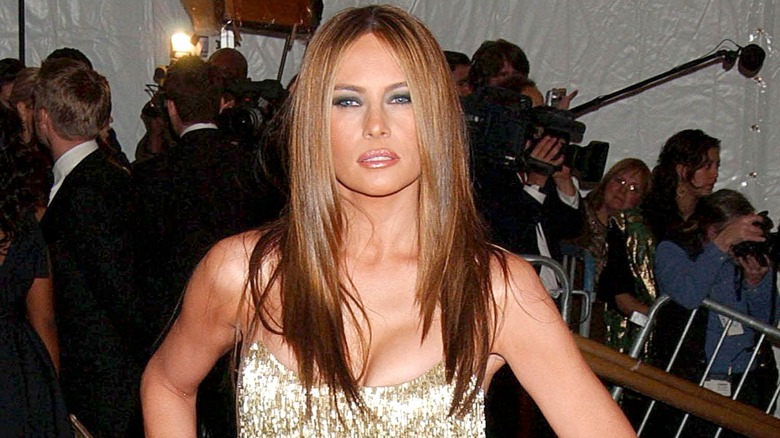 Everett Collection/Shutterstock
In Melania Trump's GQ interview, she comes off as quite adamant about never having any work done on her face. "I didn't make any changes," she told the magazine. "A lot of people say I am using all the procedures for my face. I didn't do anything. I live a healthy life, I take care of my skin and my body. I'm against Botox, I'm against injections; I think it's damaging your face, damaging your nerves. It's all me. I will age gracefully, as my mom does." On the other hand, friends of hers have shared that Trump has personally admitted to having a breast augmentation."She went away for a two-week vacation, then came back, and was more ... buxom," her former roommate revealed to GQ. "She admitted it to me. She just said it needed to be done to get more lingerie jobs."
But what do the professionals have to say about it? Dr. Dev Patel, medical director of Perfect Skin Solutions, told Express his professional opinion that Trump has probably had plastic surgery, estimating somewhere around $12,000 to $15,000 worth. Furthermore, Dr. MediSpa chief medical officer Dr. Munir Somji added, "I would say Melania has had forehead contouring with filler to make it more rounded, with Botox to lift the brows," he said. "She also appears to have had buccal fat removal to slim the face, alongside fillers around the jawline with radio frequency tightening to give a chiseled look."