The Stunning Transformation Of Reneé Rapp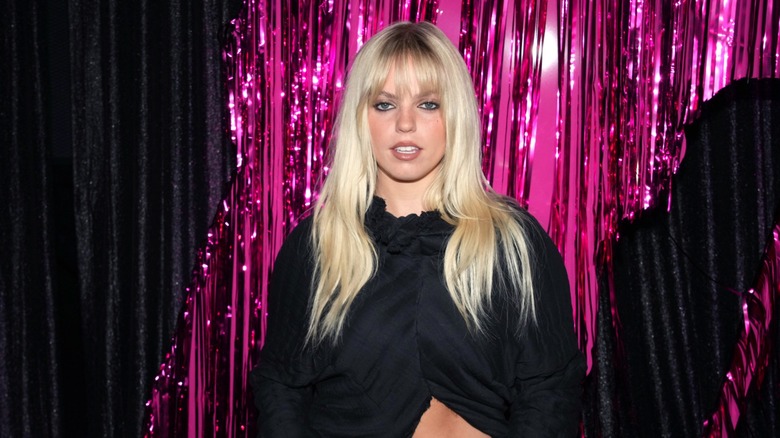 Jeff Kravitz/Getty Images
In case you missed it, the latest it-girl in town is Reneé Rapp, singer, songwriter, and actress. The triple threat only burst onto the scene in 2019, but her career has already skyrocketed to levels of success most people take years to achieve.
If you're not binge-watching the show "Sex Lives of College Girls," where she plays queer character Leighton Murray, you're probably belting out one of the ballads from her album "Snow Angel." If you haven't been following her career since her Broadway debut in "Mean Girls: The Musical," you've definitely stumbled across her TikTok account, where her dry wit and cool-girl attitude have captivated millions of followers. Either way, Rapp has already proven she can do it all, and she's just getting started.
So how did Reneé Rapp go from theatre kid to megastar? We're tracing her steps from back when she was a little girl in North Carolina dreaming about becoming the next Beyoncé to 2023 when she's taking over our screens, playlists, stages, and hearts.
She was an emotional child
Reneé Rapp was born Reneé Mary Jane Rapp on January 10, 2000, in Huntersville, North Carolina. Her mother was an accountant and her father worked in medical sales. Music was a huge part of her upbringing, and in an interview with The Guardian, she recounts "being woken up for school as a six-year-old by the Gap Band."
In the same interview, Rapp revealed that she was an emotional child. She recalls being "shamed for crying" and labeled a "ticking time bomb" by family members. However, she credits this experience with the emotional strength and tough-as-nails attitude she carries today. "I was just so vulnerable because everybody was making fun of me all the time — which is not to say that I never made fun of anyone else, right? I'm no beautiful savant who's never done a thing wrong," she said. "I think it comes from a place of like: if you're gonna burn me, you're gonna burn me."
Her love of music started at a young age
Reneé Rapp always knew she wanted a career in music. "Ever since I was born or, like, had a thought, I kind of always knew that being an artist and being a musician and a songwriter was exactly what I wanted to do," she told NPR.
"The first song I ever wrote was when I was literally two or three, and I wrote a song about my mom being a germaphobe," Rapp said to Equate Magazine. It seems that her love of performing also started early.  Rapp posted a video of herself singing as a child on Facebook, sharing that she had often put on private concerts for her family.
In her teen years, Rapp was in a band called "Daddy's Little Girls," which she admits she hated but learned a lot from. "Imagine like three teenage white girls who are all super blonde from North Carolina, from like Hick North Carolina, who like desperately wanted to be the white girl Destiny's Child and did it so poorly. I feel like it was gentrification," she admitted to Fault Magazine.
She started out in musical theatre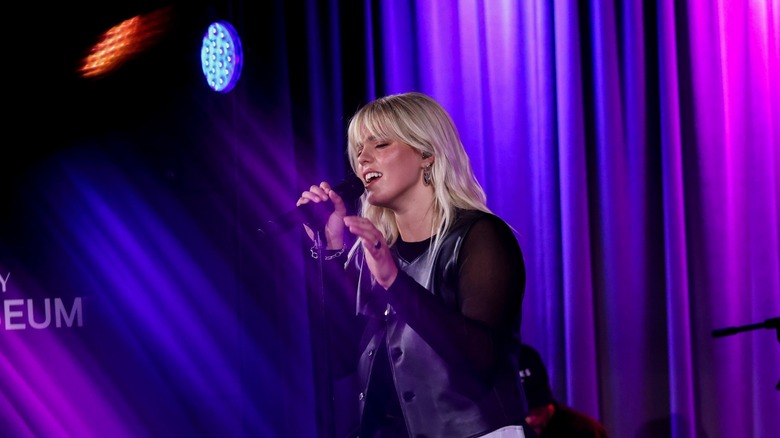 Victoria Sirakova/Getty Images
While Reneé Rapp has some impressive acting credits to her name today, becoming an acti was never her dream. "I just always related to pop artists and pop music more. And, like, Beyoncé was more interesting to me than, like, 'Merrily We Roll Along,'" she said to NPR. So when Rapp got involved in musical theater, beginning with a local production of Annie when she was 10 years old, it was all part of her master plan to become a musician.
"My parents wanted me to go to college and I didn't want to go," she explained to Equate Magazine. "And so I was like, alright I'm going to transfer to an art school. I'm going to major in musical theater. I'm going to get good in musical theater and hopefully win this competition in New York, get seen by agents and then get a job. And then I don't have to go to college." Spoiler alert: That's exactly what happened.
She realized she was bisexual at 14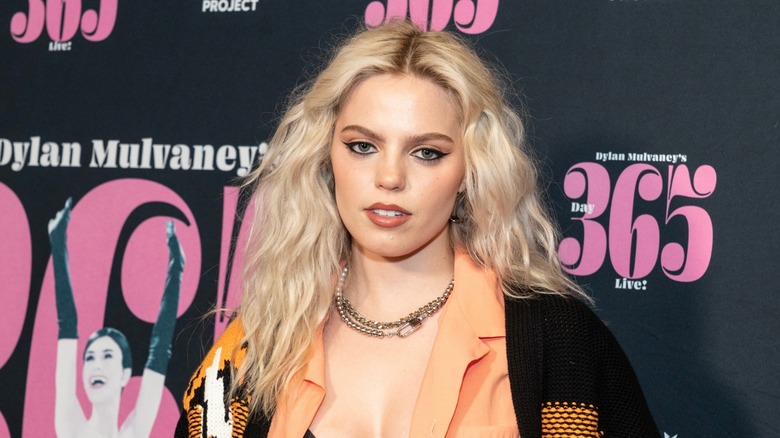 lev radin/Shutterstock
Today, Reneé Rapp is openly and proudly bisexual, but it took a while for her to get to a place of self-love and acceptance. On the "Call Her Daddy" podcast, Rapp recalled realizing she was bisexual when she was 14, after developing a crush on a girl at school who had red spiky hair and never wore a bra. "I went home and I started full-blown crying," she said. "I was like 'oh my god I'm gay.'"
In an interview with Vogue, she opened up about growing up in a small conservative town and how it affected her self-image. "I have a lot of internalized homophobia. I was raised in the South, and I don't want to use that as an excuse, but like queerness was not something that was celebrated, right?" Rapp shared.
She echoed this thought in an interview with NPR, saying, "I was so homophobic to myself as a kid to the point where I wouldn't come out to anybody and I'd be kind of judgmental." Today, she understands the power she holds as a queer artist with a massive platform. "There's an inherent responsibility," she told The Independent. "You want to be careful and respectful and inclusive and really honest."
She won a Jimmy Award in high school
When Reneé Rapp was cast as "Sandra Bloom" in her high school production of "Big Fish," she landed the role that would launch her career. Her riveting performance earned her a Blumey Award and a spot at The National High School Musical Theatre Awards, better known as the Jimmy Awards, a prestigious competition that recognizes high-school talent.
18-year-old Rapp was among the 80 competitors performing that year. She ended up winning the 2018 Jimmy Award for "Best Performance by an Actress," as well as a $10,000 college scholarship. But for Rapp, there was a bigger prize to come: A role in a Broadway musical after her Jimmy Award put her on the map.
"It is such an incredible honor to be on this incredible stage with these incredible performers. This is absolutely unreal," she said in her acceptance speech. "I want to thank my teachers back home who have inspired me to dream bigger than anything in the world."
She landed the role of Regina George in Mean Girls: The Musical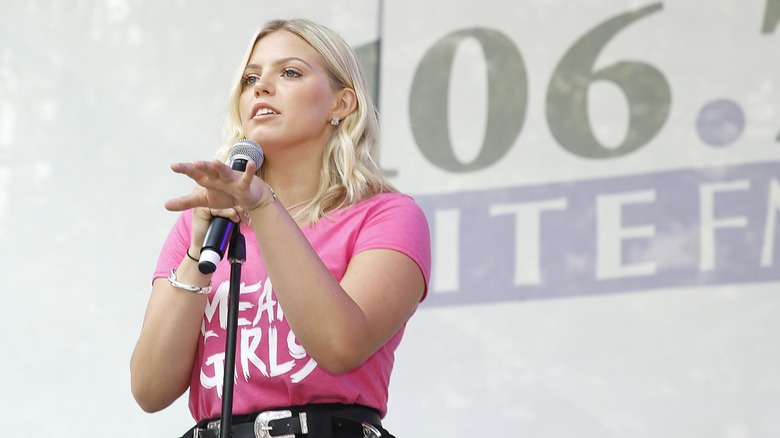 John Lamparski/Getty Images
In 2019, when she was just 19, Reneé Rapp moved to New York after landing her first Broadway role. She was cast as the iconic queen bee Regina George in the stage adaptation of Tina Fey's "Mean Girls." Rapp told The Cut that she drew inspiration from her childhood experiences when playing Regina George. "I have been equal parts bullied as I have been a b*tch," she said. "I think it's fun to play the mean characters when you can make them likable."
Her performance and vocal range were praised by both critics and fans, including Rachel McAdams, who played the original Regina George in the 2004 film. "She is amazing," McAdams told People. "She's already got me beat with that voice."
In an interview with Teen Vogue, Rapp gushed over McAdams's original portrayal of the character, calling her "a boss." However, Rapp wanted to give the character of Regina George her own spin. "There are more layers that you get to go through in the musical than the movie," she said. "There's a lot to her. And [if I'm playing her] the whole time as this cruel human being, nobody's going to want her to come back from being hit by a bus." For those who haven't seen the movie, spoiler alert: Regina gets hit by a bus and survives.
She left Broadway to protect her mental health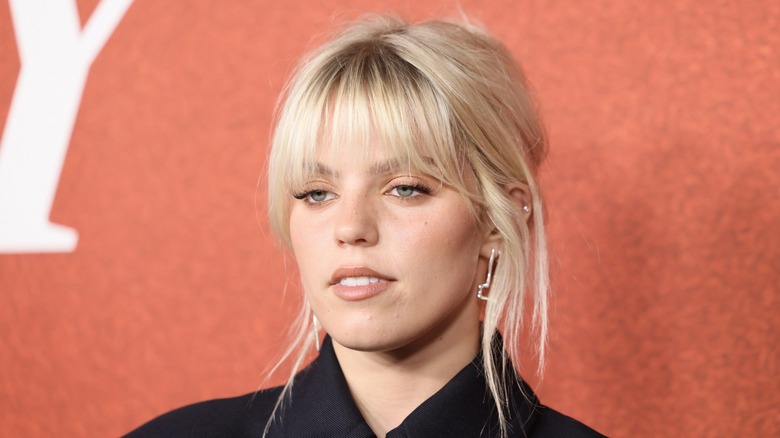 Rodin Eckenroth/Getty Images
While Reneé Rapp loved performing on the Broadway stage, her behind-the-scenes experience was not a positive one. In her interview with The Guardian, she opened up about being body-shamed by members of the production, saying they "would say some vile f***ing things to me about my body." This also happened while Rapp was dealing with an eating disorder, and her parents were so concerned they flew to New York to convince her to leave the production, which she did. "Eating disorders don't just go away and like, you're healed, like: 'Sorry, I can eat again, ha ha!'" she said. "It's a lifelong thing."
The character of Regina George is also body-shamed in both the musical adaptation and the original movie after her character is tricked into gaining weight. Rapp had hoped that her portrayal of Regina would be a step toward more body positivity in the industry. "I think it's really important that I'm not a Regina who's 115 pounds," Rapp told Teen Vogue. "Every single body type, every single gender, race, everyone needs to be more represented in the arts, and we're inching closer to that."
If you need help with an eating disorder, or know someone who does, help is available. Visit the National Eating Disorders Association website or contact NEDA's Live Helpline at 1-800-931-2237. You can also receive 24/7 Crisis Support via text (send NEDA to 741-741).
She was cast in her first TV role on The Sex Lives of College Girls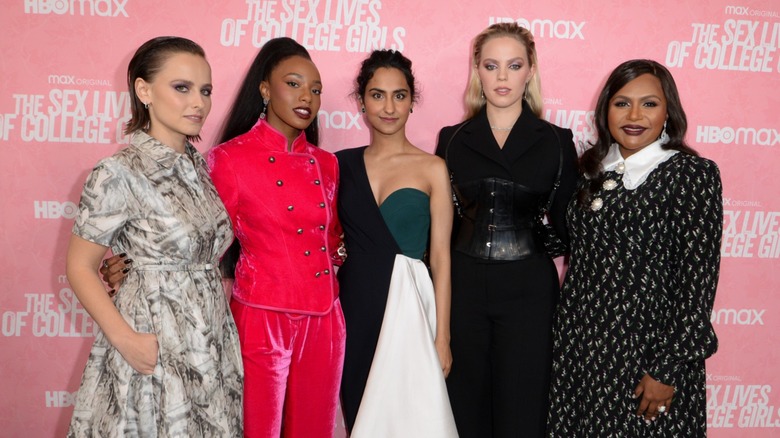 Filmmagic/Getty Images
In October 2020, Reneé Rapp was cast in Mindy Kaling's HBO show, "The Sex Lives of College Girls," which follows four roommates at the prestigious Essex College as they navigate love and sex in their first year. She played Leighton Murray, a wealthy, preppy student who grapples with her sexuality before eventually coming out as a lesbian. 
According to Rapp, playing Leighton Murray helped her come to terms with her own sexuality. "It made me face a lot of stuff that I did not want to, but I then had to," she told NPR. "And so not only did I become, like, way more comfortable with who I am, I also saw a lot of ... the ugly parts of myself I didn't want to see and then had to address." She admitted that the role initially made her question herself, especially since she had a boyfriend during filming. "I was being very homophobic to myself. I was like, I don't deserve to be doing this; I'm not gay enough," Rapp told The Cut.
In July 2023, Rapp announced she would be leaving the show. "A lot of Queer work gets belittled – but playing Leighton has changed my life," she wrote in a statement posted on Twitter. "I love who I am 10 times more than I did before knowing her. I hope she gave y'all a little bit of that too."
She was diagnosed with a mood disorder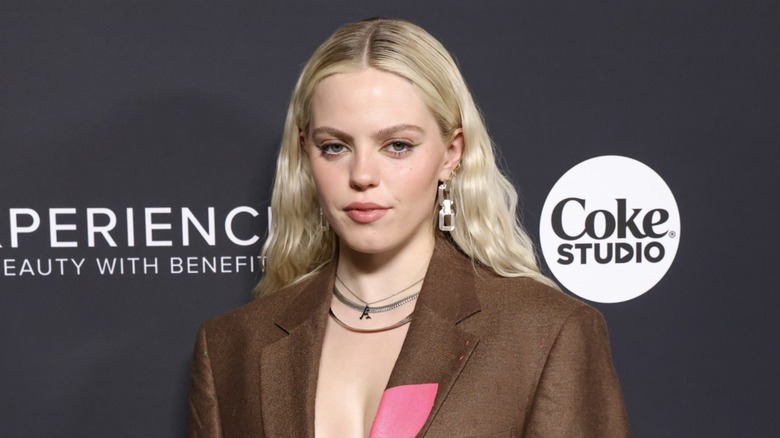 Rodin Eckenroth/Getty Images
Sometime in 2022, Reneé Rapp was diagnosed with a mood disorder. As someone who struggled to make sense of her lifelong emotional volatility, she's admitted that the diagnosis was a relief. "Getting diagnosed made me feel – and this is a derogatory term, if you want to talk about mental health – like I wasn't just stupid, like I felt for so long," she told The Guardian. "I used to beat myself up asking like: 'Why can't I do this?' and, as a kid, hearing people say: 'Suck it up and stop.'"
In an interview with The Independent, Rapp opened up about how the diagnosis helped her make sense of herself and that it came when she needed it most. "Now I don't have to hate myself for it," she said. "I was in a relationship that didn't help matters – I had a panic attack in front of them, crying and pacing, and they just left me; they told me they couldn't handle it." However, Rapp has since realized that she, and anyone else struggling with their mental health, deserved to be treated better.
She started teasing her music on TikTok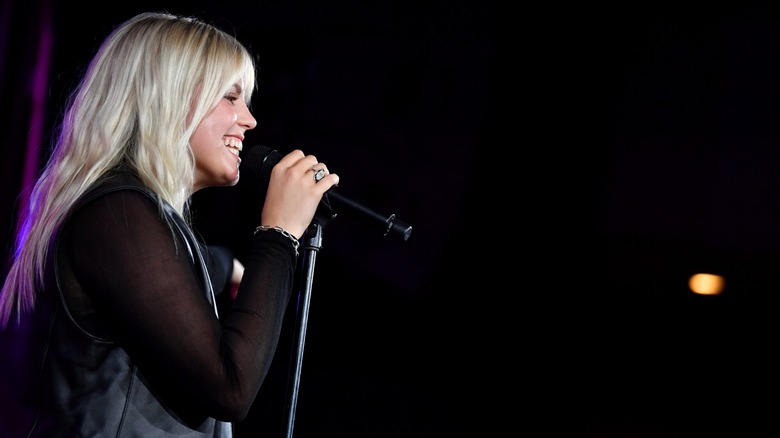 Sarah Morris/Getty Images
TikTok has become an effective platform for artists to build up hype around their new music before it's released. And that's exactly what Reneé Rapp did in 2022 when she started teasing her first single "Tattoos." It was actually her dad who encouraged her to join TikTok back in 2019. She told Time that he'd said, "Reneé, you will regret it for the rest of your life if you don't get on this app."
Turns out he was right, as the support she received on TikTok is what ultimately gave her the courage to release her music. "For 6 years I've been saying I was going to release my songs then backing off and getting scared," she wrote in the YouTube video description. "The only thing that changed is you guys. Your support on this song and the next to come leaves me f***ing speechless. I've dreamt of this my entire life and I'm so excited to finally be sharing it with you."
The emotional ballad explores Rapp's fear of growing up and falling out of love. She sings, "I'm used to people leaving / I know it's hard to believe when I come off so confident / But I got a heart that's bleeding." The highly-anticipated single was well-received by fans, and it was followed by three more singles: "In The Kitchen," "Don't Tell My Mom" and "Too Well."
She released her first EP, Everything to Everyone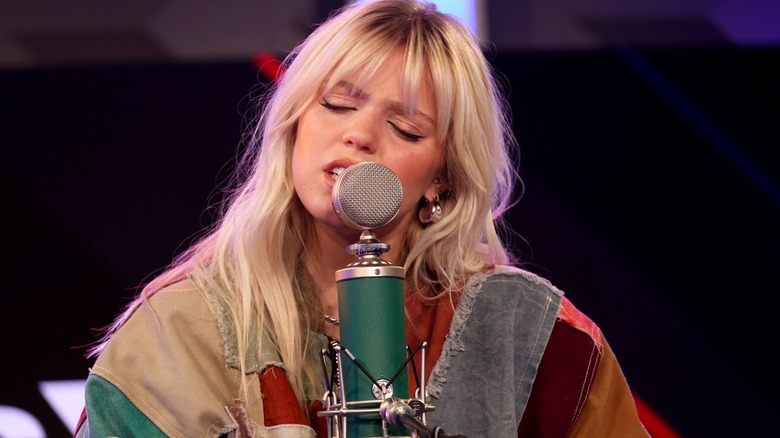 Kayla Oaddams/Getty Images
In November 2022, Reneé Rapp released her first EP titled "Everything to Everyone." For those who aren't music buffs, an EP stands for Extended Play, which is a collection of music, typically between 2-5 songs, that's not long enough to be considered a full album.
"Everything to Everyone" is a mix of emotional R&B ballads and upbeat pop bangers, which makes sense for someone who grew up idolizing Beyoncé. "I feel so incredibly influenced by R&B," she told the Alternative Press. "Pop ballads do nothing for me. R&B ballads do. But intricate pop writing does a lot for me, so it's kind of in the middle."
The 7-track collection is a raw and powerful ode to the relatable experiences of a modern generation. "Colorado" explores reinventing yourself in a new city. The gut-wrenching ballad "Don't Tell My Mom" is about hiding your pain from the people who love you. And the breakup anthem "Too Well" will definitely have you screaming along in the car.
She released her debut album, Snow Angel
Dia Dipasupil/Getty Images
In August 2023, Reneé Rapp released her wildly-anticipated debut album "Snow Angel," which Rolling Stone described as "an emotional rollercoaster you'll want to ride." The album's titular track "Snow Angel" is based on a traumatic experience when Rapp was drugged and woke up alone in a bathroom stall with no recollection of what had happened. The haunting song is a testament to both her poignant songwriting and impressive vocal range. And as the song builds from soft piano to added percussion, her voice changes from quietly powerful to emphatic. "I have never been simultaneously so proud and scared of a song in my life. I'm very sarcastic and I make a lot of jokes, but this one is f***ing different," she wrote in a statement posted to Instagram.
It's clear that the album has resonated with fans, as tickets to her headline tour "Snow Hard Feelings" sold out nationwide within minutes. She also has international tour dates lined up, with shows in London, Paris, Berlin, and more.