Donald Trump Hints Son Barron Is Growing Even Taller In Rare Update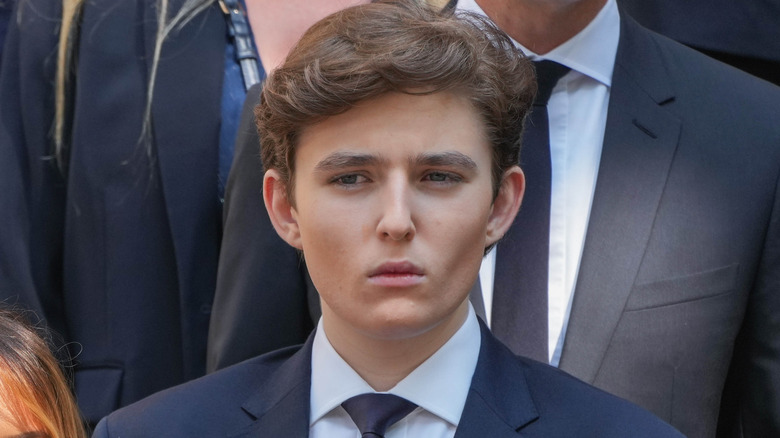 Jni/star Max/Getty Images
Former president Donald Trump has provided a rare update on his youngest son, Barron Trump. During an interview on "The Megyn Kelly Show" podcast, the 2024 hopeful revealed that his son is doing well — and growing even taller — since his time in the White House. "Barron's a very good athlete. He's very tall — about 6'8". And, and he's a good kid. He's a good-looking kid. He's a great student, very good student," Donald said. 
Barron, who is now a whole five inches taller than his famous dad, is enrolled in Oxbridge Academy, which is not too far from where his family owns property in Florida. He is expected to graduate at the end of the school year, according to People. 
Since leaving the White House and moving to the Sunshine State, both Donald and his wife, former first lady Melania Trump, have done their best to allow their son to live a quiet, private life. Barron is rarely seen out in public and is afforded the opportunity to be a regular kid, despite having his own security detail. Melania "is a doting mother to Barron and very protective of him," a source told People magazine back in March. "She has always put him first. She is a good mother," the source added. 
Donald also provided an update on his wife amid a whirlwind year, and what he said seems to speak more to her determination to protect her only son.
Barron Trump's safety is a priority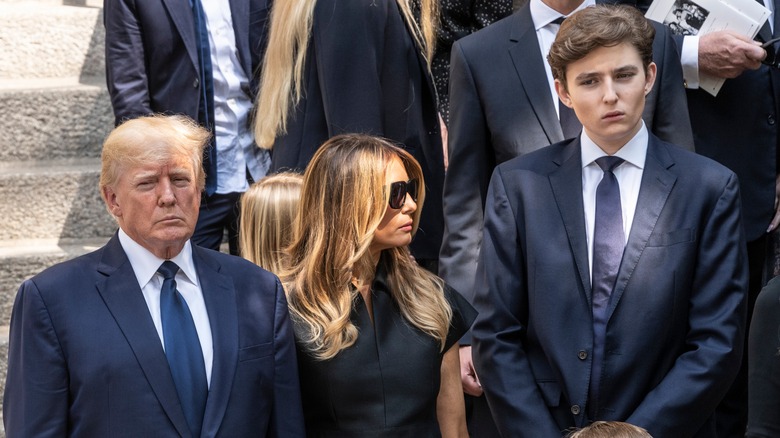 lev radin/Shutterstock
During his chat with Megyn Kelly, Donald Trump shared a small update on his wife. "She's doing very well. She's very strong, very, very even-keeled. And she's a very good woman," he said. 
Though Melania Trump has yet to get out on the campaign trail, her husband says things are going well between them. "She's a very calm person. It's very interesting, and I think that's what people like about her. Our dinners are nice dinners, our dinners are like people's dinners ... we actually get along very well," he explained.
Interestingly, this seems to really echo what sources have said about Melania and her focus on Barron Trump. "Melania is busy with her son and family and she pays only so much attention to these issues which captivate the media," a source told People regarding why Melania didn't share a reaction to her husband's viral mugshot photo.
Not too much is known about what sports Barron is playing or whether or not he's applying to colleges, but that seems to be by design. In August, the Tampa Bay Times reported that a teacher who threatened to kill the former first son actually scoped out his high school. Tracy Marie Fiorenza was arrested and charged in the case. Thankfully, Barron was not harmed, but stories like this explain just how imperative it is for Donald and Melania to keep Barron out of the public eye.