Get To Know Melissa Gilbert's 7 Kids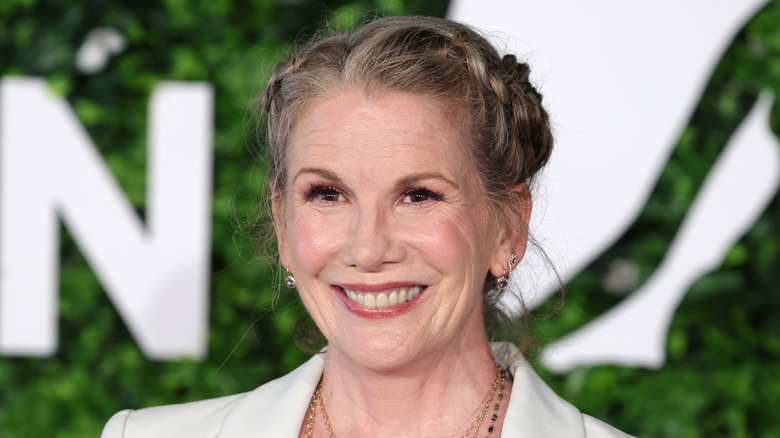 Pascal Le Segretain/Getty Images
We may receive a commission on purchases made from links.
Melissa Gilbert was only 9 years old when she was cast as Laura Ingalls in "Little House on the Prairie." She starred on the show for the better part of 10 years, growing up on a 19th-century-inspired Hollywood set and forming a strong bond with her on-screen dad, Michael Landon. "I absorbed so much without even realizing what I was learning. Really important life lessons about family, community, tolerance," she told "CBS Sunday Morning" in a 2020 conversation. She's carried those lessons with her into adulthood, applying them as she parented her own kids.
Now, Melissa Gilbert and her third husband, Timothy Busfield, live in what she likes to call a "little house in the Catskills." Their Sullivan County, New York property is also home to several chickens — one is named Dr. Fauci — and plenty of space for growing vegetables. "It's very rustic. Look at my hands. I have blisters from shoveling and there's dirt everywhere constantly," she told CBS, talking about her life on the farm post-COVID.
When Melissa Gilbert isn't feeding her chickens, writing (she's published four books including a cookbook and a memoir), or enjoying the rural New York landscape, she's spending time with her seven children and their kids — believe it or not, young Laura Ingalls is a grandmother several times over. Two of her kids (Dakota Brinkman and Michael Boxleitner) are biological, the product of her first two marriages. She also has five stepchildren thanks to her second and third husbands. Here's what we know about Dakota, Michael, Sam, Lee, Samuel, Daisy, and Wilson.
Melissa Gilbert shares children with her first two husbands
In 1988, five years after the "Little House on the Prairie" cast parted ways, Melissa Gilbert married actor and producer Bo Brinkman. "From the moment we got married, we knew we wanted to start a family," she recounted in her first book, "Prairie Tale," per Showbiz CheatSheet. In 1989, they welcomed baby Dakota, but their marriage didn't last. Gilbert found out Brinkman was cheating on her, and the pair divorced in 1994. Dakota has several acting credits to his name. He appeared in 1997's "Laws of Deception" and 2007's "Safe Harbour." Melissa Gilbert celebrated her first son's 34th birthday on Instagram in May 2023, proudly calling him, "A sweet, sweet soul and a wonderful husband and father."
In 1995 Melissa Gilbert said "I do" once again, this time with actor and writer Bruce Boxleitner. Gilbert became stepmother to Boxleitner's two kids from a previous marriage: Sam and Lee. She and her second husband also welcomed a baby of their own, Michael. According to his Instagram, he works as an actor, voice actor, and bartender. In a Mother's Day post, Michael celebrated Gilbert, writing, "With every step I take, I will continue to do my best to honor the love you've continuously poured into me." As for Sam and Lee, Sam Boxlietner is an actor, writer, director, and musician. Lee is also in the entertainment industry and has directed several short films. You can hear his voice on "The Stoning Rolls Podcast." 
Tim Busfield has three kids of his own
When Melissa Gilbert and her second husband, Bruce Boxleitner, split in 2011, she went through a rough patch. "It was like, I lost my mind," she explained to Page Six years later. When she met her third husband, Tim Busfield, in 2012, they were both reeling from their previous relationships. He had three kids of his own: Wilson, Daisy, and Sam. Blending their families together was difficult. "I realized that blending this family was going to be more of a challenge than I had anticipated," Gilbert wrote in her 2022 memoir, "Back to the Prairie" (via Showbiz Cheat Sheet)."Tim's kids were adults with their own fully formed ideas about relationships, family, and life. They were also still nursing some very hurt feelings about stuff in the past..."
Wilson is the oldest of Tim Busfield's kids, born during "The West Wing" star's first marriage to actor Radha Delamarter. He's a cinematographer and father — check out his photography on Instagram. Daisy and Samuel, the latter of which bears a striking resemblance to his dad, were born during Tim Busfield's second marriage to Jenny Merwin. Both have chosen to live out of the spotlight, and neither have public social media profiles. 
In a 2022 Instagram post, Gilbert celebrated her grandchildren, writing that, of her four granddaughters, three of their names started with "R." Clearly, raising chickens away from the trappings of Hollywood has been the best-case scenario for the former child star. Laura Ingalls would be proud.