How Emma Roberts Reportedly Ended Hayden Christensen's Decade-Long Relationship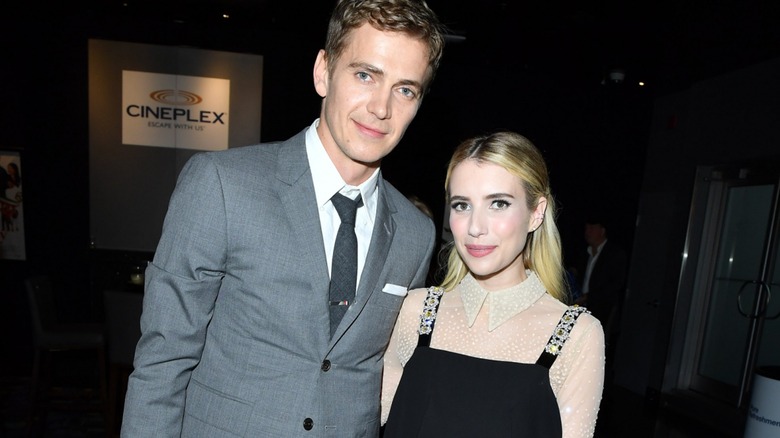 George Pimentel/Getty Images
Emma Roberts may be best known for her acting talent, with her career starting off on Nickelodeon before she transitioned into a horror stalwart, appearing in the likes of "Scream 4" and the "American Horror Story" franchise. However, in 2017, the star found herself making headlines for an unfortunate rumor unrelated to her performances. 
Although no official confirmation ever emerged, there was speculation that Roberts ended Hayden Christensen's decade-long relationship with fellow actor Rachel Bilson. Roberts and Christensen shared the screen in the 2018 rom-com "Little Italy," in which they, conveniently, play a couple in love navigating the various challenges thrown their way. At the time of filming, Christensen was in a long-term, on-off relationship with the "Hart of Dixie" star. 
The former couple met in 2007 while they were filming "Jumper," a sci-fi action movie. Despite being engaged at one point and welcoming a daughter in 2014, they never actually tied the knot, calling it quits in 2017. While the exact role Roberts may have played in their breakup remains unclear, her involvement could have been the last straw for Bilson and Christensen.
Bilson reportedly discovered incriminating text messages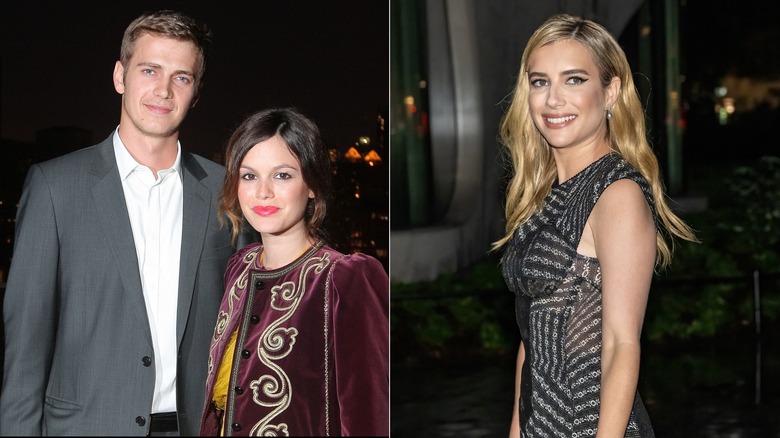 Gilbert Carrasquillo/Getty & Michael Loccisano/Getty Images
Emma Roberts might be adding another complicated situation to her complex dating history. According to The Blast, Rachel Bilson discovered some potentially incriminating text messages between her partner, Hayden Christensen, and Roberts, in 2017, which purportedly played a role in her decision to end their relationship. In particular, there was a slew of texts that made Bilson think the two were more than just colleagues. Despite sharing a child with Christensen, it seems the content of the messages was enough for Bilson to call it quits shortly after finding them.
Nonetheless, the alleged love triangle involving the three actors was never officially confirmed by any of the parties involved despite an insider confirming to Us Weekly that Roberts was the reason they split. Additionally, a source close to the former couple clarified to People that Bilson and Christensen were already experiencing relationship trouble at the time. "Rachel is very outgoing, and her friends are very important to her," they explained. "Hayden is the opposite. He can be very antisocial." 
Another insider shared with Us that Bilson and Christensen had been having problems for months before officially parting ways and calling off their engagement. While Roberts may have contributed to their breakup in some way, Bilson and Christensen's decade-long relationship seems to have already been hit with significant issues before the "Scream Queens" star ever came into the picture.
The former couple really excels at co-parenting
Rachel Bilson and Hayden Christensen continue to navigate co-parenting their daughter, Briar Rose Christensen, to this day. Bilson herself has emphasized that the secret to their successful arrangement is always keeping their child's well-being at the forefront. "Communication is key, and just being on the same page, so everything's about the kid," she explained to People. "As long as you put the kid first, everything will be okay."
During an interview with Us Weekly, Bilson opened up further about how she and her former fiance managed to navigate their situation in the midst of the pandemic, too. The "O.C." breakout detailed how having two different homes to stay in was actually refreshing for Briar Rose as she wasn't confined to a single space, which ultimately helped her deal with the COVID-19 restrictions.
As Bilson lives in Los Angeles with their daughter and Christensen spends a lot of time in Canada, where he's originally from, she makes sure that Briar Rose maintains a constant connection with her father. The former couple's commitment was evident when the mother-daughter duo spent the 2022 holidays in Toronto with Christensen's side of the family, proving they're skilled at co-parenting, regardless of past circumstances.