A Look At Dance Moms Star Maddie Ziegler's Dating History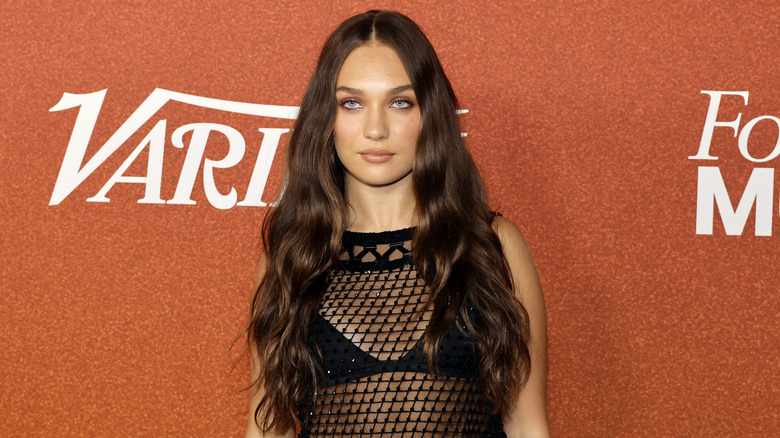 Kevin Winter/Getty Images
Maddie Ziegler was launched into the cultural zeitgeist through "Dance Moms," a scandalous Lifetime reality series that debuted when she was eight years old. As she's grown up in the spotlight, the Pittsburgh native has made a name for herself as an actor and accomplished dancer. She's also garnered a notable social media following, accumulating almost 14 million followers on Instagram and earning a spot on Time magazine's "30 Most Influential Teens" list in 2015, 2016, and 2017.
As a celebrity figure, the stunningly transformed Ziegler has been no stranger to public scrutiny, with her dating life being a particular topic of speculation. Even when she was only eleven years old and still on "Dance Moms," there were rumors about a potential relationship between her and fellow dancer Gino Cosculluela. As a result of the immense attention and speculation she's faced, the dancer has made the decision to keep some things private.
Even so, she's occasionally shared glimpses into her romantic life over the years. With this in mind, here's a look back at "Dance Moms" star Maddie Ziegler's dating history.
Ziegler called it quits with Eddie Benjamin in 2023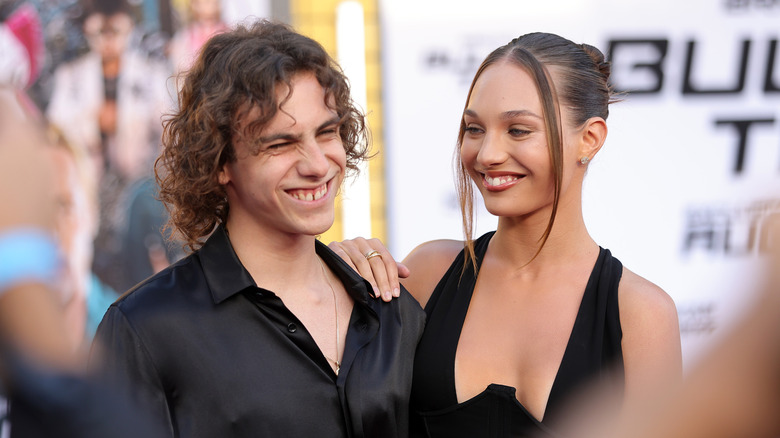 Matt Winkelmeyer/Getty Images
One of Maddie Ziegler's most notable relationships was with Eddie Benjamin, an Australian musician who started producing music for stars like Meghan Trainor, Ryan Tedder, and Earth, Wind & Fire at the young age of sixteen. Ziegler revealed in an interview with Harper's Bazaar that the two originally connected over social media, sharing, "It was so random. I was a fan of him on Instagram and we started talking."
Ziegler and Benjamin were reportedly friends for about a year before they started dating, being romantically linked as early as 2019 and going public with their relationship in March 2020. Both have spoken highly of one another and shared glimpses of their lives together on social media and through interviews, revealing that they quarantined together during COVID-19 and even fostered a puppy as a couple.
Unfortunately, the relationship was not fated to last, as a source shared with People that the couple split in February of 2023 after three years of dating. While the reason behind the split is unclear, their relationship allegedly ended amicably. 
The dancer dated Jack Kelly as a teenager
Before Maddie Ziegler dated musician Eddie Benjamin, the dancer was in a pretty public relationship with Jack Kelly. The Australian became a popular Instagram influencer through his connection to the celeb, though he no longer appears to have a social media presence. In a 2017 video posted to Ziegler's YouTube channel, the couple reveals that they originally met when they were around ten years old.
Ziegler and Kelly were both attending a 2013 party at Lilia Buckingham's house, a fellow dancer, internet personality, and actor who became friends with Ziegler and her sister Mackenzie Ziegler at a young age. It wasn't until 2017 that the couple began dating, announcing their relationship in a since-deleted Instagram post. By the summer of 2018, a source close to the couple reported to Adelaide Confidential that the two were taking an indefinite break.
Even though their relationship was relatively short-lived, it was a topic of immense speculation among fans of Ziegler, an experience she discussed with Marie Claire in 2019. "I had a public relationship for two years, and I am never, ever going to make any relationship public as much as I did," she said. "I learned my lesson. On Instagram, people have assumed certain people that I am dating, but I'm just like, give it a rest."