Dianne Feinstein, Trailblazing US Senator, Dead At 90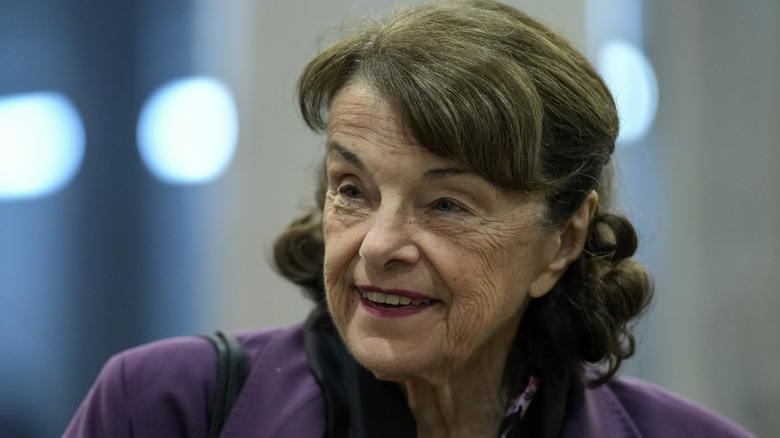 Drew Angerer/Getty Images
U.S. Sen. Dianne Feinstein has died, sending the nation into mourning. Feinstein served as a California senator from 1992 to 2023, making her the state's longest-serving senator (via USA Today). She helped to kickstart the careers of many politicians, including Alex Padilla. NBC announced the California Democrat had died on September 29 at age 90.
February was a turbulent month for the senator. At the beginning of the month, she announced her decision not to run for re-election in 2024 — a choice that had many wondering who she might endorse. Per CBS News, Feinstein was also diagnosed with shingles at this time, which ultimately led to her being hospitalized to treat the viral infection.
Despite her health struggles, the politician was determined to return to office. Her return to work was met with a palpable wariness from those around her. Her rapidly diminishing health was evident; she was escorted around in a wheelchair and seemed frail. Now more details surrounding her death have surfaced, and it's clear that the senator's health was on the decline.
Complications from shingles may have played a role in her death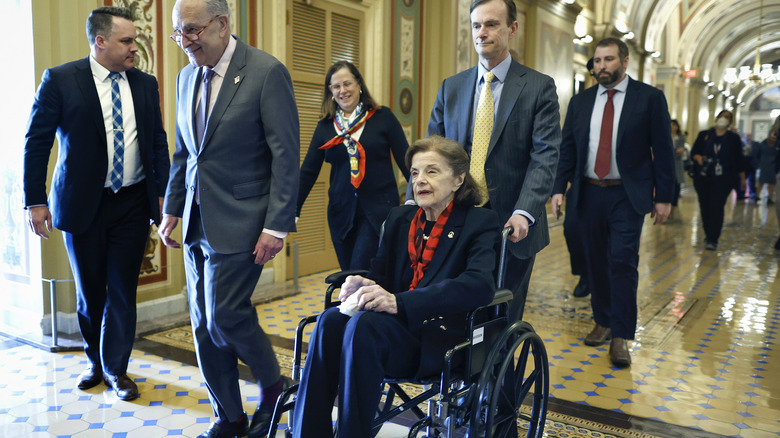 Kevin Dietsch/Getty Images
When Dianne Feinstein was released from the hospital following her shingles diagnosis, it was obvious that the California senator's health was not what it used to be. Feinstein made some very strange comments that left the media and those around her concerned. According to Business Insider, when Feinstein was asked about her return to office after being hospitalized, the senator responded that she had never been gone and indicated that she'd "been working" in the office the entire time.
Per CNN, it was Feinstein's bout with shingles that contributed to her fragility. Even though she denied claims her health was in jeopardy and labeled what she had as "the flu," the longtime senator had actually suffered several dangerous developments while in the hospital. Her shingles led to Ramsay Hunt syndrome and encephalitis diagnoses, the latter of which causes inflammation of the brain. Although the encephalitis was claimed to have been resolved, Feinstein continued to have trouble with Ramsay Hunt syndrome.