Inside Austin Butler & Ashley Tisdale's Longtime Friendship
While Hollywood is full of unlikely friendships — looking at you, Snoop Dogg and Martha Stewart! — it also has some that just make sense, like Austin Butler and Ashley Tisdale. Their paths first crossed in 2009 when they acted together in "Aliens In The Attic." At the time, Butler was making a name for himself with small appearances in hit teen shows like "Hannah Montana," "Zoey 101," and "iCarly." Meanwhile, Tisdale was fresh off her lead role in "The Suite Life of Zack & Cody" and "High School Musical."
 So, it's only natural that the two stars found common ground. Their friendship blossomed and grew stronger until their next on-screen appearance together in the 2011 flick "Sharpay's Fabulous Adventure." When Girl Magazine asked Butler to share the best part of working on the film, he replied, "Ashley Tisdale and I have been friends for, like, three or four years, so it was a blast to get to come to work every day and just have fun with her." 
When the interviewer asked him to share what Tisdale was like IRL, he gushed, "She's a really sweet, down-to-earth girl. Really fun to be around!" Tisdale answered the same question by noting how easy it was to find chemistry with Butler since they had such an amazing friendship. The "Elvis" actor also fondly recalled the time they went kayaking without their shoes only to find that the ground was too sharp, so they had no choice but to wrap seaweed around their feet. They've clearly made plenty of memories over the years!
Ashley Tisdale loves having Austin Butler over for double dates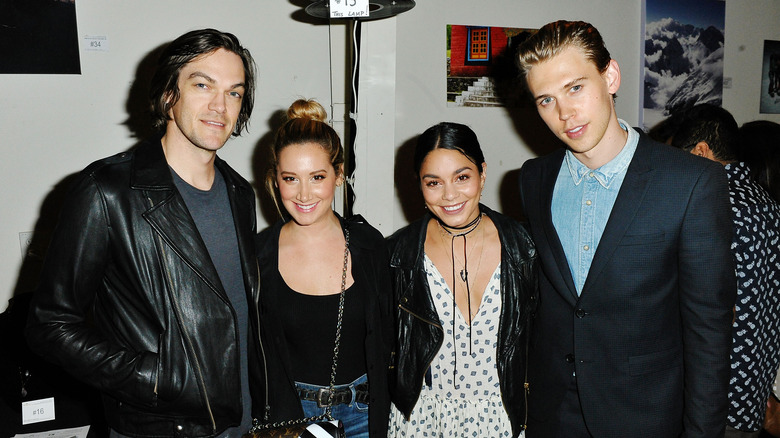 Jerod Harris/Getty Images
It's no secret that Ashley Tisdale also shares a close friendship with her "High School Musical" co-star Vanessa Hudgens. So when she began dating Austin Butler in 2011, Tisdale couldn't be happier for her two best friends. She shared her feelings about their love in a People interview, saying, "It's great because Austin was my best friend since way before they got together. So it's just nice to have your two best friends be in a relationship." Tisdale also shared that she and her husband Christopher French loved having the couple over for double dates that were mostly casual dinners. 
Sometimes they would take things up a notch by having themed parties and donning matching onesies. In 2021, she shared a heartfelt Instagram post for Butler's 30th birthday in which she expressed how proud she was of him before adding, "You've been my closest friend through the years, you're the type of friend that came over when I was crying on the floor from a horrible breakup and not only lifted me off the ground but brought my favorite candy." 
She shared that she never believed she'd find somebody who inherently understood her like Butler, but that changed with her husband, whom Butler welcomed like a brother. Tisdale also said that she believed Butler's mother, who tragically passed away due to cancer, would be so proud of his accomplishments. She ended the post with a cheeky remark about how she convinced him to join "Sharpays Fabulous Adventure."
Austin is a fantastic uncle to Ashley's daughter
Despite their packed schedules, Ashley Tisdale and Austin Butler managed to stay in touch throughout her pregnancy. After talking virtually for over two years, the besties were finally reunited, and Tisdale posted a snap of the sweet moment that featured her hugging Butler and refusing to let go. And to make the reunion even sweeter, Butler finally got to meet Tisdale's daughter, Jupiter. 
Tisdale Instagrammed photos of the actor with her little one with the caption, "This guy FaceTimed me throughout and it felt like he was there. He even FaceTimed Jupiter in the hospital the morning after I had her. He's one of my best friends and to see him with Juju is so special."  When Tisdale appeared on the Ancestry.com YouTube channel, she was shocked to learn that Butler was her tenth cousin once removed. But as she held back happy tears, she recognized that the news made things much clearer.
She later shared her reaction with Us Weekly, explaining, "We've had an immediate connection since we met, and we've been close friends for years. We even joked about being fraternal twins," she added. "I texted him as soon as I heard and he replied right away saying, 'NO F-ING WAY!' He was just as shocked as I was. To know this whole time that we're actually cousins — it's just so wild." In August 2023, Tisdale wished Butler a happy birthday with an adorable Instagram post where she called him the best uncle her daughter could have.