Inside Princess Diana's Relationship With Prince Andrew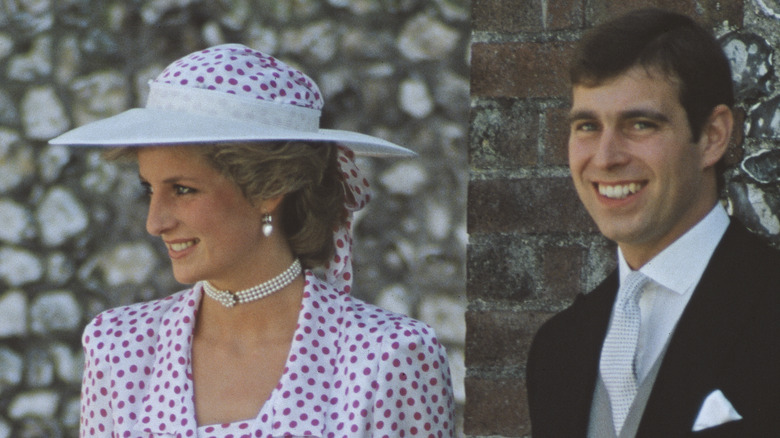 Princess Diana Archive/Getty Images
Plenty of people are riveted by all the drama that goes on within the royal family. However, some royal relationships attract more speculation, attention, and gossip than others. In two very different ways, both the late Princess Diana and her brother-in-law, Prince Andrew, have been involved in their fair share of rumors and scandals over the years. Still, the relationship between this pair was never something the public knew too much about.
Before, during, and after Diana's marriage to King Charles III, it was common knowledge that she was close friends with Prince Andrew's then-wife, Sarah Ferguson aka Fergie. While it wasn't as widely publicized, it should come as no surprise that Diana was always very close with Andrew as well. In fact, it's been said that Andrew was the member of Charles' family with whom Diana was the closest. So, what was the nature of this pair's relationship? We're ready for a deep dive, and there is quite a bit to unpack between these royal relatives. 
Prince Andrew is actually the reason Princess Diana met King Charles III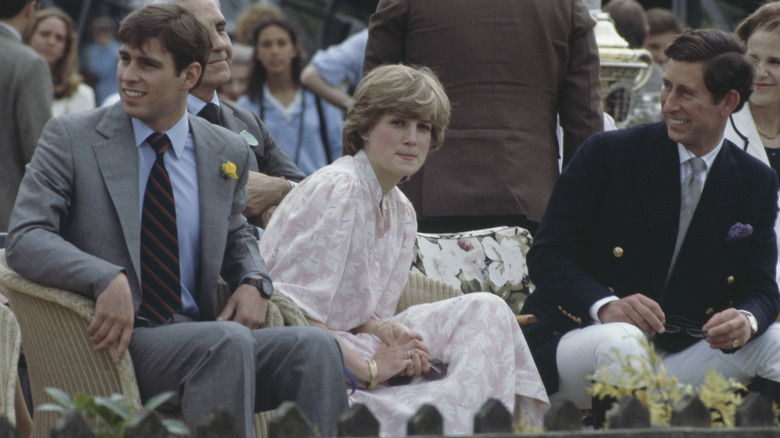 Princess Diana Archive/Getty Images
Princess Diana and King Charles' relationship was nothing if not highly publicized. Even so, plenty of royal family fans aren't aware that the famous ex-couple actually originally met because of Prince Andrew. In 1977, Andrew first introduced his older brother, Charles, to Diana's older sister, Lady Sarah Spencer; her name has since changed to McCorquodale. McCorquodale and Charles dated, but it was clear that this wasn't a relationship that was destined to go anywhere. Even so, during their short-lived, casual romance, Charles met Diana while staying at the Spencer family estate. At the time, Charles was 29 years old, McCorquodale was 26, and Diana was only 16.
Ultimately, McCorquodale told the Sun that her relationship with Charles was "a brotherly-sisterly one, never anything else," per E! News. It's clear, then, that there were no hard feelings between the Spencer sisters when Charles and Diana got together. In fact, in 1981, when Charles and Diana got engaged, McCorquodale said, "I introduced them. I'm Cupid." Still, none of it could have happened without Andrew's help. 
Princess Diana played matchmaker for Prince Andrew and Fergie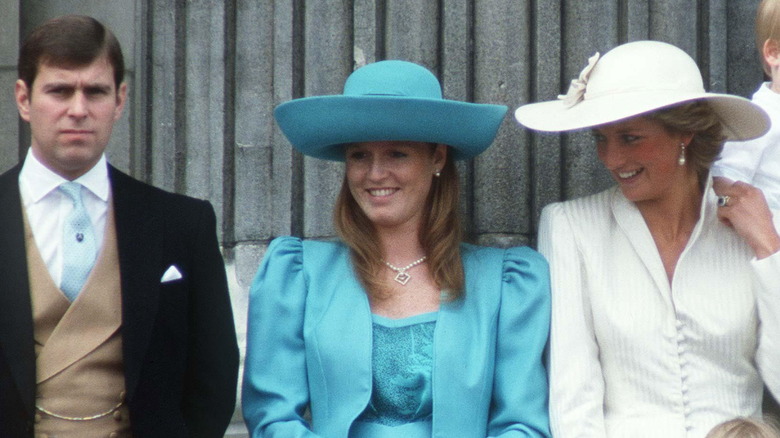 Tim Graham/Getty Images
The matchmaking between Prince Andrew and Princess Diana didn't stop with King Charles III and Diana's introduction. Diana was insistent on setting up her friend Sarah Ferguson with her brother-in-law. 
In an interview with People, Ferguson explained that it was Diana who originally got her and Andrew together. "It was Diana that said 'I need you to come and stay at Windsor, and you need to be with my brother-in-law, Andrew," Ferguson said. "I remember going up to her and saying, 'He's really cute,' and she said, 'Duh, Fergie.'"
Of course, this match was successful, and the two couples went on to be very close, often dining and vacationing together. While Diana's friendship with Fergie went through a few rough patches when both marriages met their end, Diana and Fergie reunited in friendship once again. 
Princess Diana and Prince Andrew attracted romance rumors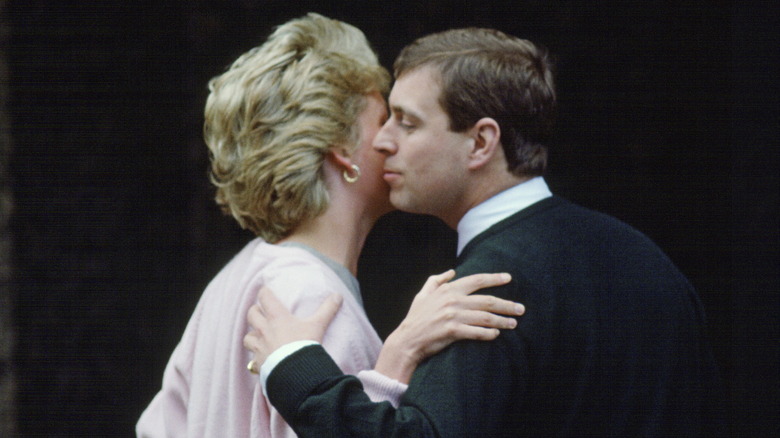 Tim Graham/Getty Images
The royal family has always been a magnet for gossip and rumors that sometimes stray far from the truth. Consequently, it's no surprise that Princess Diana and Prince Andrew's friendship sparked romance rumors. In the 2017 docuseries "The Diana Story," Betty Andrews, a one-time housekeeper for the Spencers, explained that when it came to Diana, "We thought she would be with Prince Andrew."
Andrews was far from the only person who thought this. Ingrid Seward, royal biographer and author of "Prince Philip Revealed: A Man of His Century," told Us Weekly, "I think some of Diana's friends thought that Andrew would be more fun for her than Charles because [Andrew] was very much her age and he was full of fun and everything else." Still, she insists, "Diana wasn't interested in Andrew. It was Charles she was interested in." 
While Diana was pregnant with her and Charles' son, William, Prince of Wales, rumors sent ripples through the public about an affair between Diana and Andrew. Nowadays, there's really no one who can prove or disprove the rumors other than Andrew. According to Fergie, though, it's "rubbish." On the podcast, Tea Talks with the Duchess and Sarah, Sarah Ferguson was asked about the rumor "that Diana had the hots for Prince Andrew and had pictures of him up." Fergie replied, "What a load of rubbish. Diana really always got on very well with him, and I say that he's certainly the best-looking prince."
There's speculation that Princess Diana wanted Prince Andrew to become king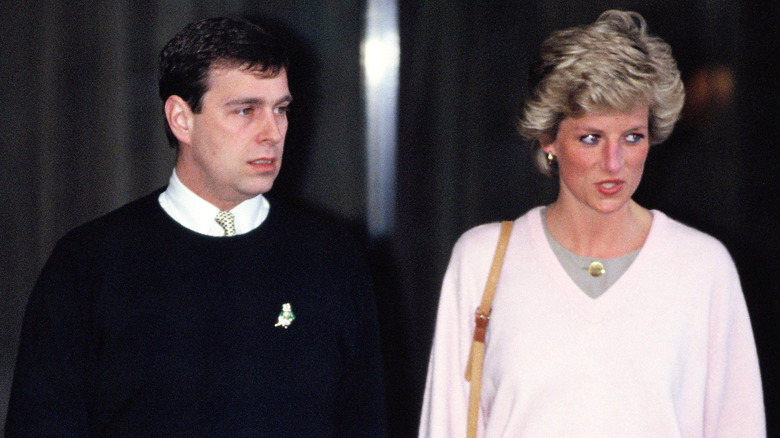 Georges De Keerle/Getty Images
It was once believed that Prince Andrew was after his brother King Charles III's birthright to be his mother's successor and become king. In fact, Charles, himself, was very concerned about this possibility, and he believed that Princess Diana was in on it. Amidst his very public divorce with Diana, Charles' popularity took quite a hit. At the same time, Andrew was made regent.
 In his biography, "Windsor Spares: The Prince Harry and Prince Andrew Soap Opera!" author Nigel Cawthorne wrote, "History was studded with regents who went on to become king. Even Britain had one in George IV, formerly the thoroughly disreputable Prince Regent." This made Charles believe that Andrew's new title was a sign that his path to the crown was being paved.
"After Diana said in an interview on 'Panorama' that she did not think Charles would be king, he convinced himself that Diana and Fergie had plans to replace him as heir and announce that, in the event of the Queen's death or abdication, Andrew would be regent until [Prince] William was 18," Cawthorne explained. Still, there's never been any confirmation that this was even on Diana's radar.
Prince Andrew was Princess Diana's favorite royal sibling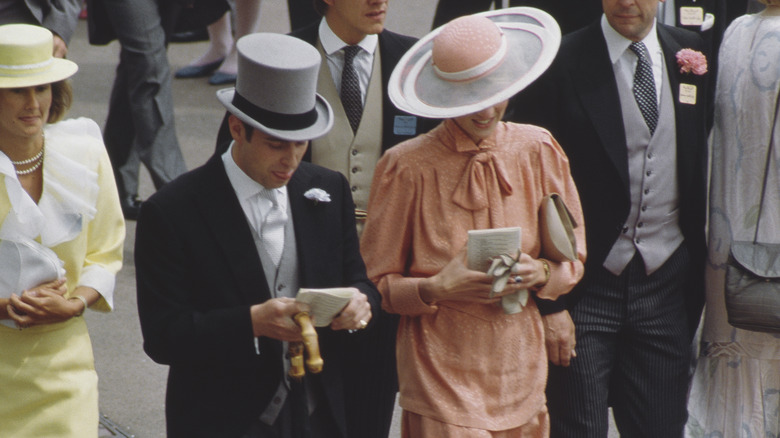 Princess Diana Archive/Getty Images
There are various ways in which the public may have misinterpreted the relationship between Princess Diana and her brother-in-law, Prince Andrew. Still, one thing seems certain — of all the royal siblings, Diana was closest to Andrew. On the docuseries, "Paxman on the Queen's Children," journalist Richard Kay explained that Diana and her sister-in-law, Princess Anne, didn't get along. "Princess Anne, she had no time for Diana; she didn't like the way she went about her duty," he said.
"Diana had a much warmer relationship with Prince Andrew who she had known well since she was a child. They had played together as children on the Sandringham Estate," he said. When Andrew was away at war, Diana was the member of the family who sent him letters and stayed in frequent touch with her brother-in-law. While she was there for him in this difficult time, he did the same for her. 
Her divorce from then-Prince Charles was complicated and painful for Diana in many ways. Despite believing that the royal family was all rooting against her, she believed that Andrew was the opposite and that he had her back. Against plenty of odds, it's clear that Prince Andrew was the strongest friend and confidante that Diana had within the otherwise difficult royal family.