Whoopi Goldberg Is Less Than Excited By Taylor Swift's NFL Romance On The View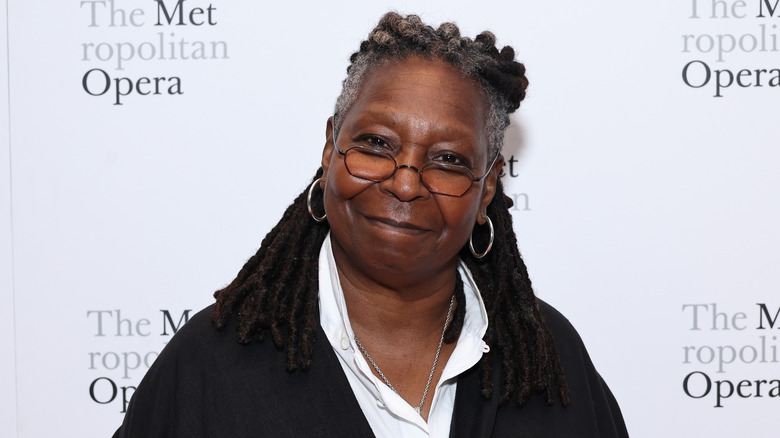 Jamie Mccarthy/Getty Images
If you watched the Kansas City Chiefs play the New York Jets on October 1, you couldn't help but notice how much attention Taylor Swift was getting. She made her second appearance in as many weeks at a Chiefs game after a rumored romance with Travis Kelce, NFL tight end.  During both games, she was seen with Kelce's mother, and for the New York Jets game, she came with friends Sophie Turner, Blake Lively, and Ryan Reynolds — perhaps to help vet her new beau? So while neither Swift nor Kelce have confirmed the relationship rumors, that clearly hasn't stopped the ongoing speculation.
The possible couple came up on an episode of "The View." If there's anything that the show is known for, it's about pushing the conversation sometimes a bit too much; there have definitely been some arguments on "The View" that went way too far. And while it didn't get as heated as it sometimes gets on the show, Whoopi Goldberg clearly seemed baffled as to why people keep obsessing over the fact that Swift attended the NFL games. "Why is this so extraordinary to people?" Goldberg asked (via X, formerly known as Twitter).
Whoopi Goldberg just doesn't seem to care what Taylor Swift is up to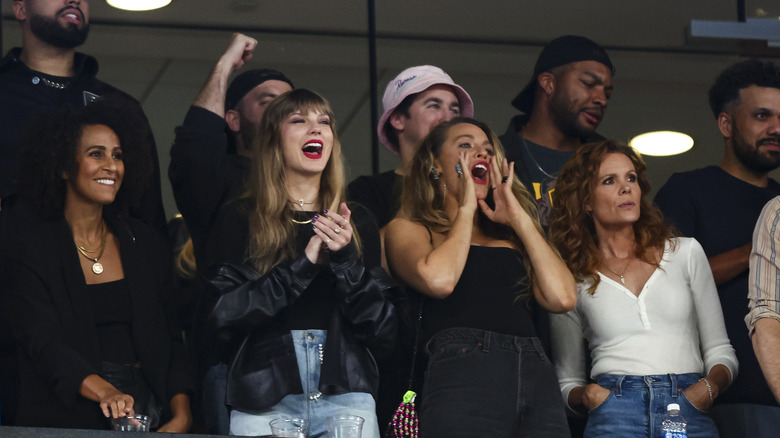 Kevin Sabitus/Getty Images
Ana Navarro tried to explain to Whoopi Goldberg why people were so interested in talking about Taylor Swift attending the Kansas City Chiefs games, noting that, "the two games she's showed up on, the Kansas City people have won." So it could be that people see Swift as a kind of lucky charm? Navarro also noted the money that Swift's presence generates. After Swift attended the game at Arrowhead Stadium in Kansas City on September 24, ticket sales for the October 1 New York Jets game went way up in both price and volume sold. As for Kelce, he got a boost too. Sales of his jersey were up a whopping 400% after Swift went to the game in September.
Goldberg kept asking about the football game, but the conversation kept moving back to Swift, including what her possible celebrity couple name would be if she and Kelce really were dating. Goldberg continued to seem clearly unimpressed with the conversation. While she did say at the end of the segment, "I love Taylor," Goldberg definitely really didn't want to keep talking about Swift and her "is she / isn't she" dating life. Goldberg may be alone in that one, as Swifties can't seem to wait to find out if she and Kelce are really together.