Inside Jada Pinkett Smith's Close Relationship With Tupac
Before Jada Pinkett Smith and Will Smith became couple goals in 1995, the "Set It Off" star had a close bond with late rapper Tupac Shakur.  The two met in the 1980s while they were both students at Baltimore School for the Arts in Maryland. After connecting during the first day of school, their friendship took off. 
The pals remained close even after Shakur relocated to California with his family in 1988. Both Shakur and Smith shared similar interests in the arts, which granted them opportunities in the entertainment realm. Shakur would use his love for poetry and theater to launch a music and acting career in productions such as "Juice" in 1992 and "Poetic Justice" in 1993. He'd also landed several Billboard 100 hits by this time, with "I Get Around" peaking at No. 11 and "Keep Ya Head Up" peaking at No. 12.  Meanwhile, Smith made her feature film debut with 1993's "Menace II Society," which helped skyrocket her career. Though their friendship came to a screeching halt in 1993 after a nasty falling out that coincided with Shakur's sexual assault allegations, Smith still harbors much admiration for her fallen companion.
The two briefly experimented with potential romance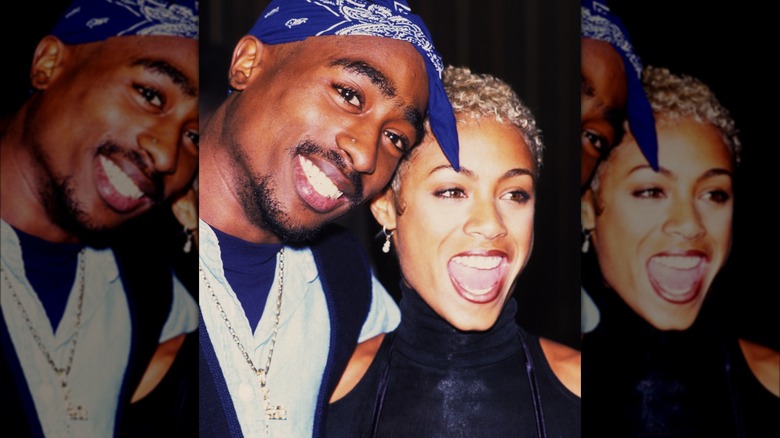 Gene Shaw/Getty Images
Throughout the years, Jada Pinkett Smith maintained that there was no romantic aspect to her affiliation with Tupac Shakur. However, the former "Red Table Talk" host has admitted that the two shared an undeniable attraction to one another. "When you have two young people that have very strong feelings, but there was no physical chemistry between us at all, and it wasn't even just for me — it was him too," Smith shared with media personality Howard Stern in a 2015 interview. She says this led to the pair putting their love for one another to the test in the most awkward way. "There was a time when I was like, 'Just kiss me! Let's just see how this goes.' And when I tell you, it had to be the most disgusting kiss for us both."
In a rare interview clip, Shakur says, "Jada is my heart, you know what I mean? She will be my friend for my whole life." The youngsters even shared the screen together in Season six, Episode 21 of "A Different World," which aired June 24, 1993. Ironically enough, the duo portrayed former lovers, showcasing a clear draw to one another on and off camera.
Even Will Smith recognized the chemistry between his wife and Tupac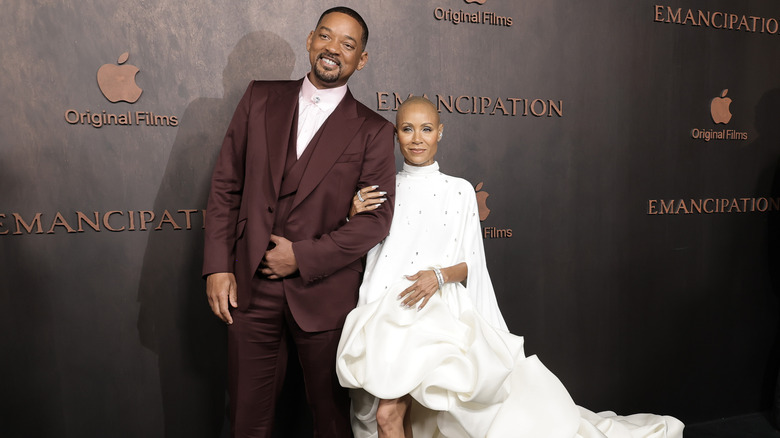 Amy Sussman/Getty Images
Jada Pinkett Smith moved on to her current husband, Will Smith, in 1995. Even Tupac Shakur was a fan of the wildly talented Will. Jada once shared a throwback video on her Instagram of her and Shakur as teenagers lip-syncing Will's hit 1988 record, "Parents Just Don't Understand." With such evidence of their connection, Will couldn't help but feel insecure, which he documented in his 2021 self-titled memoir.
"Though they were never intimate, their love for each other is legendary — they defined 'ride or die.' In the beginning of our relationship, my mind was tortured by their connection. He was 'PAC! and I was me," the "Hitch" star honestly wrote. As Will explained, Shakur reminded him of his younger brother Harry Smith, whom he praised for standing up to their father, Willard Carroll Smith Sr. — something Will couldn't do despite witnessing his dad abuse their mother, Carolyn Smith. 
In his book, Will transparently admitted to feeling inferior to Shakur, saying, "He triggered the perception of myself as a coward. I hated that I wasn't what he was in the world, and I suffered a raging jealousy: I wanted Jada to look at me like that," Will transparently added. Despite his strong emotions, that seemingly did not interfere with Will's insanely gorgeous life with Jada. Even with fans speculating that Jada and Shakur were more than besties, she has stood firm that her relationship with Shakur was that of a brother.