Inside Sarah Ferguson's Troubled Relationship With Her Mom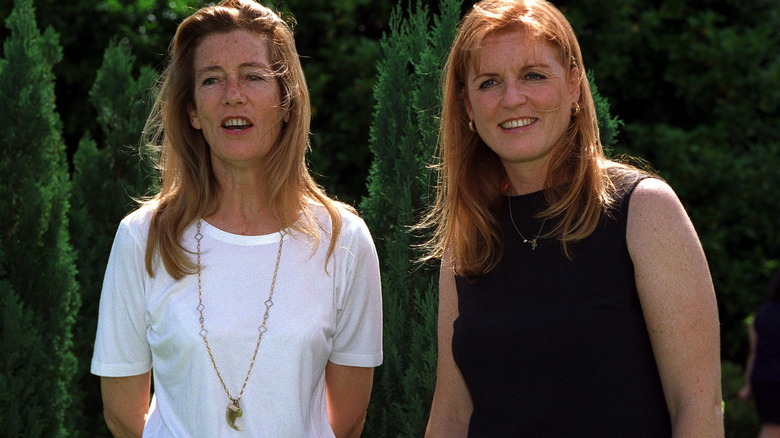 Tim Graham/Getty Images
This article discusses child abuse and disordered eating.
These days, Sarah Ferguson, Duchess of York, is known as something of a super mama. And, from what we can tell, the title is well-earned. After raising her two daughters, Princess Beatrice and Princess Eugenie, to be strong and successful, Sarah says that she is proud of her work. As she told People in 2021, "I'm self-deprecating and British. But [one thing] is I'm a really good mom."
Of course, like any other mother, Sarah faced challenges when raising her two royal daughters. Chief among them were the moments when the girls longed to do the sort of things that other people their age get to do — like be loud in public or get wild at parties. In the end, though, Sarah prevented Beatrice and Eugenie from going into the world and making any embarrassing public mistakes. Speaking to People, the redheaded mother explained, "I'm a good mom because, in growing up, when the girls used to say, 'Why can't we do that?' I would say, 'Well, I've already made those mistakes.'"
While many moms credit their own mothers for teaching them how to raise kids, that has not been Sarah's case. If anything, the duchess has been critical of the way her own mother, Susan Barrantes, brought her up in the 1960s and '70s. Over the years, Sarah has slowly revealed that her childhood was tumultuous, with moments of love, sorrow, and bitter abandonment. 
Sarah Ferguson idolized her mom at first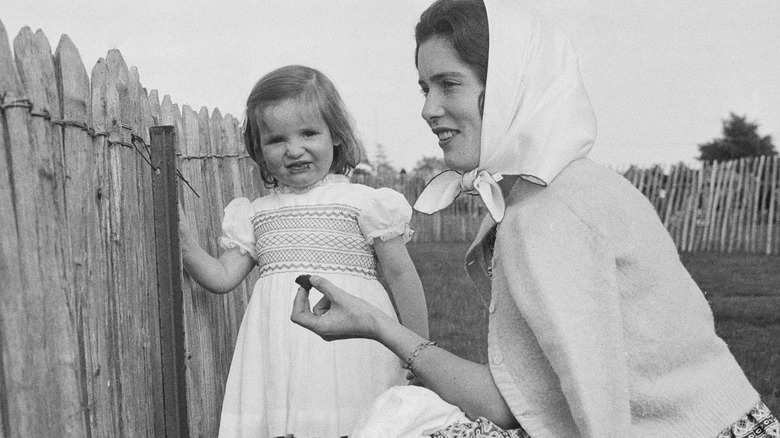 Evening Standard/Getty Images
Sarah Ferguson, Duchess of York, was born on October 15, 1959, to Ronald Ferguson, a polo coach, and Susan Barrantes, a homemaker. Although they were both technically considered commoners, Sarah's parents were quite the elite crew. While her father was known in upper-crust circles as then-Prince Charles' trainer, her mother boasted blood ties to the royal family — dating back to King Charles II. Speaking in the documentary, "When Fergie Met the Monarchy," royal author Tom Quinn recounted, "I think [Sarah's parents] had a feeling they were sort of almost minor aristocracy."
Because of this unique social position, Ronald and Susan were able to provide Sarah with what was, in many ways, an idyllic childhood. As royal expert, Ingrid Seward, revealed in the same documentary, Sarah's parents "had two children, Sarah (who's called Fergie) and her sister, Jane. And they bought this beautiful house called Lowood, very near Ascot, in that very beautiful area full of rhododendrons and trees and houses hidden behind big gates. And that's where Fergie grew up."
As Sarah's mother and father showered her with all of the benefits of the good life, she could not help but put them on a pedestal. And, interestingly, she was particularly said to look up to Susan. Reflecting on her childhood in a 2002 interview with The Observer, Sarah opened up about her relationship with her mom: "She was my spirit. My whole soul" (via The Guardian).
Sarah has spoken out about her mother's disciplinary tactics
Sarah Ferguson may have grown up in a fantastic environment, but her childhood was far from perfect. Unfortunately, the duchess claims that this was largely because her mother, Susan Barrantes, would employ excessive disciplinary measures — many of which were downright harmful. Even more tragically, Sarah says that Barrantes would sometimes resort to physical violence to get her to behave. In a conversation with The Sunday Times, Sarah recalled, "If I refused to eat my semolina mum would hit me and say she needed to beat the devil out of me."
Naturally, these interactions between Sarah and her mother are understood to have been traumatic. And, to make matters worse, the young Fergie could not count on her father to intervene. If anything, the duchess says that Ronald Ferguson also displayed abusive behavior toward his daughters, using tactics like name-calling and shaming to discipline them. As Sarah explained in the same interview, "We would never dream now of using the language my parents used on us as children."
While Sarah suffered in these interactions, the good news is that she was eventually able to reflect on these experiences in therapy. These days, she looks back on her mother's unhealthy approach to parenting, taking Barrantes' own background into account. Sarah told The Sunday Times, "She didn't know how to be a mummy."
If you or someone you know may be the victim of child abuse, please contact the Childhelp National Child Abuse Hotline at 1-800-4-A-Child (1-800-422-4453) or contact their live chat services.
When the Fergusons got divorced, Sarah blamed herself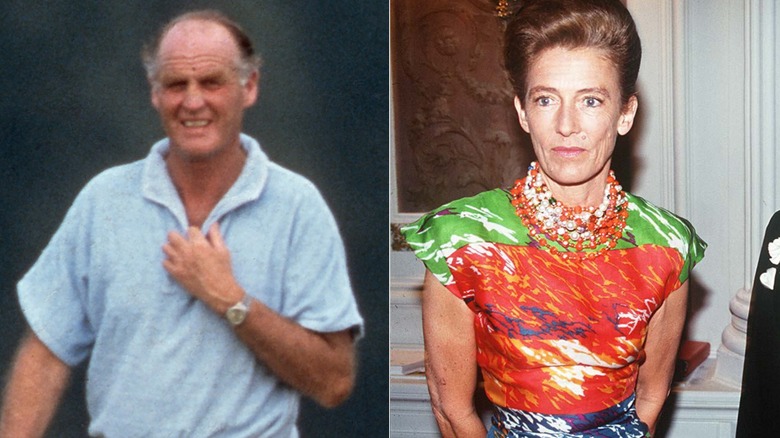 Bertrand Rindoff Petroff/Getty & Anwar Hussein/Getty
As if Sarah Ferguson did not face enough problems during her childhood, she eventually had to go through her parents' divorce. Ronald Ferguson and Susan Barrantes decided to part ways in 1974. The pair had married young — Barrantes was just 18 years old at the time of their wedding — and was not suited to remain together for the long haul. And, then, there was a dashing Argentine polo player by the name of Hector Barrantes who was so attractive that he captured Susan's heart in no time.
Given all of these factors, it was pretty clear that Sarah did not cause her parents' separation. However, from her own perspective as a teenager, Sarah did not see things that way. In the documentary, "When Fergie Met the Monarchy," royal expert, Ingrid Seward, provided some insight into the way that the duchess experienced Susan and Ronald's divorce. "She had this magical childhood and then, suddenly, it all sort of folded. She talks about it herself, how that's when she started to feel very insecure and inadequate. And she blamed herself for the breakup of her parents' marriage."
Unfortunately, this sense of guilt had a negative impact on Sarah's relationship with her mother. This was especially true when Susan decided to leave her daughters to go marry Barrantes in 1975. As Sarah would later tell "Loose Women," at the time, she felt "worthless." 
The duchess felt abandoned when her mother headed to Argentina
Sarah Ferguson, Duchess of York suffered tremendously when her mother left the family to go marry Argentine polo star, Hector Barrantes. Part of the reason that the marriage was so difficult for Sarah to accept was that Susan Barrantes did not live close to her daughters following the separation. On the contrary, she actually decided to go off and live in Argentina with her new beau. From Sarah's perspective at the time, this felt like abandonment — and it was absolutely devastating.
Speaking to The Sunday Times about this occurrence, the duchess reflected on what it was like to be so far away from her mother at such a young age. According to her account, the loss was doubled by the fact that her older sister, Jane Ferguson Luedecke, got married and started a life of her own right around the same time that Susan went to South America. Sarah recalled, "When I was 14 my mother eloped to Argentina with a very good-looking polo player. She came back for my sister's wedding. Then my sister left to start her new married life in Australia and I lost them both on the same day." All in all, this left Sarah feeling unloved and abandoned. As she explained in the same interview, "I never truly understood why my mother left me, and it has taken me a long time to deal with my low self-esteem."
She says she developed an eating disorder due to her mother's absence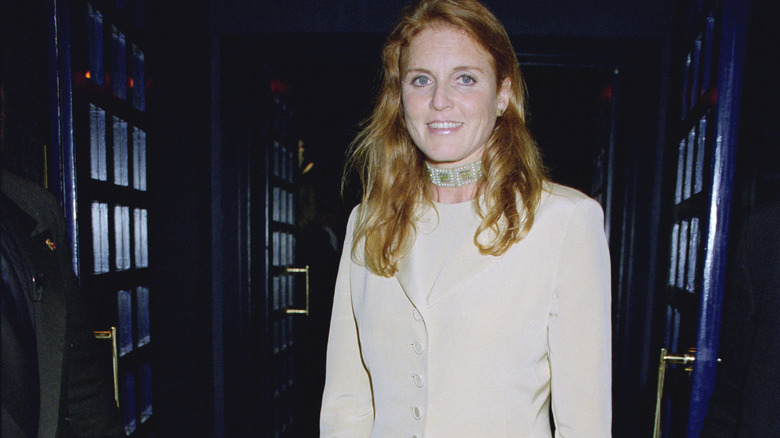 Dave Benett/Getty Images
Shortly after Susan Barrantes went to Argentina, Sarah Ferguson, Duchess of York says that she began to engage in disordered eating. Apparently, she tried to cope with the pain of her mother's absence by reaching for her favorite foods, rather than engaging with other, healthier forms of stress management. Looking back at that time, Sarah told The Guardian that she first began to turn to food for comfort when she realized that her mom wasn't going to ring her on a daily basis: "She hardly contacted me at all and that's when food became my only friend."
As time went on, Sarah said that her disordered eating habit turned into a full-blown binge eating disorder. On the podcast, "Loose Women," the duchess revealed that her struggle started when she began to interpret her mother's decision to live in South America as a sort of personal failing. This negative thought motivated her to seek even more comfort in food. She recalled thinking, "So I must be worthless for my mum to leave, and of course I must be, so that's when I started eating, and I had an eating disorder then."
Although these struggles left a tremendous impact on the young Sarah, she was eventually able to seek professional support. Speaking to Hello! Magazine, the duchess revealed, "I work [on my mental health] literally every day ... I have been in therapy for 24 years."
If you need help with an eating disorder, or know someone who does, help is available. Visit the National Eating Disorders Association website or contact NEDA's Live Helpline at 1-800-931-2237. You can also receive 24/7 Crisis Support via text (send NEDA to 741-741).
Tensions between Sarah and her mom meant she was closer to her father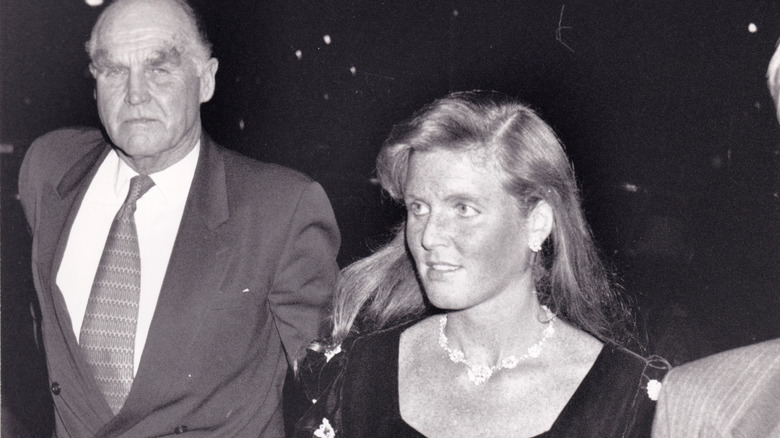 Dave Benett/Getty Images
Things between Sarah Ferguson and her mother, Susan Barrantes, were strained for years. As a result, the young Sarah learned how to approach life not from her mother, but from her father. Indeed, in spite of his own parenting flaws, Ronald Ferguson was said to have been the one that shaped Sarah's worldview — as well as her go-getter attitude. 
In the documentary, "When Fergie Met the Monarchy," the Fergusons' family friend, Broderick Munro-Wilson, revealed, "After Sarah's mother ran off to Argentina, she became quite a daddy's girl. I think she got a lot of strength from having her father solidly behind her. And, he was very good with her."
This sort of strength was apparently most evident in the way that Sarah faced life's challenges head-on. Speaking in the same film, royal expert, Richard Kay, opined, "I mean, she approached everything full-throated, full-throttle, went for it, in very much the way that Major Ferguson, as he then was, would have done — an ex-soldier, lived life at the charge, if you like." Fascinatingly, Kay said that this attitude played a major role in Sarah's eventual romance with Prince Andrew. According to the expert, Ronald's intense worldview eventually helped Sarah develop "the sort of resolution that she took that she was going to find Mr. Right and settle down and the marriage would be for keeps."
Sarah's mother loved Prince Andrew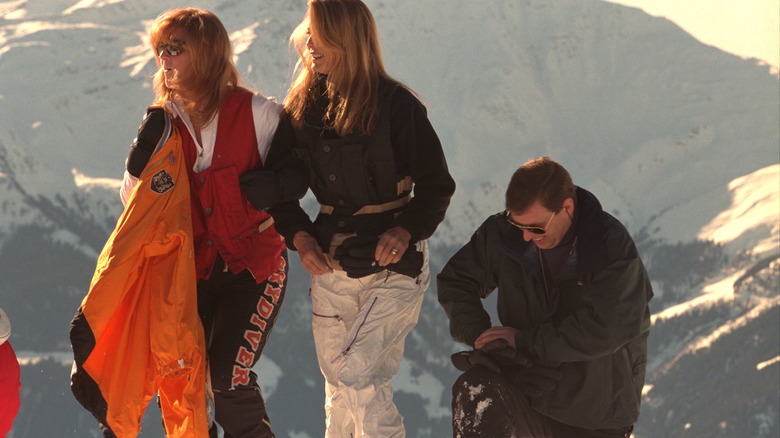 Pascal J Le Segretain/Getty Images
When Sarah Ferguson, Duchess of York did, eventually, find someone special, her mother, Susan Barrantes, was there for her daughter. In fact, Susan is believed to have been a staunch supporter of the match between Sarah and Prince Andrew. And, after the two tied the knot in a romantic 1986 ceremony, Susan reportedly began to view the then-Duke of York as a beloved member of her own family.
As Sarah herself would later explain in an open letter addressed to her mother, this was mostly because Susan and Andrew got along wonderfully. The letter, which was published alongside other celebrity contributions in Lisa Espramer's 2015 "A Letter to My Mom" (via Hello! Magazine), described Andrew as someone that Sarah's mother admired, reading, "You loved Andrew so much." At one point, Sarah even referred to the now-disgraced prince as "your special son-in-law," despite the fact that she and Andrew have been divorced since 1996.
Having children led Sarah Ferguson to question her mother even more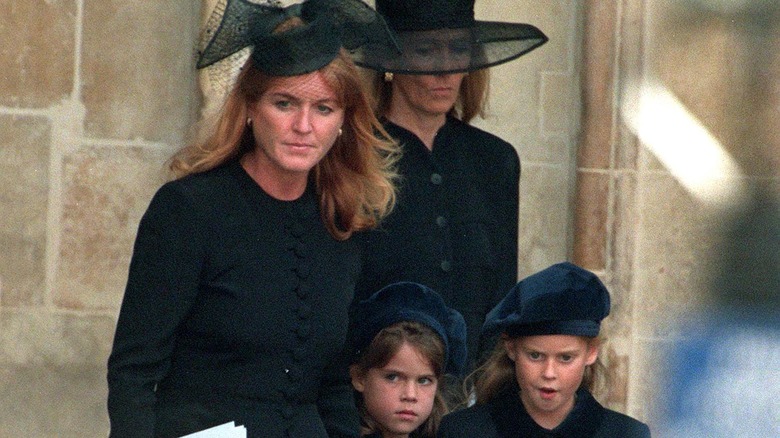 Princess Diana Archive/Getty Images
A major part of Sarah Ferguson, Duchess of York's life with Prince Andrew was the couple's eventual decision to have children of their own. In 1988, the couple welcomed Princess Beatrice, and Princess Eugenie followed two years later. Unfortunately, however, after the girls were born, Sarah began to feel more insecure than ever about the way that Susan Barrantes had abandoned her in the 1970s.
Reflecting on this time in an interview with Hello! Magazine, the duchess explained how parenthood only intensified everything that she had felt during her childhood, stating, "But as I grew up and had my girls, every time I'd look at them, from 12 to 18, I'd think: 'How can my mother have left me?'" Apparently, these internal struggles haunted Sarah for years. As she told Hello, "The rot set in with feeling that I was not good enough." 
The need to be a different kind of mom to Beatrice and Eugenie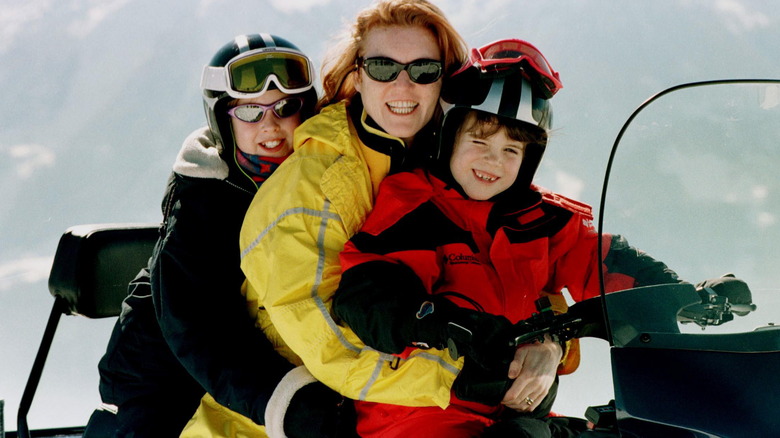 Pool/Tim Graham Picture Library/Getty Images
Because of the emotional scars left by her own mother, Sarah Ferguson, Duchess of York wanted to be a different kind of parent to her daughters, Princess Beatrice and Princess Eugenie. In a conversation with OK!, the duchess opened up about the way that Susan Barrantes taught her how not to parent, revealing, "I think looking back on it, my parents' separation and my mother's decision to leave us and move to South America had a profound impact on me." She went on to explain, "In some ways I actually thank my mother now for leaving, because it made me absolutely determined never to do anything like that to my own children."
One of the things that Sarah decided to do differently in her household was establish an environment where Beatrice and Eugenie could feel safe discussing their feelings. As the duchess put it in the same interview, "I am now very comfortable in talking about my emotions and I encourage my girls to be the same, but that is not how I was brought up."
Sarah echoed these sentiments when chatting with the hosts of "Loose Women," stating, "I think one of the best things I've ever done is be a great mom. Because, subconsciously, I think it's where I must have realized what I didn't have with my mom. So I thank her. She gave me a favor."
Fergie relied on Queen Elizabeth for maternal warmth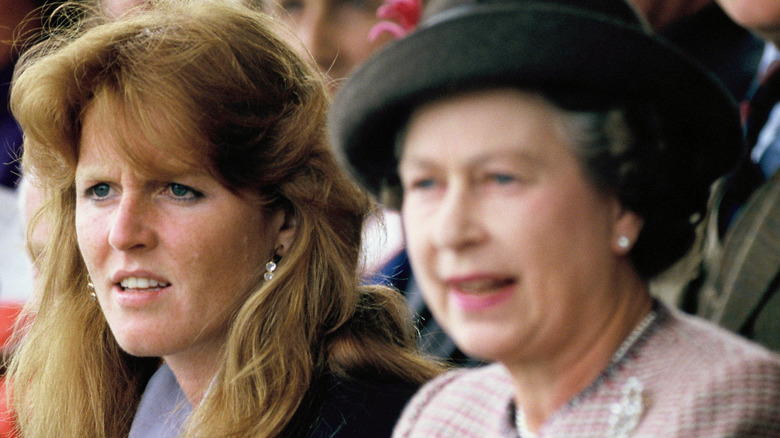 Georges De Keerle/Getty Images
Although Sarah Ferguson, Duchess of York could not always rely on her own mother for love and support, there was one person who she knew that she could always count on. Queen Elizabeth II was present for Sarah through thick and thin. And, in many ways, she took on the motherly duties that Susan Barrantes had been too immature to handle. As Sarah revealed to OK!, "Her Majesty was an incredible head of state, an incredible mother-in-law and an incredible friend."
Interestingly, Sarah also said that Elizabeth provided her with wisdom and guidance during some of the most difficult times of her life. In the same interview, the duchess recalled, "I used to have to pinch myself when I was sitting with her and asking her advice. Her door always remained open to me and we saw a lot of each other right up to the end, for which I will always be grateful."
These days, Sarah remembers the late queen as someone who filled a much-needed hole in her life. In September 2023, she even wrote a tribute to Elizabeth on Instagram, in which she declared, "As I have often said before, the queen was like a second mother to me, and I will always be grateful for the love and understanding she showed me throughout her life."
She was crushed by her mother's unexpected death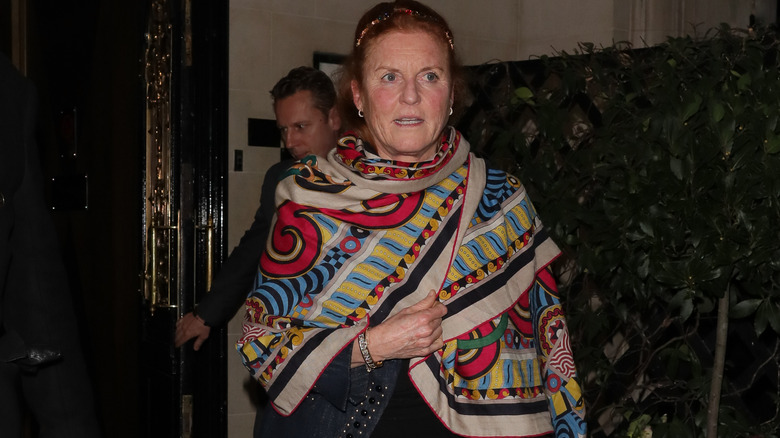 Mega/Getty Images
On September 20, 1998, Sarah Ferguson, Duchess of York was enjoying a vacation in Italy when she found out that her mother, Susan Barrantes, was killed in a car crash. She was just 61 at the time of her death.
As reported by the The Irish Times, the crash took place when Susan's Land Rover collided with another car in the countryside in Buenos Aires province. As the local police told the press at the time of the accident, "We can presume the crash was head-on due to blinding by headlights or one of the drivers becoming distracted and crossing into the oncoming lane." Since Susan was not wearing her seat belt, she was killed immediately. The other driver, José Maréa Rodríguez, and Susan's nephew, Rafael Barrantes, both survived the crash. 
Naturally, Sarah was said to be greatly impacted by the death of her mother. And, to make matters even more tragic, the duchess has said that losing her mom in a car crash was a lifelong fear of hers. As she would later tell The Sunday Times, "When I was little I used to leave notes in her dressing room saying, 'Mummy, please don't die in a car crash.'" In that sense, Susan's death was very much Sarah's worst nightmare.
Sarah Ferguson forgave her mother for her shortcomings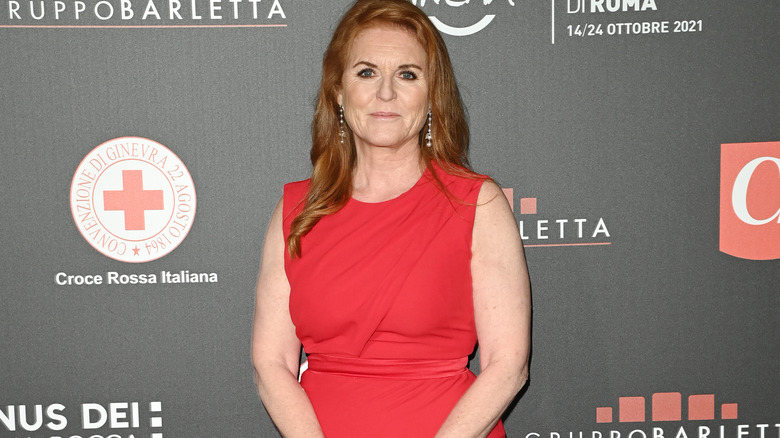 Daniele Venturelli/Getty Images
Although things between Sarah Ferguson, Duchess of York and Susan Barrantes, were not always easy, the duchess says that she no longer resents her mother for her shortcomings. In a heartfelt letter, which was published in the 2015 collection "A Letter to My Mom" (via Hello! Magazine), Sarah reflected on the way her upbringing made her into the person who she is today. She wrote, "I look back now and thank you, forgive you, and love you more. You gave me the strength to look at life differently. I am convinced I would never be the strong person I am inwardly had I not had to come to terms with the sense of abandonment."
The duchess went on to share one of the most important lessons that Susan gave her: "I wish for you to be looking over my shoulder right now, and realize that you gave me empathy, which holds me in steadfastness and an understanding of belief in myself." She then repeated, "I do forgive you completely."