The A-Lister Behind Drew Barrymore And Corey Feldman's Date As Teens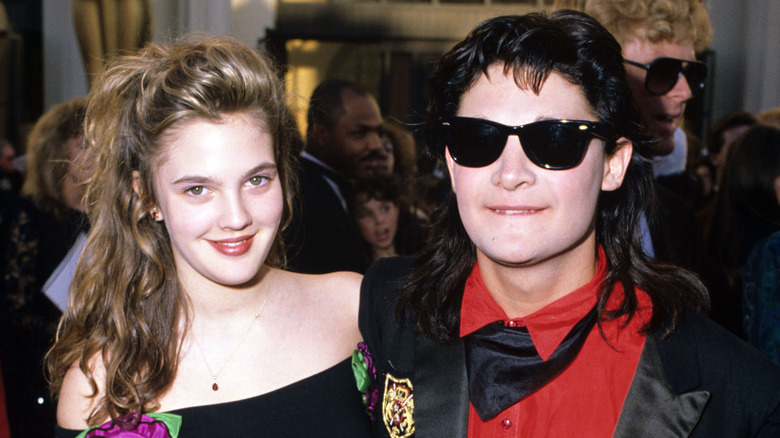 Steve.granitz/Getty Images
If you were around in the '80s, then you might recall the brief romance between child stars Drew Barrymore and Corey Feldman. While the stunningly transformed Barrymore was launched into fame through Steven Spielberg's "E.T. the Extra-Terrestrial," Feldman became an '80s teen heartthrob through titles such as "Friday the 13th: The Final Chapter," "The Goonies," and "The Lost Boys."
While the two celebs went public with their romance in 1989, their original connection goes back a few years before that. As both of the young actors worked on Spielberg projects in the '80s, with Barrymore even being the director's goddaughter, it was through the famed celeb's office that Barrymore and Feldman first connected.
Feldman recalled their first-ever date as tweens on a 2023 episode of "The Drew Barrymore Show," with the two reuniting to reflect on their old friendship. Barrymore admits that she had quite the crush on the young Feldman as a kid, which served as the catalyst for their budding bond.
Barrymore and Feldman went on a movie date as tweens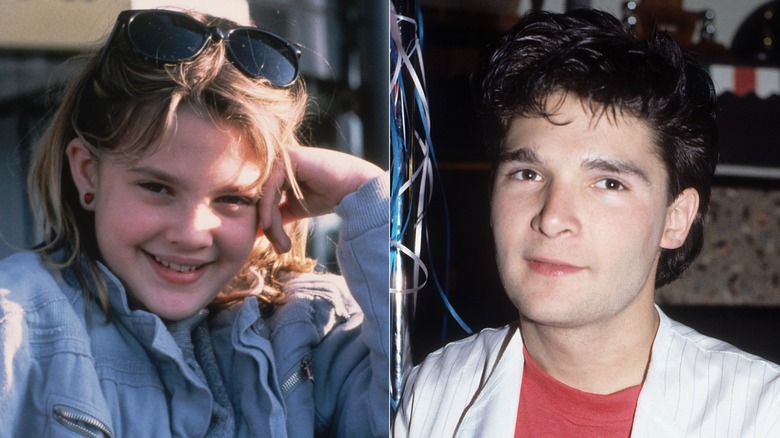 Michael Ochs Archives & Lgi Stock/Getty & undefined
In a January 2023 episode of Drew Barrymore's talk show, Corey Feldman reminisced about his first date with his fellow actor, an outing that was arranged by Steven Spielberg's office. "What happened was, I got a call one day," the "Stand By Me" actor recalled. "My grandmother says, 'We got a call from Steven's office, and the little girl from "E.T." wants to meet you because she's got a crush on you.'"
As Feldman explained, Barrymore's mom wanted to know if the two could get together to go on a date, something that the celeb looks back on fondly. "It was so cute," he shared. "I remember taking you to the movies. It was the movie theater next to [grocery chain] Gelson's parking lot, so we parked at the Gelson's, walked across the street, and you put your little hand up for me to hold, and I held your hand as we walked across the street."
Feldman estimates he was around 12 or 13 at the time, with Barrymore being about four years younger than him. They remained friends after this initial get-together, with the two officially dating several years later.
The two had a short-lived romantic relationship
While Corey Feldman and Drew Barrymore went on a cute movie date as tweens, it wasn't until 1989 that the two formally dated. When Barrymore was 14 and Feldman was 18, the celebs appeared together at the 61st Annual Academy Awards and the 4th Annual Moving Picture Ball. Barrymore reflected on this short-lived relationship, which lasted around three months, during their reunion, expressing her appreciation for her longstanding friendship with the fellow actor.
"We had that kind of relationship where they say, like, 'Date your friends,' and we were the embodiment of that," the "Never Been Kissed" star said. "You were so kind. You were such a safe place for me, and we always hung out with your friends. It was just a really important place for me, and the memories are so vivid."
While their careers have taken them in different directions since their teenage years, the two appear to have an enduring connection. They concluded their reminiscences with a heartfelt embrace, with Barrymore expressing lover for her longtime friend and Feldman welcoming the fellow actor to call him anytime.