A Look Back At Tom Cruise And Penelope Cruz's Y2K Romance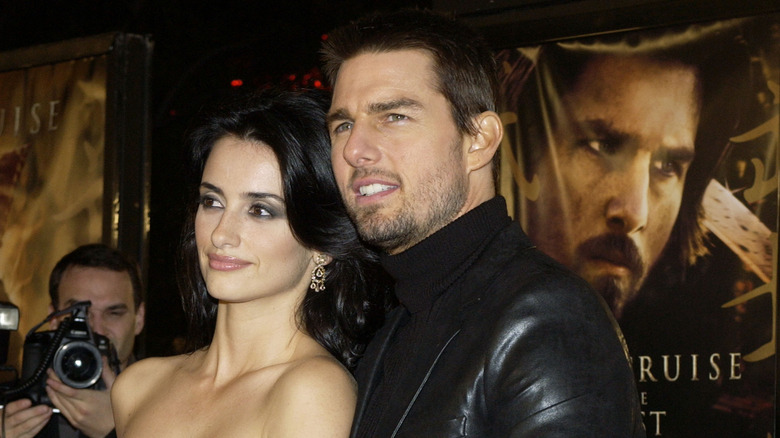 Chris Weeks/Getty Images
The dating history of Hollywood A-lister Tom Cruise has always fascinated the tabloids. This is especially true considering he has been connected to some of film's biggest names, such as Oscar award winner Nicole Kidman. Nicole Kidman and Tom Cruise married in 1990 and welcomed two children before Cruise filed for divorce in 2001. Just months before choosing to end his marriage, "The Mummy" star met his next partner, Penelope Cruz.
Though they'd been acquainted prior, it wasn't until after Cruise invited Cruz to his birthday party in July 2001 that the two began dating. Once crowned Hello! Magazine's Most Attractive Couple Of The Year, Cruz and Cruise embarked on a three-year relationship that was filled with affection. Cruise even confided in Marie Claire that he enjoyed packing on the romance for his girlfriend, including whipping up home-cooked meals and running baths for her. While things appeared promising, the pair ended their relationship in 2004. Though they reportedly remained friends, it seems that their split may have been a bit bumpy.
The couple met while working together on Vanilla Sky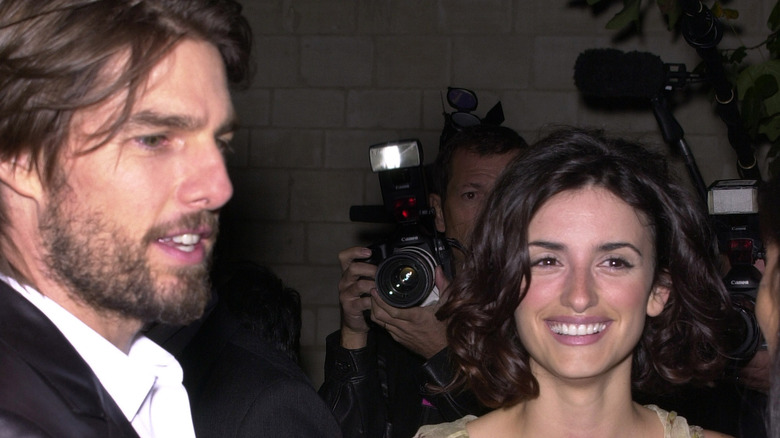 Jean Baptiste Lacroix/Getty Images
Penelope Cruz and Tom Cruise first met through their work in the romance thriller, "Vanilla Sky." Ironically enough, the two portrayed love interests, Sofia Serrano and David Aames. During a January 2002 press run for the film, the two praised one another in front of media cameras. Cruise stated he'd appreciated Cruz's compassion, while she admired his generosity with everyone he seemed to encounter. Though it would be easy to assume that this immediately sent sparks between them, that was simply not the case. Years after their breakup, Cruz explained that she never mixes business with pleasure on set.
"I've never fallen in love with someone I'm working with. It's always been afterward. If something becomes friendship, then maybe months later, it becomes something else, but you can never know," she explained to The Telegraph in 2008, four years after the breakup.
Cruz may have been jealous of Cruise's relationship with Nicole Kidman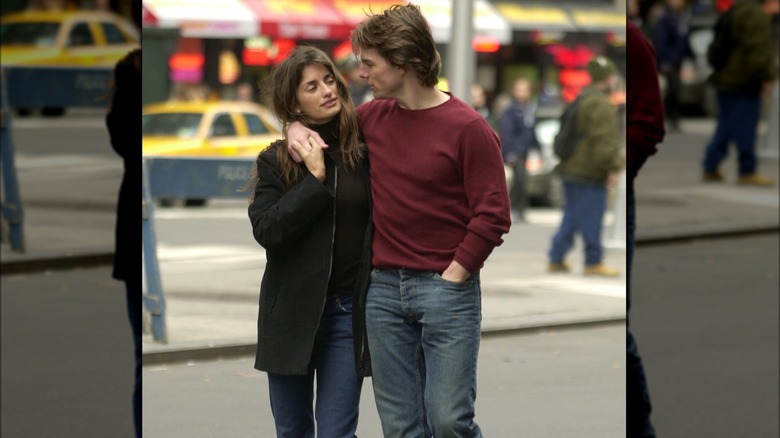 Rj Capak/Getty Images
Penelope Cruz chose to split from Tom Crusie in 2004, and it may have had something to do with Cruise's ex-wife, Nicole Kidman. Though she was reportedly devastated by their divorce and even tried to convince him to stay in the marriage, Cruise expressed his love for Kidman. This allegedly didn't sit well with Cruz, who caught wind of deep conversations the exes were having when she was not around. It also didn't help that Kidman's and Cruise's children supposedly weren't bonding well with Cruz. However, once the split was announced in March 2004, a representative for Cruz seemingly dismissed these claims, telling People, "There is no other person involved."
After People's Sexiest Man Alive alum moved on from Cruz, he married "Alone Together" star Katie Holmes in 2005, though the relationship fizzled by 2012. Cruz walked down the aisle with actor Javier Bardem in 2010, whom she remains with today. Years later, the old flames were spotted dining in London in February 2015 with Cruz's good friend, Salma Hayek. Even after parting ways, it appears there is no bad blood between Cruz and Cruise.