Concerning Rules Kanye West Reportedly Told Second Wife Bianca Censori She Had To Follow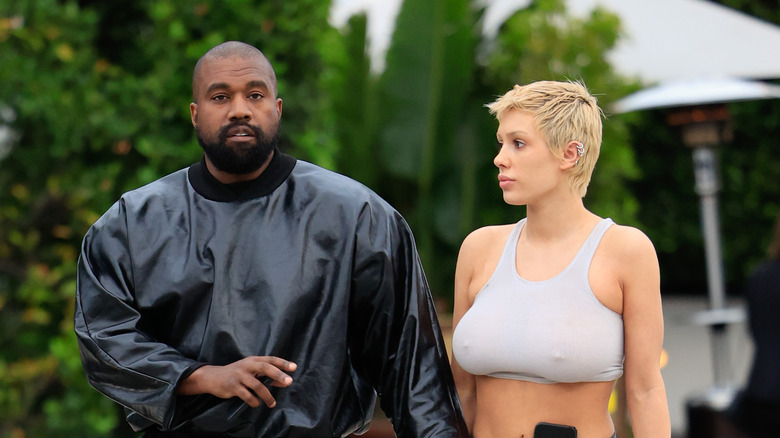 Rachpoot/bauer-griffin/Getty Images
Kanye West has never been one to shy away from vocalizing what he wants — especially when it comes to relationships. West, who now goes by Ye, has a dating history that got even more complex after his split from Kim Kardashian. Kardashian filed for divorce from Ye in 2021, and it's safe to say that the matter was complicated. Seeing as they share four children together: North, Saint, Chicago, and Psalm, the former couple still function as co-parents.
Since their split, both Ye and Kardashian have dated around. For nine months, Kardashian pursued an unexpected relationship with SNL comedian Pete Davidson. Within that timeframe, Ye dated models such as Julia Fox, Irina Shayk, Chaney Jones, and most recently Bianca Censori. Censori and Ye were first connected to each other at the end of 2022 when the rapper named a song after her (via People).
Since then, the couple have led a relatively quiet relationship that has been swarmed with paparazzi. Page Six reported that they held a private wedding ceremony in January 2023 and signed confidential documents that kept his second marriage private. While neither Ye nor Censori has gone on record to speak about their relationship, several sources close to them have. It's not surprising to learn that Censori's relationship with Ye comes with several rules she must follow to maintain the former billionaire's privacy, image, or both.
Ye controls Bianca's lifestyle choices
Since they tied the knot in 2023, the couple has been spotted traveling through Japan, Italy, and England. While Ye is known for his avant-garde fashion, his stylistic preferences are often projected onto his girlfriends. Censori quickly adjusted to her husband's minimalist style and adopted a blonde pixie haircut for a time. Fans have pointed out that her new clothing is very revealing compared to Ye's modest wear, which is often outfitted with a mask.
A source told the Daily Mail that Ye makes sure Censori maintains a look he approves of. "Kanye has a set of rules for Bianca, which includes never speak[ing] and wear[ing] what he wants her to wear," the insider revealed. They continued: "She is also required to eat certain food items and to work out even though Kanye doesn't work out."
Other sources argued that their synchronized lifestyles showcase Censori's positive impact on Ye and her goals to help him make a comeback, per Us Weekly. According to her LinkedIn, Censori has served as Head of Architecture at Yeezy since 2020. Now, the architect has become even more involved with the brand as wife to the head man in charge. Allegedly, the two have been working on Yeezy designs to bring the once-beloved fashion house back to life.
Bianca's family and friends said she refuses their contact
It appears that friendships are no longer on the table for Bianca Censori in her marriage to Kanye West. An insider stated that friends had attempted to get in contact with Censori and express their concerns with no luck. "She's shut everyone out and told one of her former friends to 'f*** off' when they tried to ask if she was okay," the source told Daily Mail. "She is saying that her friends are just jealous of her stardom.
They also claim that Ye is trying to mold the young architect into a new version of Kim Kardashian. It appears Censori is fully accepting life as a new member of the West family. Censori was spotted holding hands with her stepdaughter North West as they celebrated Ye's birthday in June 2023. Her cut-off from loved ones may also extend to relatives. Censori's extended family in Italy admitted they felt shunned by their cousin and her new husband. Though they have never met Censori, the family said they were hurt that she visited the country without contacting them.
Ye and Censori's trip to Italy was marked by their infamous incident on a boat in Venice. The NSFW photos portrayed West sitting with his pants partially down as Censori bent over his lap on the boat ride. The couple was promptly banned from further rentals by the water taxi company (via TMZ).