A Look Back At The Short-Lived Dating Series That Starred Travis Kelce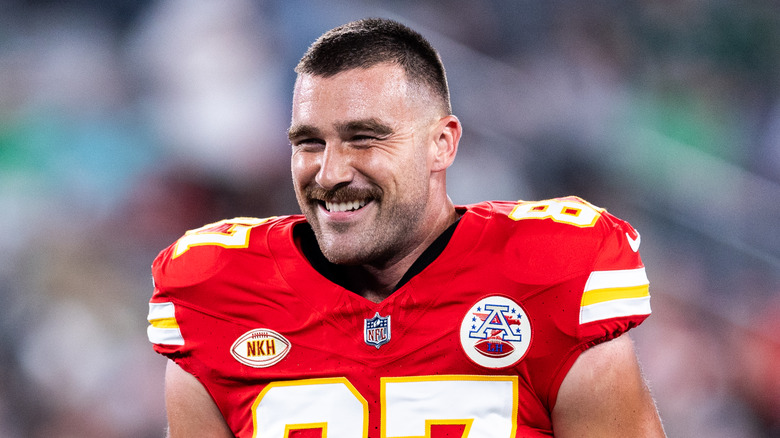 Dustin Satloff/Getty Images
Taylor Swift has a complex dating history, but Swifties have been able to follow along on some of the twists and turns of her love life thanks to the songs that she writes about her relationships. And while we know that the "Blank Space" singer doesn't need a man in her life to write great songs, there's a possibility that she's found a new beau that many are surely hoping to hear about on Swift's next albums. The lucky guy is none other than Kansas City Chiefs tight end Travis Kelce. Speculation about their relationship hit a fever pitch when Swift showed up to watch Kelce play — she even got some face time with his mom.
While this might be the athlete's most high-profile relationship, what you may not know about Travis Kelce is that he's no stranger to having the camera on him while he's looking for love. In fact, hwas the star of the E! reality series "Catching Kelce" in 2016. The premise of the "Bachelor" style show was that Kelce would go on a date with a woman from every state — it even includes a few appearances by his big brother and fellow NFL star Jason Kelce as a sounding board for which woman he should choose. Its single season lasted seven episodes, and his final pick — spoiler alert! — was Maya Benberry from Kentucky. The two did actually date for a bit after the show, but clearly, it wasn't a long-term match.
Travis Kelce narrowed the competition from 50 to 1
On "Chasing Kelce," each of the 50 women got 60 seconds to make an impression. Right after that, the field got narrowed down quickly. With just the first cut, only 20 women were left. Those women then moved into a Los Angeles mansion where much of the season was filmed.
As the show went on, Kelce joined the contestants on group dates, including a visit to the gym and playing touch football, eliminating women along the way. The show also featured plenty of drama between the women vying for his affection. By the finale, Kelce had it narrowed down to four women. There was a private yacht, a trip to Kansas City on a private jet, and a few of the women shared a private evening off-camera with Kelce. However,Maya Banberry was Kelce's ultimate pick. Banberry seemed excited about their connection on the show, but it didn't last. She never said much about their romance, but after the rumors of Kelce and Taylor Swift dating started to fly, Banberry went on Inside Edition to explain how she really feels about Kelce, calling him a narcissist and a cheater. Kelce has denied the cheating accusations.
As for "Catching Kelce," the show was not well received. One reviewer for The Washington Post called it "so absurd that it's pointless for viewers to sigh about how it's contributing to the downfall of TV and/or humanity." Kelce knew it wasn't great, either — he even poked fun at his time on the show and how few people watched it or liked it in his "Saturday Night Live" monologue in 2023.
Travis Kelce wouldn't go on a reality show again after Catching Kelce
Travis Kelce later revealed that he wouldn't do a reality show again, so for any women hoping for a potential chance of catching Kelce themselves — that is if Taylor Swift hasn't already snatched him up — they're out of luck. He'd been hesitant to do the show in the first place, but he was made an offer he felt he couldn't refuse. As an NFL player, Kelce is paid pretty well — his first four-year contract with the Kansas City Chiefs was for just under $4 million. However, it doesn't sound like he was a very savvy spender. "I literally went through my first couple of [season] checks like it was nothing," Kelce said on Shots Podcast Network. "I was having so much fun buying whatever the hell I wanted to, going wherever the hell I wanted to." So by the time they upped his offer for the dating show to six figures, he said yes.
Kelce also said that he spent just two weeks filming the show. Two weeks doesn't sound like all that much time to find your person; however, the stakes weren't quite as high as other dating shows like "The Bachelor," especially since Kelce wasn't proposing at the end of the show. But even with the money and the seemingly good time that he had with the women, Kelce wasn't really a fan for the format. "I don't think I got portrayed as myself," he explained.