The Stunning Transformation Of Mary Lou Retton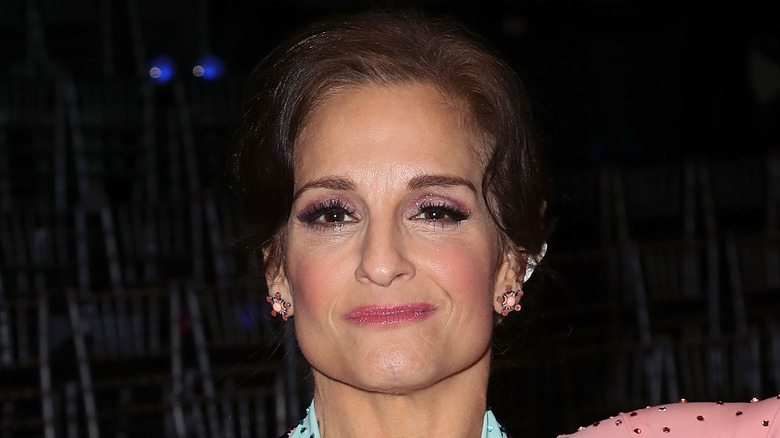 David Livingston/Getty Images
Legends like Mary Lou Retton come along once in a lifetime. The athlete secured her place in history (and the hearts of millions of Americans) back in 1984 when her masterstroke at the Olympics won the United States its inaugural gold in women's gymnastics. Retton was just 16 then, a wunderkind who didn't just personify the best of youth athletics but also the American spirit itself. Fame rained down on Retton like it hadn't done on any teen gymnast before her, as commercial and film offers, national honors, and, most importantly, recognition from senior members in the field pegged Retton as a sporting revelation. 
"She is the most powerful gymnast who has ever competed and she takes great advantage of that with her tumbling and her vaulting," her Olympic coach Don Peters gushed after her career-defining victory, per UPI. "Her other attribute is that she's one heckuva competitor. As the competition gets greater, she gets greater." Her '84 win gave way to more gold at the 1985 American Cup and hopes of a greater record-setting performance at the 1988 Olympics in Seoul. But having had her fill of celebrity and feeling desperate to get back to education, Retton made a timely exit from sports. 
Though her career turned experimental during her adult years and she outgrew the American sweetheart title she once wore, Retton's enduring popularity hinges on the crowning achievements of her teen years. Here's an in-depth look at the stunning transformation of Mary Lou Retton. 
Mary Lou Retton began training for gymnastics young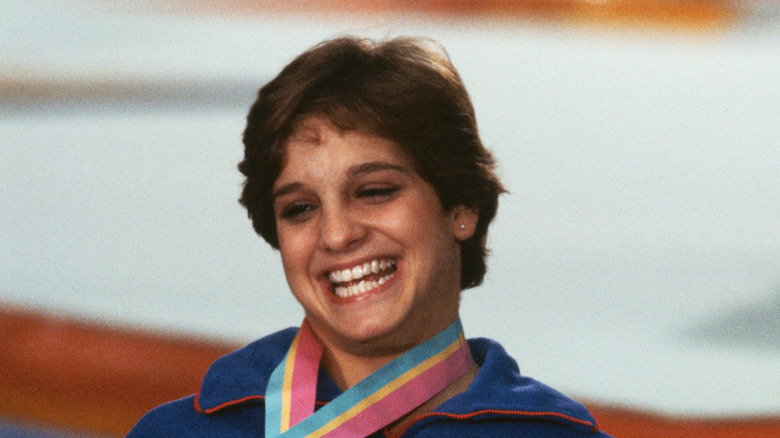 Wally Mcnamee/Getty Images
Mary Lou Retton entered the gymnastics world early in life. By age 7, the West Virginia native had begun training for the sport that would turn her into a national icon less than a decade later. Her unmatched agility could be traced back to her earliest days, when, according to her parents, she started walking prematurely. On a full stomach, young Retton would be "bouncing off the walls and breaking up the furniture," her mother told Sports Illustrated. Her energy was expended constructively in gymnastics and throughout school she leaped from one sporting achievement to another, even traveling to Asian countries to compete as a budding gymnast. 
A significant turn came at 14 when Retton moved base to Houston to train professionally under the guidance of ace gymnastics coach Béla Károlyi — a central force behind Retton's Olympic dream. "I needed competition and criticism, and I got it at his gym," she told The New York Times. Together with Károlyi, Retton perfected the gymnastic moves she already knew, tailoring agility tricks into her routine like no other athlete could. Little distracted Retton from her strict school-to-gym regimen. "I don't have any memories of dating or football games and all of that, but I didn't know it existed," she told the Tampa Bay Times. Training for the Olympics eventually prompted her to drop out of high school and continue her education through correspondence. 
Critics told her she didn't have the right physique for gymnastics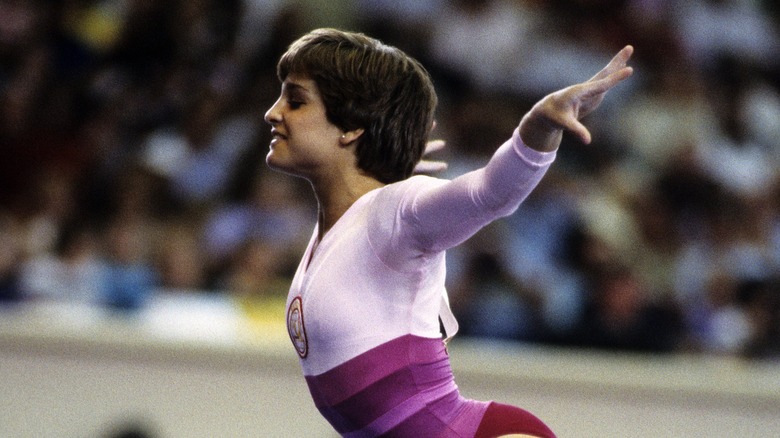 Ronald C. Modra/Getty Images
For Mary Lou Retton, the road to Olympic fame was not an easy one by any measure. Even as she flipped through the air performing feats most spectators couldn't imagine attempting, naysayers and critics carped from the stands. Many of the comments she fielded were related to her broad 4-foot-9-inch build, which stood in stark contrast to the desirable pixie-like frames of the era. "I wasn't a pretty, little gymnast. I was a very powerful, explosive gymnast," she told CNBC, mentioning that she often heard that she didn't have the "right body" for the sport. 
Her physicality was also the subject of a running gag in her family when she started out in gymnastics. "When she was just a tiny thing, with her square, stocky build and all, we used to tease her now and then. We'd call her Miss Grace," Retton's mother told Sports Illustrated. Still, Retton took the commentary in stride.
"Well, I've always been different," she explained. "I don't conform and here I am. I'm proud of that fact, that those walls have come down." When her four daughters followed in her footsteps and entered the world of athletics, Retton became conscious of the language she used around the house, avoiding detrimental descriptors as they relate to body types. "We use words like healthy and strong, and lean and clean," she said on the "Fit Bottomed Girls" podcast.    
Retton powered through injuries to train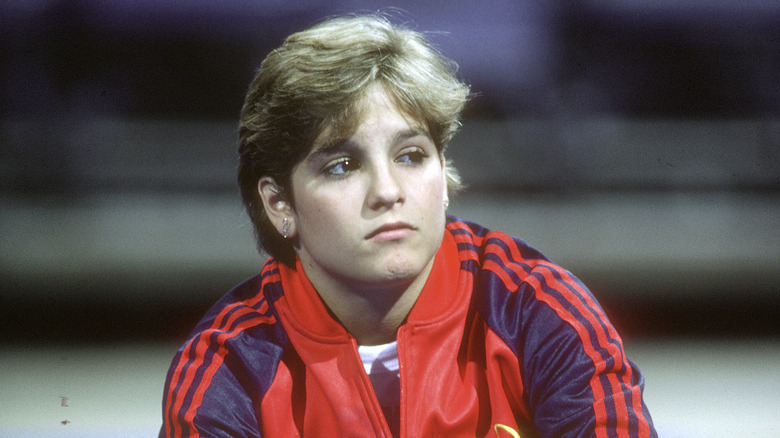 Focus On Sport/Getty Images
Life in gymnastics was tougher than a handspring for Mary Lou Retton, who trained hard and fast for her Olympic dream. "I work at this seven days a week — two long, hard sessions a day, drilling myself, going over everything again and again," she explained to Sports Illustrated, adding that gymnastics even dominated her dreams. The intensity with which young Retton trained naturally yielded challenges that involved injuries and surgeries. In 1983, a fractured wrist cost the teen prodigy a shot at the world championships. Meanwhile, perennially creaking bones made her mother afraid she'd suffer from early-onset arthritis. "She was busting up her ribs on the uneven bars," her mom told the magazine. Ultimately, rheumatic troubles would prompt Retton to have hip replacement surgery later in life. 
In what could have altered the course of Retton's life, physical pressures almost caused the then-16-year-old gymnast to forgo her sporting distinction. Just six weeks before her 1984 Olympic achievement, Retton was beset by broken cartilage in her right knee, which needed correction through arthroscopic surgery. Amid much distress, especially on the part of her coach Béla Károlyi, Retton underwent the operation. Her medical procedure was kept under wraps, as she resumed training despite her condition. "We did three months of rehabilitation in two weeks," she told the Los Angeles Times. "I mean, to get back into that kind of shape that fast is just unheard of." 
She created history at the 1984 Olympics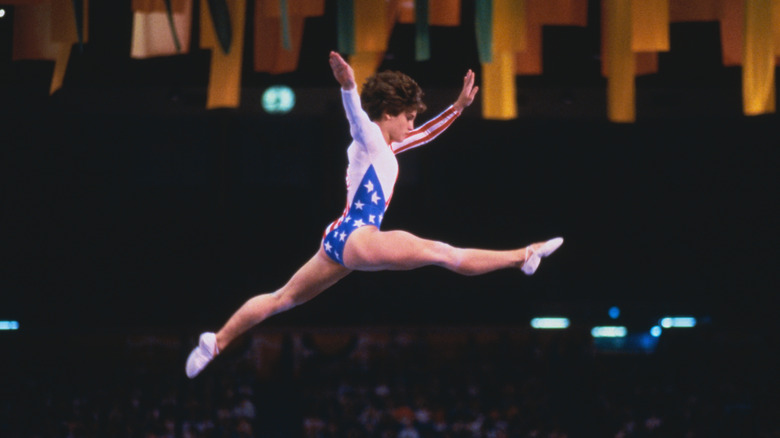 Bettmann/Getty Images
It was a clean win for Mary Lou Retton at the 1984 Olympics, an event that marked a momentous juncture in not just her life, but that of American gymnastics, too. The audience at the University of California's Pauley Pavilion watched as 16-year-old Retton, clad in her stars and stripes leotard, whipped through the air to strike the first gold for her country in women's gymnastics. 
Her winning performance saw her in competition with Romania's Ecaterina Szabo in the individual all-around finals, during which Retton secured flawless 10s in both vault and floor exercises. Her streak didn't stop there; besides her history-making gold, Retton also took home two silvers and a bronze from the '84 Olympics, her record collection of medals from the event leading her to be crowned the Sportswoman of the Year.
The pro gymnast was also overtaken by a sense of self-assuredness in the middle of her vault routine. "I could always tell if I'm going to get the landing or not, and I knew. So, y'all didn't see it, but I was smiling in the air," she told the Los Angeles Times, recalling the moment right before the crowd erupted in celebration. "I slept with my medal under my bed that night. The first thing when I got up in the morning I checked to see if it wasn't a dream," she told the outlet. 
The athlete had a gymnastic flip named after her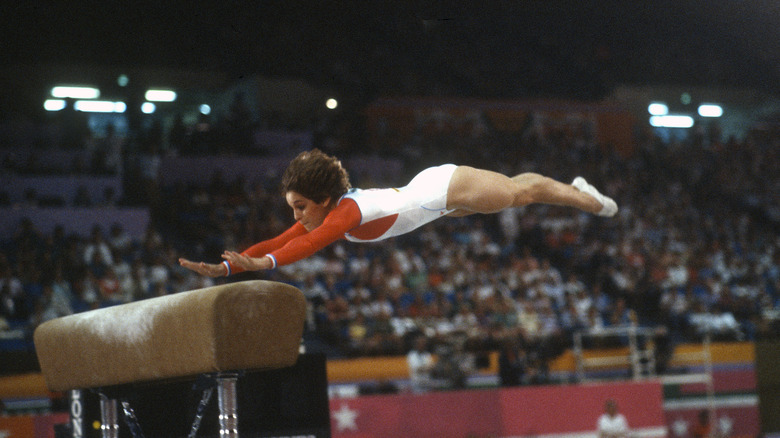 Focus On Sport/Getty Images
Mary Lou Retton's impact on sports can hardly be overstated. Back in 1984, she was the success story America couldn't get enough of. As her coach Béla Károlyi told the Los Angeles Times, "She's responsible for everybody chasing the ultimate dream. But for her it was the natural joy of being in that sport. She was crying, she was laughing, she was a joy." At just 16, Retton's athletic arsenal was loaded with gymnastic maneuvers exclusive to her expertise. Her mastery over the elite Tsukahara vault, for instance, was further accentuated with an extra twist mid-air. "And that is a Mary Lou exclusive; no other woman in the world can do it," Károlyi gushed to Sports Illustrated. 
The Retton Salto was another trick that belonged to the teen. It involved swinging from the high bars, slapping the low ones, and somersaulting back up into a seamless sitting position on the high bars. Retton's skill was such that it invited lofty comparisons from her '84 Olympics team coach Don Peters, who said, "Watching her perform is like seeing O.J. Simpson run. Everybody else seems to be standing still" (via The New York Times). Retton's routines on the vault and during floor exercises — both categories she placed first in at the 1983 McDonald's American Cup — were especially impressive and considered some of the best in the sport.  
Commercial opportunities flooded in after her Olympic fame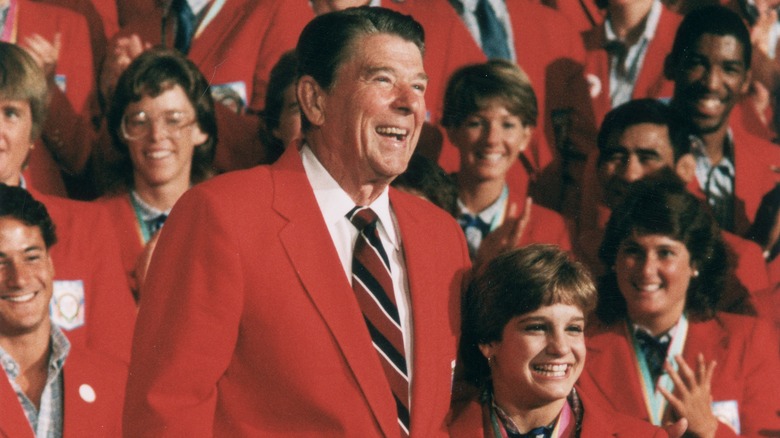 Ronald Reagan Library/Getty Images
Her 1984 Olympic masterwork established Mary Lou Retton as a national icon, but it was the follow-up fame that helped elevate the teenager to the status of America's sweetheart. Commercial offers inundated the renowned gymnast, dubbed "the essence of Americana" by The New York Times, as she became the face of beloved brands like Wheaties. Her advertising portfolio displayed an incredible range, with everything from McDonald's and Vidal Sassoon to General Mills and the National Bowling Council. She also had clothing lines to her name, not to mention, a host of on-camera appearances cementing her newfound status as a motivational figure for America's youth. 
Retton's success story as an Olympic-level gymnast was only superseded by her meteoric rise as a media darling. As industry authority Advertising Age put it, Retton's marketing was "shaping up to be the most successful venture in sports history" (via The Washington Post). At the peak of her fame, Retton was rubbing shoulders with some of the most preeminent personalities in showbiz and politics, including then President of the United States Ronald Reagan, across whose shoulders she memorably draped her Olympic team's blazer In 1984. "I've gotten like nine movie offers," she told the Chicago Tribune, though she expressed uncertainty over a career in entertainment. Even so, she amassed a few acting credits with her work in "Scrooged" starring opposite Bill Murray, and one-time appearances in shows like "Baywatch." 
She retired from gymnastics at 18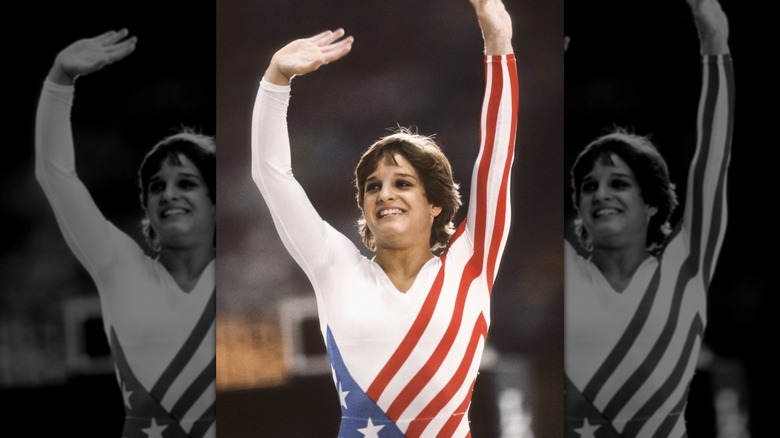 David Madison/Getty Images
After a brief but brilliant run in professional gymnastics, Mary Lou Retton left the floor at age 18. She announced her retirement from the sport in 1986, two years after securing Olympic gold, and began to pursue other milestones. Having previously sidelined her education for sporting glory, Retton found an opportunity to dive right back into her studies at the University of Texas as a communications student. "Gymnastics was my life for 11 years ... But I achieved the goals I wanted at an early age. Now I have the rest of my life to do what I want," UPI quoted her as saying. College opened the gateway into a new world for Retton, who hadn't experienced much beyond sports and training since her early years. 
When the chance to retrain for future Olympic games presented itself, Retton turned it down, citing the extreme mental and physical pressures of public existence. "Now, since retiring from sports and knowing there is life outside the gym, it would be very difficult to go back to such a regimen," she told the Tampa Bay Times. Switching over to the schedules of a regular teen wasn't a seamless process for Retton initially. As a globally renowned gymnast and America's reigning sweetheart, she received excessive attention in college, something she (as well as her fellow students) took time to get used to. Outside of campus, speeches, commercials, and travel riding on the back of her gymnastic fame kept Retton busy. 
Retton welcomed four daughters with her ex-husband
Mary Lou Retton always knew she wanted a big brood. "I grew up in a large family and I loved it," she told the Tampa Bay Times in 1990, divulging her plans of having at least four children with her then-fiancé Shannon Kelley. The pair married later that year and Retton, true to her word, ended up welcoming four daughters with Kelley. Shayla Kelley Schrepfer, McKenna Lane Kelley, Skyla Brae Kelley, and Emma Jean Kelley all followed in their mother's footsteps by taking an active interest in gymnastics early in their lives. "It's a sport that I love and have fond memories of so it was a very natural step for me to put them in gymnastics," Retton told Parade, adding that one of her young daughters even had her eyes set on the Olympics. 
While all of Retton's children got a start in gymnastics, they eventually branched out into different sports; Shayla and Skyla opted into acrobatics and cheerleading respectively, while McKenna and Emma upheld their mother's legacy by competing in gymnastics. The siblings appear to share a close relationship between themselves, as well as with their mom, often sharing their love for each other via social media. Nearly three decades of marriage came to an end for Retton in 2018 when she and Kelley divorced. Revealing the news on "Dancing With the Stars," Retton said, "We still love one another, but we weren't great together anymore" (via CNN). 
She underwent multiple surgical procedures after childbirth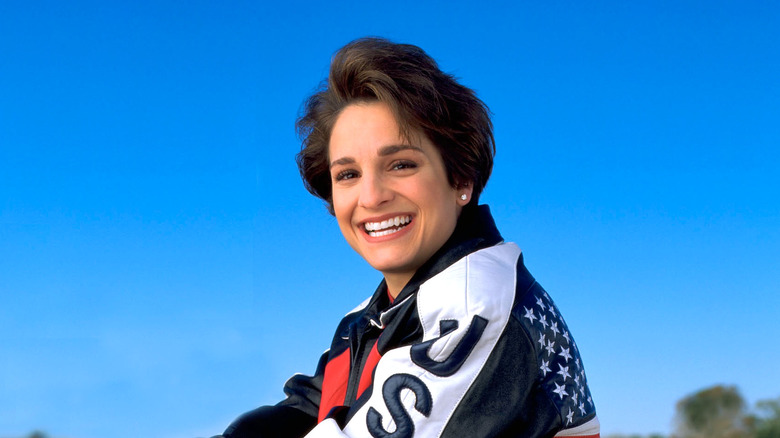 Pam Francis/Getty Images
Though her gymnastic days were long behind her by the time she got married and became a mother, Mary Lou Retton wasn't completely free of physical afflictions that impacted her mobility. In her 30s, pain overwhelmed her life to the point that she found it difficult to play with her children. "My whole life was based on my physicality — what I could physically do. It was performance-based. And that went away with arthritis," she told Woman's World. While she attributed the impact on her body's calcium to childbirth four times over, Retton also mentioned that genetics came into play for her condition. 
Retton was born with hip dysplasia, a fact unbeknownst to her for a significant part of her life. In a video shared by Dr. Brian Parsley, who performed Retton's surgery, the former gymnast said that she was misdiagnosed for many years before the specifics of her condition became clear. Like her father — who, she told Parade, also underwent the procedure — Retton opted for a total hip replacement surgery, though she admitted to initially being resistant to the idea. "The most important thing is that the pain is now gone," she told the outlet. 
Years after her operation, Retton emerged as one of the plaintiffs suing Biomet — the healthcare company whose hip replacement devices she used and was a spokesperson for — in a case alleging defective production.
Retton branched out into other cocurriculars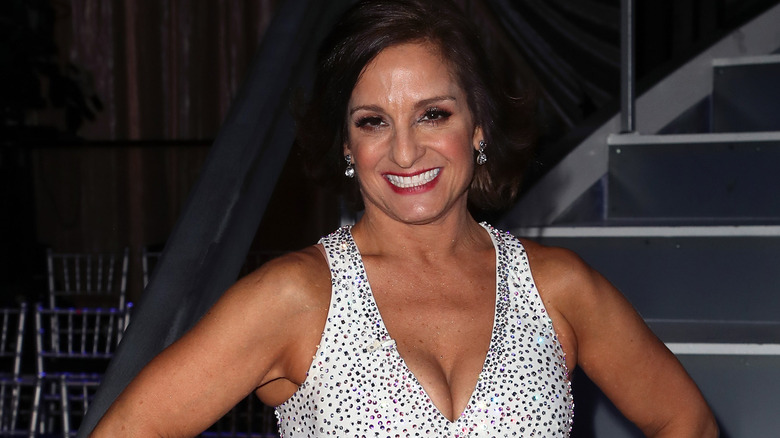 David Livingston/Getty Images
After the 1985 American Cup, which was her last competitive appearance, Mary Lou Retton took a step back from gymnastics. But as she herself acknowledged soon after retiring, her association with gymnastics wouldn't end so readily. She was, after all, a pioneering American sportswoman. "People come up to me and say that I'm still a role model with the young ones. Which is a big responsibility," she told The Washington Post. Even as she graduated into adulthood as an enduring public figure, Retton's gymnastics legacy shadowed her everywhere while she diversified her interests. When she added to her filmography credits in 2011 with "Special Agent Oso," she lent her voice to the kids' show by playing a gymnastics coach. Her other episodic appearances on television have also utilized the celebrity of the Retton name by featuring the gymnast as herself. 
Simultaneously, Retton continued down the advertising path she had embarked upon in her post-Olympic era, adding Dairy Queen to her portfolio. "My performance resume includes the balance beam, uneven parallel bars, floor exercise, vault and now the piñata," she joked, referencing her falling out of a piñata for the ad (via Business Wire). Her most significant showbiz stint came in 2018 when Retton joined the 27th season of "Dancing with the Stars" as a celebrity performer. She was eliminated in the sixth week of the show, though she had welcomed the physical challenge.
An encounter with pneumonia landed her in the hospital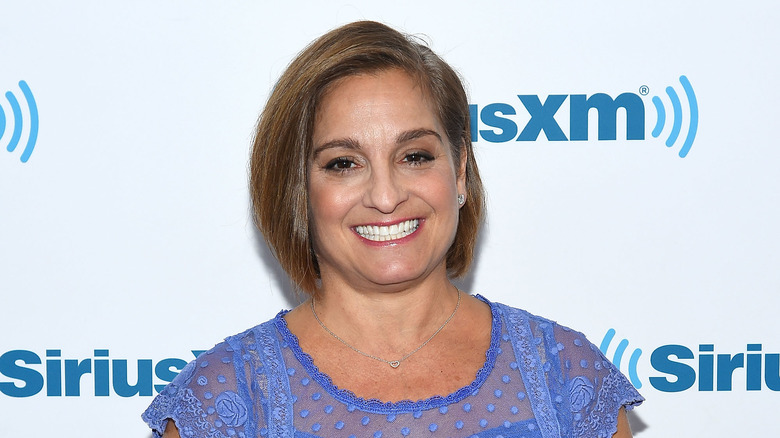 Ben Gabbe/Getty Images
In October 2023, a devastating statement from Mary Lou Retton's daughters informed the world about the celebrated gymnast's failing health condition. Retton was reportedly hospitalized and under intensive care after coming up against a rare type of pneumonia, her daughter McKenna Lane Kelley shared on a crowd-funding platform, according to NBC News. "She is not able to breathe on her own. She's been in the ICU for over a week now," the statement read. A call for donations, as well as the revelation that Retton didn't have medical insurance, prompted an outpouring of online support for the American icon. As The New York Times observed, it only took two days for the fundraiser with a $50,000 limit to cross over the $350,000 mark toward supporting Retton's cost of treatment. 
According to a 2017 journal article in "Clinical Infectious Diseases," "Community-acquired pneumonia (CAP) is the leading cause of infectious disease–related death in the United States," with over 1.5 million adults needing hospitalizations per year. A pneumonia infection primarily affects the lungs, with symptoms showing up in the form of fever, coughing, troubled breathing, and chest pain. While the details of Retton's affliction are being kept under wraps by the family, her daughter Shayla Kelley Schrepfer told her thousands of Instagram followers that the former Olympian was receiving treatment from "the best of the best professionals" and that the support from her well-wishers had been overwhelming.