Freddie Highmore Once Took A Not-So-Subtle Dig At Tom Cruise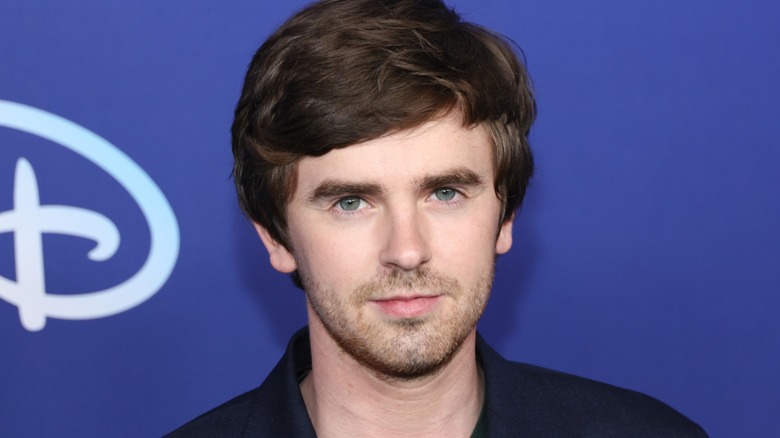 Dia Dipasupil/Getty
Actor Freddie Highmore is likely most known for his roles on "The Good Doctor" and "Bates Motel," and as a youngster, he was Johnny Depp's pint-sized co-star in "Finding Neverland" and "Charlie and the Chocolate Factory." While speaking with Jimmy Kimmel on "Jimmy Kimmel Live" in 2021, Highmore proved that he's also not afraid of making not-so-subtle digs and referenced one of Tom Cruise's biggest controversies.
About halfway through the interview, Kimmel noticed a wedding ring on Highmore's left hand and the actor confirmed that he was married now. Highmore alluded to Cruise's past behavior on "The Oprah Winfrey Show" when he added, "I'm not going to jump up and down on the couch on the talk show and express excitement that way. I know — I know that you do that in America."
The audience chuckled, of course understanding the reference to Cruise's exuberant display of devotion toward Katie Holmes because of its pop culture significance. Despite his quip, Highmore also said, "But I'm as happy as a Brit can be, and I'm married to a very wonderful woman now, so yes, I feel very happy." He and Kimmel went on to discuss the various phrases used to describe spouses and how Highmore doesn't like many of them, prompting Kimmel to tell the now-husband to relax a bit.
Tom Cruise's unhinged behavior sparked an explosion of online celebrity gossip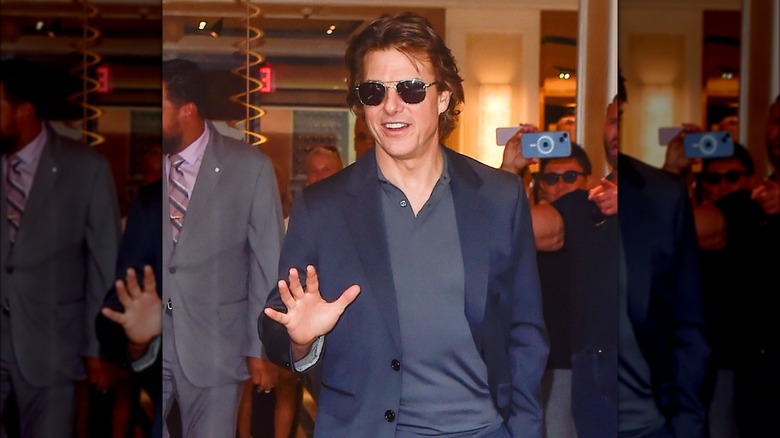 Raymond Hall/Getty
The fateful May 2005 interview with Oprah Winfrey was meant to be about Tom Cruise's film "War of the Worlds." It happened a few weeks after Katie Holmes and Cruise attended a red carpet event and made their relationship official. About a month following the interview, the couple announced their engagement. They had their child and married in 2006 and divorced in 2012.
Cruise was high energy during the entire 2005 interview, and he said the reason was, "I'm in love." Cruise repeatedly laughed (somewhat maniacally), knelt to the ground, hugged Winfrey, and intertwined his hands with hers, and pushed against them excitedly. Cruise ran backstage and brought Holmes out, looking a little aggressive as he practically pushed her the whole way. Holmes was a good sport about it, hugging Winfrey and Cruise and even giving Cruise a kiss before answering some questions.
Some people have credited Cruise's iconic (and strange) display as being the inciting incident to the modern age of celebrity gossip websites. Around the 10-year anniversary, Elaine Lui (founder of the Lainey Gossip website) wrote about how the couch jump heard around the world made it clear that traditional reporting on celebrities was not enough. Lui said, "This incident became one of the most critical chapters in the Origin Story of Internet Gossip" (via Lainey Gossip). 
But you likely won't catch Freddie Highmore or his wife on gossip sites too much, due to their very private life.
Freddie Highmore has kept the identity of his wife quiet, but there is speculation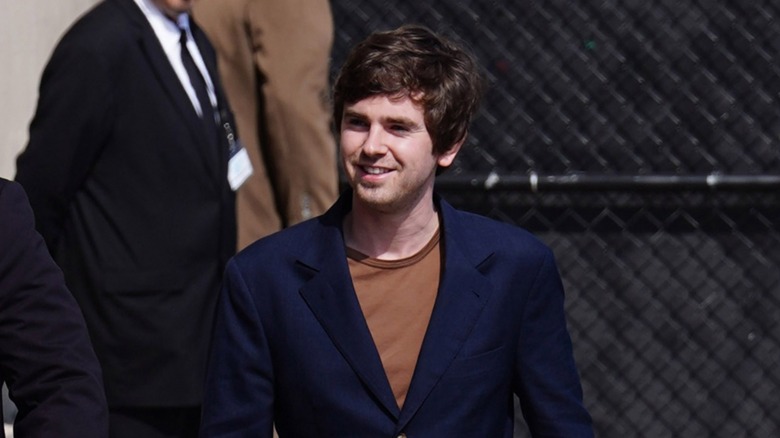 Hollywood To You/star Max/Getty
When Freddie Highmore appeared on "Jimmy Kimmel Live" again in April 2023, Kimmel checked in to see how he was feeling and if he still had reservations about saying "my wife." Highmore admitted that he doesn't mess with his wedding ring anymore and said, "But yeah, 'my wife,' it's still a little odd." Highmore's wife can say "my husband" with no problem, so Kimmel threw out some other suggestions — some better than others.
"Maybe just use her name," Kimmel said. "That's probably the best way to go." Highmore is a very private person and does not say his wife's name or confirm her identity. However, the @freddiehighmoresgirl Instagram account shared photos of Highmore with his supposed wife, a woman named Klarissa Munz. According to the account, Munz also attended Cambridge and has been photographed with Highmore a variety of times at events and with him and his cast mates.
Enstarz claims that Munz is a web developer, but that fact (and if she really is the woman married to Highmore) is speculation and has not been confirmed.