A Look At Drake's Relationship With His Parents Sandi And Dennis Graham
As an international superstar, Aubrey "Drake" Graham has reached extraordinary levels of success. From his enviable but complicated past relationship with Rihanna to owning a record label, the Toronto native has come far since his days on "Degrassi." The success of his October 2023 release, "For All the Dogs," puts the rapper within reach of an impressive feat: He is only one number-one hit away from tying a record previously held by Michael Jackson.
But in the midst of all the fame, Drake still makes time for those most important to him — his family. He welcomed his son Adonis in 2017 and kept the boy a secret from the media for almost a year. Adonis appears to be close with both of his grandparents on his father's side, Sandi and Dennis Graham. Drake has shared several precious moments with his son and parents, but his own childhood wasn't as simple. Sandi and Dennis split in 1991 after 5 years of marriage, and were very divided during Drake's childhood.
The "One Dance" rapper was raised by Sandi, while Dennis was estranged from his life. When it comes to how he raises his son Adonis, Drake has emphasized the importance of being a present father. He opened up on HBO's "The Shop," "[I'm using] all of the things I've learned from and through my father and the incredible things I've learned through my mother about patience, about unconditional love."
Drake has a close relationship with his mother Sandi Graham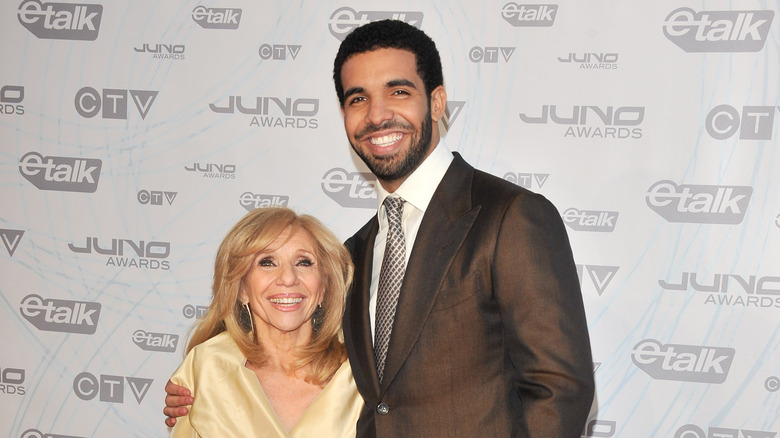 George Pimentel/Getty Images
After his parents divorced, Drake was raised by his mother, Sandi Graham. While he was still an up-and-coming artist, Drake was motivated to become successful in order to take care of Sandi. "Dedicated to my mom and I swear my word is bond/ Everything will be okay and it won't even take that long," he rapped before his big break in "The Calm."
As a single mother, Sandi supported Drake while he navigated his career as a teen actor and eventually, a rapper. Ahead of the release of his album "Certified Lover Boy" in 2021, she penned a sweet letter to her son. "... With each new album my heart skips a beat, being your mother has been my life's greatest treat," Sandi's letter read (via People). "It's been a long hard road together, now there's one more day to go. I wanna celebrate you, son, more than you'll ever know."
During his "It's All A Blur" tour, Drake brought his mother on stage at Madison Square Garden and dedicated one of his early songs to her. The song, "Look What You've Done," speaks about his parental unit and the promises he made to Sandi. As seen in fan videos, she became overcome with emotion during the full-circle moment as her son serenaded her.
Drake and his father, Dennis Graham, were estranged for a long time
Drake has been open about his complex relationship with his father, Dennis Graham. He has addressed his father's absence in various songs. In "Look What You've Done," he rapped: "And my father living in Memphis now, he can't come this way / Over some minor charges and child support that just wasn't paid," (via Genius). In response to these and other lyrics, Dennis has publicly defended his reputation in the media — claiming that Drake overstated his absence.
"I have always been with Drake," he said in an interview on Power 106. "I said, 'Drake, why are you saying all of this different stuff about me, man?' ... And he goes, 'Dad, it sells records.'" The rapper took to social media to express his hurt over the comments. "My father will say anything to anyone that's willing to listen to him," Drake shared via Instagram stories (via Hot New Hiphop). "Every bar I ever spit was the truth, and the truth is hard for some people to accept."
While their relationship was rocky for years, it appears that the birth of Adonis gave them a reason to bond. In 2021 Dennis dedicated his own song, "Father and Son," to Drake and Adonis. In 2023, the rapper posted his own heartfelt post to Instagram of himself, Dennis, Adonis, and his mother as the family put aside their differences to celebrate Sandi's 75th birthday.