Jackie Kennedy's Granddaughter Rose Has Grown Up To Be Gorgeous
We may receive a commission on purchases made from links.
Jacqueline Kennedy Onassis, renowned for her elegance and chic appearance, has passed down her striking looks to her granddaughter, Rose Kennedy Schlossberg. As the eldest grandchild of former U.S. President John F. Kennedy and First Lady Jackie O., Rose was born to Caroline Kennedy and Edwin Schlossberg and has inherited the grace that defined her famous grandma. Notable for her natural beauty, Rose shares distinct features with Jackie, including high cheekbones, wide-set brown eyes, and a chic bob hairstyle that echoes Jackie's timeless style.
Beyond her captivating appearance, Rose has delved into a range of creative pursuits while deliberately staying out of the wider public spotlight. Considering the enduring public scrutiny faced by the Kennedys, particularly during the era of JFK and Jackie, it comes as no surprise that the newer generation of the family, notably Rose, opts for a more private existence. 
While her siblings may enjoy greater recognition in the public sphere, Rose continues to embody the fabulously iconic looks of her late grandmother as she ventures into the world of entertainment.
Channeling Jackie O's beauty while redefining survival glamour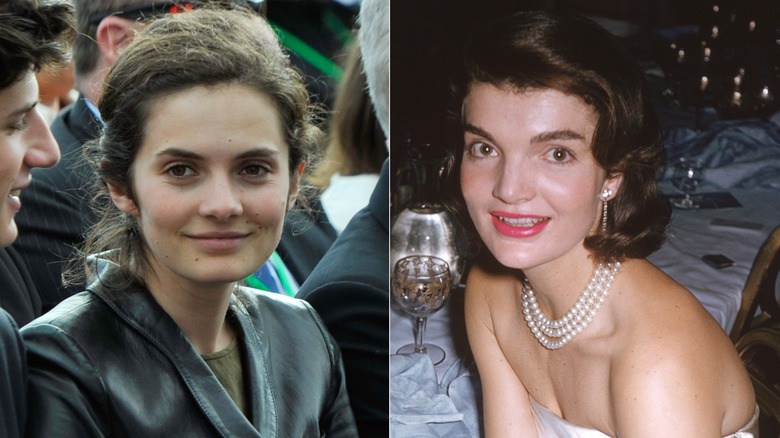 Slim Aarons & Clodagh Kilcoyne/Getty
Rose Kennedy Schlossberg doesn't seem to be interested in continuing her family's political dynasty. Instead, the Harvard University graduate has chosen a path in comedy, emerging with the web series "End Times Girls Club." 
Alongside her friend Mara Nelson-Greenberg, Rose co-founded the series, offering a unique blend of glamour and survival. From guiding individuals on applying makeup in the midst of apocalyptic scenarios to engaging in experimental activities, such as testing whether a compass can float in cocktails, the project ultimately evolved into an art installation, a TV pilot, and a TikTok channel, according to 3537.
In a conversation with Mashable, Rose revealed that the idea for "End Times Girls Club" came to life after seeing how everyone reacted to Hurricane Sandy. "People were grossly underprepared — specifically, girls in damsel in distress mode," she explained. "I thought it would be interesting to create this world where girls have to be survivalists without compromising their cute factor."
In addition to her unconventional initiative, Rose has explored the realm of acting, making an appearance in the 2015 film "Houses" and the 2022 short "Small Gay Tragedy #1." She has also worked as a writer on "TIME: The Kalief Browder Story," a 2017 six-part TV series.
Rose is the most private of the Kennedy grandchildren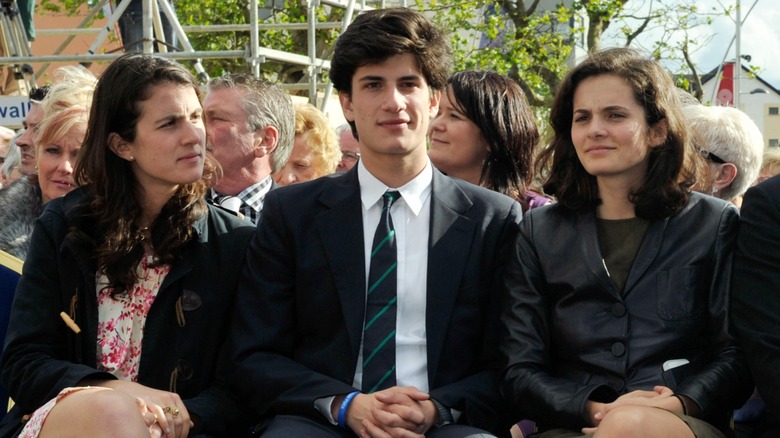 Clodagh Kilcoyne/Getty Images
Rose Kennedy Schlossberg shares more than just a physical resemblance with her grandmother — they had a beautiful bond. According to the New York Post, it was Jackie Kennedy who gave Rose her name, paying homage to her late mother-in-law. 
Their relationship was close-knit, with Jackie making daily visits to her granddaughter Rose, Kennedy biographer Christopher Andersen recalled. "[Jackie] doted on her," he said. "Jackie knew it was important to sow the seeds of good behavior early on."
While the strong connection between Rose and her grandmother is well documented, Rose seems to prefer not sharing her own image with the world when she's not acting. This is in contrast to her siblings, Jack and Tatiana Kennedy Schlossberg, who have no qualms about being in the public eye. 
Following in the family tradition, Jack ventured into politics, endorsing President Joe Biden in a 2020 video and, more recently, criticizing his cousin Robert F. Kennedy Jr. for leveraging the family name for personal gain as he runs in the 2024 presidential election, The New York Times reported. Tatiana, while not politically engaged, is a journalist and environmental activist, as noted by the Daily Mail. In 2019, she authored the book "Inconspicuous Consumption: The Environmental Impact You Don't Know You Have."