Chris Rock Tried To Date Jada Pinkett Smith Before Will Smith's Infamous Oscars Slap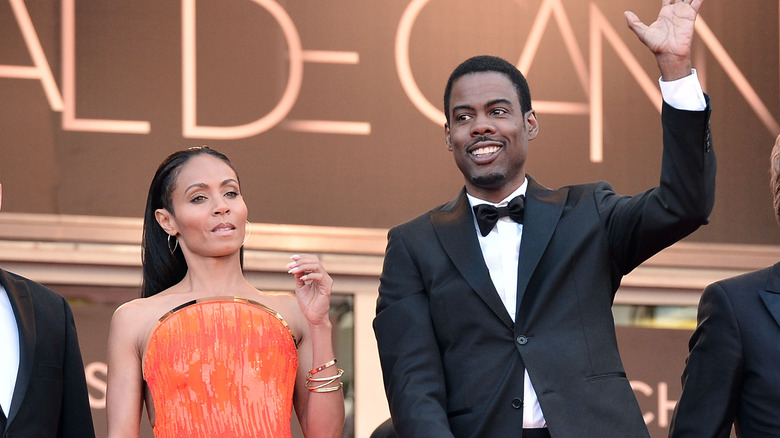 George Pimentel/Getty Images
The 2022 Oscars will likely go down in pop culture history as one of the most shocking. It was the year that Will Smith landed his very first Oscar for his role in "King Richard." Shortly before he accepted his award, Smith slapped Chris Rock in a moment that some, including his wife Jada Pinkett-Smith, believed was a comedic skit. The incident stemmed from Rock making a joke on stage about Jada having alopecia, likening her to "G.I. Jane." Some thought Will was an overprotective husband who was sensitive to his wife's condition. However, we now know that there is a deeper history between the Smiths and Rock.
During Jada Pinkett-Smith's press run for her memoir, "Worthy," she revealed that before the Oscar fallout, Rock had asked Jada on a date.  The revelation came as a surprise, especially considering many may not have known Rock was ever interested in romantically pursuing the "Set It Off" star. Though Jada did not outright say Will slapped Rock due to his proposition, this likely did not help Rock and Will's alleged tense history.
Chris Rock thought Jada Pinkett-Smith was single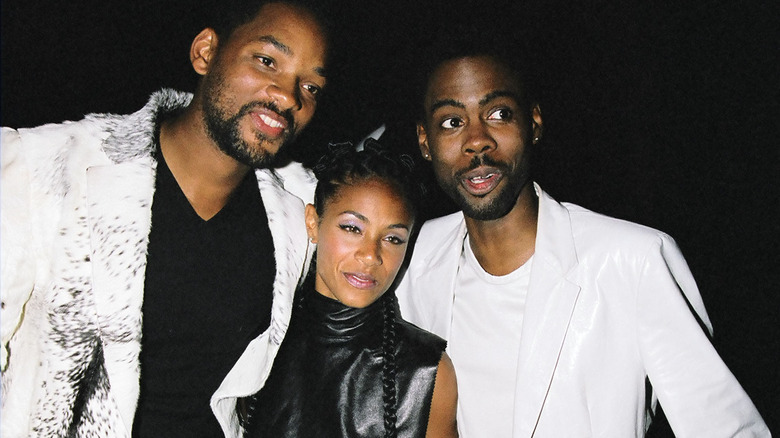 Jeff Kravitz/Getty Images
Chris Rock and Jada Pinkett-Smith worked together on the 2005 children's film "Madagascar" and its sequels. Since then, they've regularly crossed paths in their respective Hollywood circles, and Smith even refers to Rock as a "brother." Still, this friendly association didn't stop the comedian from trying to take things with Jada to a different level despite having known her husband, Will Smith, for years before he'd met the "Red Table Talk" founder. During an interview with People in October 2023, Jada revealed that Rock asked her out on a date. His offer came after multiple rumors swirled about the Smiths getting a divorce, something which has plagued the couple for years.
"I think every summer, all the reports would come out that me and Will were getting a divorce. And this particular summer, Chris, he thought that we were getting a divorce. So he called me, and basically, he was like, 'I'd love to take you out.' And I was like, 'What do you mean?' He was like, 'Well, aren't you and Will getting a divorce?' I was like, 'No. Chris, those are just rumors,'" Jada recounted. It's unknown whether or not Rock's date request was before or after the Smiths secret separation 2016.
Rock immediately apologized to Jada for trying to court her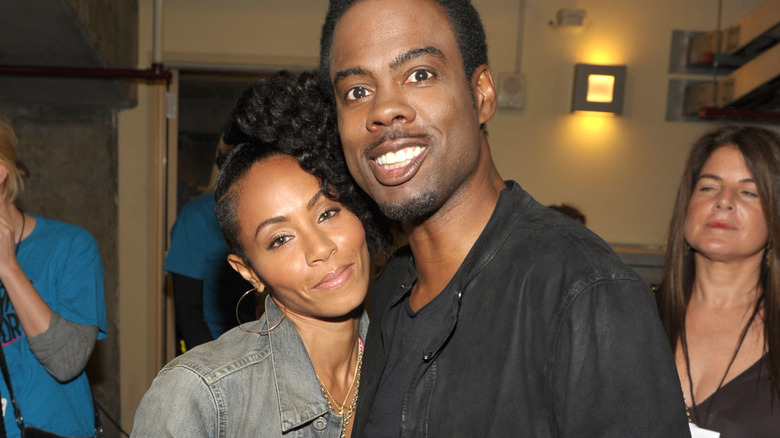 John Shearer/kca2012/Getty Images
After Chris Rock learned that Will and Jada Pinkett-Smith's relationship was actually intact, she says he was immediately remorseful. "He was appalled. And he profusely apologized, and that was that," Jada shared with People. Even though Rock wanted to pursue Jada, that did not stop him from making her the butt of his jokes. In 2016, while the Smiths and other stars were boycotting the Oscars due to its lack of diversity among nominees, Rock served as host and joked that Jada's stance was irrelevant since she was not wanted there. Even after the Oscar slap, Rock spoke on the couple during his Netflix special, "Selective Outrage," alluding that the actual reason behind the slap was her public relationship with singer August Alsina.
Rock has not told his side of the date story. However, he's reportedly not pleased with Jada revealing their awkward exchange. With Jada's memoir, "Worthy," now in stores, more disclosures are sure to emerge, and much to Rock's dismay, they may include him.