What We Know About Charlene's Relationship With Andre Snyman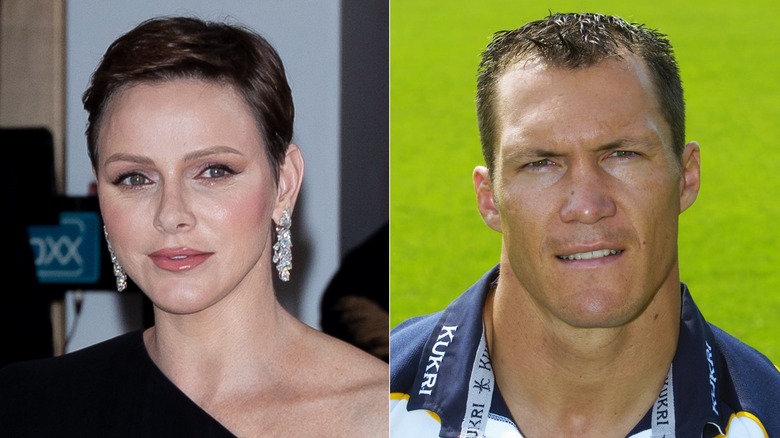 Matthew Lewis/Getty & Marc Piasecki/Getty Images
Her Serene Highness Princess Charlene became a figure of fascination for millions when she married into the royal family of Monaco. Born Charlene Wittstock, the former Olympic swimmer married Prince Albert in a gorgeous wedding in 2011. When a commoner marries into the royal family, it seems like a curtain is closed on their past life, leaving many of us to wonder what they were up to before becoming royalty. Outside of competitive swimming, not much was known about the somber, teary-eyed bride walking down the aisle with the nation's prince. To this day, what the philanthropist monarch was up to before becoming a princess remains somewhat of a mystery. One aspect from Charlene's earlier life that we do have information on is who the princess dated in the past.
Princess Charlene's impressive swimming career put her in touch with athletes from around the world and would put her on the radar of her future husband Prince Albert. The athletic royal likes being in the company of those who enjoy the thrill of sports just as much as she does. Charlene is rumored to have dated a handful of handsome athletes before marrying Prince Albert, including rugby player Andre Snyman. Just a short while after she and Prince Albert would have their fateful first encounter, Charlene was reportedly on the arm of the handsome star rugby player.
Who is Andre Snyman?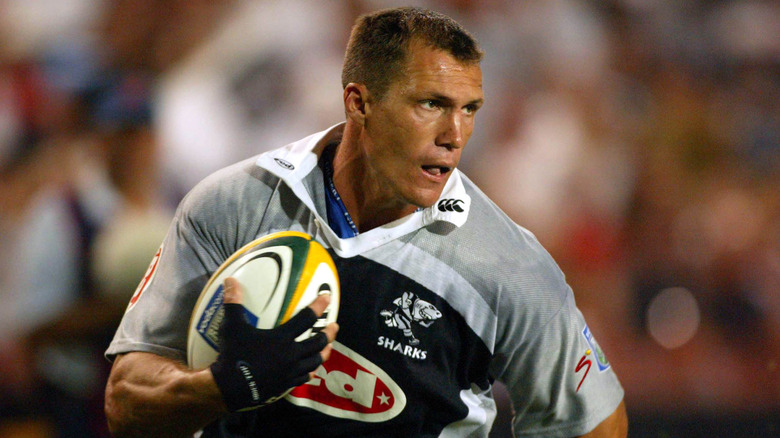 Getty Images/Getty Images
Just like Princess Charlene, Andre Snyman hails from the country of South Africa. Snyman's love for sports blossomed into a very successful professional sports career while he was still young. He made his professional debut on the rugby field in 1994 with the Blue Bulls, and would go on to play the sport professionally for over 10 years. The energetic rugby player participated in a total of 38 test matches for the Springboks before hanging up his boots in 2007. His passion for rugby drove him to the U.S., where he became the head coach for the Glendale Raptors in 2011, a rugby union team based in Colorado (via Sky Sports).
While Snyman was rushing the ball into the try zone in the early 2000s, Charlene Wittstock was busy making a name for herself in the competitive swimming world. It was during this time that the athletes' paths crossed. The exact year of when Charlene and Snyman began dating is unknown, but they were spotted together as early as 2002, just two years after Charlene met Prince Albert. In 2002, Charlene and Snyman posed for a photo together while attending the wedding party of Snyman's Springbok teammate Joost van der Westhuizen. Dressed in matching colors and wearing broad smiles, the couple appeared to be very happy together.
He allegedly broke her heart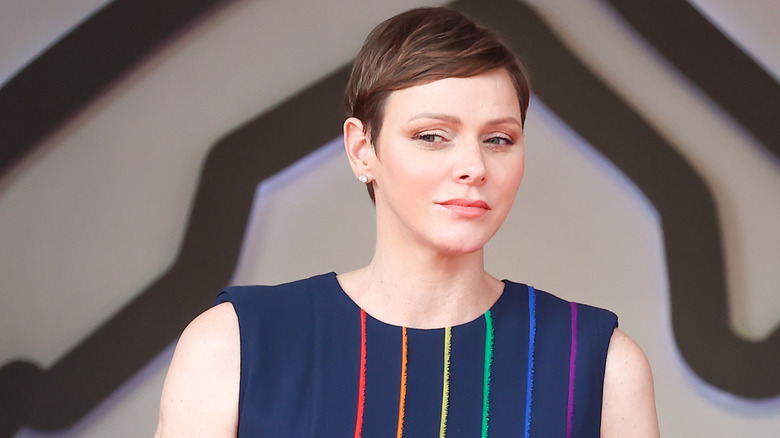 Marc Piasecki/Getty Images
Things suddenly took an unexpected turn for the worse in Princess Charlene and Andre Snyman's relationship. French news outlet Voici reports that the couple broke things off in 2003. While no one can say for sure what caused the breakup, those close to the pair have claimed that Snyman was the one to dump Charlene. A close friend of Charlene's told Voici that the breakup took the swimming sensation by surprise. "She thought [their breakup] was a temporary crisis and that they would pick up the pieces, but that was not the case," the source stated.
Even princesses aren't immune to a heartbreak or two. Being dumped by Snyman was the first of many unfortunate situations that would unfold in Charlene's life over the next few years. Per the Olympics official website, the swimmer would suffer a shoulder injury around this time that would prevent her from participating in future competitions, and in 2007, she was forced to retire from competitive swimming altogether. In an interview with Tatler, Charlene admitted that retiring was one of the most difficult decisions she's ever had to make.
As royal fans know, it wouldn't be long before the princess found happiness with her literal Prince Charming. She and Prince Albert would have their very first public outing together in 2006, according to Vogue. The rest is history.