Prince William Was Reportedly Wary In The Early Days Of Meghan & Harry's Relationship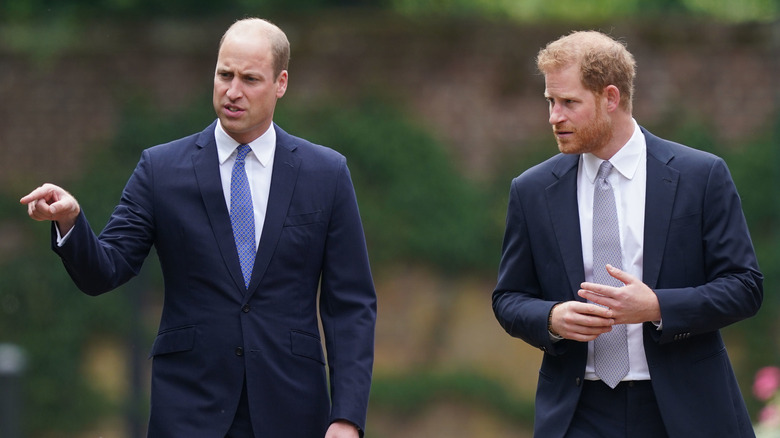 Wpa Pool/Getty Images
Once upon a time, all was right with the royal family. Everybody seemed to be thriving in their respective roles and living their best lives. But that all changed when Prince Harry, Duke of Sussex, and Meghan Markle, Duchess of Sussex, announced they were stepping down from their official duties. Though Harry initially maintained there was no bad blood between him and his family, the opposite turned out to be true with the release of his tell-all memoir. Harry made several startling revelations throughout "Spare," including confirming the longstanding rumor of a feud with his brother, Prince William. 
According to the biography "Finding Freedom," co-authored by royal reporters Omid Scobie and Carolyn Durand, the brothers' relationship was strained for a while but their feud officially started once Meghan entered Harry's life. The Prince of Wales reportedly wasn't too sure about her. Per The Mirror, he felt things were moving too fast, and that Harry was "blindsided by lust," so William advised his younger brother to "take as much time as you need to get to know this girl." 
The Duke of Sussex had utterly fallen for Meghan by then, so he understandably took offense, with the authors noting: "In those last two words, 'this girl', Harry heard the tone of snobbishness that was anathema to his approach to the world," (via THR). Although the rift might've started with this simple warning, it got a whole lot worse once Harry decided he actually wanted to marry Meghan.
William didn't think Meghan was ready to be a royal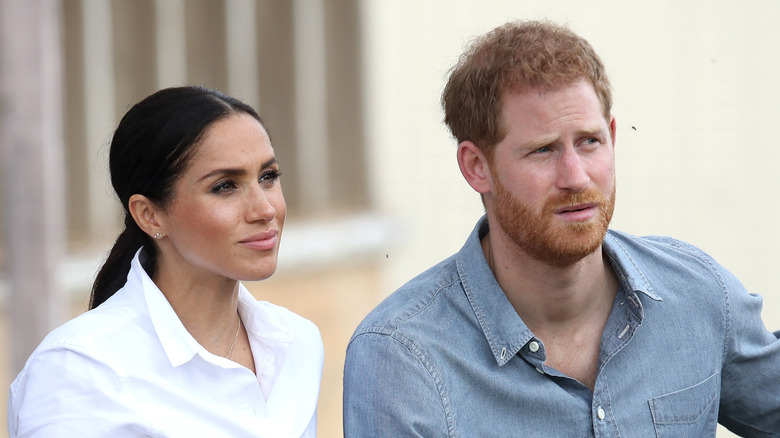 Chris Jackson/Getty Images
Speaking to Tom Bradby, Prince Harry revealed that his brother, Prince William, and his wife, Kate Middleton, had plenty of doubts about Meghan Markle joining the royal family. "Some of the things that my brother and sister-in-law — some of the way that they were acting or behaving definitely felt to me as though, unfortunately, that stereotyping was causing a bit of a barrier to them really sort of, you know, introducing or welcoming her in," Harry admitted (via People). 
The Duke of Sussex confirmed that while his family never outright told him not to marry Meghan, they made their reservations clear. If Harry were being charitable, he could argue that the Prince of Wales, in particular, anticipated that the British tabloids wouldn't go easy on his future wife, and his harsh warning served to protect Harry from the resulting mental trauma. "The Palace Papers," a book penned by royal expert Tina Brown, also contained a similar theory. 
Brown claimed that a source close to William told her that he wanted Meghan to properly establish herself in the UK, by forming meaningful connections, before permanently moving there. His wife suggested it based on her own experience, with the royal expert pointing out, "It had been hard enough for Kate, but Meghan was a glamorous actress who would be the first woman of color to join the royal family, factors that would add enormously to the pressure," (via InStyle). 
A physical fight irrevocably altered their relationship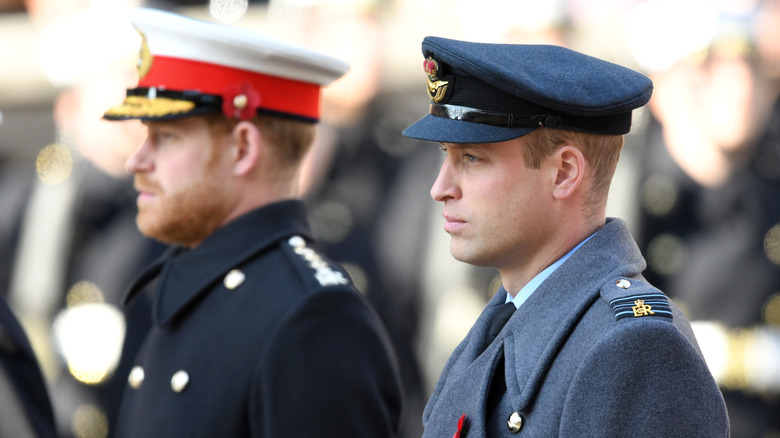 Karwai Tang/Getty Images
In "Spare," Prince Harry asserted that the tension between him and his brother, Prince William, ultimately became too much to handle, and they got into a physical altercation. According to excerpts released by The Guardian, Harry alleged that their fight began when William called Meghan Markle "rude," "difficult," and "abrasive." During his "60 Minutes" interview with Anderson Cooper, Harry further professed that his brother had begun to buy into the British media's narrative about Meghan and could no longer tell fact from fiction.
Things got heated as they raised their voices at each other, and when William couldn't take it anymore, he reportedly roughly pushed Harry to the floor, he fell onto the dog bowl, which shattered, and the broken pieces dug painfully into his back. The Prince of Wales wanted him to fight back, but Harry didn't give him the satisfaction, and William eventually left. However, he came back, apologized, and asked Harry to keep the fight between them. 
But when Meghan noticed the post-fight scars, he had to tell her the truth. The Duke of Sussex also disclosed that while the incident upset Meghan, she wasn't all that shocked by it. Unsurprisingly, "Spare" might've been the final nail in the coffin for William and Harry's relationship. An insider told Us Weekly, "At this point, [William's] got no plans to speak to Harry. He's come to terms with the fact [that] he's lost his little brother and quite possibly for life."