GAC's 2023 Holiday Movies You Need To Watch This Year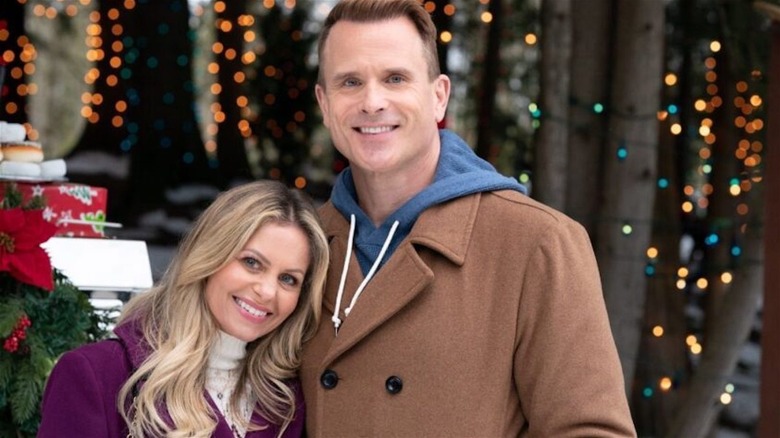 GAC
Aficionados of Hallmark Channel's beloved Christmas movies may have noticed that there's another purveyor of heartwarming Yuletide fare: GAC, run by former Hallmark Channel head Bill Abbott after he was forced to part ways with Hallmark back in 2020.
Since then, GAC and its sibling channels, GAC Family and GAC Living, have become home to a vast array of holiday movies, many featuring some very familiar faces to Hallmark fans. That's because GAC partnered with longtime Hallmark star Candace Cameron Bure, bringing the "Full House" alum onboard as its chief creative officer. With Cameron Bure's involvement, GAC has managed to persuade a staggering number of Hallmark Channel talent to jump ship and join the GAC brand as it faces off against Hallmark with months of holiday-themed movies. 
This year's roster of Christmas films includes one starring Cameron Bure, in addition to others featuring a whole whack of other former Hallmark stars, a list that includes Danica McKellar, Daniel Lissing, Jill Wagner, Lori Loughlin, Chad Michael Murray, and more. With the holiday season fast approaching, keep reading for a rundown of GAC's 2023 holiday movies you need to watch.
Destined 2: Christmas Once More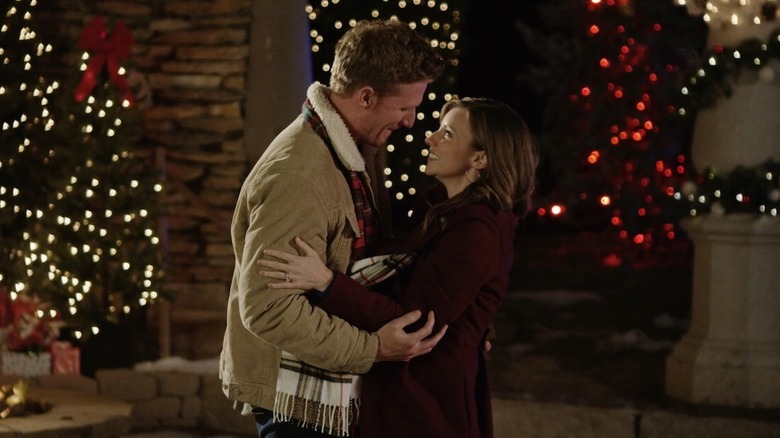 GAC
One of 2022's many GAC holiday offerings was "Destined at Christmas," in which single strangers Kim (Shae Robins) and Theo (Casey Elliott) meet during a Black Friday shopping excursion. The two feel an instant attraction to each other, but before they have the chance to exchange names and contact information, an unanticipated power outage plunges the store into darkness and leads the two to become separated. Thanks to a bit of luck and a whole lot of Yuletide magic, the pair reconnect and embark on a romance. 
A similar scenario plays out in the sequel, "Destined 2: Christmas Once More," which brings viewers an update into the ongoing lives of the couple. This time, Theo is ready to take things to the next level, and has concocted an elaborate plan to pop the question at Christmas. His efforts are thwarted, however, when the two can't seem to connect, and keep missing each other as circumstances intervene to frustrate Theo's plans to put a ring on it.
"Destined 2: Christmas Once More" first aired on Saturday, October 14, 2023.
'Twas the Text Before Christmas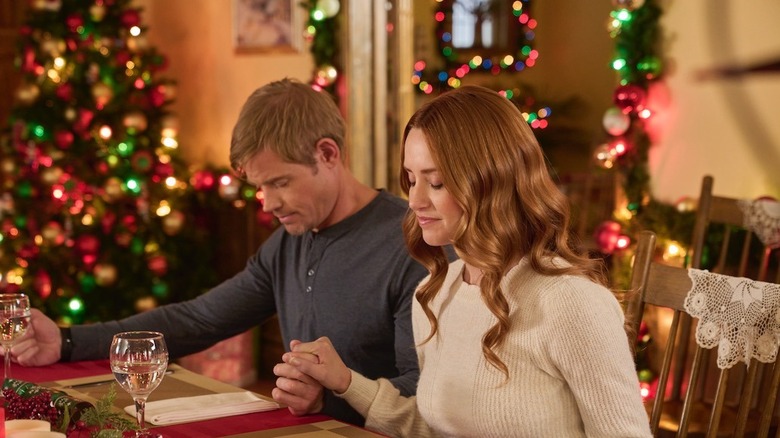 GAC
Merritt Patterson made an impression on viewers in the 2022 GAC holiday film "Catering Christmas," in which she co-starred with "When Calls the Heart" alum Daniel Lissing.
Patterson is back in "'Twas the Text Before Christmas," and this time she's portraying Addie, a New York City chiropractor who is mistakenly sent a text from someone identifying herself as "Nana." That inadvertent wrong number kicks off a virtual friendship between Addie and Nana, who begin texting each other regularly. In fact, the two become so close that Nana invites her to spend the holidays with her at her home in Vermont. Addie takes her up on it, but receives a surprise when she arrives: Nana has also invited her son, James (Trevor Donovan of "90210"), a doctor. Addie returns the following year for what's become a new tradition, leading her friendship with James to deepen. The film follows the pair over the course of three consecutive Christmases as their slow-burn romance eventually catches fire. 
"'Twas the Text Before Christmas" made its debut on Saturday, October 21, 2023.
Bringing Christmas Home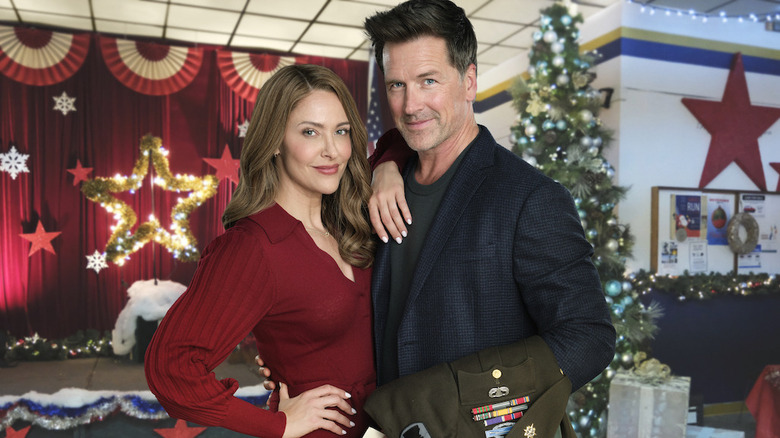 GAC
Before making her way to GAC in 2021 with the holiday film "A Christmas Miracle for Daisy," Jill Wagner appeared in numerous holiday movies for the Hallmark Channel. Following her 2022 film, "A Merry Christmas Wish," Wagner returns to the network with her latest, "Bringing Christmas Home."
Here, Wagner plays Caroline Upton, a retired military officer now employed as a professor of military history. She's sought out by Russell Carlisle ("When Calls the Heart" alum Paul Greene), the owner of an antique store. Russell asks for her help in finding the family of WWII officer Orin Newton, after coming into possession of his dress uniform and discovering the pockets were stuffed with love letters to Alice, the sweetheart who awaited him stateside while he served. The catch: he wants to return the letters to the family before Christmas. Their investigation initially hits a dead end, until Caroline finds out that Orin was captured, and determined to be missing in action. They then turn back to the letters in search of clues to find out what happened — and whether Orin ever made it back to reunite with Alice.
"Bringing Christmas Home" airs on Saturday, October 28, 2023.
Journey to Christmas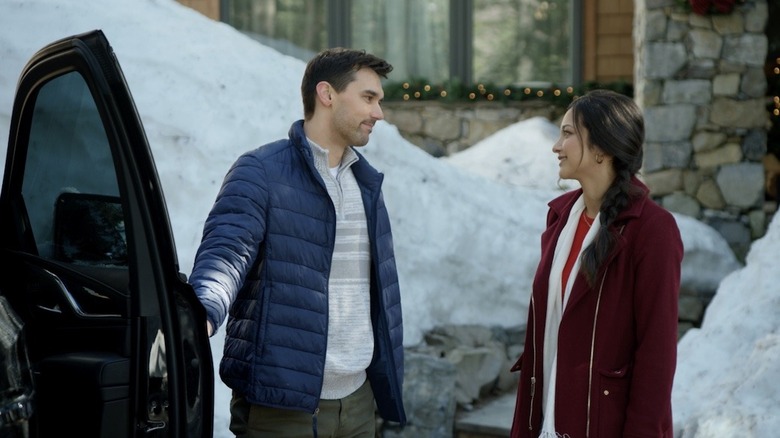 GAC
In the holiday romance "Journey to Christmas" (which had previously been titled "A Model Christmas"), newcomer Ash Tsai makes her GAC debut in the role of model Cali Caldwell. In the midst of a charity-themed media tour in the days leading up to Christmas, inclement weather causes a change of plans when she finds herself stranded. With nowhere to turn, she winds up staying at the home of Jack Swanson (Joey Heyworth), the driver who'd been hired to shuttle her around. As these two apparent opposites get to know each other, they realize they have more in common than they'd assumed.
While Heyworth was recently seen in the Lifetime made-for-TV thriller "My Landlord Wants Me Dead," Tsai is new on the scene. In fact, this marks her first-ever leading in a feature, something she gushed about in a TikTok video documenting her arrival in Salt Lake City (where production took place), and her first day on the set. Meanwhile, she also shared an Instagram post celebrating the film wrapping, thanking the project's writer and director "for taking a chance on me for my first feature and lead role!"
"Journey to Christmas" premieres on Sunday, October 29, 2023.
A Dash of Christmas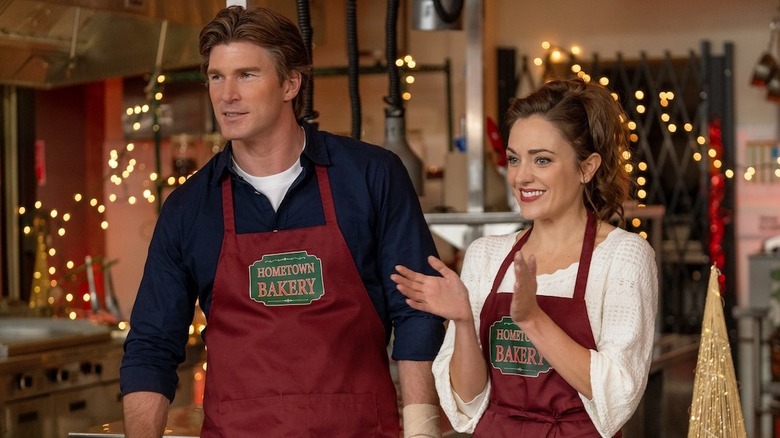 GAC
Laura Osnes stars in "A Dash of Christmas," playing a career-driven marketing executive vying for a dream job with a food-based startup. The only obstacle standing in her way is that she needs to learn how to bake. To improve her pitiful baking abilities, she recruits a professional baker (Christopher Russell) — only to find herself reluctantly competing in a holiday baking competition. 
Fans of holiday movies will recall Osnes from some previous Hallmark Channel Christmas flicks — including 2019's "A Homecoming for the Holidays," "One Royal Holiday" in 2020, and 2021's "Christmas in Tahoe" — while other credits include "The Marvelous Mrs. Maisel," "Dynasty," and the miniseries "Fosse/Verdon," in which she portrayed Shirley MacLaine. Osnes also has an extensive roster of leading roles on Broadway, in shows such as "Grease," "Cinderella," and "Bandstand." Meanwhile, Russell also has a few Christmas movies under his belt, ranging from 2019's "The Mistletoe Secret," to 2022's "The Most Colorful Time of the Year."
"A Dash of Christmas" debuts on Saturday, November 4, 2023.
Our Christmas Wedding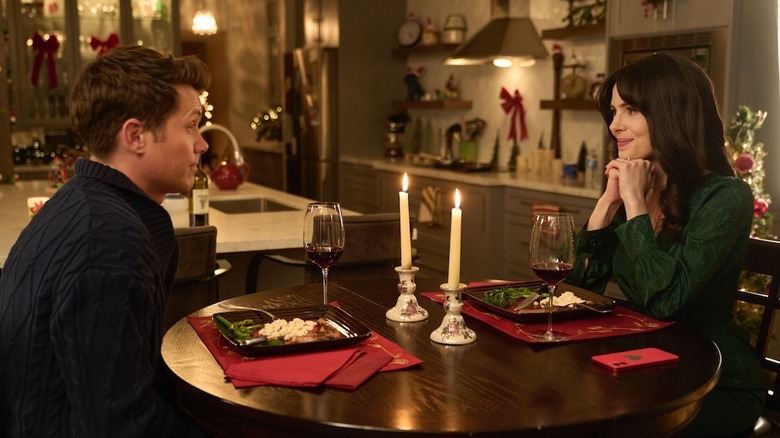 GAC
Back in 2021, Holly Deveaux starred in the Hallmark Channel rom-com "My Boss' Wedding," playing Nicole, a personal assistant charged with planning the nuptials of her employer. As she worked side by side on the wedding planning with her boss' nephew, Michael (Drew Seeley), sparks flew and the two fell in love. Deveaux and Seeley reunite in "Our Christmas Wedding," a holiday-themed sequel to that earlier film, and the shoe is on the other foot when the recently engaged Nicole and Michael decide to tie the knot. This time, it's up to Nicole's boss to handle planning the Christmas Day wedding — but with only two weeks to pull it off.
In May 2023, Deveaux teased the new movie on Instagram, posting a couple of photos of herself dolled up in a wedding gown with a fully decorated Christmas tree as a backdrop. "Could not be more excited to reunite with this wonderful group of artists to create another fun, romantic movie for viewers to enjoy," she wrote in the caption. "We're halfway through filming and let me tell you — it's gonna be good one."
"Our Christmas Wedding" airs on Sunday, November 5, 2023.
Christmas Keepsake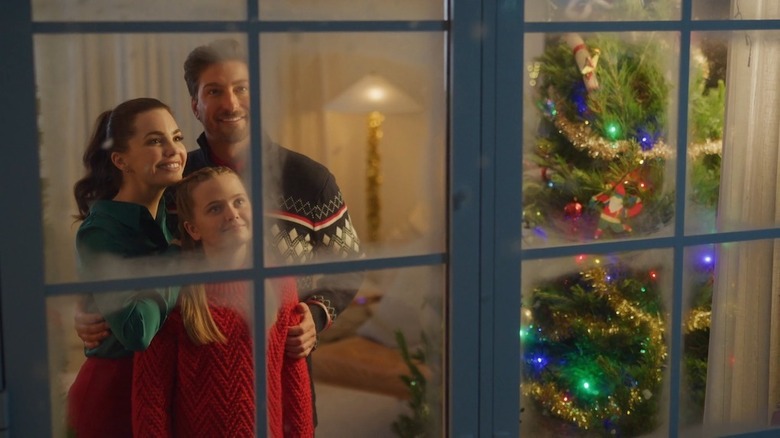 GAC
Daniel Lissing is no stranger to viewers of Hallmark Channel, thanks to his role as Constable Jack Thornton in "When Calls the Heart." He made his GAC debut in the 2021 holiday film "A Christmas Star," and returned in 2022 to star in "Catering Christmas." Lissing apparently enjoyed those earlier experiences so much that he's back for another. In "Christmas Keepsake," Lissing plays a single father of a young daughter who embarks on a mission to track down the owner of an old time capsule from a Christmas many years in the past. In the course of his quest, he meets a woman (Jillian Murray, who starred in 2022's GAC holiday film "A Brush with Christmas") and sparks fly. Before he realizes what's happening, he's fallen into an unanticipated romance. 
As a veteran of Christmas movies, Lissing gets why viewers love them so much — and revealed that making those films can feel just as heartwarming as watching one. "I think the Christmas movies I've done have one strong common thread — they make people feel good!" Lissing told TV Show Ace. "I love that I can be a small part of something that brings joy to so many."
"Christmas Keepsake" airs on Saturday, November 11, 2023.
A Christmas Blessing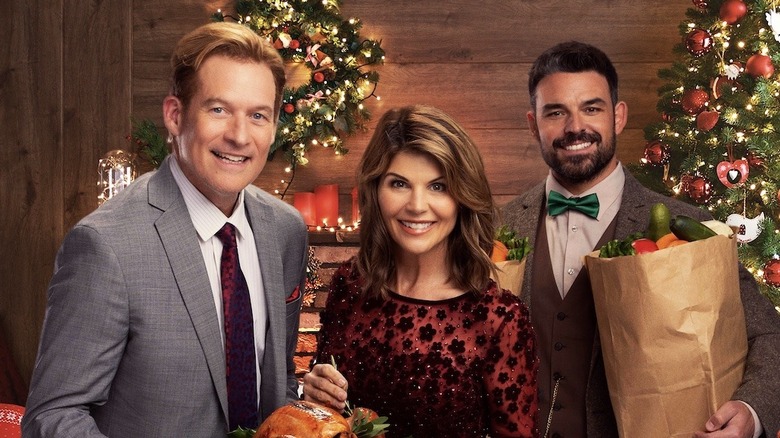 GAC
Daniel Lissing isn't the only "When Calls the Heart" alum to make the leap from Hallmark Channel to GAC. Joining him is Lori Loughlin — who was most certainly recruited by her former "Full House" co-star — and GAC chief creative officer — Candace Cameron Bure. 
Loughlin heads the cast of the new holiday film "A Christmas Blessing," playing famed TV chef Mandy Gilmore. When she bids farewell to her show, "The World of Food," she decides to fulfill her lifetime dream of traveling the world to dine at all 142 Michelin star restaurants. Before embarking on her journey, she first has some business to attend to in Milwaukee, where she must complete the sale of the building that housed a charity food pantry established by her late aunt, which was been purchased by the owner of an adjacent business (James Tupper of "Men In Trees" fame). When a volunteer at the pantry (Jesse Hutch) reminds Mandy of how her aunt's love of food inspired her own career, she decides to delay her trip in order to whip up a sumptuous Yuletide feast for all the hungry souls who depend on the charity during the holidays.
"A Christmas Blessing" premieres Sunday, November 12, 2023.
Santa, Maybe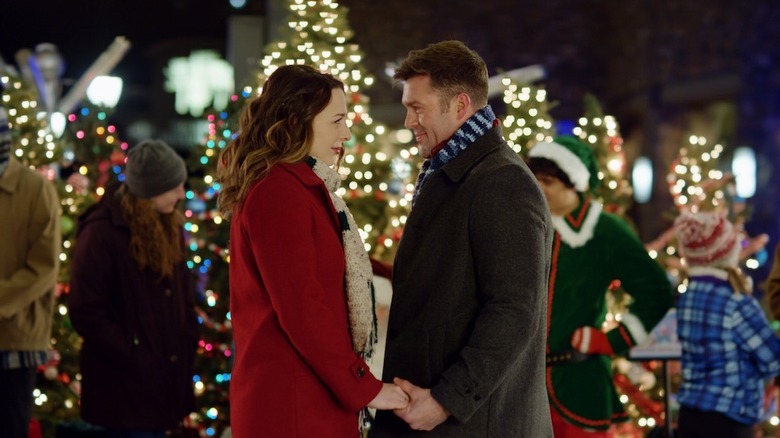 GAC
Aubrey Reynolds' is no stranger to holiday-themed, made-for-TV movies. In fact, the actor's Christmas cred includes a starring role in the 2020 Hallmark Channel holiday film "Christmas Tree Lane," in addition to 2021's "Hot Chocolate Holiday," in which she played the owner of a coffee shop whose rivalry with another shopkeeper — over their competing hot chocolate recipes — led to love.
Reynolds is back in the Yuletide spirit for her latest TV movie, GAC's "Santa, Maybe." This time out, she portrays Lila, a theater director in the midst of mounting what she hopes will be the ideal holiday-themed ballet. Meanwhile, in her office, she's also been selected as the recipient of a "Secret Santa" gift, and strives to find out the identity of her hidden gift-giver. Samuel Whitten, who was recently seen in the Lifetime movie, "The Gabby Petito Story," co-stars as Lila's love interest.
"Santa, Maybe" airs on Saturday, November, 18, 2023.
A Paris Christmas Waltz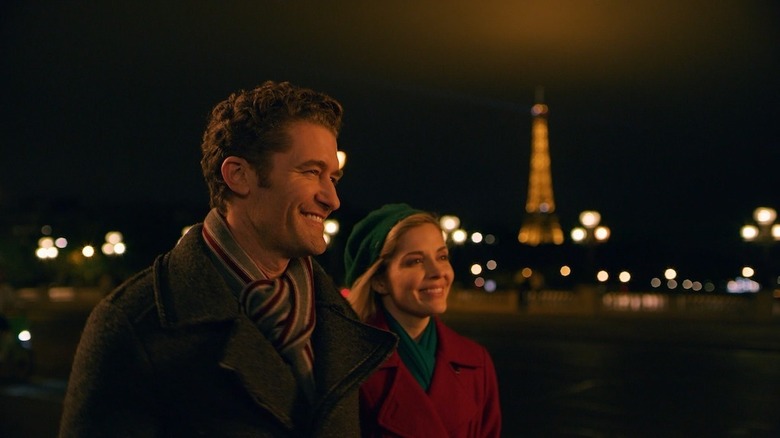 GAC
Few actors have become more associated with Hallmark Channel Christmas movies than Jen Lilley. Last year, however, the "Days of Our Lives" star made the jump to GAC, starring in the 2022 holiday flick "B&B Merry." Lilley is back for another holiday rom-com, "A Paris Christmas Waltz," in which she co-stars with former "Glee" star Matthew Morrison. 
In the film, Lilley stars as Emma, an amateur dancer who meets a ballroom pro (Morrison). She learns that he's become disillusioned with the world of competitive dancing, his interest in what was once his life's passion now waning. However, fate conspires to bring these two together when an opportunity arises for the two to partner for an esteemed dance competition, to be held in Paris. The new movie tells a standalone story, yet is also the second film in what's become a franchise that began with 2020's Hallmark Channel movie, "The Christmas Waltz," which starred Lacey Chabert and Will Kemp. Like the first "Christmas Waltz," "A Paris Christmas Waltz" was produced by "The Young and the Restless" alum Michael Damian and wife Janeen Damian, with the latter writing the film's screenplay.
"A Paris Christmas Waltz" arrives on Sunday, November 19, 2023.
My Christmas Hero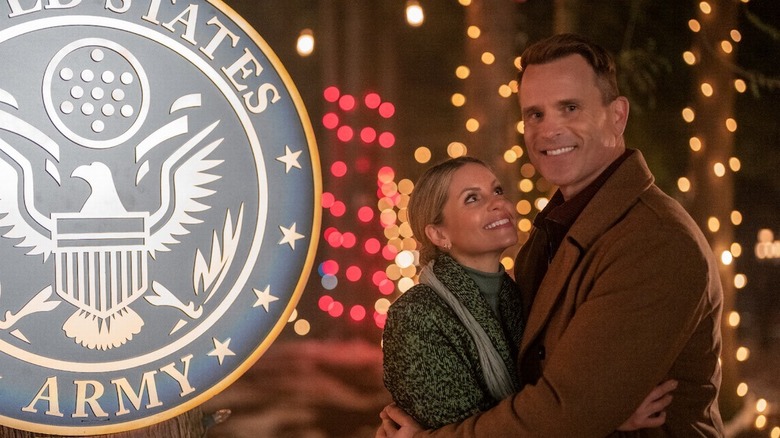 GAC
Not only is Candace Cameron Bure GAC's chief creative officer, she's also one of the network's most popular stars. A veteran of more than 20 Hallmark Channel holiday movies, she's also starring in a new GAC movie, arriving just after Thanksgiving. In "My Christmas Hero," Cameron Bure stars as Nicole Ramsey, an orthopedic doctor and U.S. Army reservist, whose career involves treating active military service members and their families at a military base. When she learns the story of a fallen soldier, she embarks on a mission to honor him, while healing her own family. In the midst of this, she finds herself falling in love with the man who's assisting her in her quest (Gabriel Hogan, of Canadian TV drama "Heartland").
"We are proud to tell a story that honors our U.S. veterans this Christmas season," said Cameron Bure in the GAC announcement. "From WW2 to present day veterans, we shine the spotlight on their heroic work as well as aftercare needs. We have a talented cast and crew and are thrilled to bring it to our Great American Family audience."
"My Christmas Hero" premieres on Friday, November 24, 2023.
A Royal Date for Christmas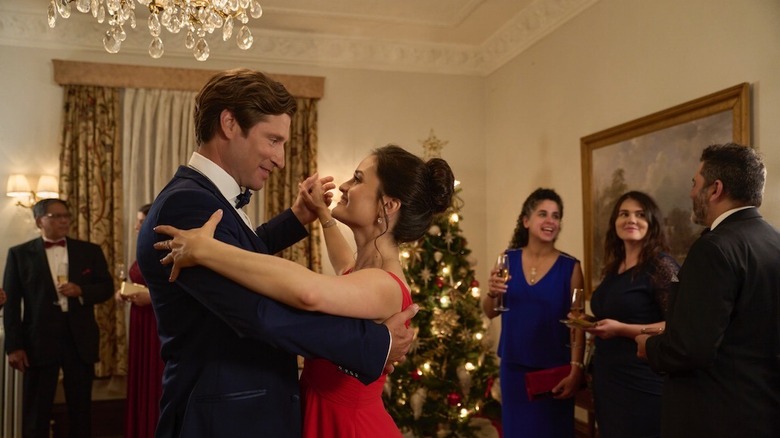 GAC
Danica McKellar made her GAC debut in last year's "Christmas at the Drive-In," and now she's back with a brand-new holiday romance. She stars in "A Royal Date for Christmas" as Bella Sparks, who owns her own eponymous boutique, Bella Sparks Couture. Her world is turned upside down with the arrival of a persnickety client, named Stefan (played by Damon Runyan), who enlists her to provide him with wardrobe choices for a week's worth of high-level meetings after his luggage has gone missing. Not only does she outfit him, but Bella is also invited by Stefan to be his plus-one to attend various formal events. She agrees — only to discover her date is actually a European blueblood: Stefan William Francis Brown, Duke of Tangford.
"A Royal Date for Christmas" is part of a multi-movie pact that McKellar signed with GAC — which was a big impetus in her decision to exit Hallmark Channel, for which she made numerous TV movies. "Part of it was because I had the opportunity to do a multi-picture deal, which I hadn't done at Hallmark, and also not just multi-picture, but also really being a producer, really helping to develop these stories from the beginning," she told Us Weekly.
"A Royal Date for Christmas" premieres Saturday, November 25, 2023.
A Christmas for the Ages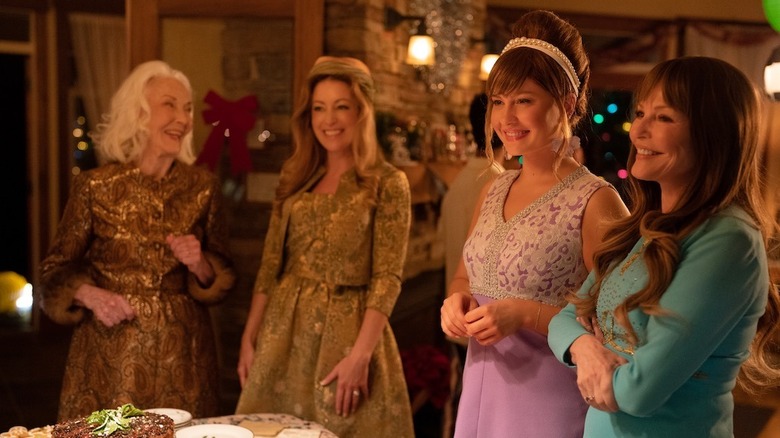 GAC
Fans of Candace Cameron Bure have surely noticed that her daughter, Natasha Bure, has appeared in several of her mom's films, at both Hallmark Channel and her new home at GAC. Now, Bure is part of the ensemble cast of "A Christmas for the Ages," a new multi-generational, female-led holiday movie with a heartwarming premise that should resonate with any family. 
Bure stars as the youngest granddaughter of a large family, who prompts her mother (Kate Craven, of Hallmark Channel's "Chesapeake Shores"), grandmother (Cheryl Ladd of "Charlie's Angels" fame), and great-grandmother (Anna Ferguson, "Heartland") to demonstrate what their Christmas celebrations were like when each of them were her age. As a result, viewers are taken on a time-traveling trip to Christmases past, as the women share their recollections of what the most wonderful time of the year was like in the 1940s, the 1960s, the 1990s, and, of course, today. 
"A Christmas for the Ages" debuts Sunday, November 26, 2023.
Christmas on Windmill Way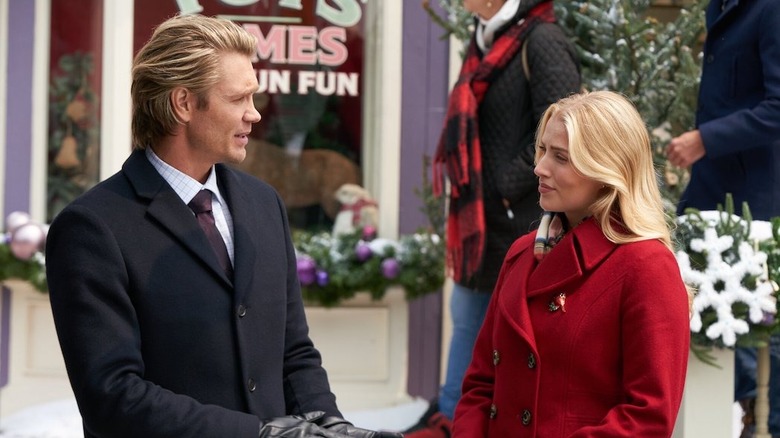 GAC
Best known for portraying Lucas Scott on "One Tree Hill," Chad Michael Murray has also appeared in several Hallmark Channel Christmas movies, ranging from "Write Before Christmas," to "Road to Christmas." Murray was among the many stars who headed to GAC, appearing in his first film for the network, "Angel Falls Christmas," in 2021.
He's back on GAC for the 2023 holiday season with "Christmas on Windmill Way," which beings with Mia Miejer (Christina Taylor Brown) preparing for her small town's annual Christmas Market Fest Dutch Bake-Off competition when she learns that her family will be forced to sell their land — on which sits the family-owned Jansen Inn, and a stunningly beautiful historic windmill dating back centuries. Not only is Mia shocked and saddened by the news, the situation grows worse when she learns the person representing the land developer purchasing the property is her ex-boyfriend, Brady Schaltz (Michael Murray). In order to prevent the inn and the windmill from being torn down, she makes it her mission to remind him of how precious and special their hometown is.
"Christmas on Windmill Way" airs on Saturday, December 2, 2023.
The Jinglebell Jubilee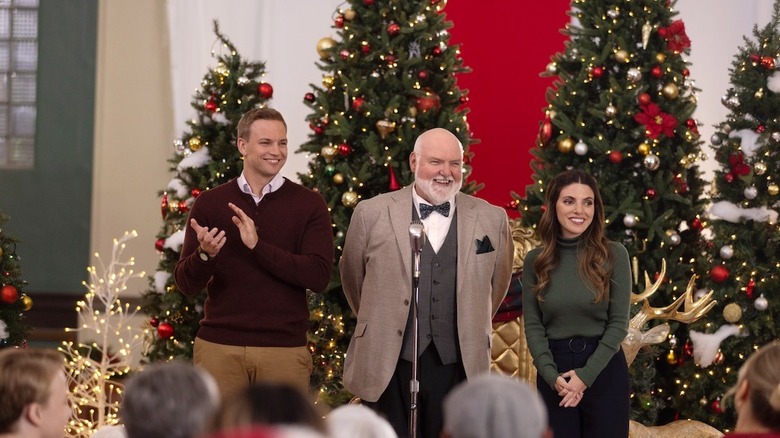 GAC
Charming small towns have often been the settings of made-for-TV holiday movies, and that's certainly the case with "The Jinglebell Jubilee."
In this charming Yuletide romance, "Glee" alum Marshall Williams (who appeared in the 2022 Hallmark Channel movie "Christmas Class Reunion") plays the town's city manager. Tasked with putting on a charity event, he enlists the help of his childhood friend, played by Erin Agostino (known for her role in Canadian TV series "Murdoch Mysteries," and the Hallmark Channel's 2022 offering, "A Christmas Masquerade"). While they work together to put on the best event the townsfolk have ever seen, she also has an ulterior motive: to set him up on a date with a close friend, thinking the two would make a perfect match. As is often the case in these movies, expect the magic of Christmas to set a new romance in motion.
"The Jinglebell Jubilee" makes its TV premiere on Saturday, December 3, 2023.
Meet Me Under the Mistletoe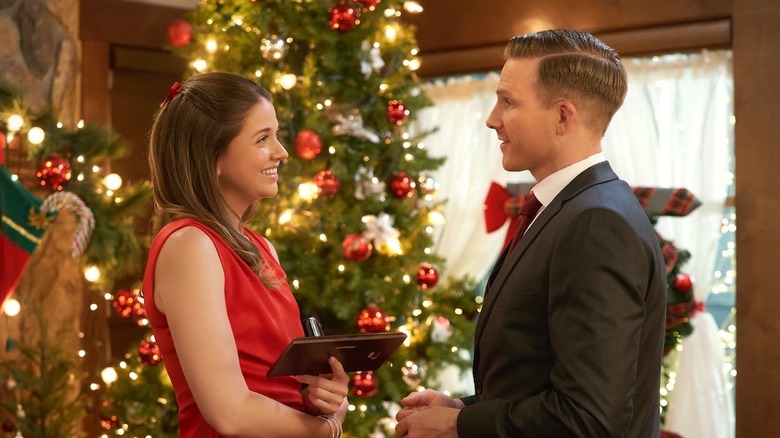 GAC
It's no secret that TV holiday movies usually involve circumstances forcing together two people who are seemingly polar opposites, or even rivals, only for them both to realize they're actually soulmates. That's also the premise of GAC's "Meet Me Under the Mistletoe," starring Sarah Fisher ("Degrassi: The Next Generation") and Simon Arblaster (recently seen in the 2023 rom-com "Modeled By Love"). Fisher and Arblaster play rival realtors who find themselves reluctantly working with each other in order to sell a very special abode — which needs to be sold before Christmas. The home, in fact, is owned by an esteemed botanist, whose specialization is growing mistletoe. Don't be surprised if a sprig or two is hung from the ceiling, resulting in a romantic Yuletide kiss when the two wind up succumbing to the enchantment of the season.
Interestingly, Arblaster also appears in this year's GAC holiday movie "Bringing Christmas Home," starring Jill Wagner. While filming the latter in Vancouver, Canada, in July, he shared his impressions of the experience in an Instagram post. "Filming a Christmas movie in summer was wild," he wrote. "It was cook'n!"
"Meet Me Under the Mistletoe" will be making its debut on Saturday, December 9, 2023.
Peppermints & Postcards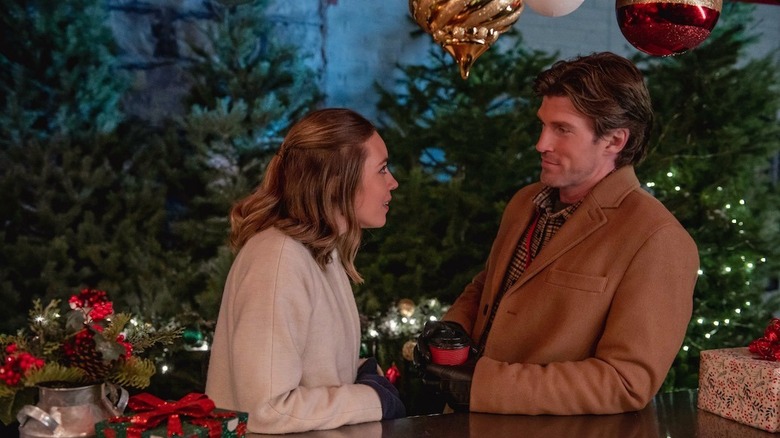 Nine-year-old Megan (Amelia Harrison) has just one wish for Christmas: that her single mom, Cara (Ella Cannon), will find love. When the youngster's letter to Santa winds up getting lost and then going viral, it attracts the attention of a local TV news reporter (Christopher Russell), who thinks the story behind the woman dubbed "Santa Mom" will resonate with viewers. While she initially rebuffs him, his persistence eventually leads her to wonder whether he might be the answer to her daughter's Christmas wish.
That's the premise of "Peppermints & Postcards," a new holiday romance sure to warm any heart. As for the film's cast, Cannon has been seen in such TV series as "iZombie," and "Six," and starred in the 2022 Christmas feature "A Maple Valley Christmas." Meanwhile, this is actually Russell's second 2023 holiday movie for GAC; he's also starring in "A Dash of Christmas."
"Peppermints & Postcards" will premiere Sunday, December 10, 2023.
Designing Christmas with You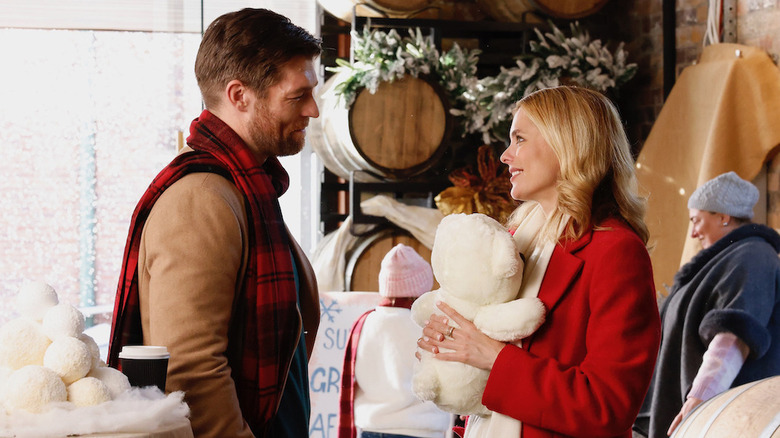 GAC
In "Designing Christmas with You," interior designer Colbie Clark (Susie Abromeit) is given the task of showcasing her designs in a home as part of a Christmas gala set to be held soon. The high-profile gig will either make or break her career, a situation that becomes even more stressful when she discovers she must work alongside an unanticipated collaborator, Ben Thurston (Liam McIntyre). Faithful viewers of GAC's Christmas movies may recall Abromeit from her previous starring roles, in 2021's "Much Ado About Christmas," and "A Hot Cocoa Christmas." McIntyre will be familiar to fans of The CW series "The Flash," for his recurring role as weather-manipulating supervillain Weather Wizard.
Interestingly, the film was shot in Australia, something Abromeit referenced in a video she shared from the set during production in June, via Instagram, in which she's frolicking among frost-tipped evergreen trees. "We're now in the upside down," she wrote in the caption. "Where summer is Christmas, but it is actually winter here in Australia."
"Designing Christmas with You" will air on Saturday, December 16, 2023.
12 Games of Christmas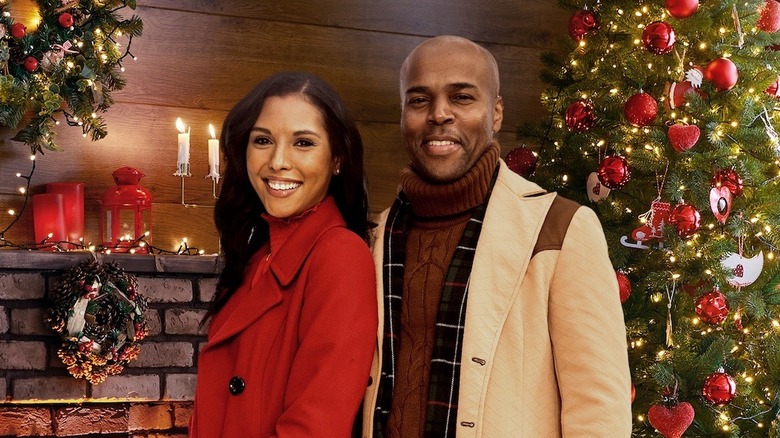 GAC
Fans of more fanciful Christmas tales will almost certainly enjoy "12 Games of Christmas," in which a group of close friends and neighbors find themselves magically transported inside a holiday-themed board game while they all attend a Christmas party.
Heading the cast are Johnny Ramey (who recently appeared in the film "Rustin"), and Felisha Cooper, best known for her long-running stint playing Sasha Thompson on "The Bold and the Beautiful," in addition to the comedy series "Swedish Dicks." For Cooper, starring in a heartwarming holiday film is a continuation of the goal that she's set for herself as an actor. "I love entertaining and also being, what I call 'a silent friend,'" she said in an interview with Starry Constellation Magazine. "This means: when life happens to you, as it does to everyone, a movie or television show can be just the thing that expresses whatever you're feeling, and you can just breathe and relax on the couch and still connect. That's the greatest gift."
"12 Games of Christmas" debuts on Sunday, December 17, 2023.
A Royal Christmas Holiday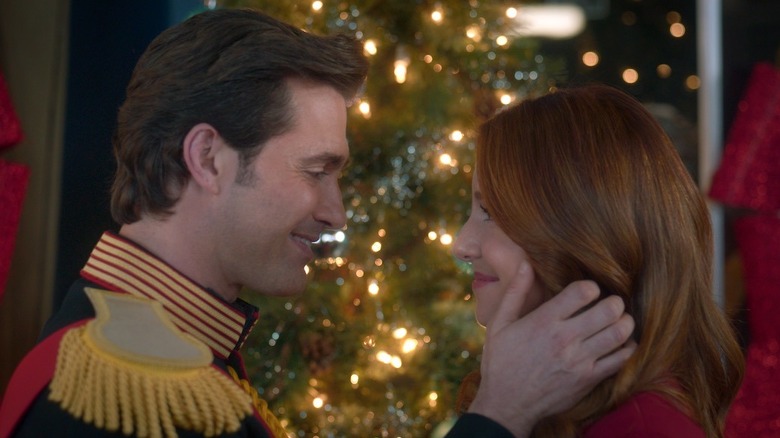 GAC
Those who enjoy their holiday movies to feature a bit of royalty thrown in won't want to miss "A Royal Christmas Holiday," in which Brittany Underwood (no stranger to soap fans, thanks to playing Langston Wilde on "One Life to Live") stars as ambitious reporter Katie In search of the big break that will take her career to the next level. She sees just the opportunity when she learns of an upcoming visit by a European royal, Prince Jonathan (Jonathan Stoddard). She pulls out all the stops in order to set up an interview with him. With the magic of Christmas swirling around them, will she and the dashing prince write their own love story?
Interestingly, this isn't the first time the two actors have worked together; last year, in fact, Underwood and Stoddard co-starred in the TV holiday movie "A Prince and Pauper Christmas," with the latter playing a different royal, Prince Alexander, along with his doppelganger.
"A Royal Christmas Holiday" makes its premiere on Saturday, December 23, 2023.