How Big Of An Age Gap Do Miley Cyrus And Maxx Morando Have?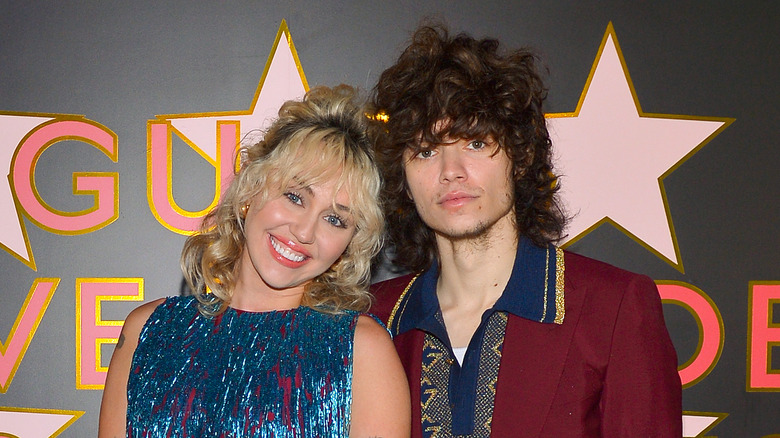 Donato Sardella/Getty Images
Miley Cyrus has had a lively dating history. From singer Nick Jonas to music producer Mike WiLL Made-It, Cyrus certainly has found herself in relationships with some of entertainment's biggest names. She was married to actor Liam Hemsworth from 2018 to 2020. After their split, a new love arrived in the form of drummer Maxx Morando, with whom Cyrus appears extremely happy.
The two have been dating since at least December 2021, when they were spotted dancing together following Miley's New Year's Eve Party special. However, they first crossed paths during a blind date a month prior, in November 2021. It seems they have amazing chemistry, connecting over their artistic endeavors, particularly their love for music. From 2015 to 2018, Morando played the drums for The Regrettes, a Los Angeles-based rock group, which appeared on "Conan" in 2017. Even with several things in common, there is an age gap between Morando and the new lady in his life. Thankfully, this does not seem to be interfering with their budding romance.
There is a six-year age difference between Morando and Cyrus
Miley Cyrus was born on November 23, 1992, while her boyfriend, Maxx Morando, entered the world on November 16, 1998. This makes Cyrus six years older than Morando, yet they can still share a birthday celebration as they are only separated by a few days. With Cyrus entering her 30s while Morando is only approaching his mid-twenties, there is a chance that the two may be on different pages about certain aspects of life. However, this has not prohibited the couple from growing close. Speaking with E! News in January 2022, one insider offered some insight about the pair, sharing, "They are both artistic and creative, so they bond over being musicians."
Cyrus's decision to date a slightly younger partner is a surprise, especially considering she had previously been adamant about having an older partner moving forward. She dated Cody Simpson from October 2019 to August 2020, who was also younger than her, having been born on January 11, 1997. After that split, Cyrus told podcaster Joe Rogan, "I'm looking for an older man. I don't need a man or a woman that's gonna take care of me. I can take care of me because I've got money; I've got all the things that I need to take care of myself. I need them to be able to take care of them." Nevertheless, something about Morando seemingly prompted a change of heart.
Morando has accomplished a lot in his short life
Maxx Morando may be young, but he has accomplished quite a bit in his young life. After making his exit from The Regrettes, Morando joined another band named Liily. In addition to their musical prowess, Liily is appreciated for their socially conscious advocacy, speaking out against the archaic, frequently insulting tactics used by older rock bands. He is also getting into music production, having lent his expertise to Miley Cyrus's song "Handstand" from her latest album, "Endless Summer Vacation."
In addition to being a guru on the drums, Morando is establishing himself as a fashion designer. One of his creations was even featured in Vogue on none other than Cyrus. Morando, alongside Shane Kastl, constructed a faux leather set for the "Wrecking Ball" star that she wore during her September 2021 festival run. Before Cyrus wore one of his creations, Morando had created animations and printed them on t-shirts for fans to purchase.
Despite an age difference, the "Hannah Montana" star seems smitten over her new boo. She even has a unique ringtone for Morando, which is ironically Erykah Badu's hit, "Tyrone." While the single is largely about a man being ditched by his woman, Cyrus calls it a "boyfriend sexy ringtone," indicating that she has no immediate plans to dump her own partner.