Everything We Know About Sophia Bush's Romance With Ashlyn Harris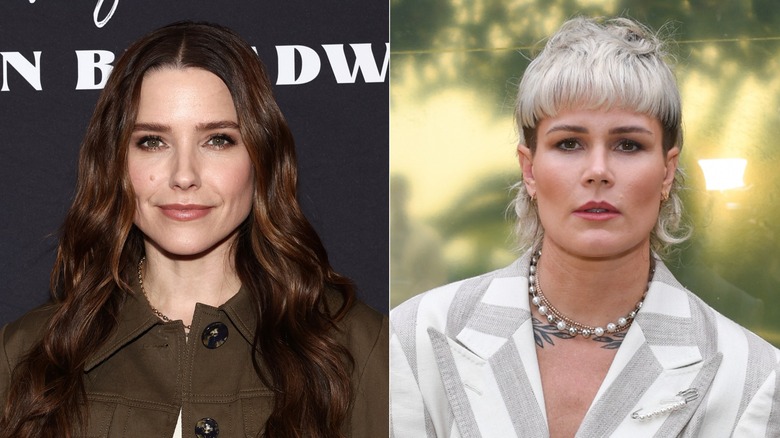 Arturo Holmes & Dave Benett/Getty
Sophia Bush, known for her roles in "One Tree Hill" and "John Tucker Must Die," is going through her second divorce as her most recent marriage, lasting barely a year, comes to an end. Her soon-to-be ex-husband, Grant Hughes, is now in the past, joining Bush's "OTH" co-star and first ex-husband, Chad Michael Murray. Surprisingly, their separation isn't shrouded in sadness, at least not for Bush, as the actor has swiftly moved on.
Bush is currently in a relationship with Ashlyn Harris, a retired American soccer star. According to insiders who spoke to Page Six, their connection is still fresh, but they are undoubtedly together. Notably, Harris is also in the process of divorcing her wife, Ali Krieger, who, like Harris, is a soccer player. The former couple shares two adopted children, daughter Sloane and son Ocean, both toddlers. They were married for almost four years but never made it to their "fruit and flowers" anniversary.
Bush and Harris both initiated divorce proceedings shortly after their paths crossed, with Bush filing in August 2023 and Harris in September 2023. Despite the unusual circumstances, they seem to have formed a bond quickly. While some sources suggest an amicable separation among all parties, hints from a hurt ex imply a more complex story.
Sophia Bush and Ashlyn Harris initially connected in June 2023
Insiders close to the new couple, Sophia Bush and Ashlyn Harris, have revealed that their connection blossomed following their attendance at a panel during the Cannes Lions International Advertising Festival in June 2023, Page Six reported. Bush shared her enthusiasm for the event on Instagram, describing it as "an amazing conversation with these trailblazing women." TMZ also confirmed the duo to be dating, with People's insiders providing additional insights.
"After being friends for years, and running in the same social circles, Sophia and Ashlyn went out on their first dinner date a couple of weeks ago," the anonymous source explained in the October 2023 People article. Aligning with the suggested timeline, Page Six covered a double date involving Bush and Harris with fashionista Stacy London and her comedian girlfriend, Cat Yezbak. The foursome attended Chelsea Handler's show in New York City, with Bush and Harris arriving separately. Observers shared that although they didn't display affection, Harris and Bush appeared notably comfortable sitting beside each other.
Amidst the transitions of their respective breakups, the newfound connection between the two women appears to be a source of relief. However, speculations about infidelity have surfaced, due to the timeline of their divorces and the start of their romance.
Ashlyn Harris and Sophia Bush's former partners have differing responses to their budding romance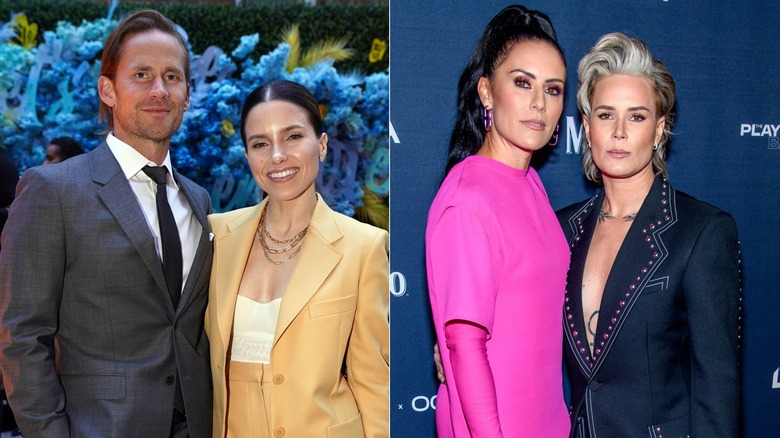 Roy Rochlin & Leigh Vogel/Getty
While the news of their romance hit headlines not too long ago, Sophia Bush and Ashlyn Harris struck up a connection while they were both still married. According to the Daily Mail, Harris broke things off with her now ex-wife, Ali Krieger, mere days after returning from the aforementioned Cannes event. "[Harris] ended their marriage and said there was nothing to even speak about regarding it," an insider close to the former couple revealed.
However, a People source noted that Harris and Krieger have been separated since summer 2023 and that there is no dramatic storyline tied to Harris' romance with Bush. "Although it's new information to the public, Ashlyn and Ali's divorce began months ago," the unnamed individual stated. Despite this, Krieger posted a cryptic caption to Instagram, writing, "Preparing for playoffs while in my Beyoncé lemonade era," referencing the infamous cheating scandal that almost broke Beyoncé and Jay-Z's marriage.
Grant Hughes, on the other hand, appears to harbor no ill feelings. A representative for the entrepreneur commented to Page Six on Bush's romance with Harris, saying, "Grant will always want the best for Sophia and is supportive of all that makes her happy and fulfilled." While the details about any potential cheating remain unclear, Bush and Harris seem content to continue their romance.